Williamsport, MD 2 / Washington D.C.
May 12, 2019 - May 18, 2019
So the we did not completely escape the screaming children. Last Friday and Saturday night was very loud...not just the children but their parents.  It was almost as bad as when we attend the drag races in Houston, well not exactly, these guys did calm down around 10:30.  Boo hoo right?! It isn't like I had to get up for work (or anything else) the next day!  I said it would be a great park to bring kids to, we should have gotten out and joined them! Sunday, it rained all day so I spent the afternoon watching Arial America and planning stops for the next few states we plan to visit.  And continued the re-watching all the Game of Thrones episodes!  At least Cersei finally got what she deserved, and she just had to take Jamie with her. But Daenerys, WTH? 
Monday it rained all day too.  I did manage a grocery run and then a nap in the afternoon (you know after such a busy morning).  Tuesday we drove back out westward to the Paw Paw tunnel on the C&O Canal trail.  It was cold and I forgot my coat so we didn't walk thru the long tunnel but it was neat to see.  We saw a ground hog family hanging out under the canal Superintendents house. We saw a bike tour going on when we got back to the parking area for the tunnel.  The sign said it was day 3 of a Cumberland to Hagerstown ride on the canal tow path.  It was lunch time so the SAG wagon was setting up food for the cyclists. That would be a beautiful trek to make. We left just as the first cyclist came in.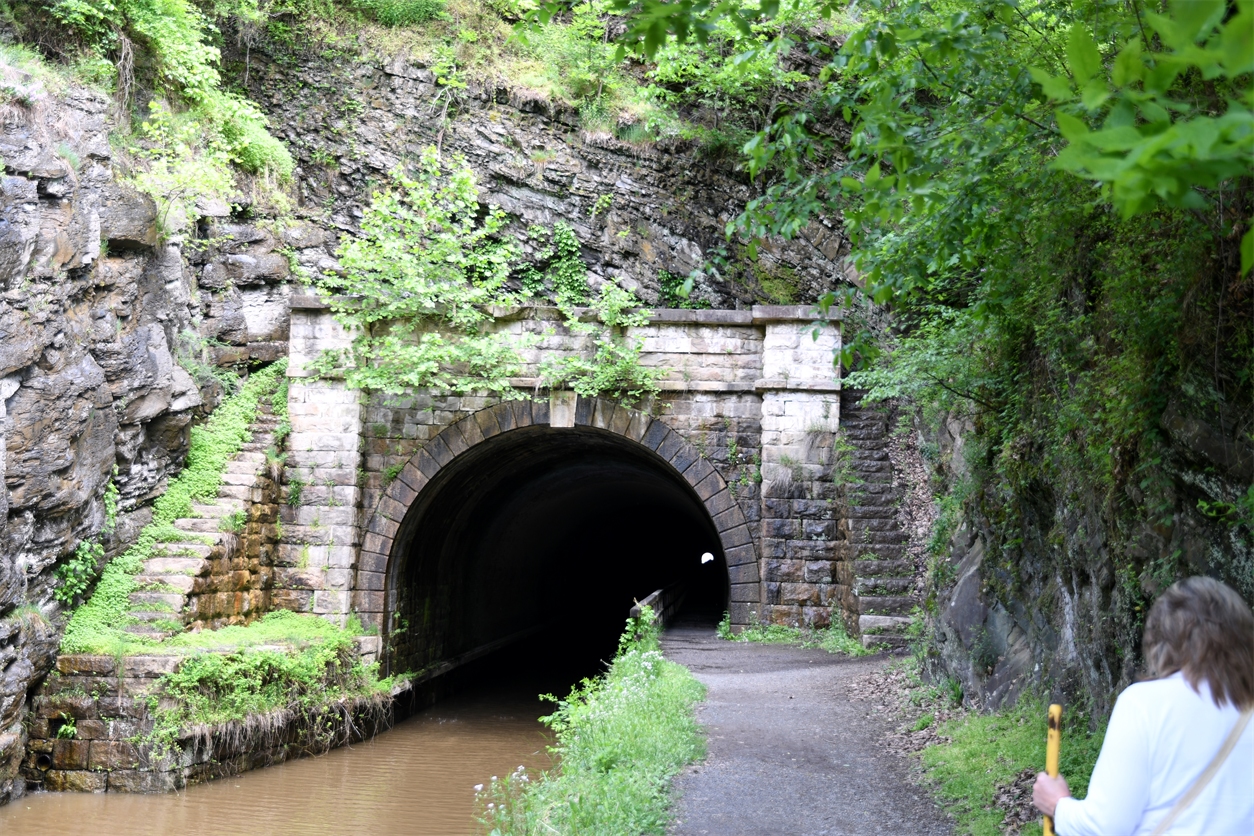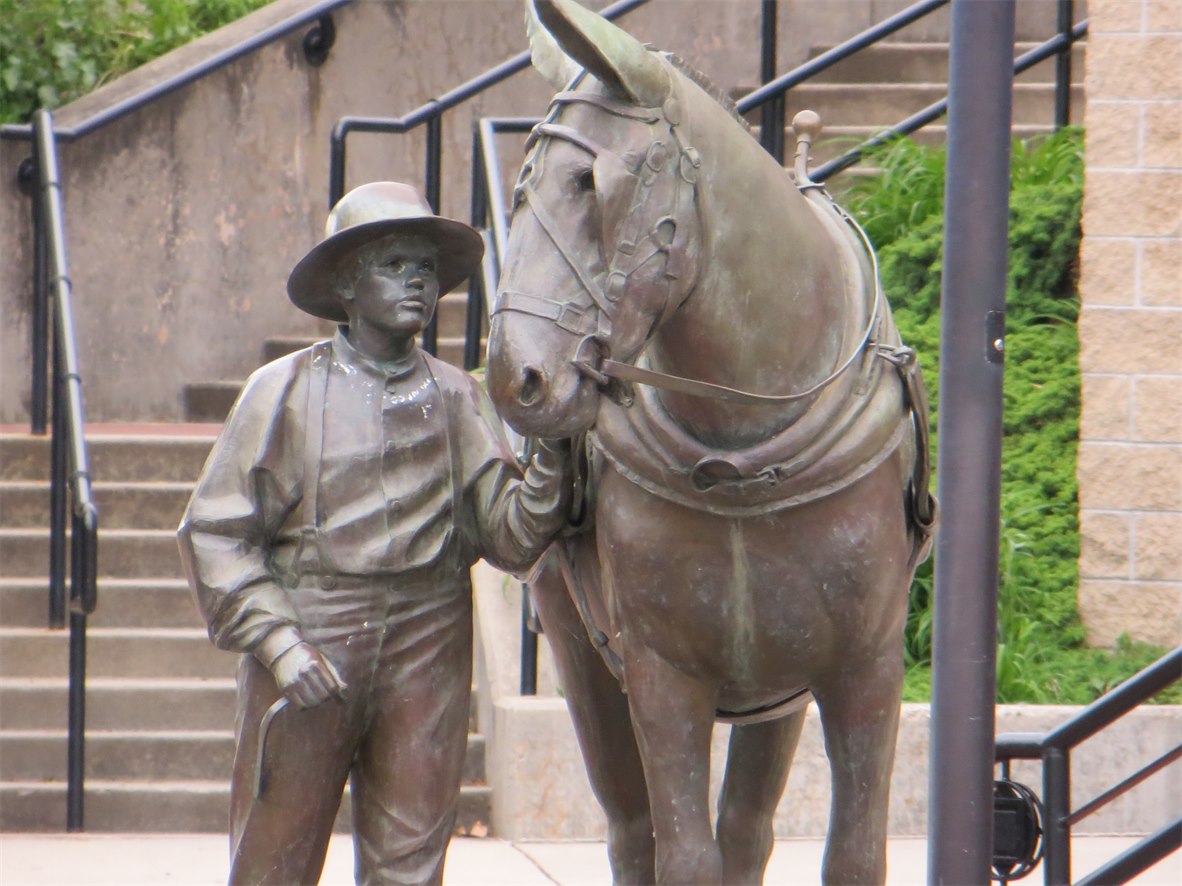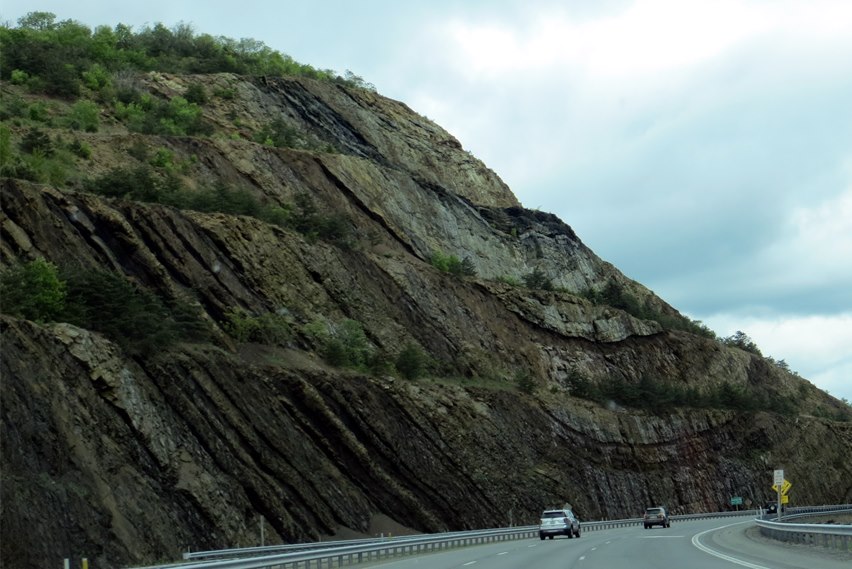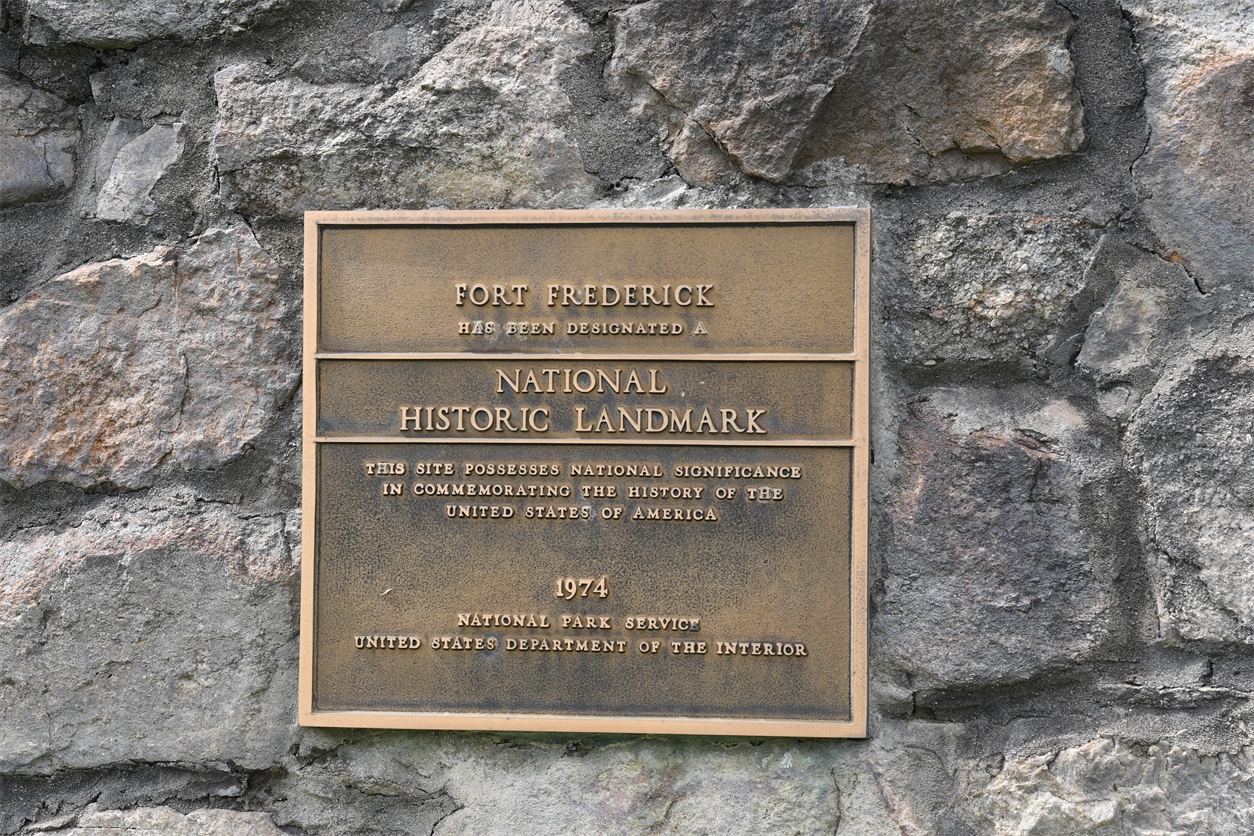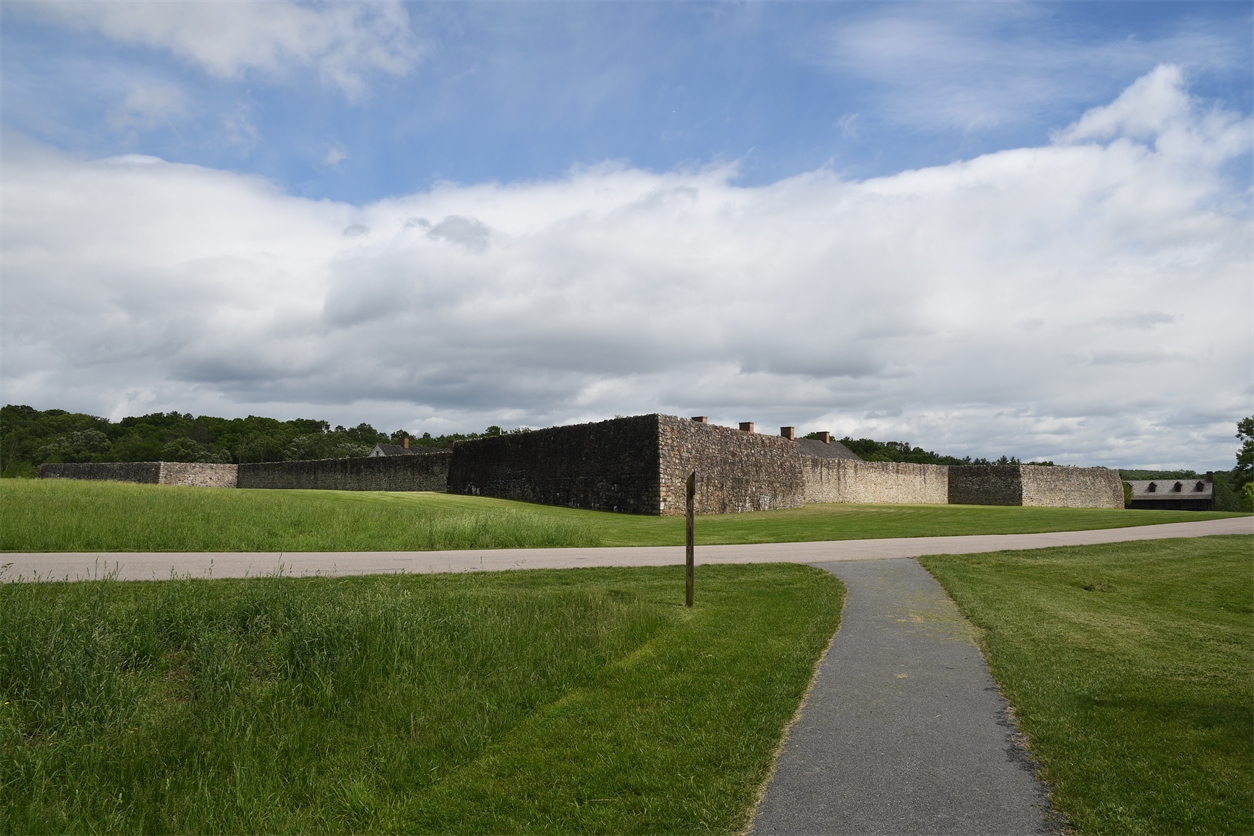 Wednesday was another just chill out day.  I had a couple of days in June that I didn't have a reservation for so I spent the morning filling those.  We joined this group called "Harvest Hosts".  This membership gives you a list of wineries, breweries, museums, golf clubs, farms, etc, that will let you stay overnight for free. Of course you are expected to support them with a purchase and your camper has to be self contained. One of the places I used to fill these "holes" in my schedule is on this list, it is an orchard and farm so they should have some amazing produce.  I'll let you know how it goes. This link will give you 15% off the annual membership fee and referral fee to me, if you think you might be interested, they currently have a little over 700 locations across the country.
Thursday we moved into DC, to Cherry Hill RV Park located in the College Park area.  We were here several years ago when we did the Blue Ridge Parkway and DC visit. This is a great park, lots of activities but not just for the kids like the Yogi resorts.  They have a nice hiking trail around the perimeter that I took advantage of and saw a couple of rabbits along the way.  They have a Metro bus that picks up  right at the park and takes you to the subway.  We were able to get our SmarTrip cards right at the park and then they had a sightseeing lecture to teach you how to use the subway.  They also have a couple of tours they have designed and hired people to conduct, a nighttime tour and a daytime tour.  We signed up for both! I cooked a quick chicken dinner (winner winner!) and we settled down to watch the end of The Big Bang Theory....so sad but they did a fun job wrapping everything up.
We found another space center nearby to visit.  NASA's Goddard Space Flight Center, they have several cool exhibits.  My favorite was the "James Webb Space Telescope: The Epic Exploration Journey Already in the Making". Its planned to launch in 2021.  Check it out here. Oh and two bluebirds said hello next to a rocket for deploying satellites.  We had lunch at a very tasty restaurant, Chevy's Fresh Mex. I managed a stop at Three Little Birds Sewing Co.  Then we took a nice nap before our night tour of the Capitol.  The tour was very good, our tour guide, John, was interesting and did a good job of keeping us all together.  We started at the Capitol Building with the last bit of sun hitting the rotunda.  Next was the White House and then the Jefferson Memorial. The sun was setting as we got to the FDR memorial.  John gave us a moving history lesson and the full moon was out so we got some great shots over the tidal basin.  Next was the MLK Memorial, it was not here the last time we were and I loved it.  From there we went to the Korean War Memorial, we missed it the last time we were here and oh my goodness, so pretty at night.  There was an Honor Flight being conducted while we were there.  What an honor to meet some of them and to be able to thank them for their service. Next the Lincoln Memorial and the Vietnam Veterans Memorial Wall.  I don't care how many times I see the wall and/or its traveling cousin, it is so powerful.  I helped a young lady find a name with my handy dandy flashlight, (thank you Scot Durand!) that made my night. We ended the tour at the WWII Memorial, all of them were so pretty to see at night. There is a wall of gold stars at the WWII Memorial.  Each star represents 100 American service personnel who died or are missing from the war.  There are 4,048 stars.  I can definitely recommend seeing the monuments at night, totally different feel.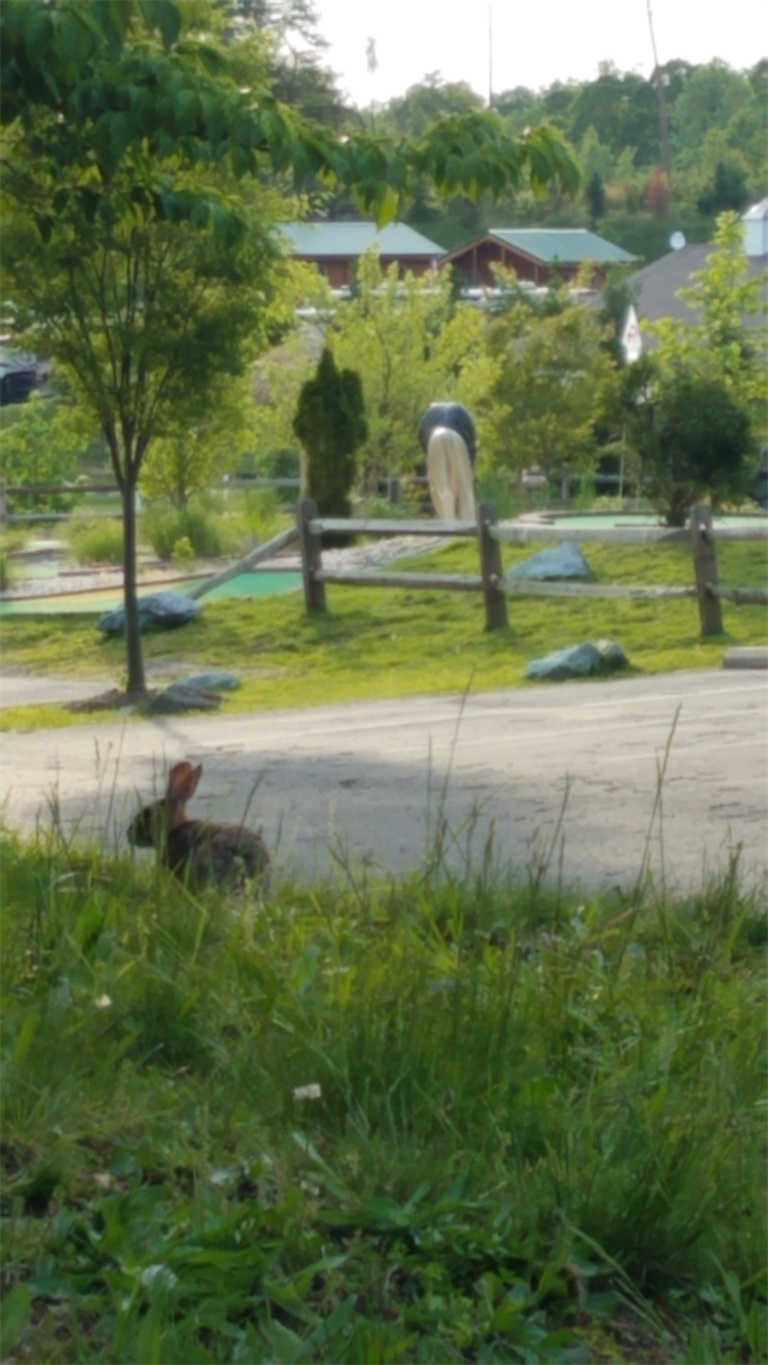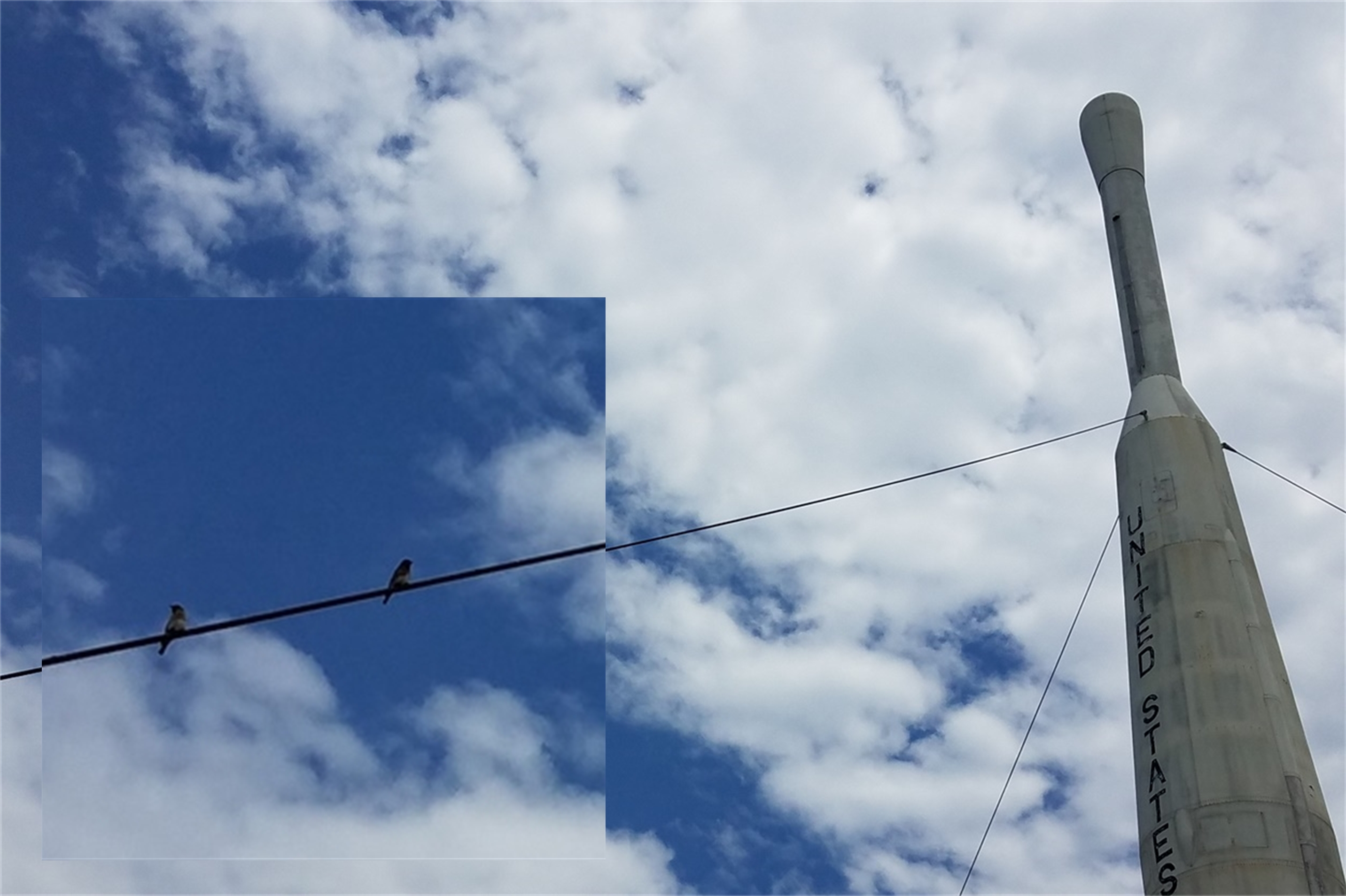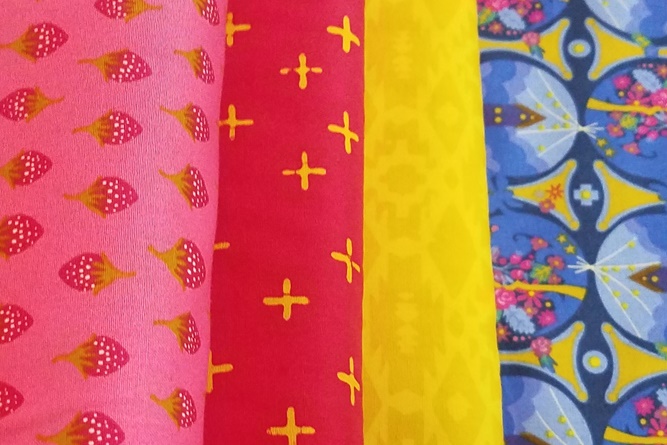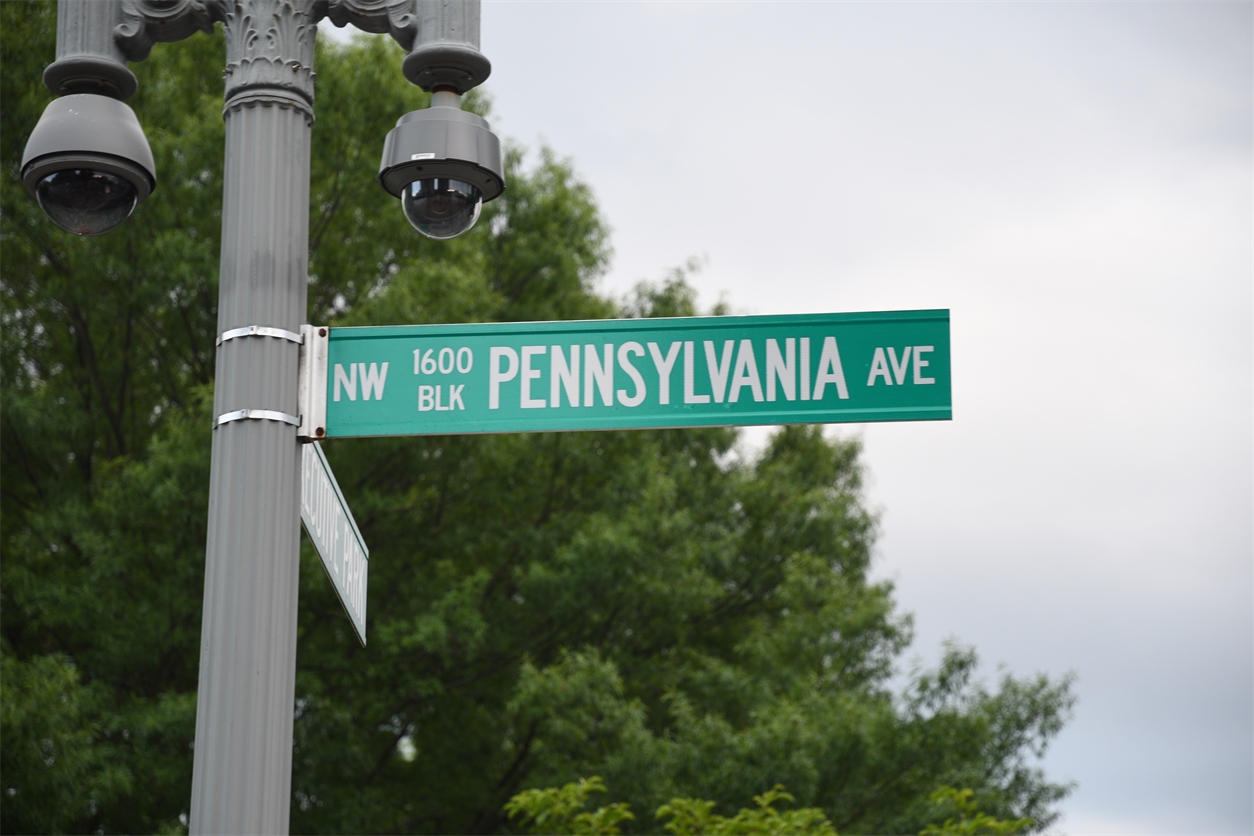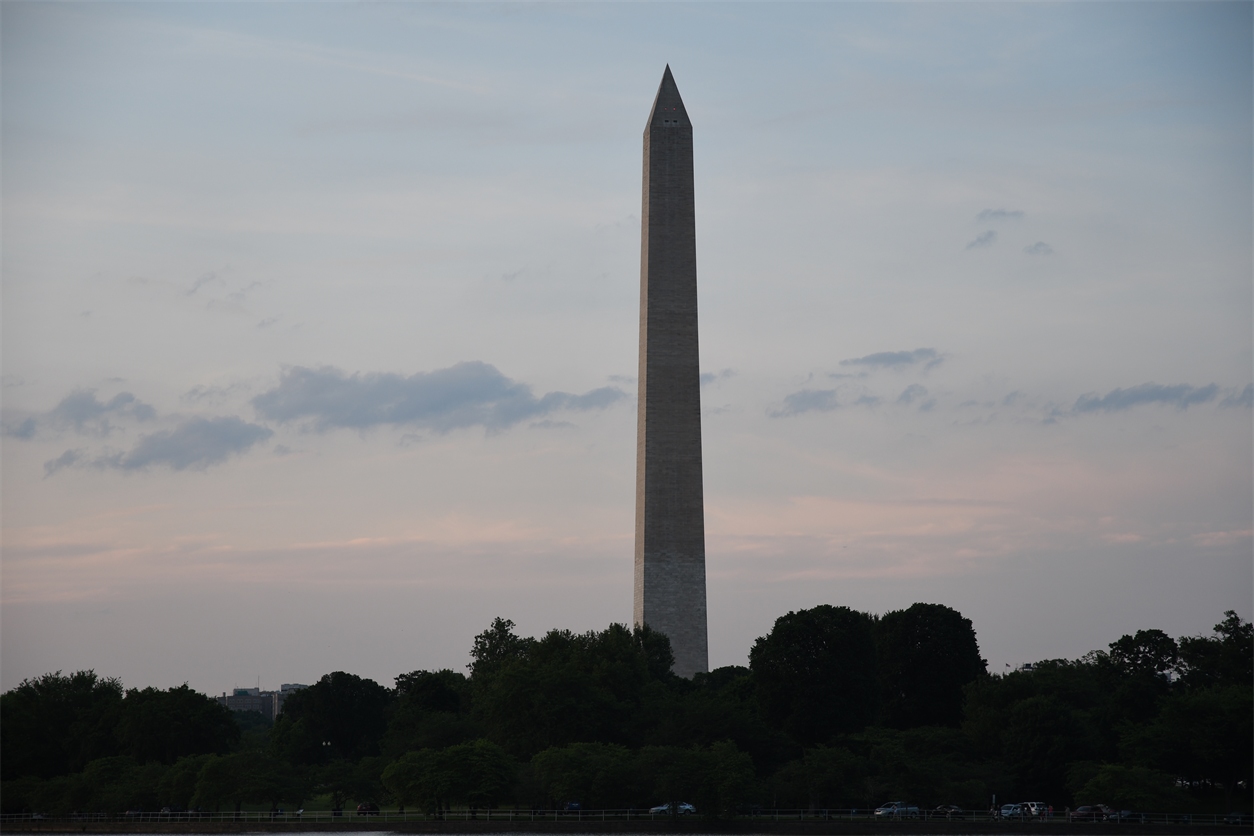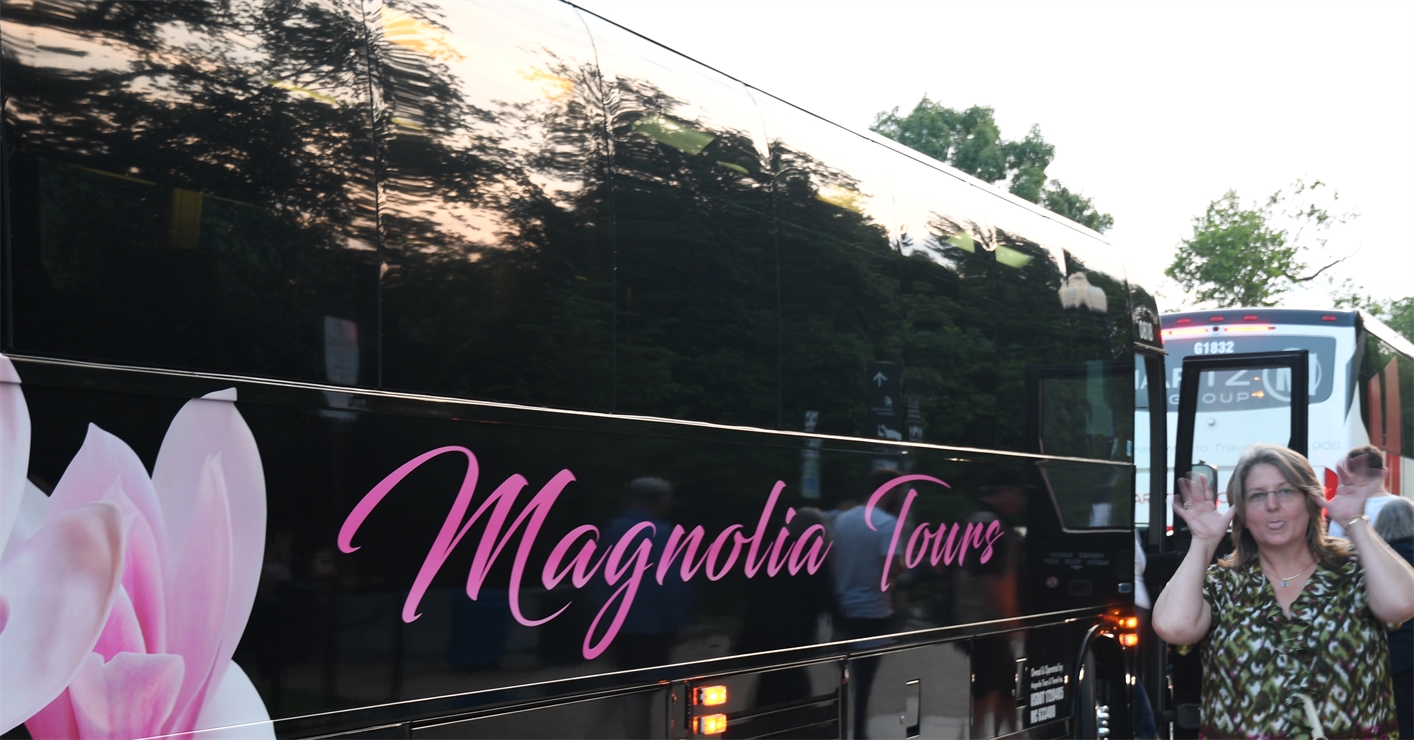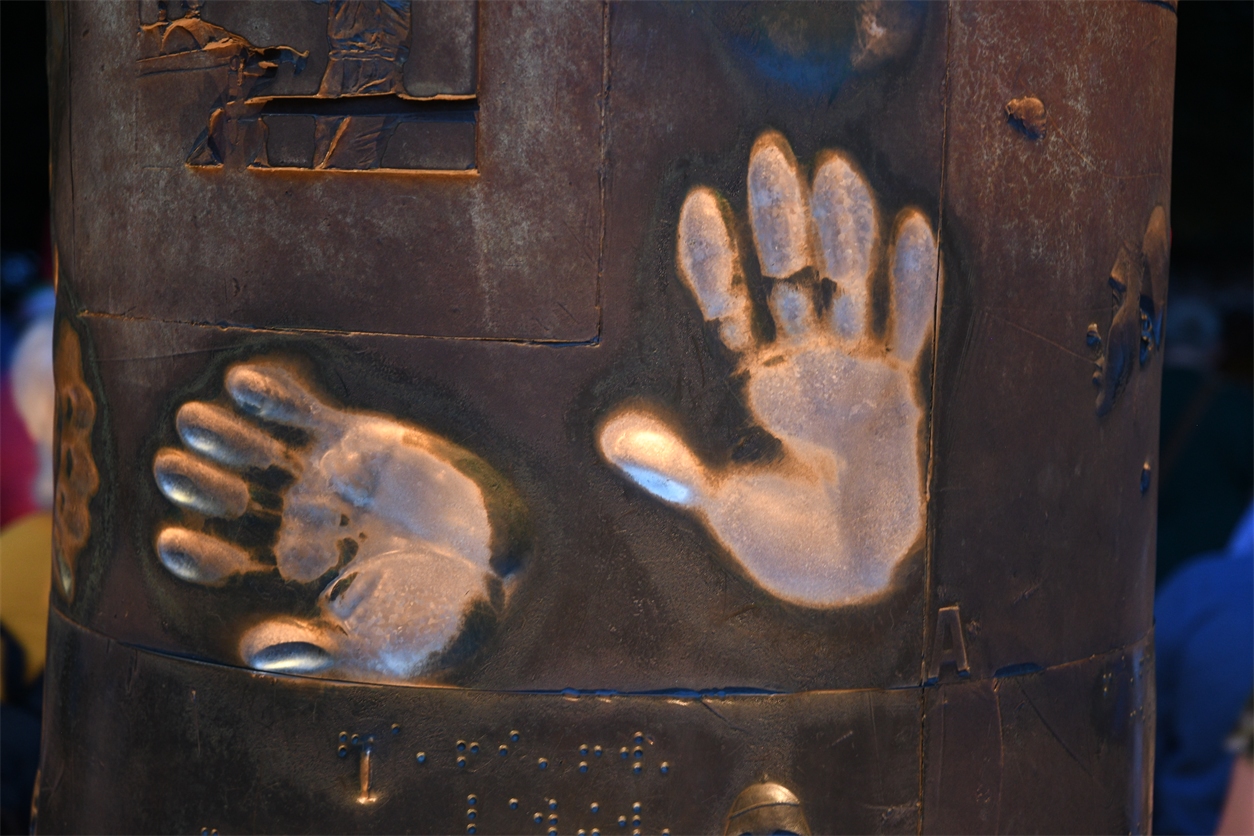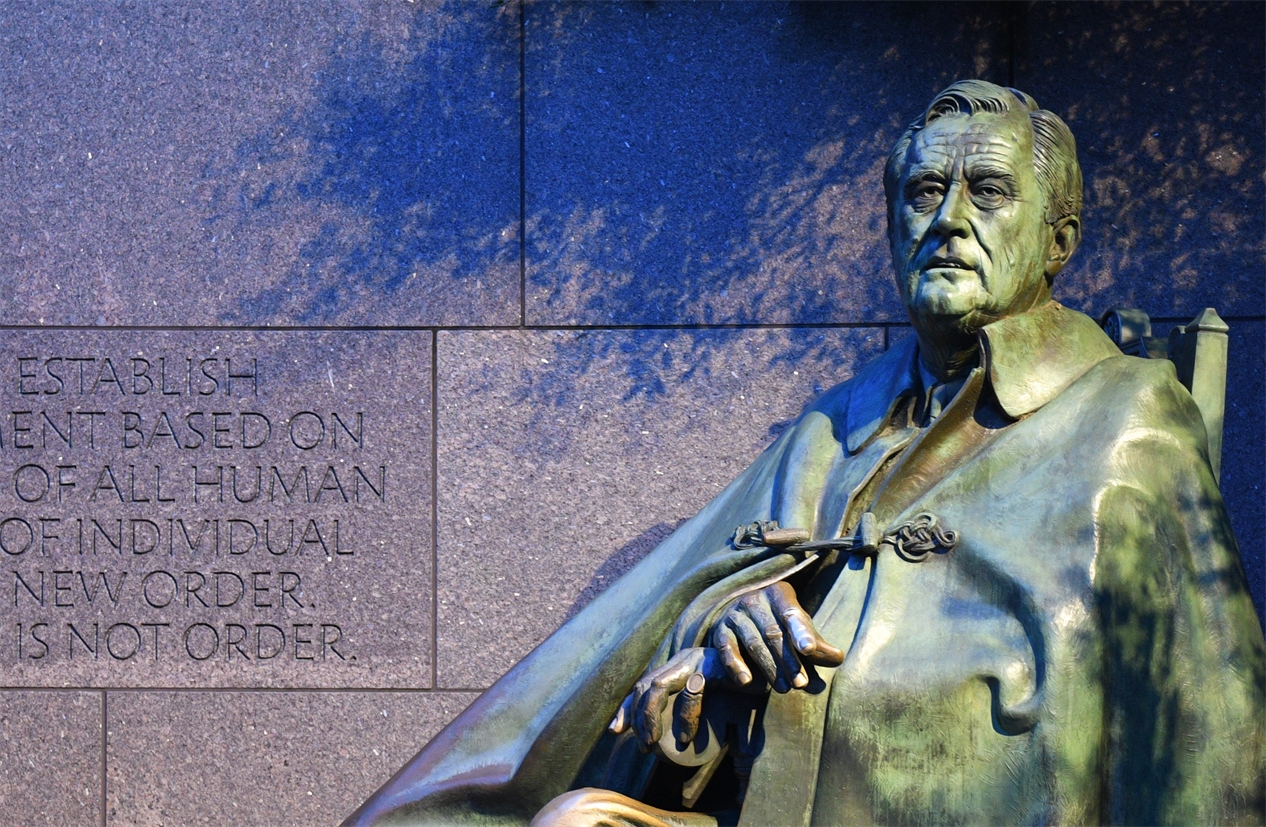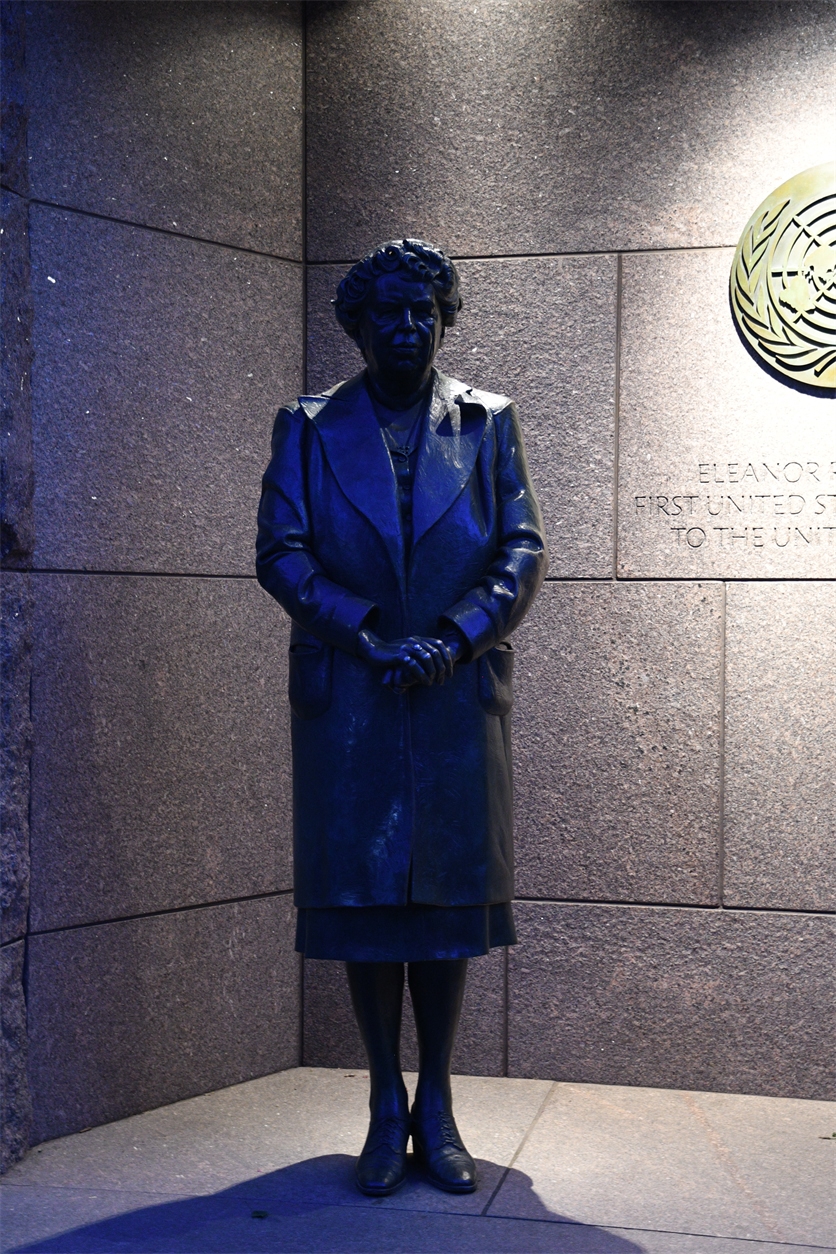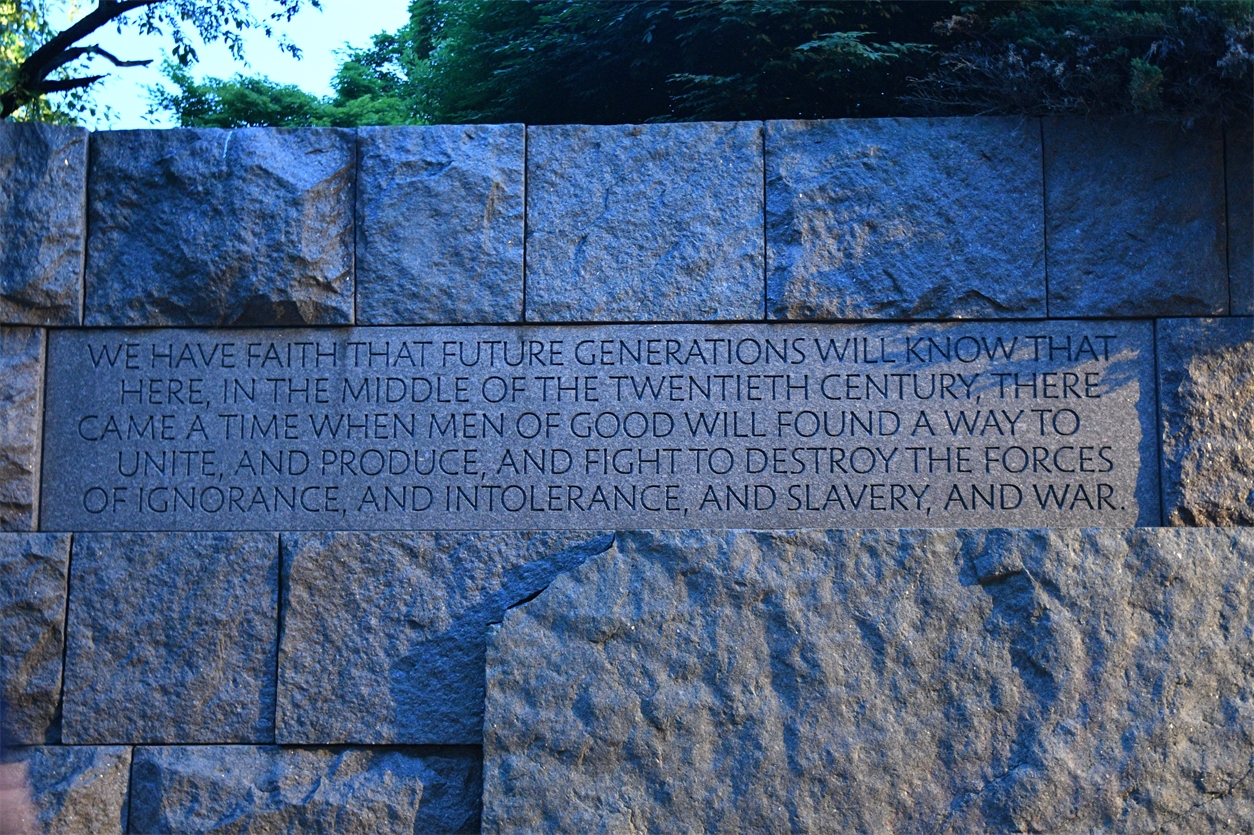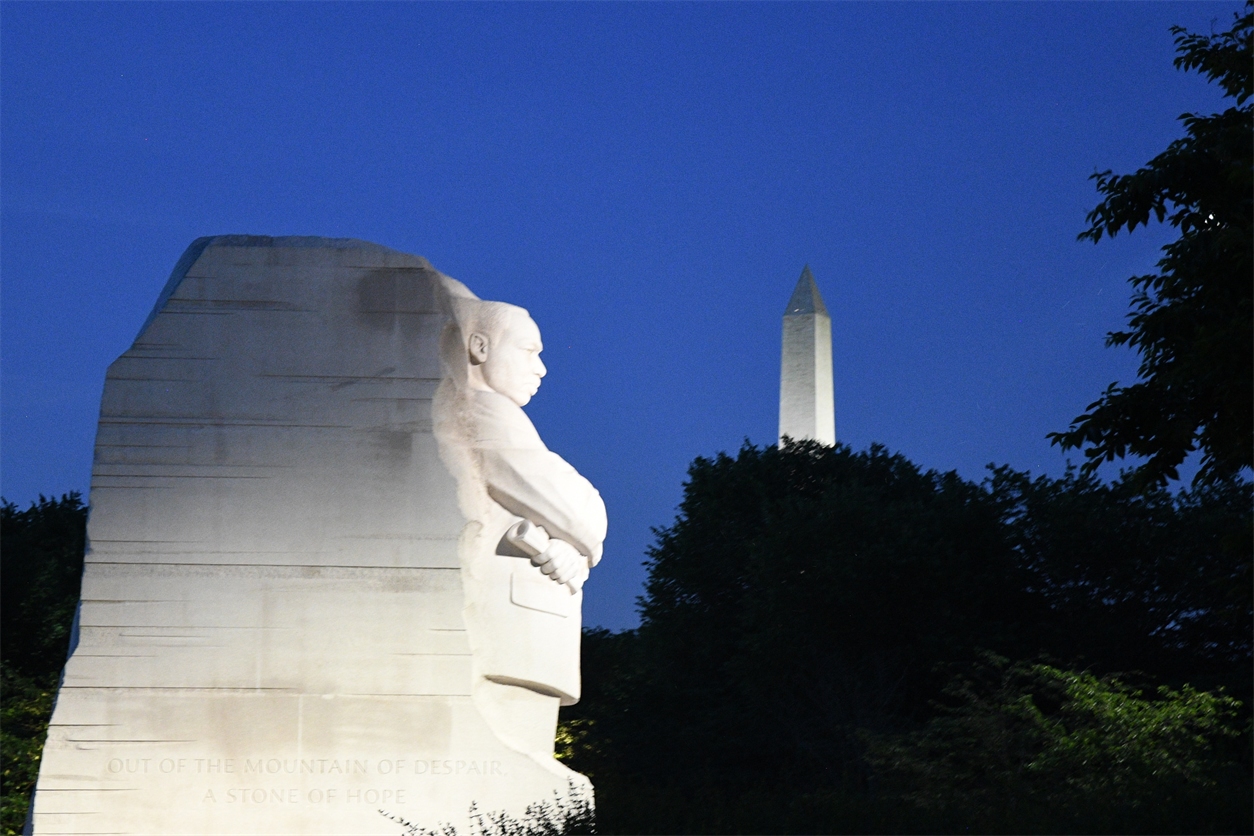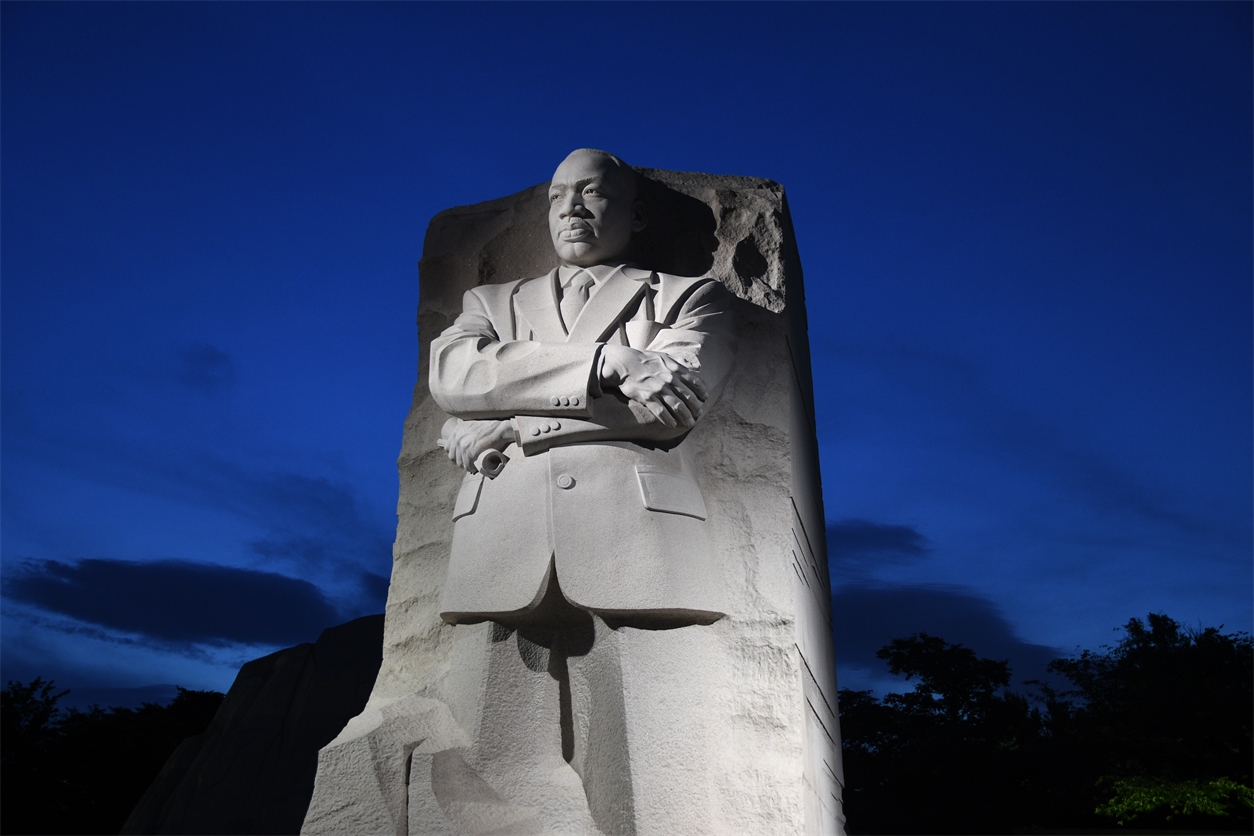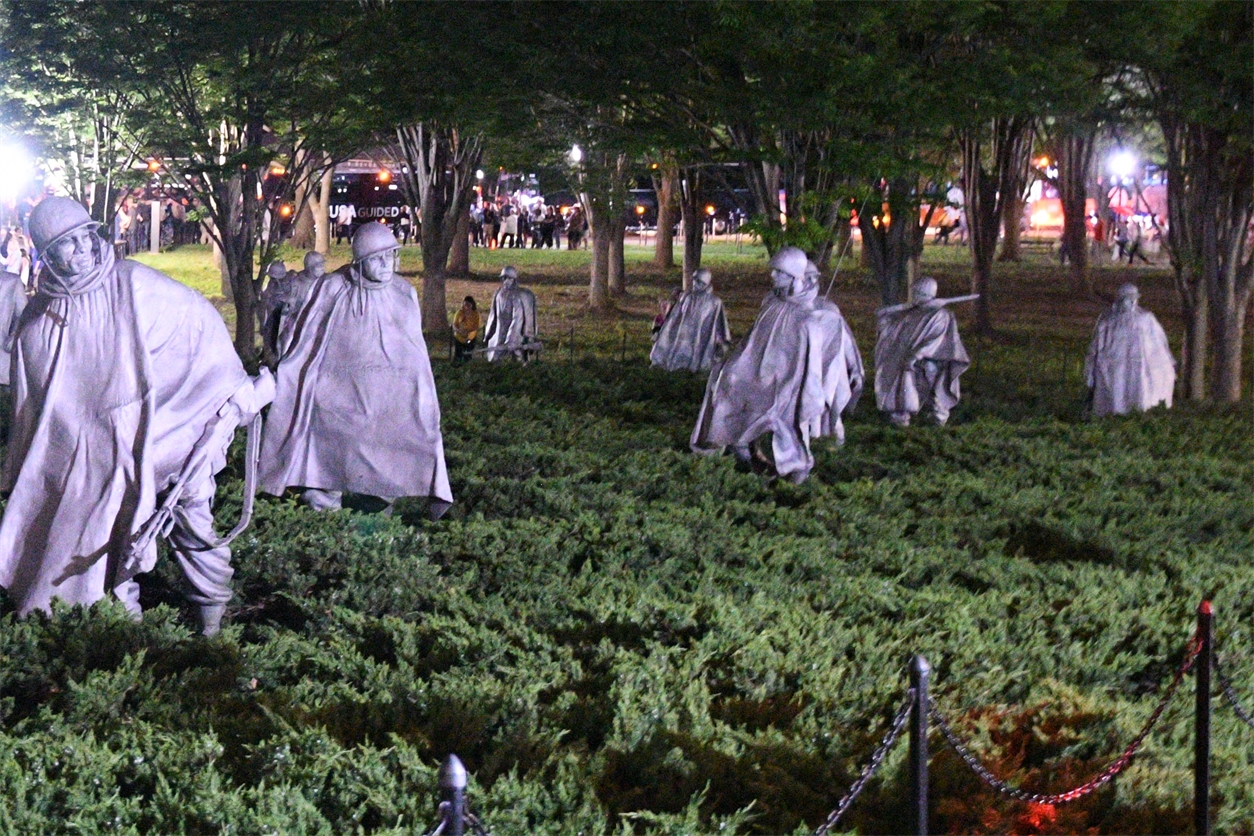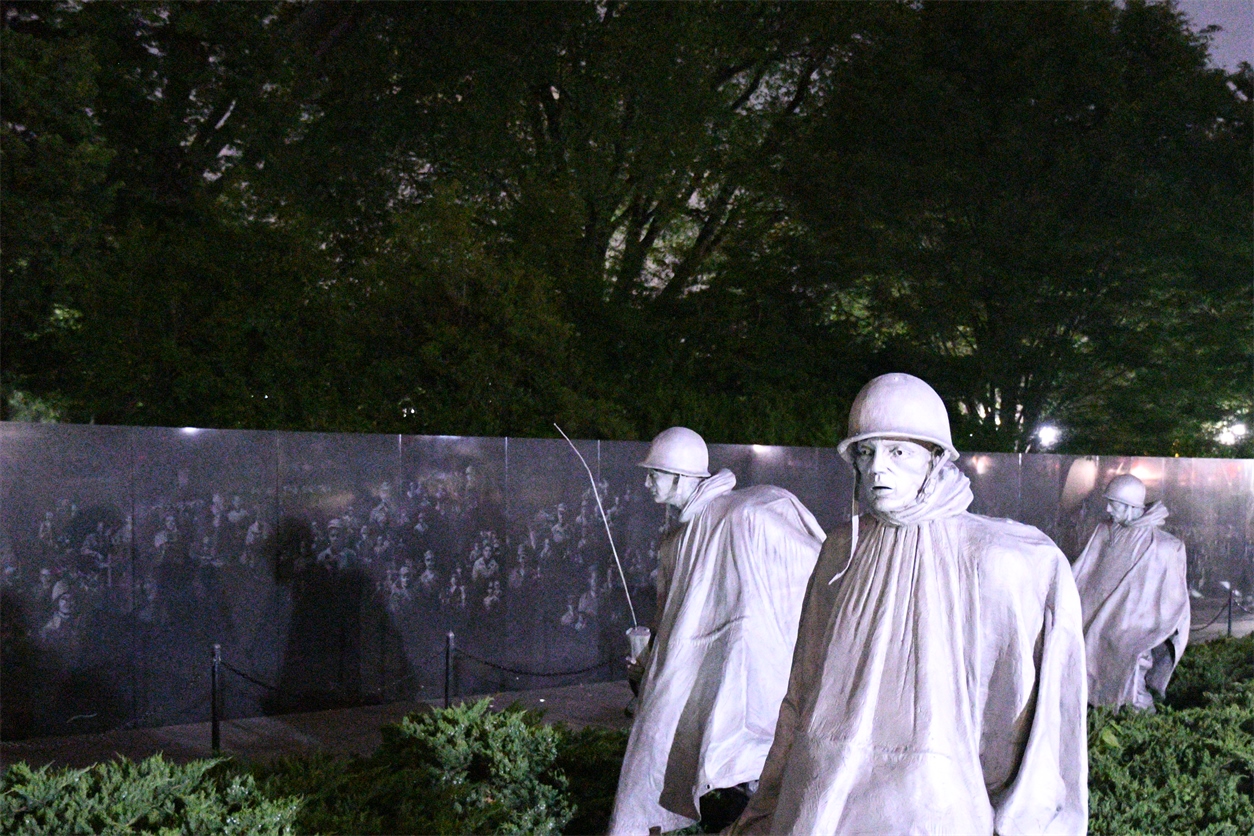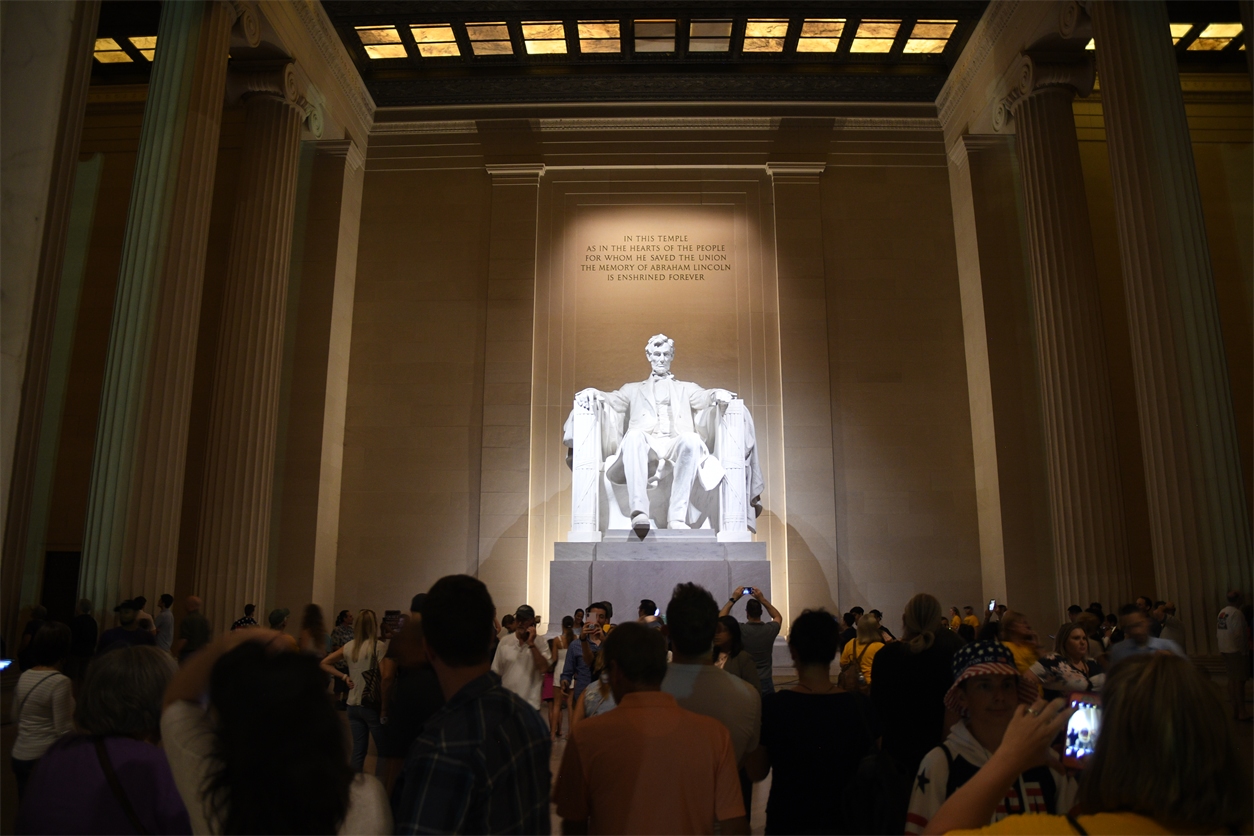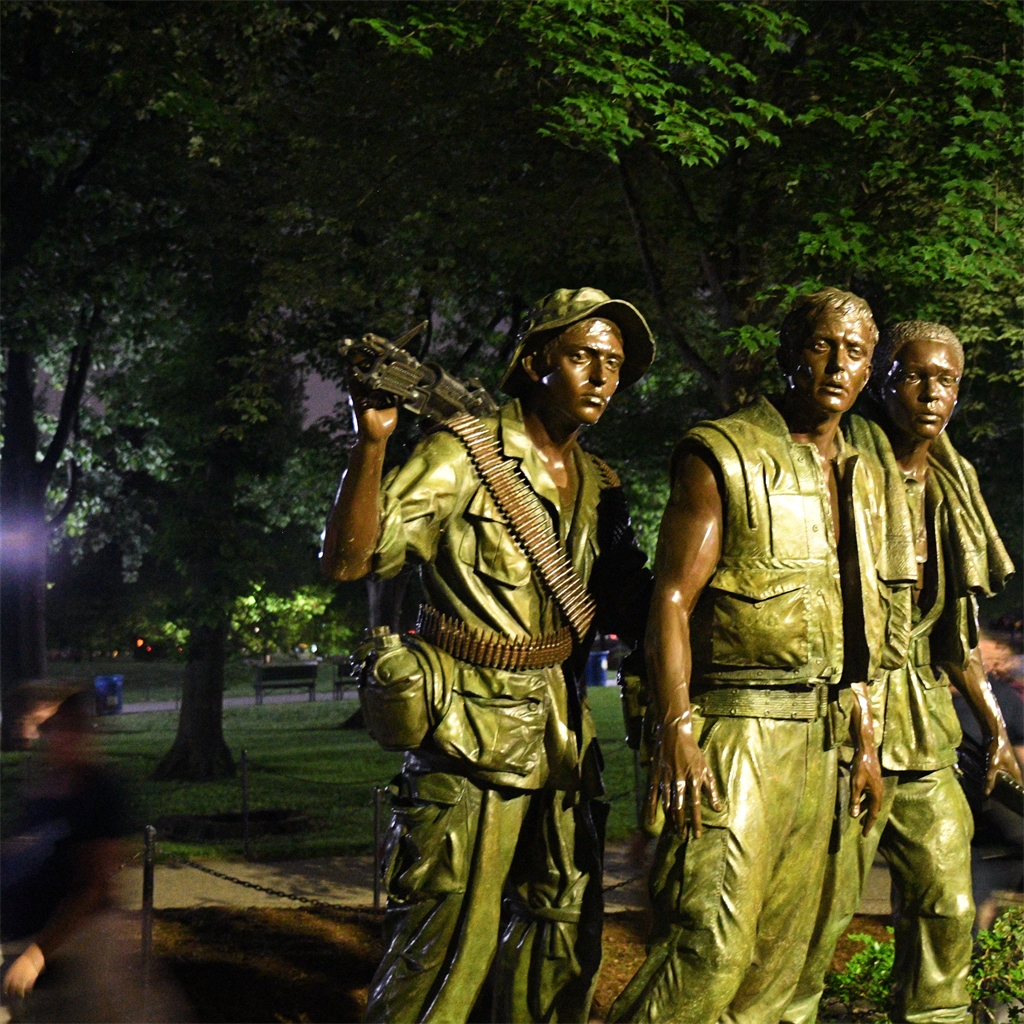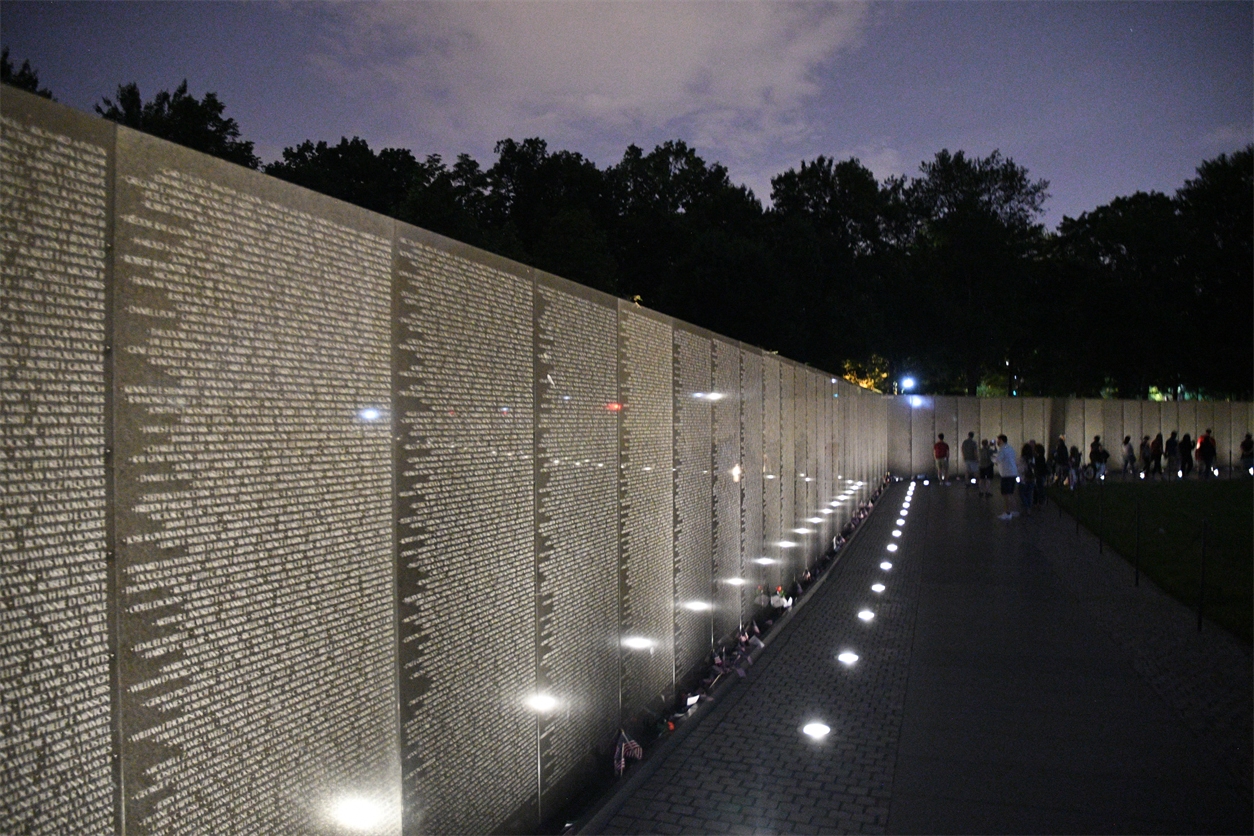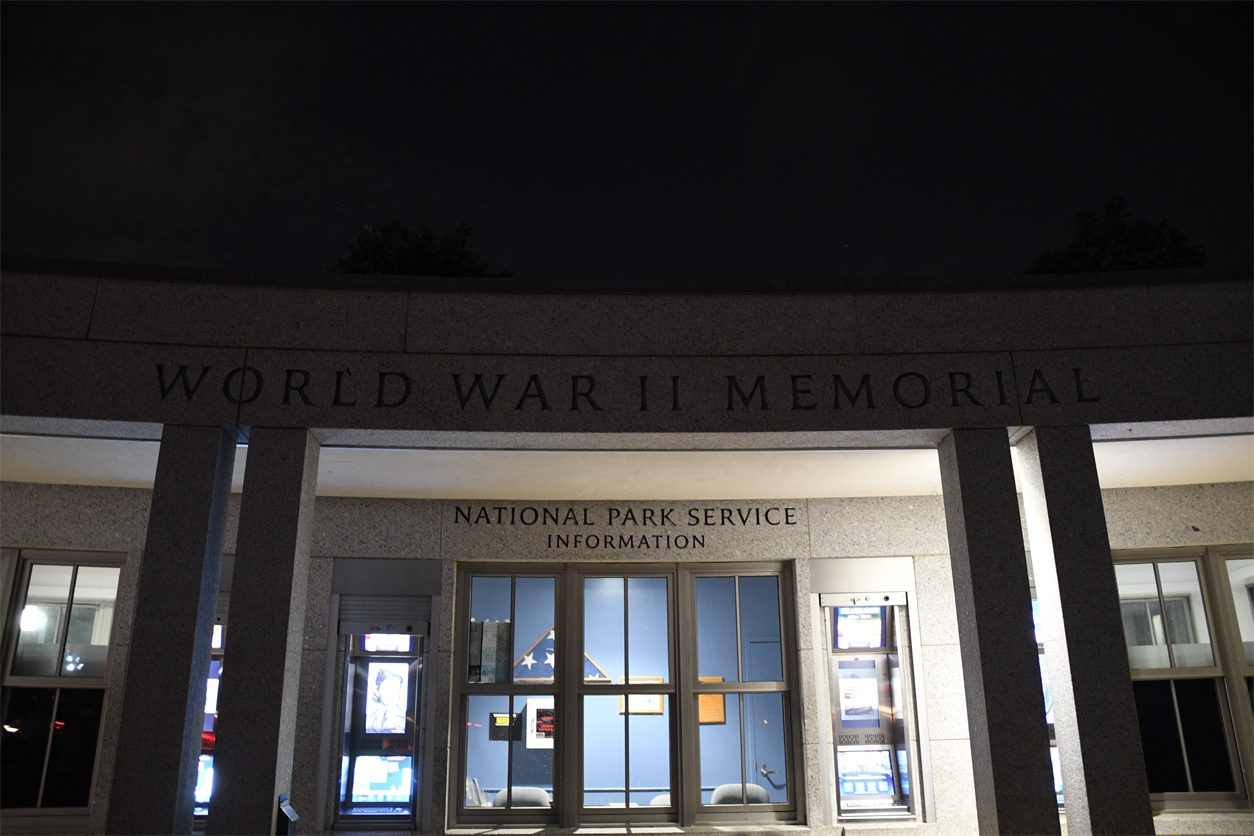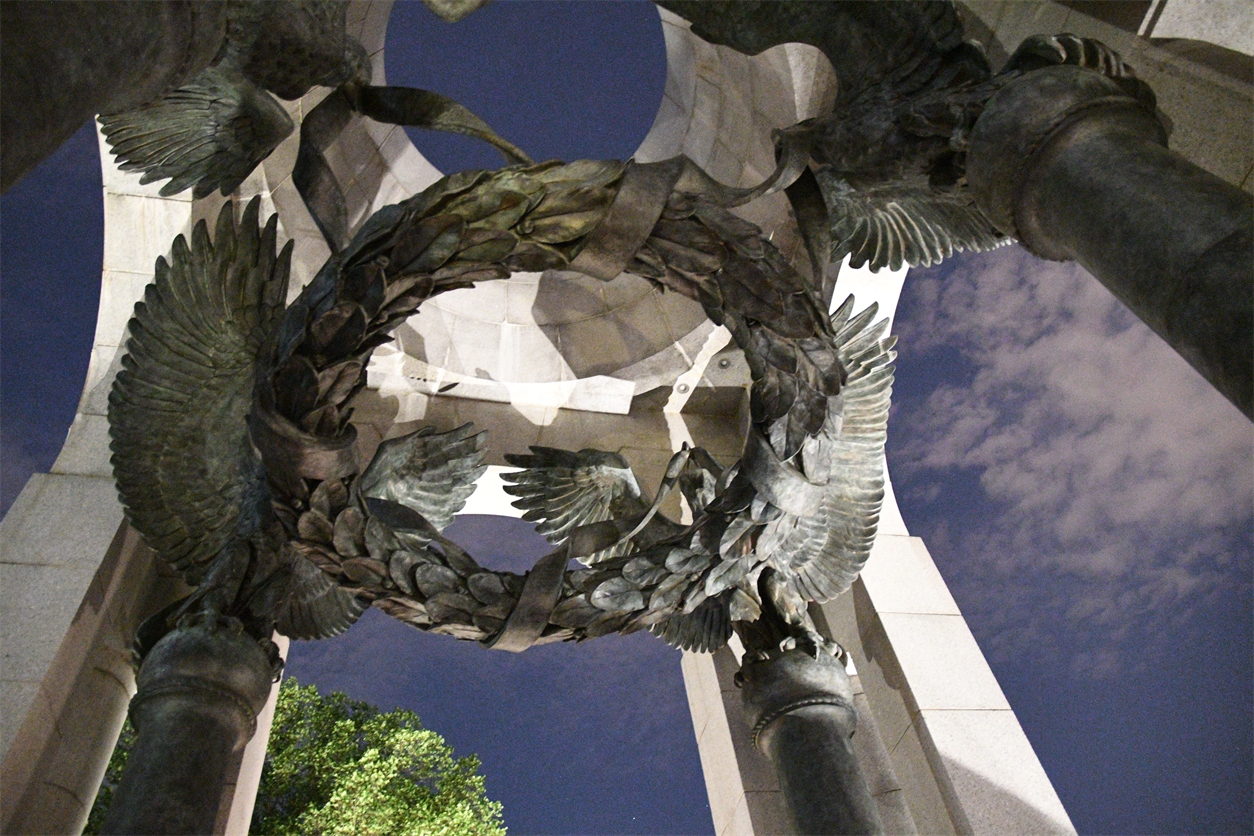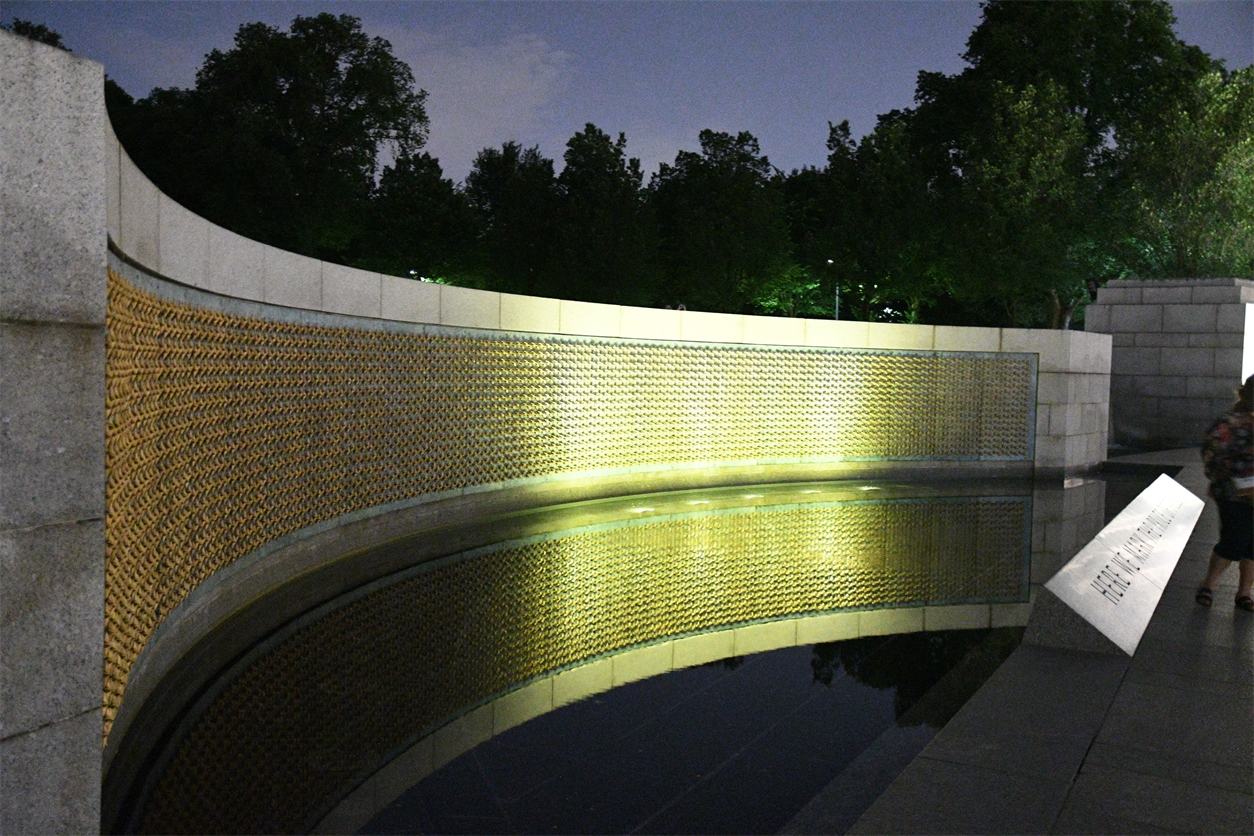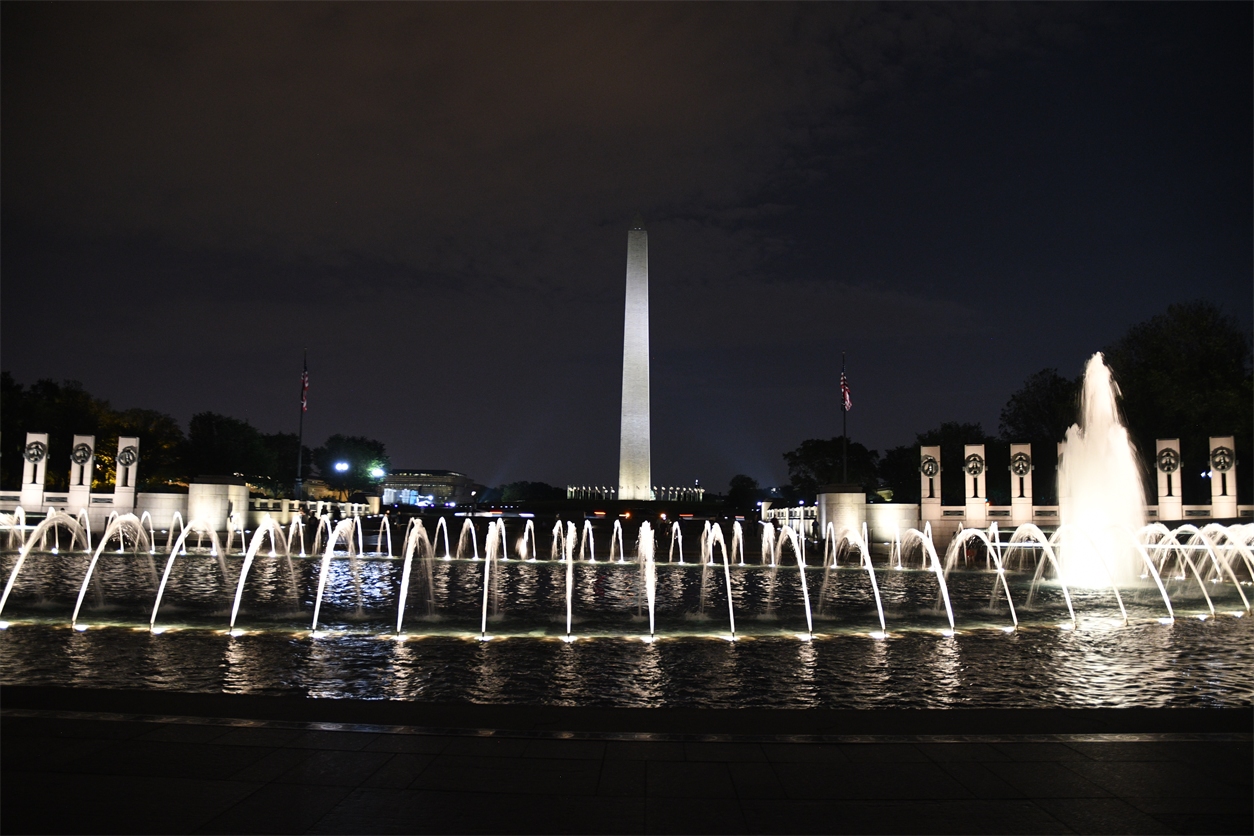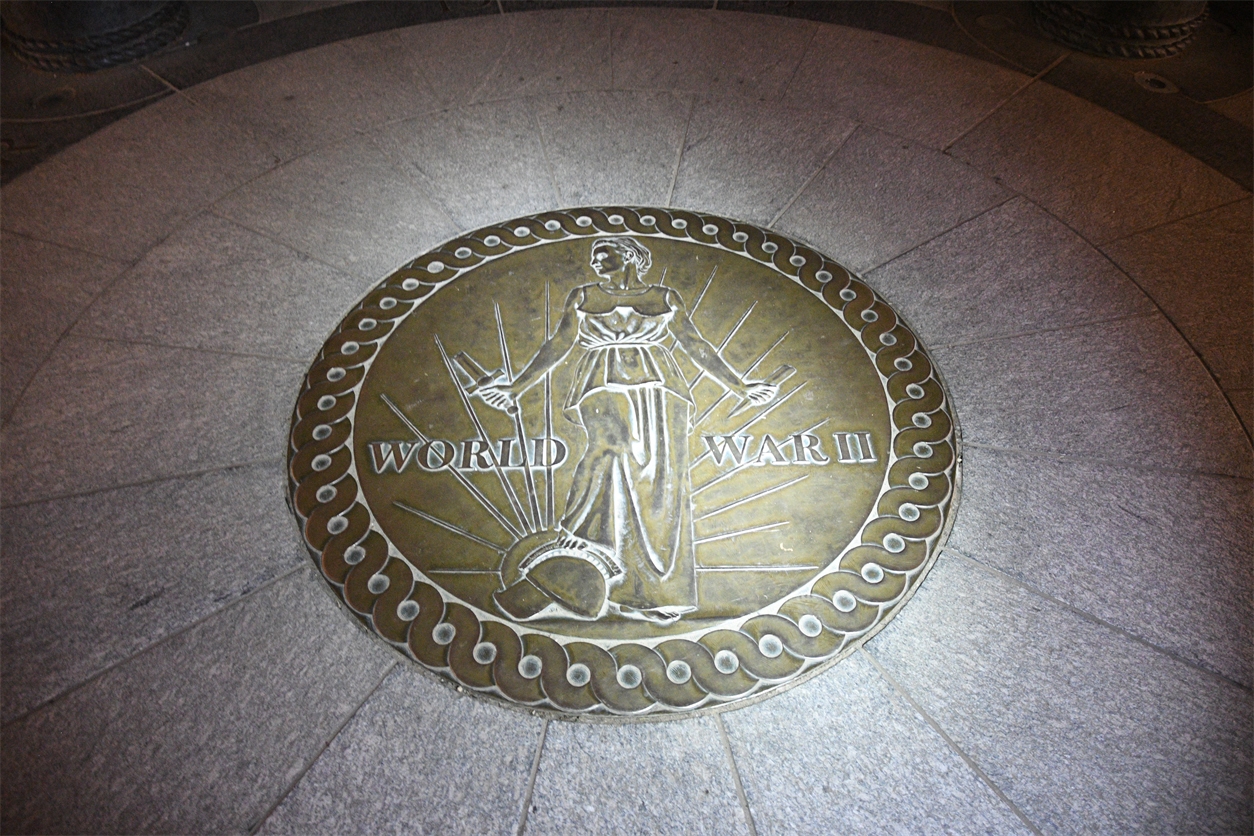 I kind of over estimated my stamina for Saturday.  We remembered this great little beer place from our last visit so I planned the day around that.  We started with the National Cathedral. It was quite a walk from the subway station, it was all up hill. The Cathedral is such a beautiful place.  I thought it was older than it is, started 1907 and finished in 1990. The main alter is carved from a stone that was once on the Canterbury Cathedral and was gifted to us.  The space window actually has moon rock embedded in it.  It is so pretty....I am trying to reconcile the Darth Vader gargoyle...yes! there is a Darth Vader Gargoyle! Next we walked/subway'd to Pizzeria Paradiso, a block from Dupont Circle on P Street.  Two pages of food options and eight(ish) pages of beer options! My original plan was to go to the Smithsonian Zoo after lunch....but I was not ready for that much more walking.  Instead we walked down to Old Ebbit's Grill, across from the Whitehouse, for a final cocktail.  We sat in Grant's Bar, we were politician watching but didn't see anyone.  We made it back home in plenty of time to watch the Preakness.  We actually thought about going there since we are so close, but with no chance for a triple crown this year we decided not to go.  I read that this may be the last time the Preakness is held at the Pimlico track, so maybe we should have gone. 
What a tough week, the end of Big Bang Theory AND Game of Thrones!  Maybe we should cancel our satellite altogether before we get hooked on something else.
Make Life an Adventure!