Week 159: Bandera, Fort Stockton, and Fort Davis, TX
Feb. 13 - 19, 2022
Sunday, I got out to do another grocery run. We have a lot planned this week and I don't what to have to fit groceries into that plan.  I am very aggravated that no one ever showed up to the campsite next to us, the one that I asked if we could move to when we arrived here.  I have enjoyed our stay in this area though.  Next time we are in this area I think we will stay between Kerrville and Fredericksburg. 
Monday, go west young man! We headed out to Fort Stockton, TX to Hilltop RV Park.  As it's name suggests, it is on the top of a hill and appears to be the highest point in town.  As we traveled I-10 to get there I saw some speed limit signs I've never seen before...when did 80 mph become a safe speed? Luckily no issues on the drive but there was definitely more traffic than we've had in a while.  We enjoyed the afternoon and a home cooked Valentines Day Dinner. Hope you all enjoyed your sweethearts. The sunset was pretty darn impressive.

Tuesday, Big Bend bound. We did half of Big Bend National Park and it was a long drive, drive number 76 from the Scenic Drive book to be exact. We headed down Hwy 385 thru Marathon and it becomes the main park road.  We stopped at the Persimmon Gap Visitor Center to get a park map and check out the exhibits. The Ranger there gave us some good tips on what to look for since we are only here for the day. The first thing we saw was a great fossil exhibit.  It was kind of windy up on the overlook I had to hang onto my hat (my hair is getting looong)! Next we drove down to the Rio Grande at the Rio Grand Village campground area. There was a river float company setting up camp so I think they were expecting some folks to arrive soon. It was kind of tough to get to the river and I was amazed by how small it was. We met a couple of folks walking their dogs and a roadrunner...(still no coyote). We didn't see anyone crossing but there was some movement in the weeds on the Mexico side that made me a little nervous. I don't think it was more than 50 feet across. Next we drove up to the Boquillas Canyon Overlook where you could see down the canyon.  Lots of cactus etc., and there was a little area of crafts set up for sale on the honor system. It was odd.  I guess they let a few people from across the river thru the Boquillas Crossing "Port of Entry" to put this stuff out and then collect it at the end of the day.  We drove to the Boquillas Crossing gate but it was closed. Not sure how long its closed or when it might be open again. Back to the Panther Junction visitor center (they are still clinging to requiring masks in the buildings).  They had some cool exhibits and we found some souvenirs.  We finished our day in the park with the Basin Drive up into the Chisos mountains.  There was a sign saying nothing over 27 feet should go into the basin.  It was a beautiful drive and I just love the Century Plant. The drive out of the park was a bit long so I tried to amuse myself, and we saw a house made from an aircraft fuselage! Texan's, right?!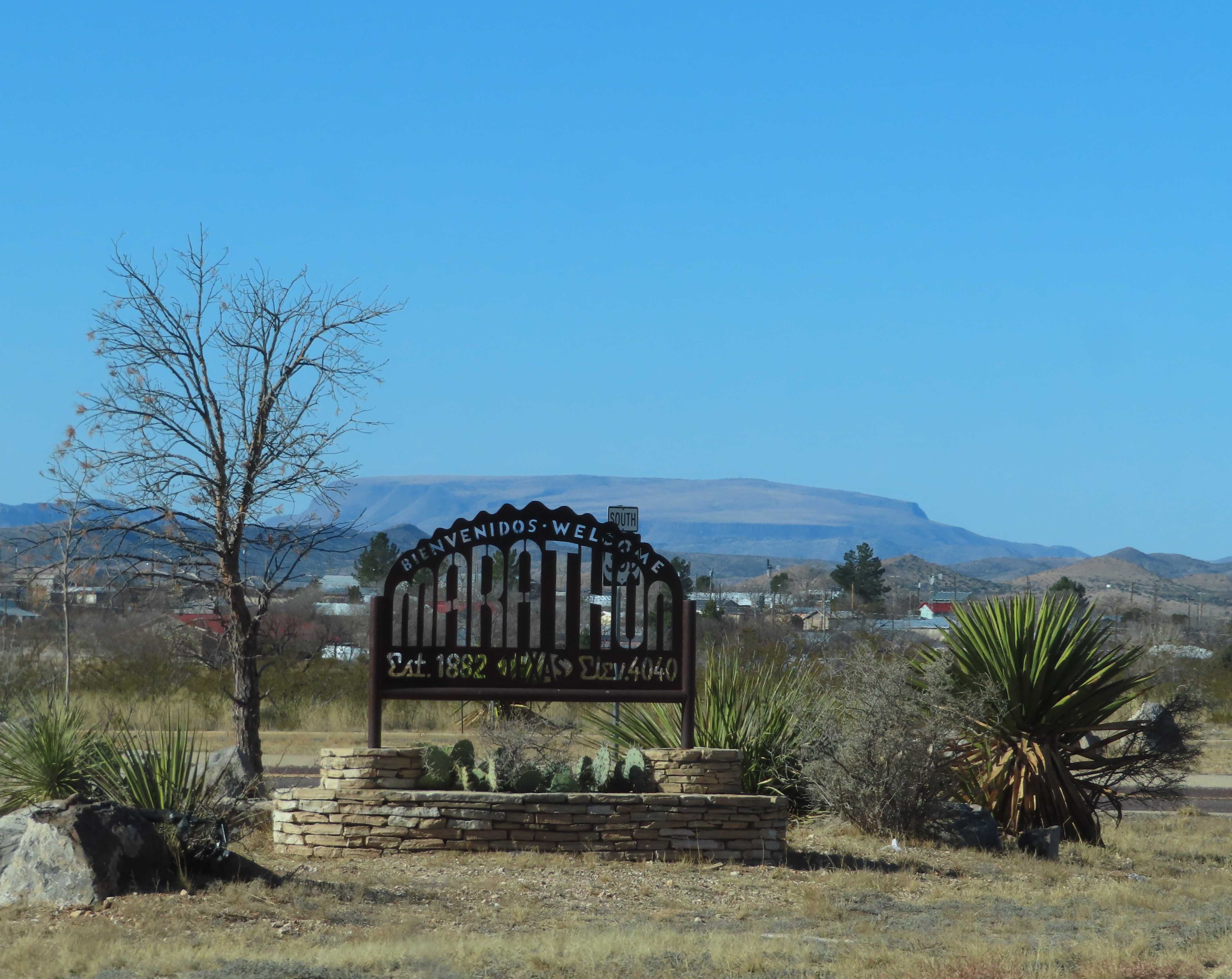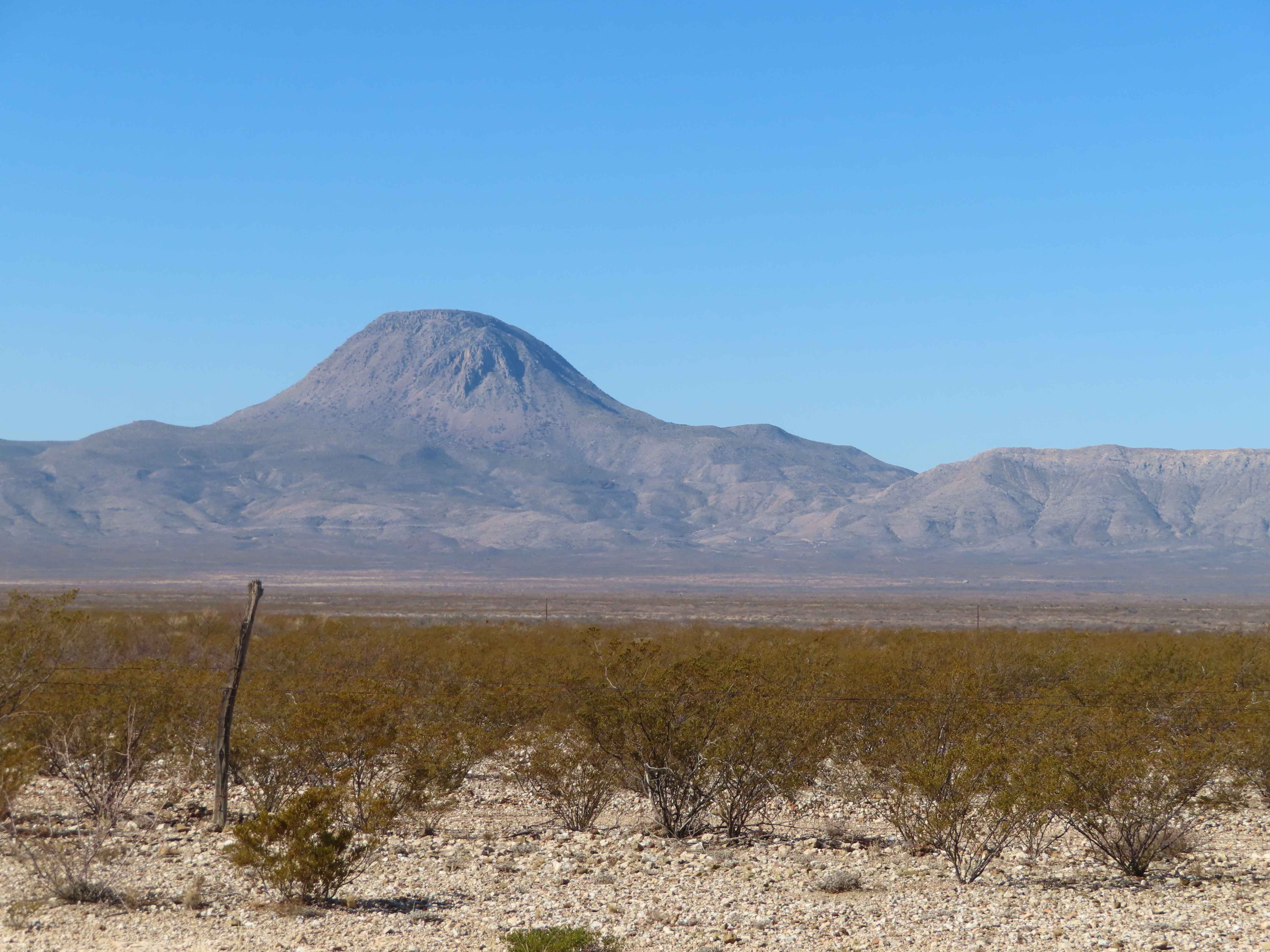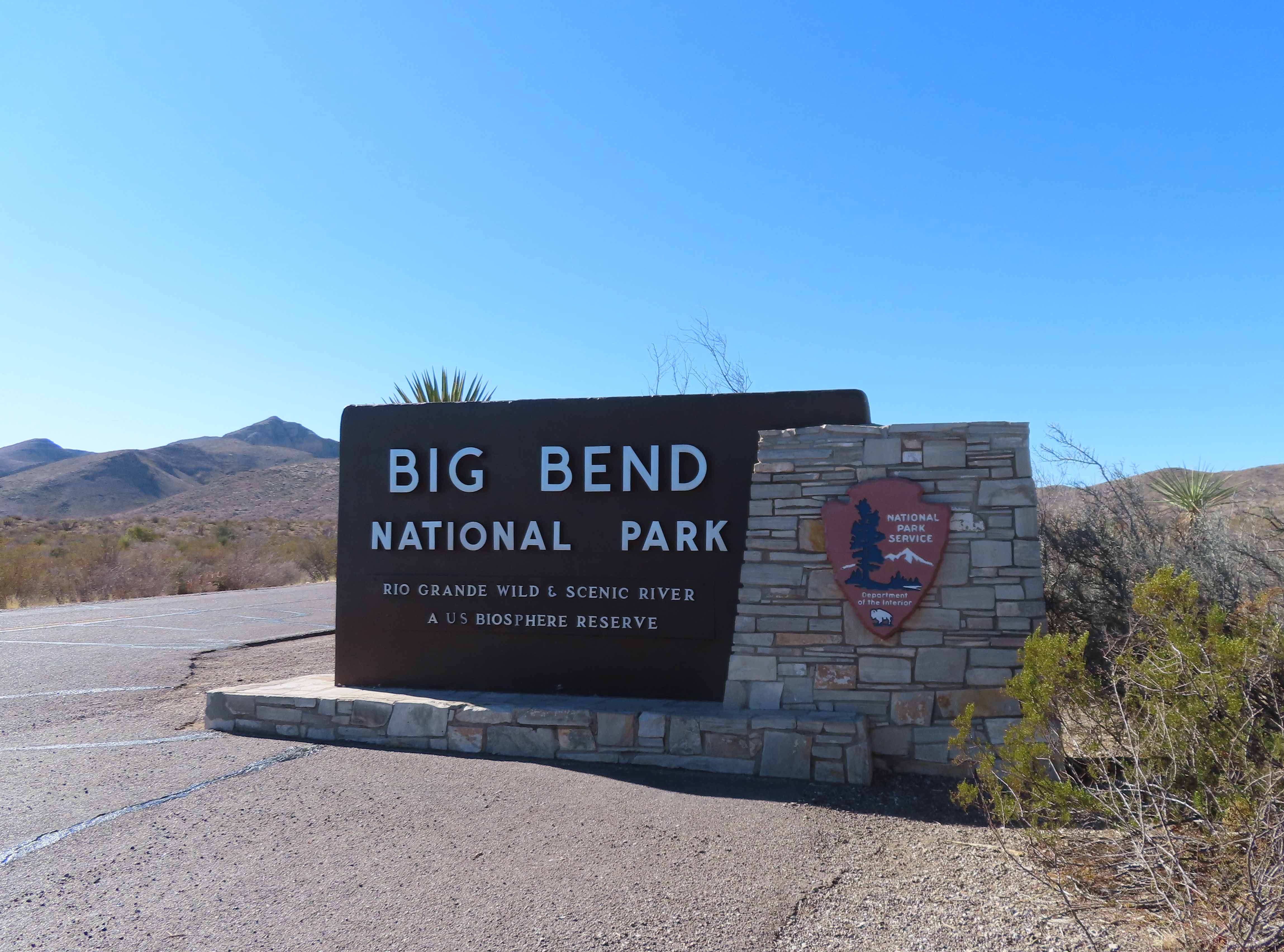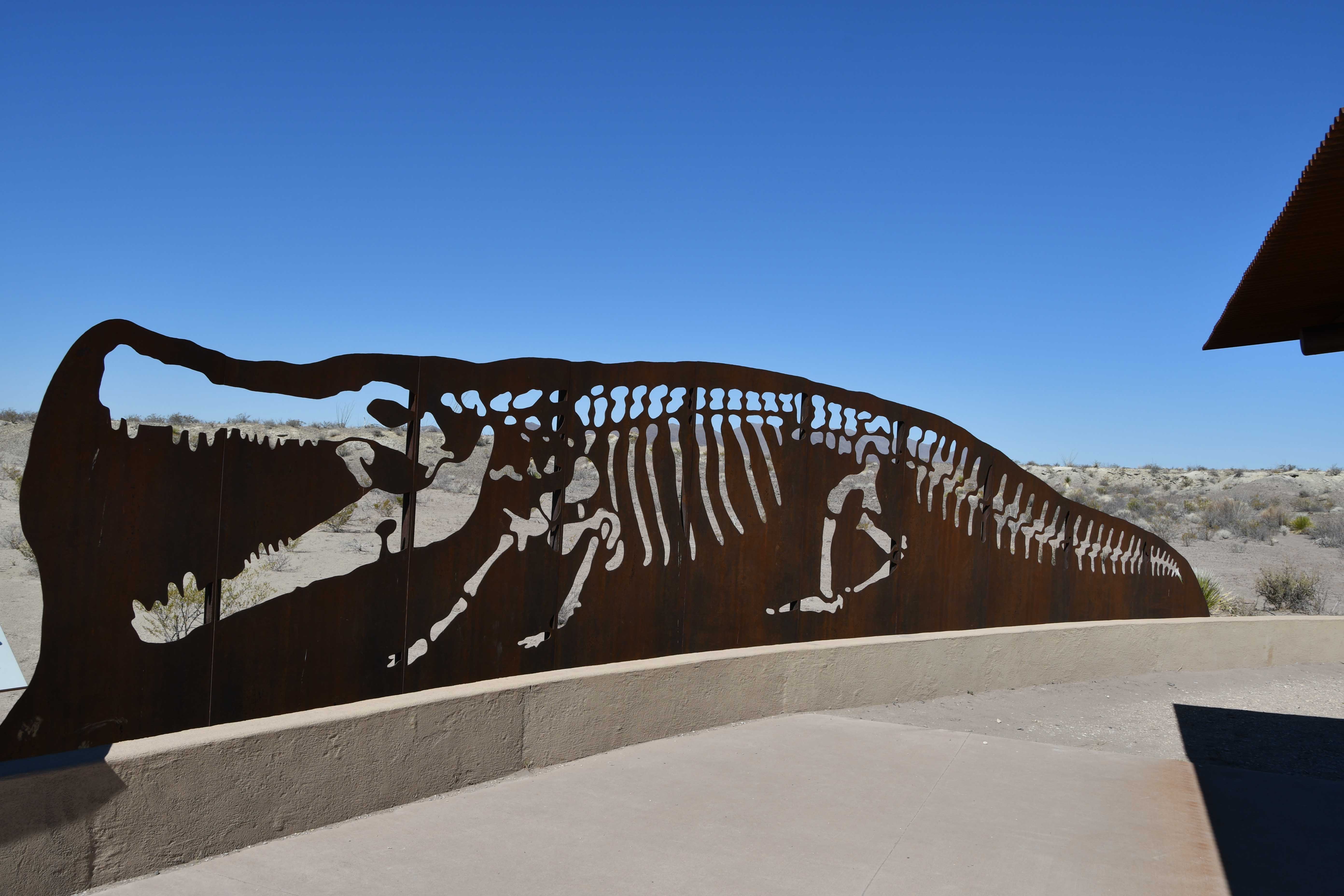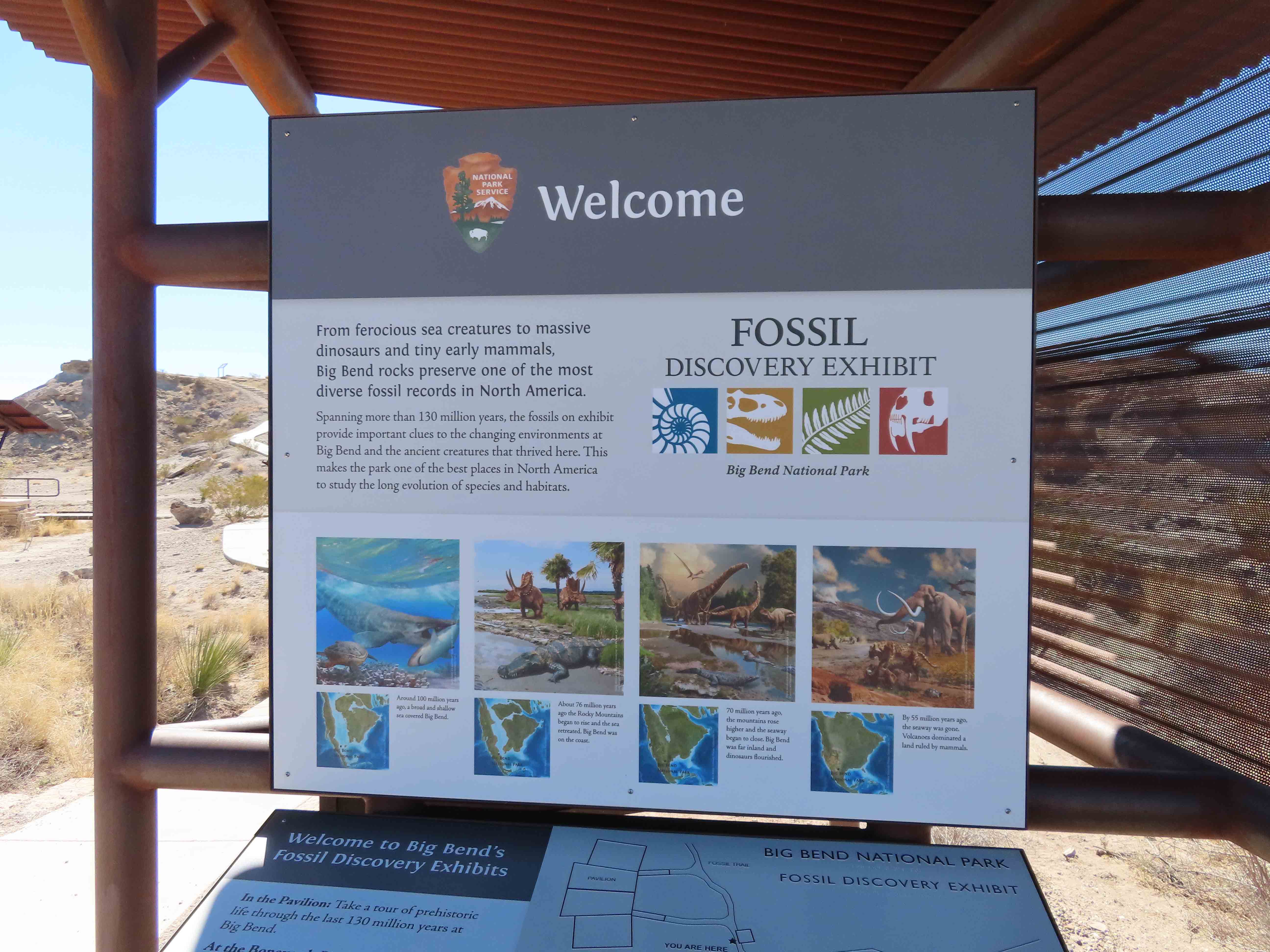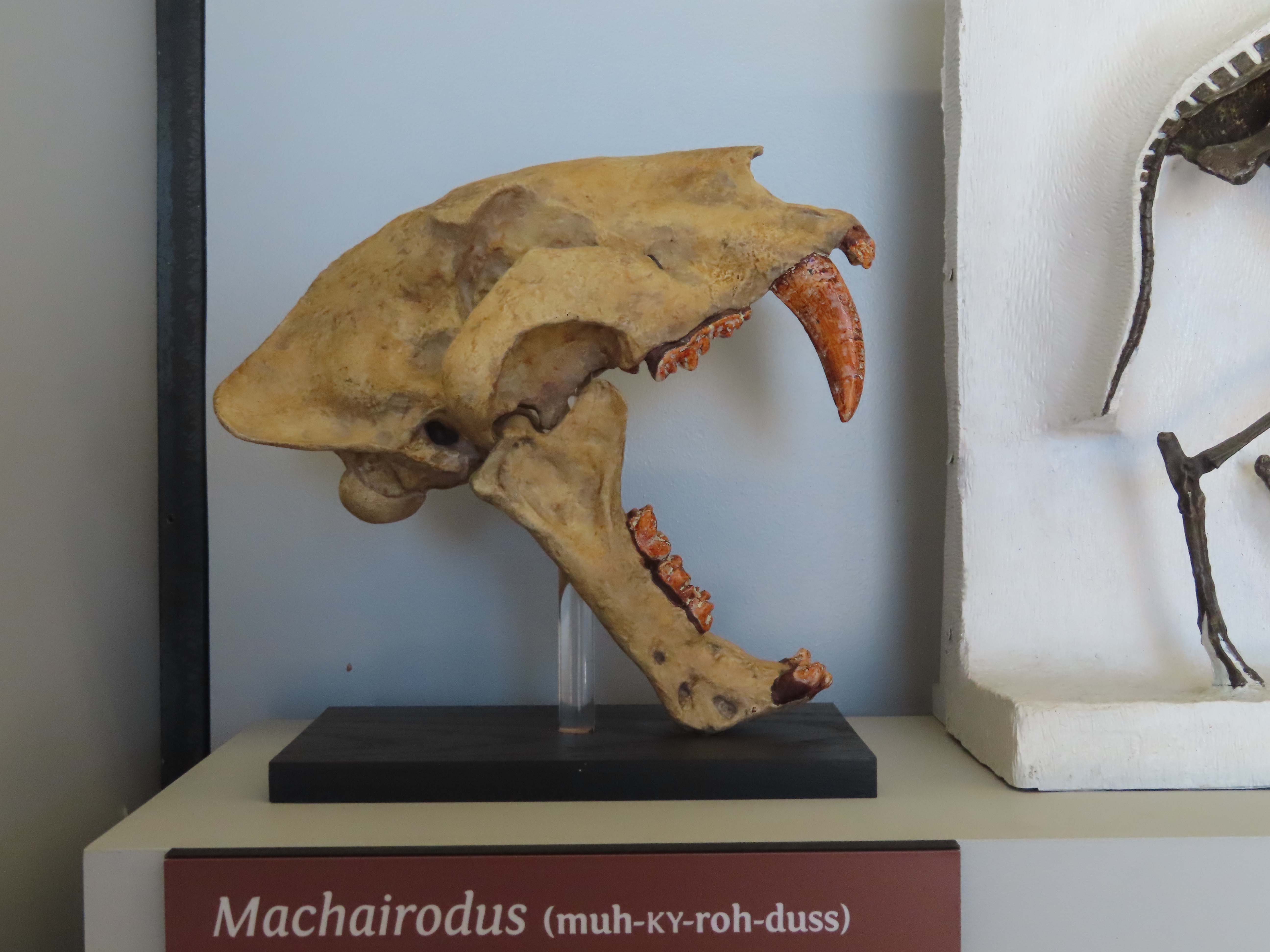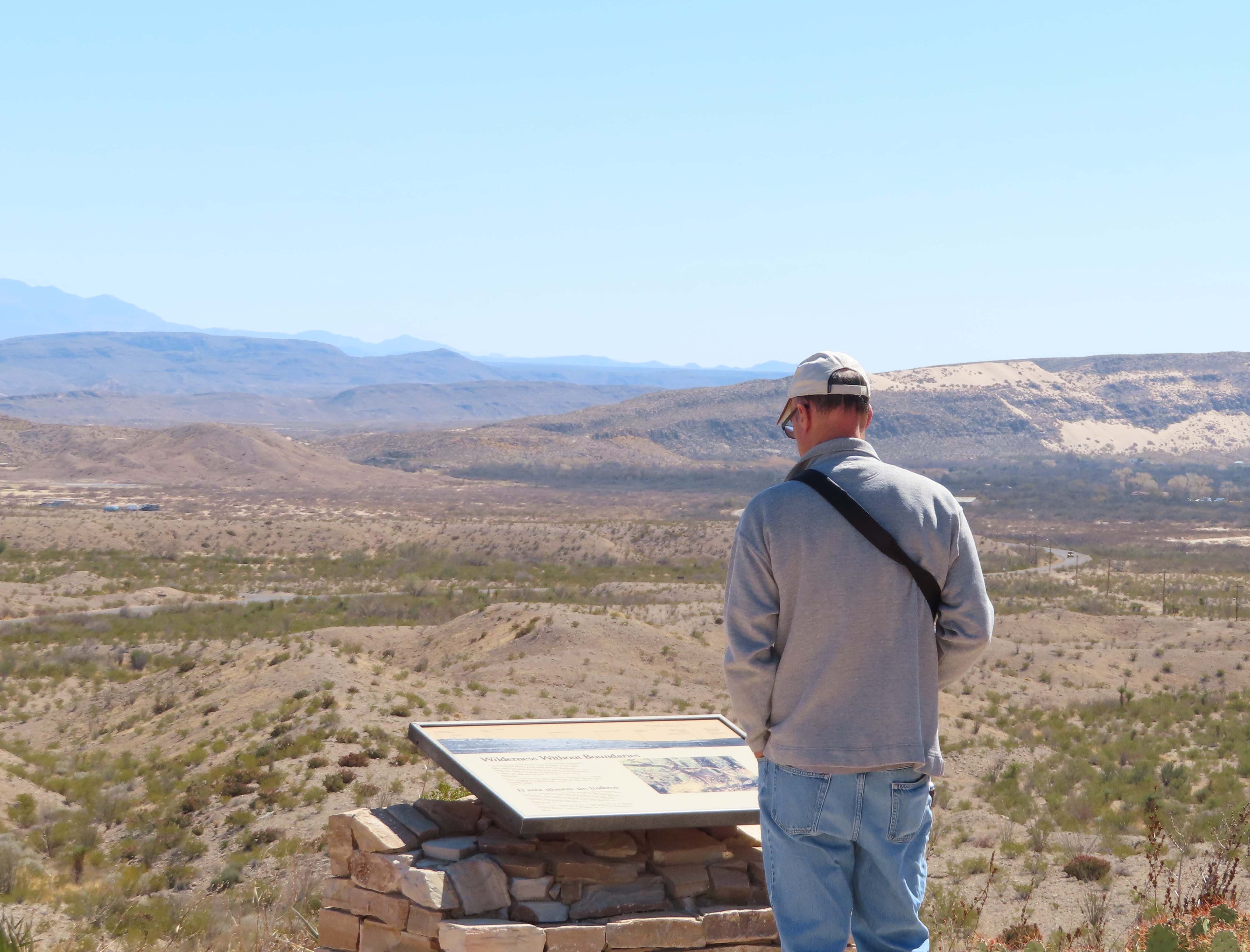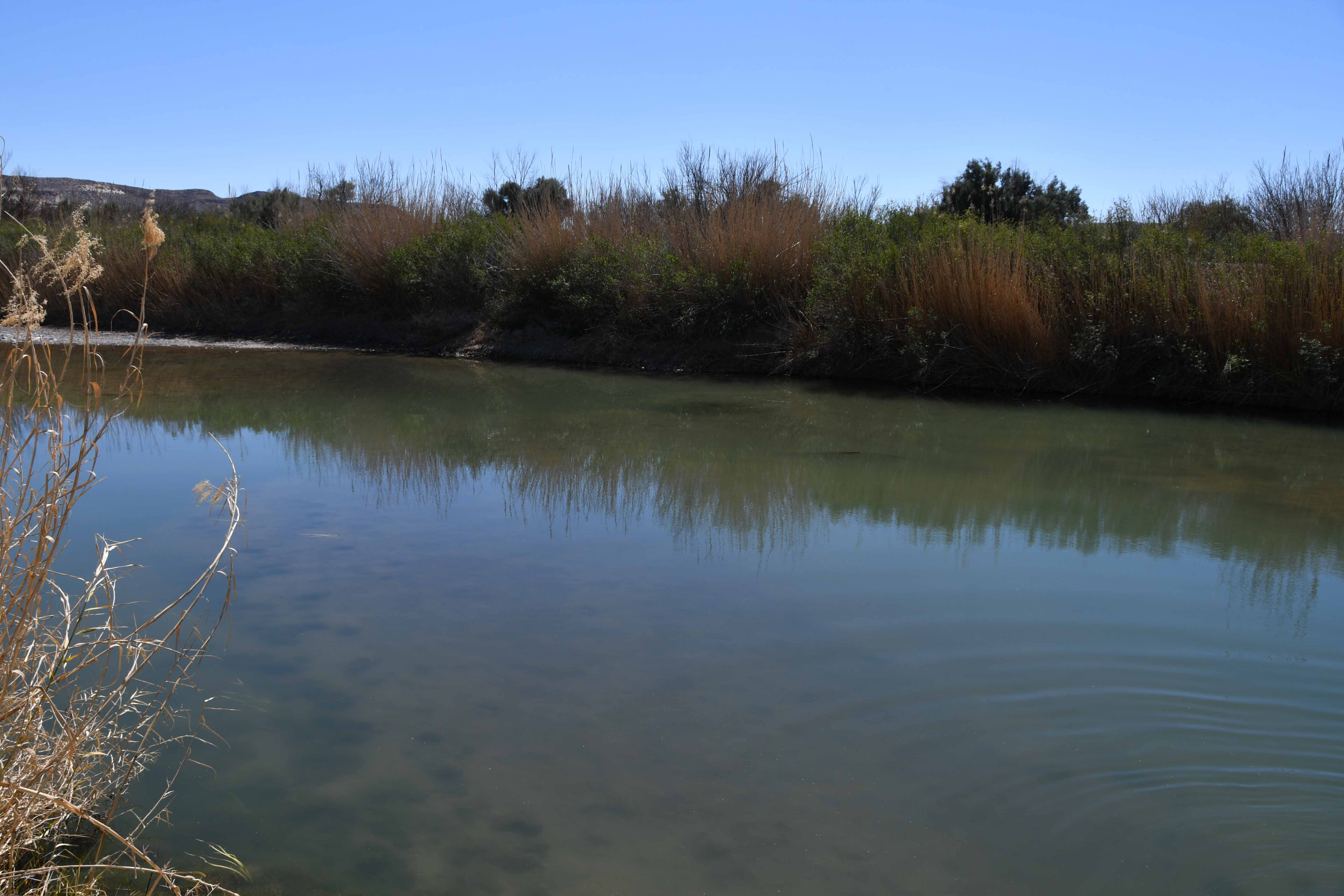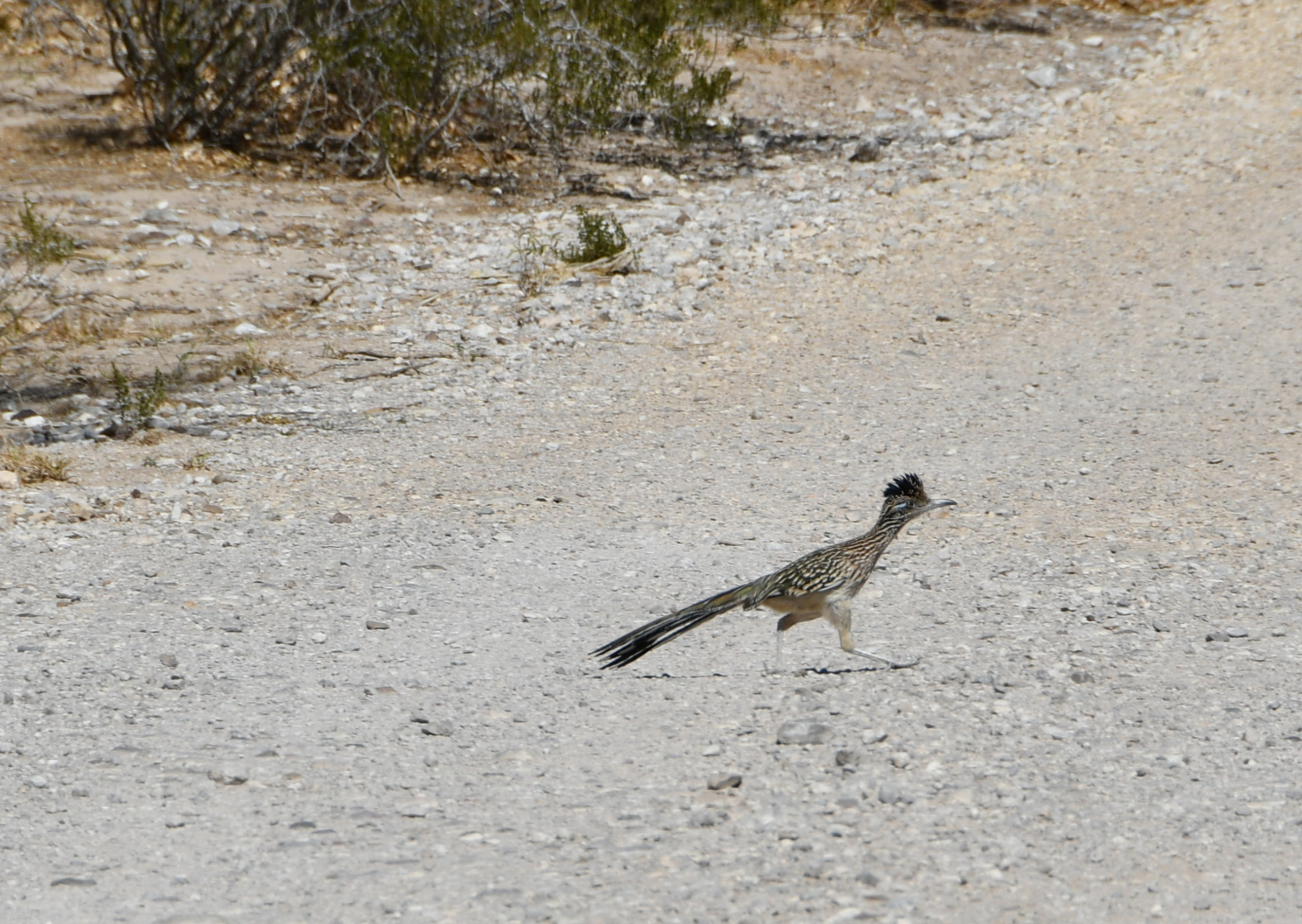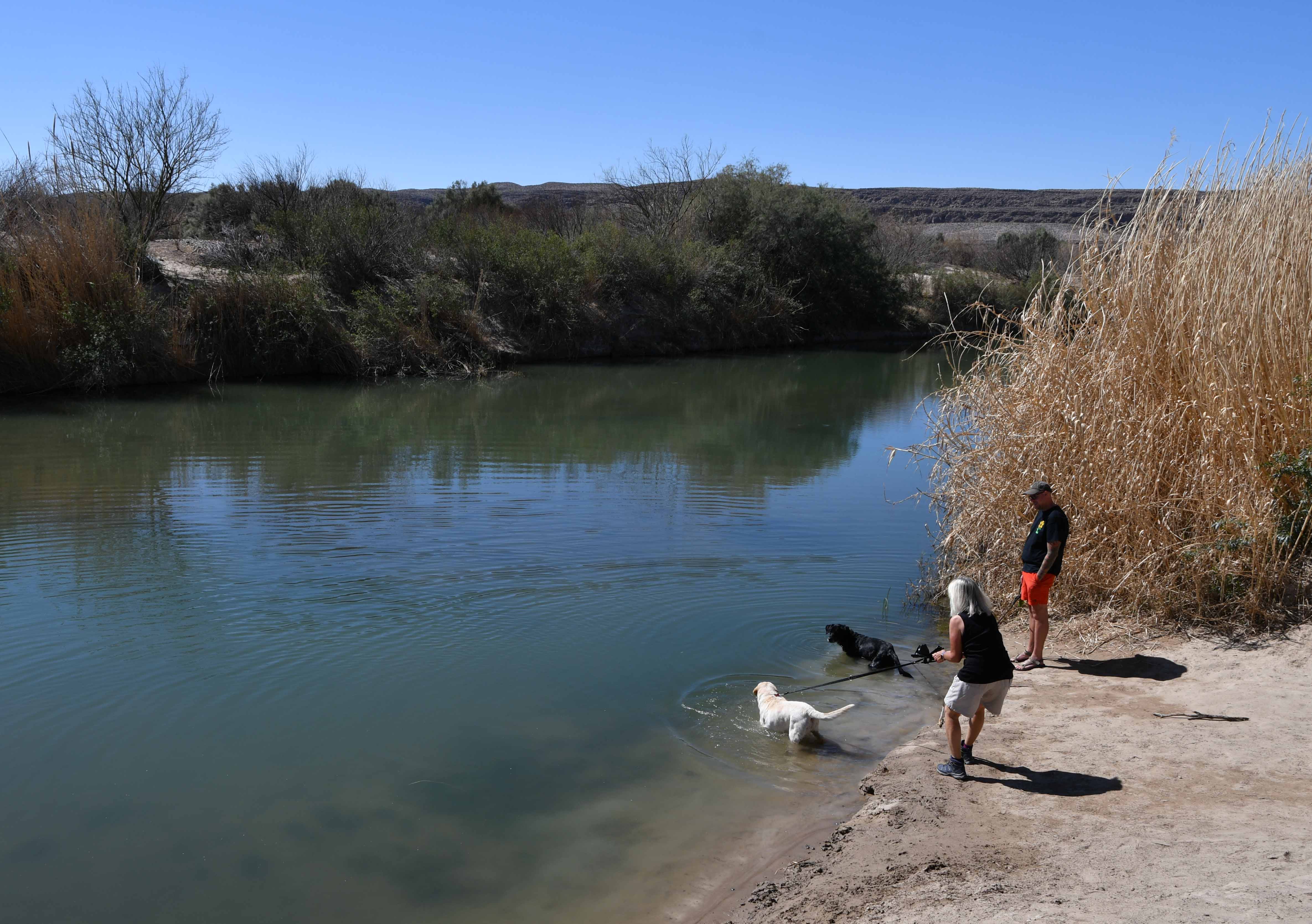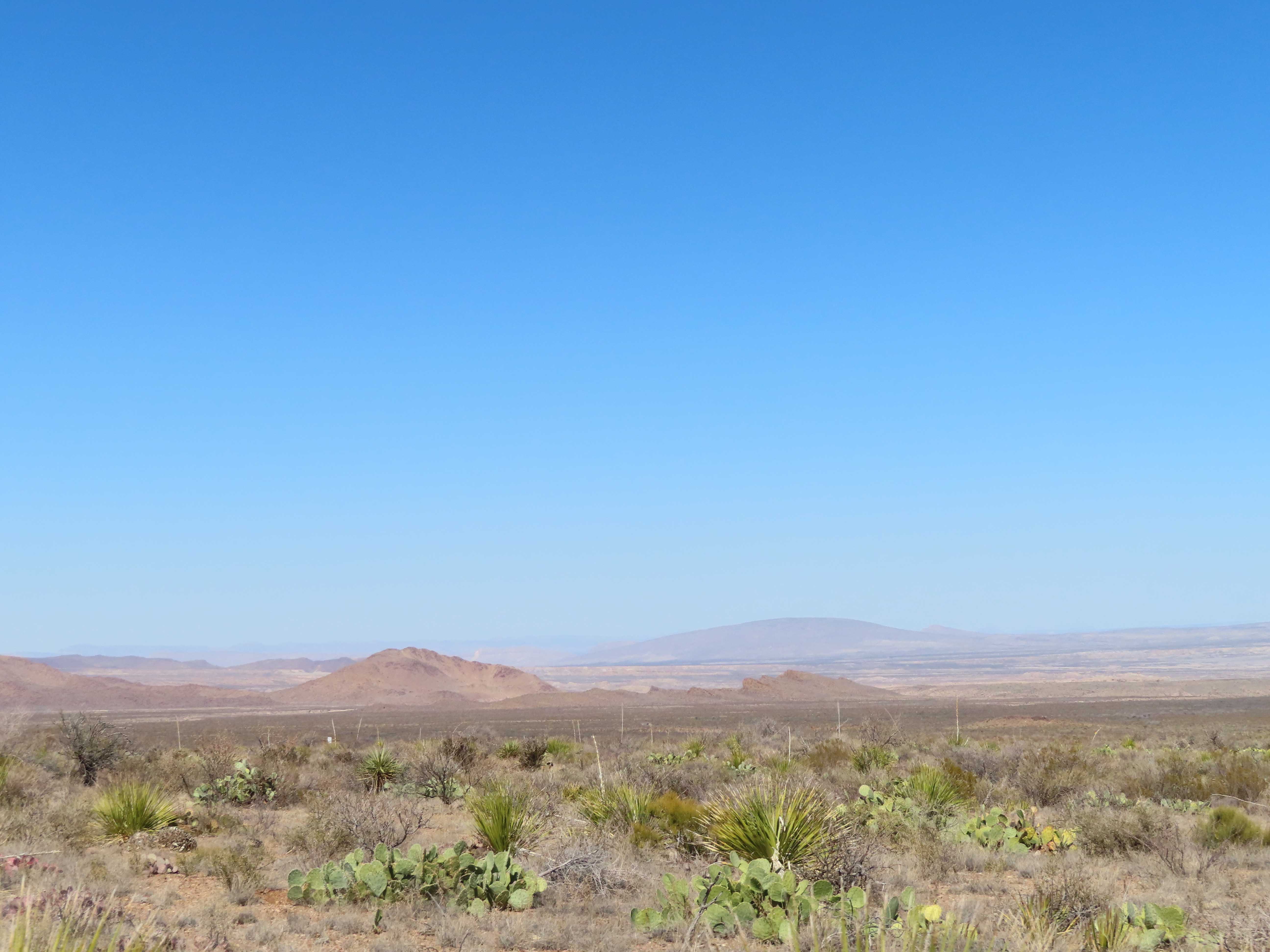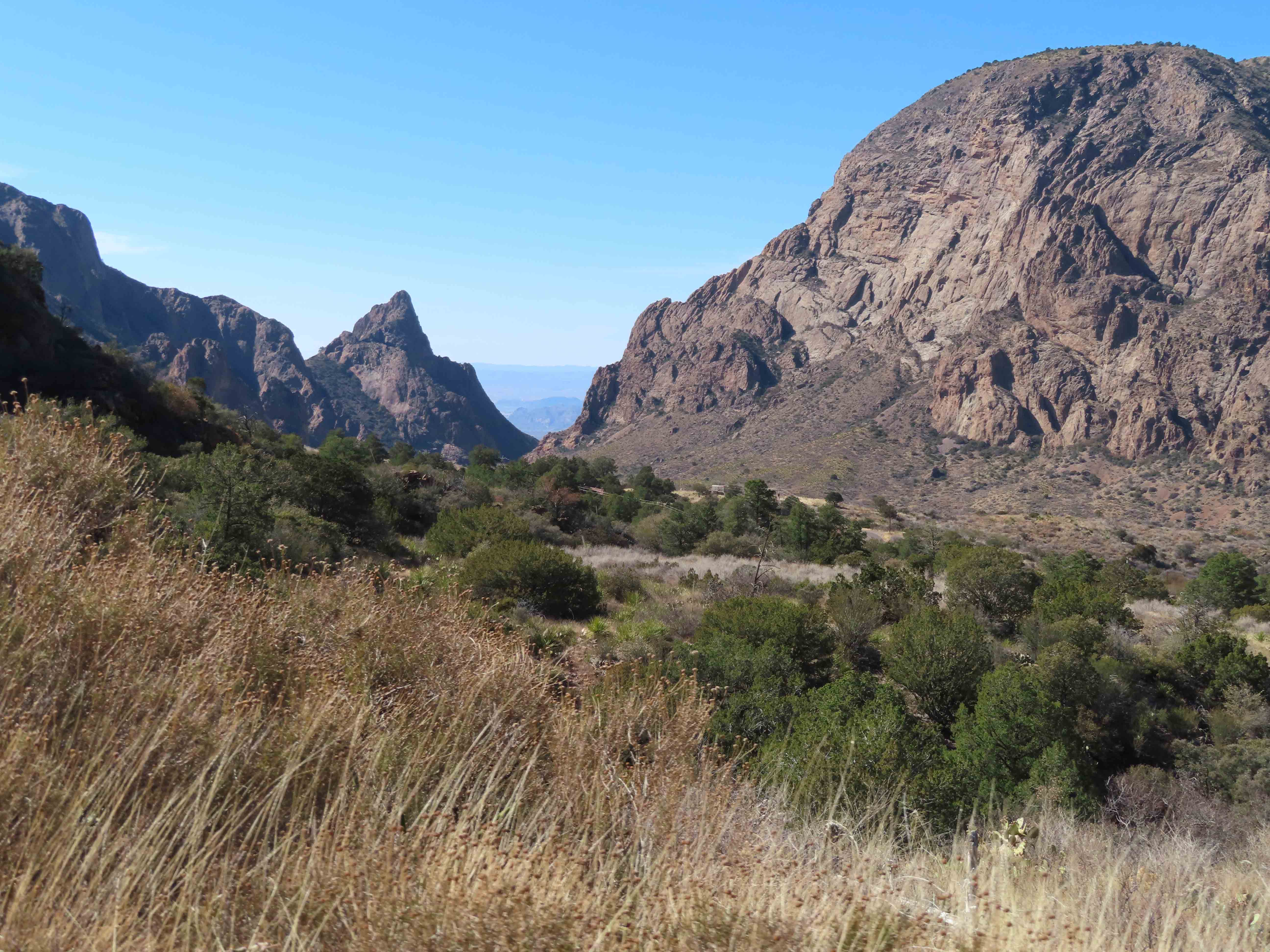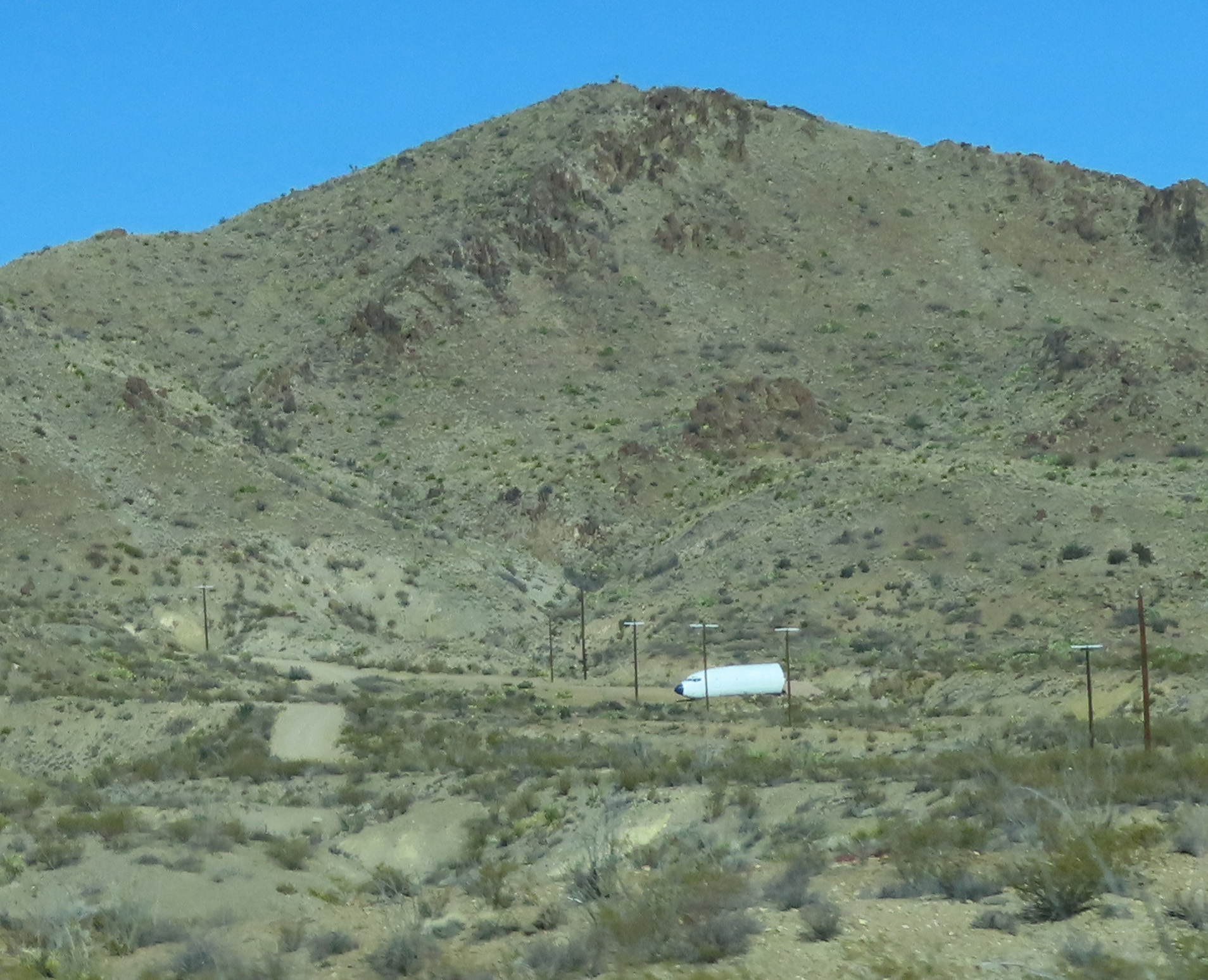 Wednesday, we hung out inside to avoid all the wind today, maybe being at the TOP of the hill was not such a good idea.  The wind really howled all day.  The entire campground is just gravel so the dust was kind of brutal. But the dust did make for good sunset photos.
Thursday, we explored Fort Stockton, it is a neat small town with some history.  The first thing we noticed was all the dust in the air from yesterdays winds. It looks like smog but it is dust.  On the west side of town there is a metal shadow cutout of a Cavalry unit called "Marching to Fort Stockton". And on the west side of town is a metal shadow cutout of an Indian group called "Look to the East".  Both are very cool. We started at the Fort Stockton Visitor Center that gives a good overview of why the fort was located here. The choice was largely made because of the springs in the area. The fort was garrisoned by the 9th Cavalry, the "Buffalo Soldiers".  After getting a photo of Paisano Pete, a roadrunner, and the Historic Fort Stockton sign, we visited the historic fort. I was a little surprised how short the life of the fort was, only 20 years, 1867-1886.  Next we visited the Annie Riggs Memorial Museum.  She was a tough lady who ran a boarding house / hotel, and took no s*$t. They have done a great job of preserving the building. And finally, we visited the Oldest House In Fort Stockton. It was built sometime 1855-1860 for the civilian merchant who would support Camp Stockton, a.k.a. the camp sulter. It has seen better days but they are protecting it as best they can.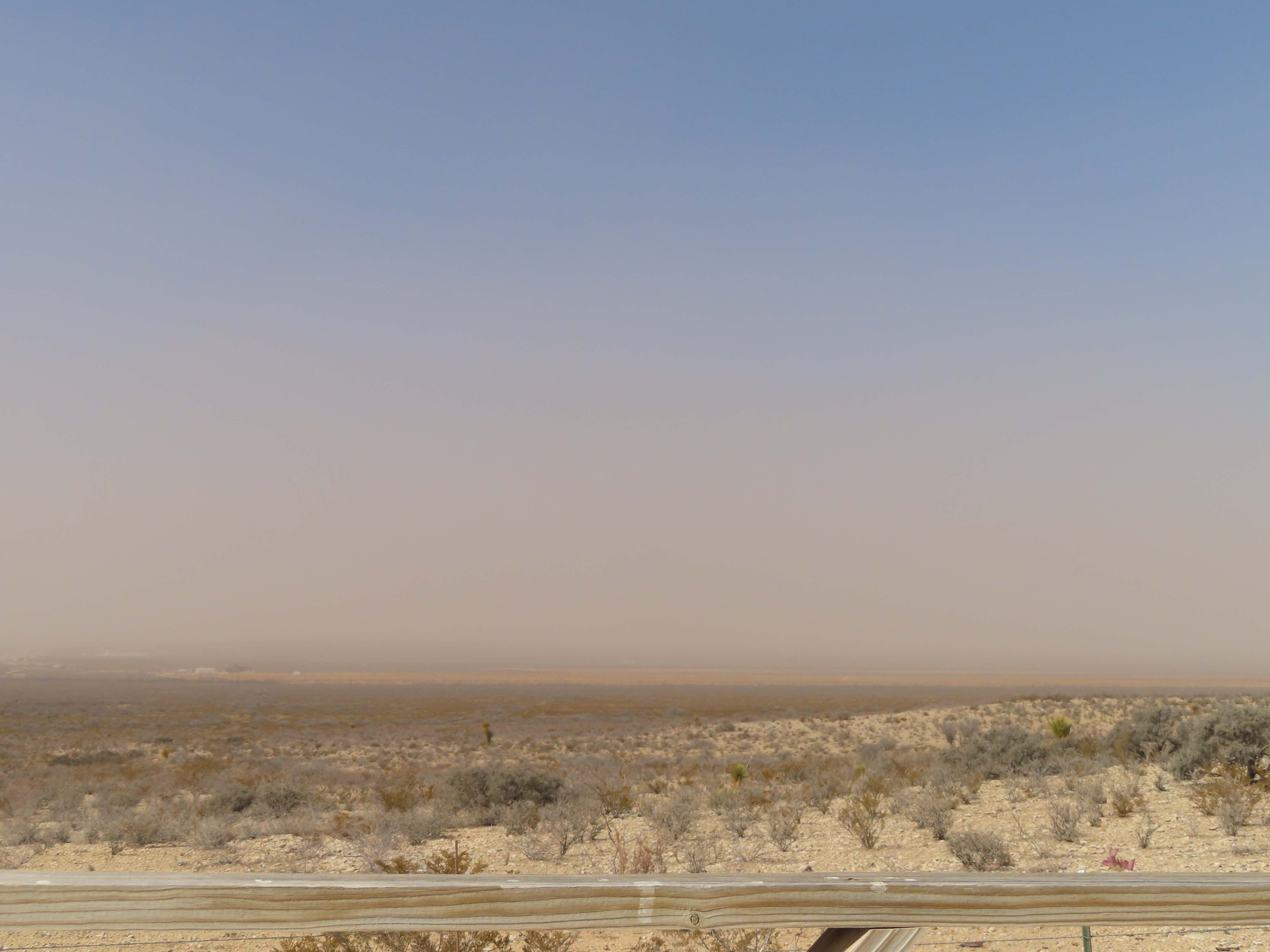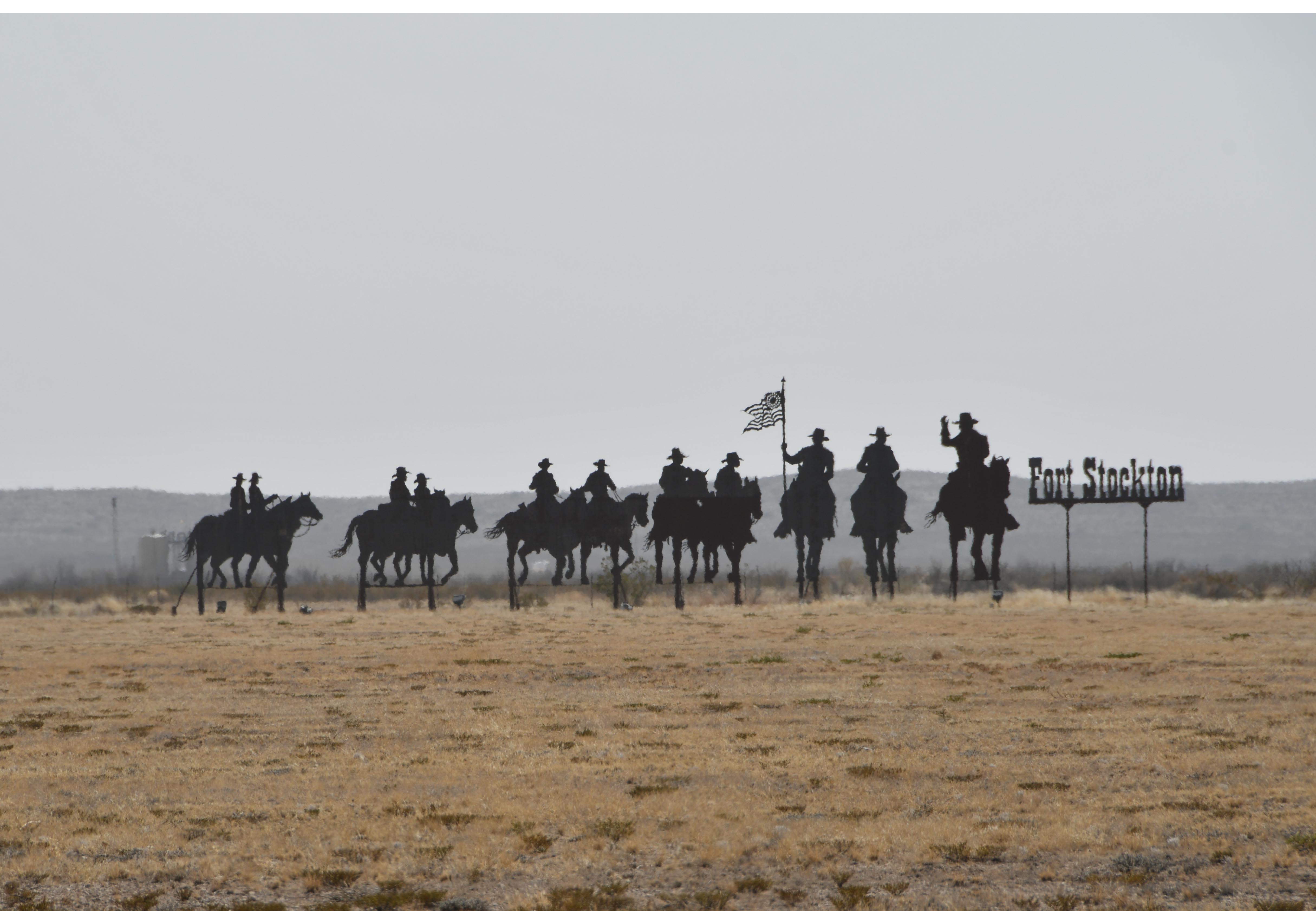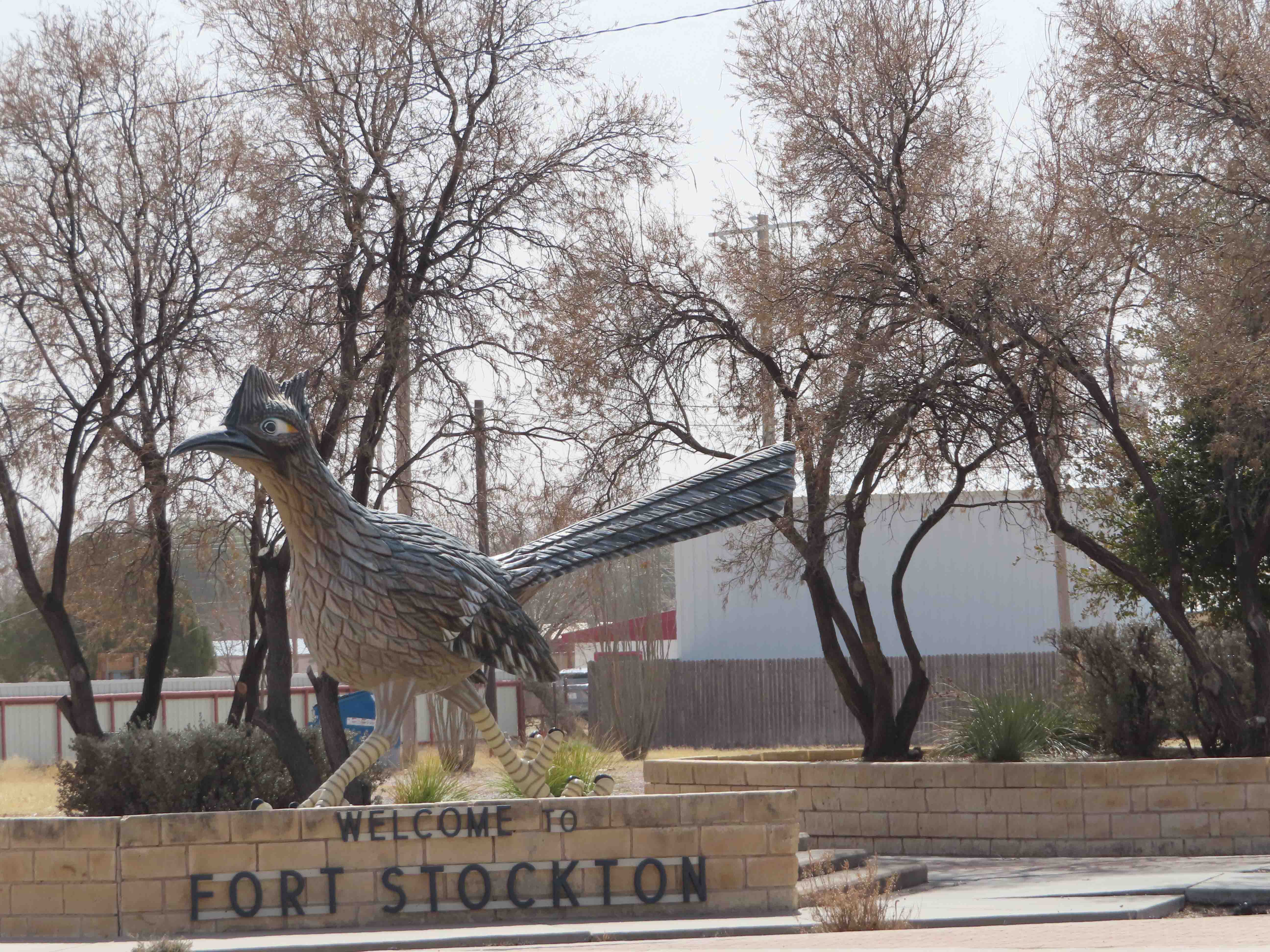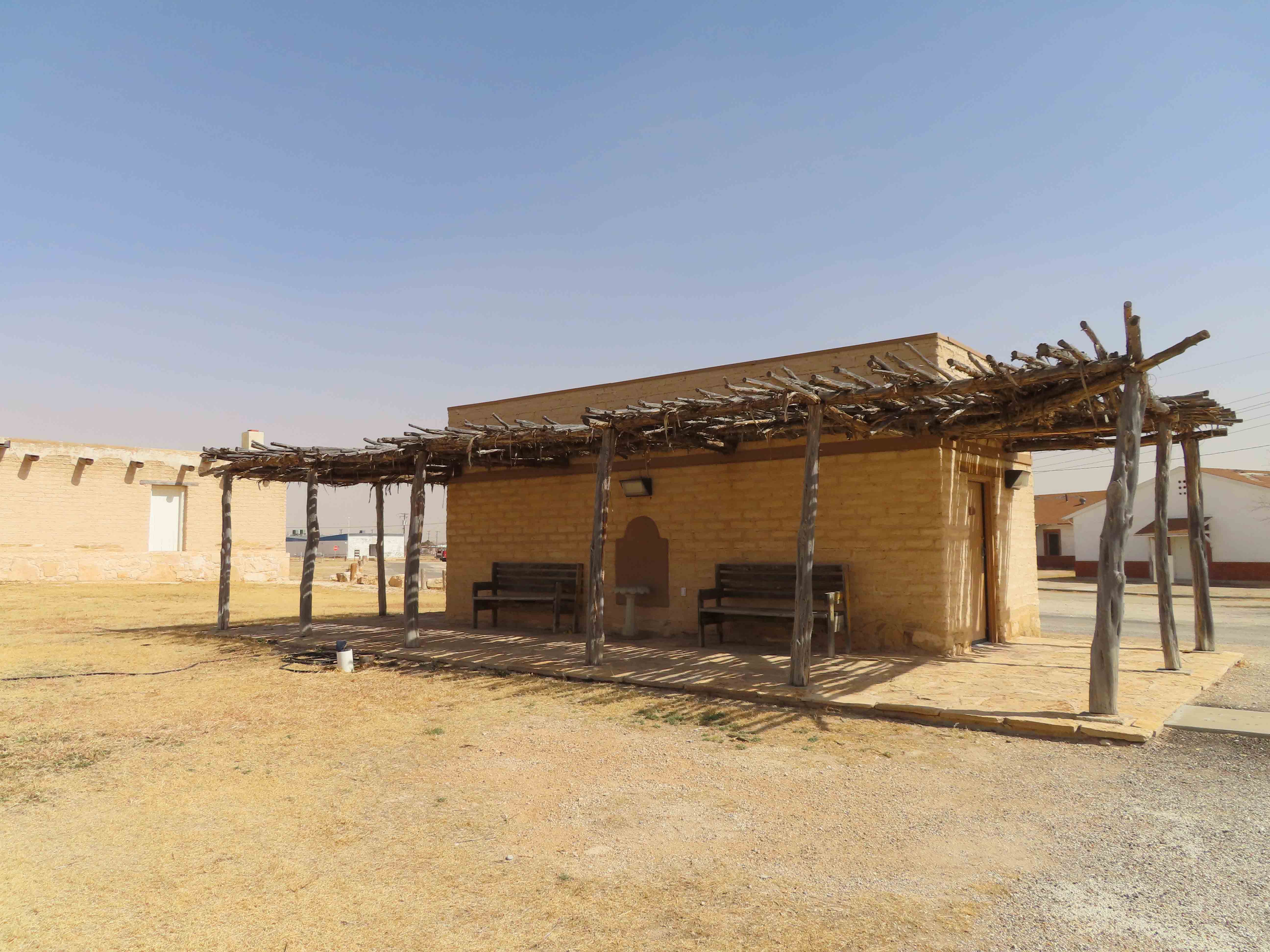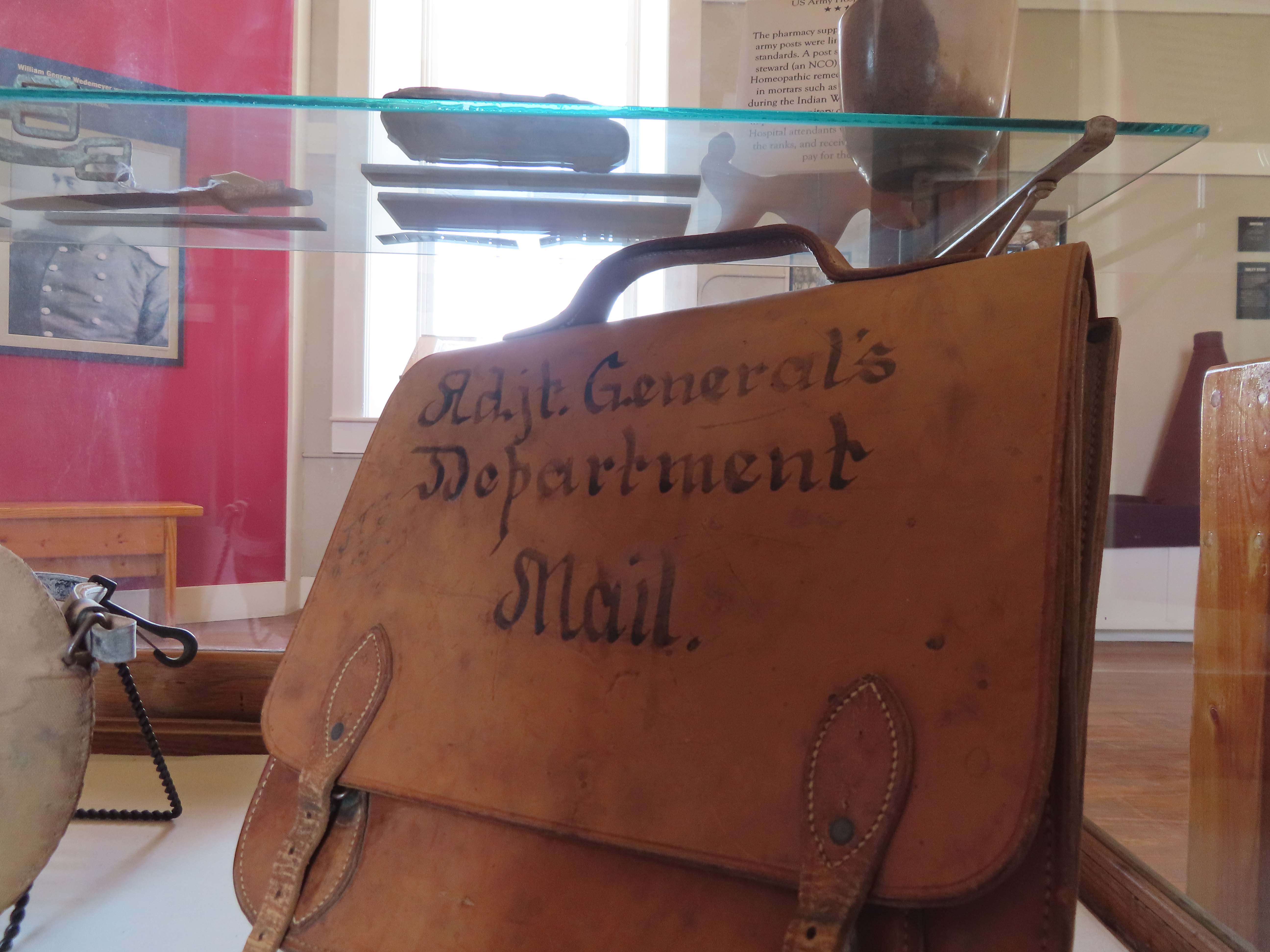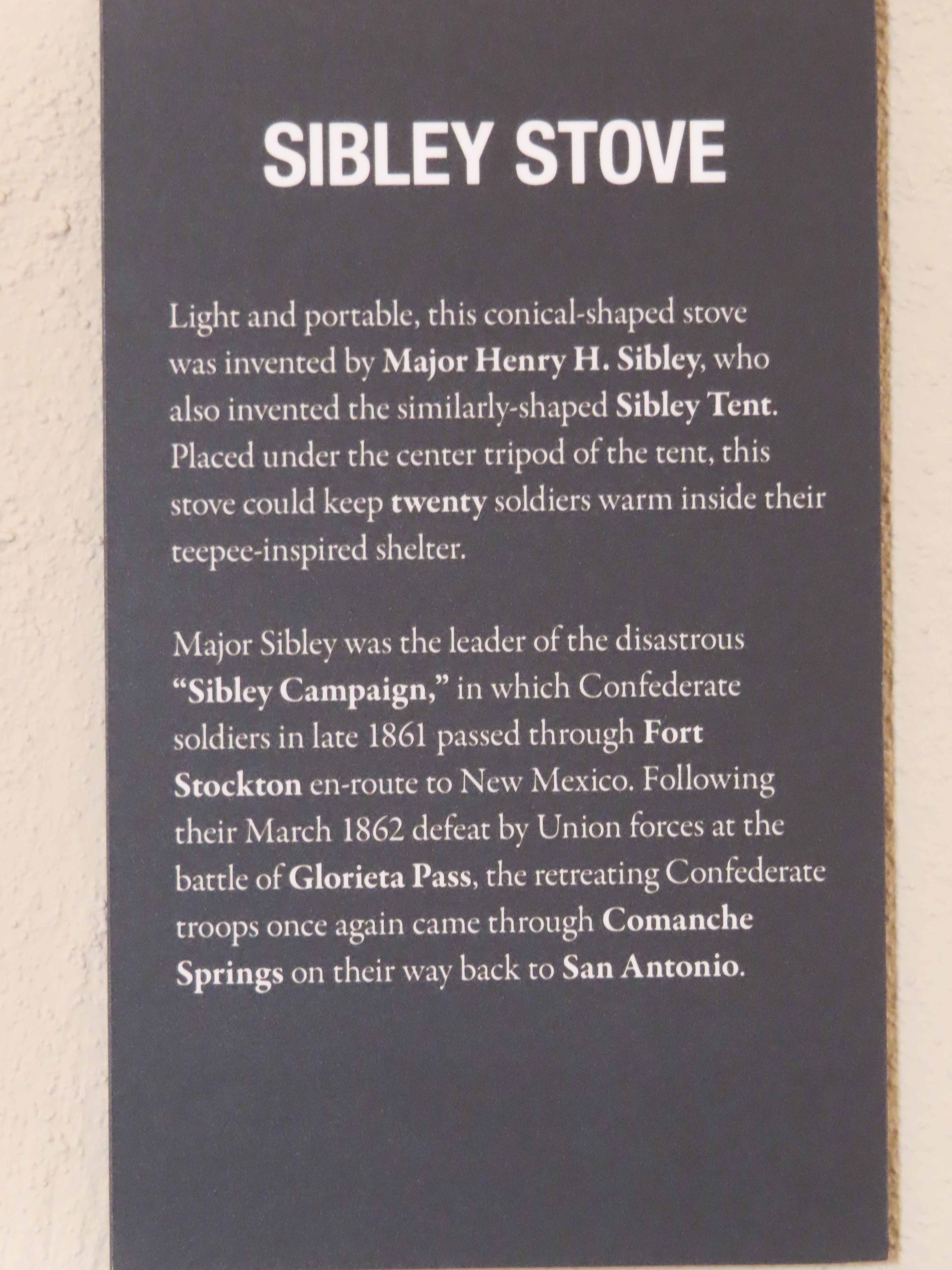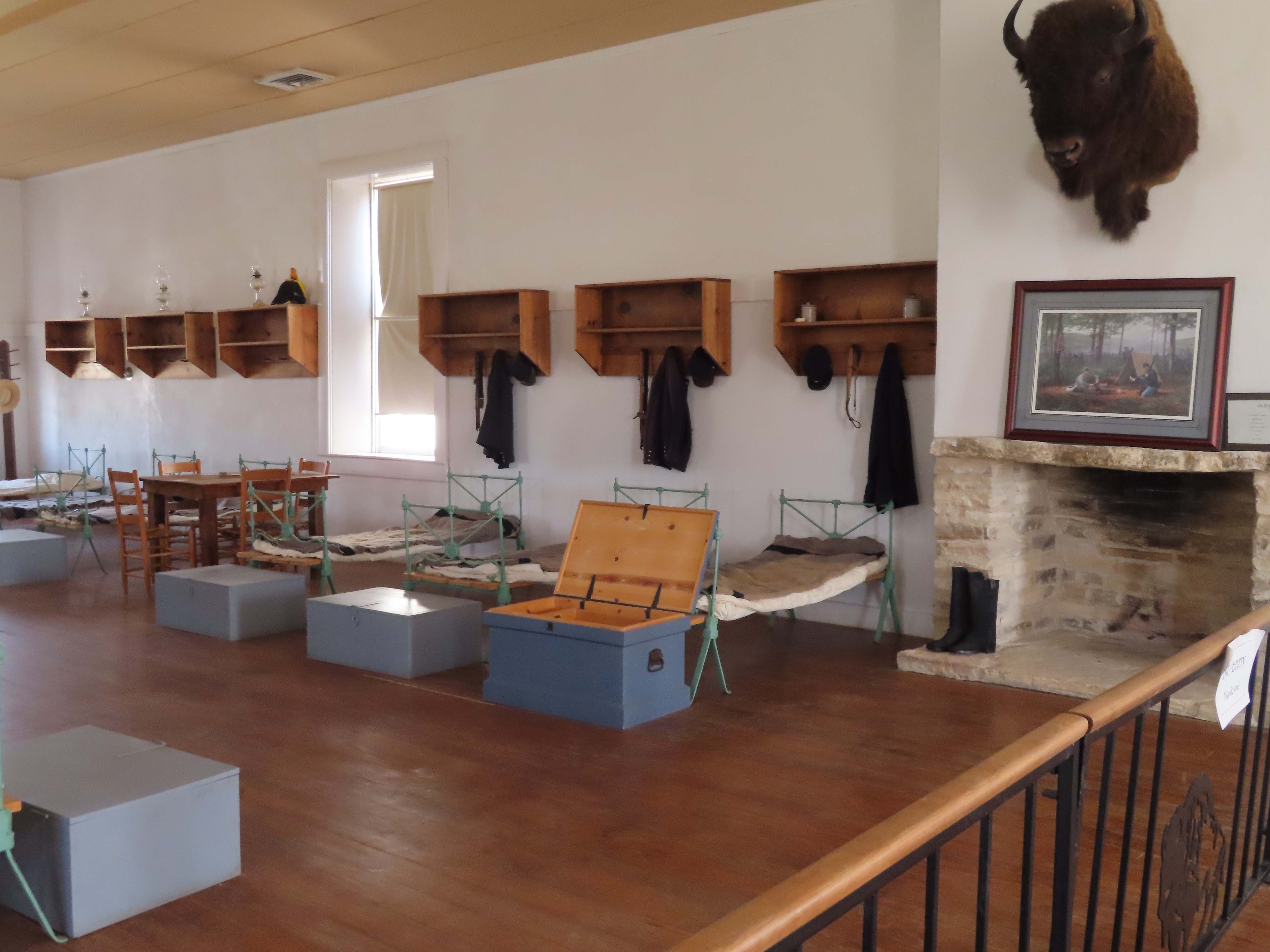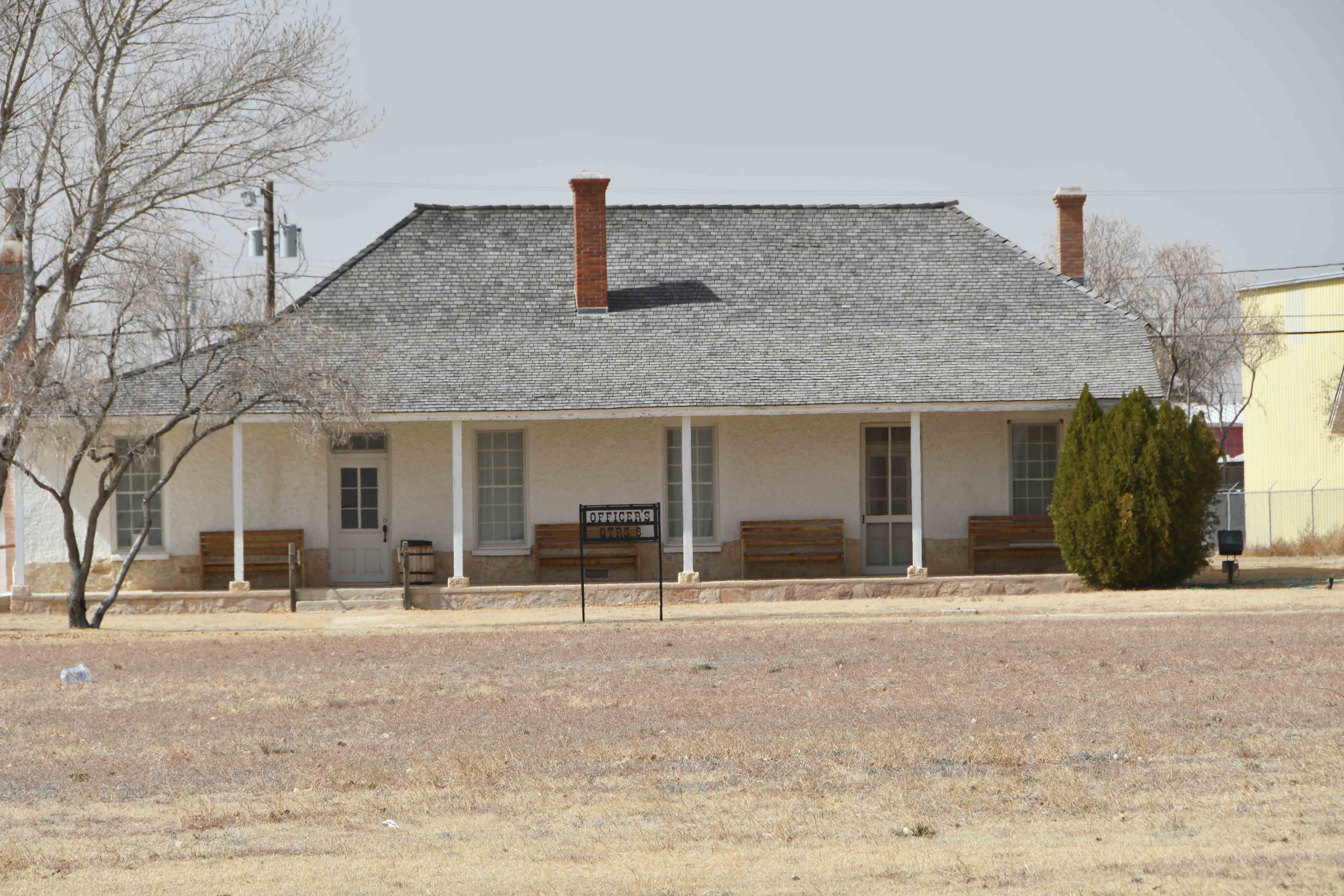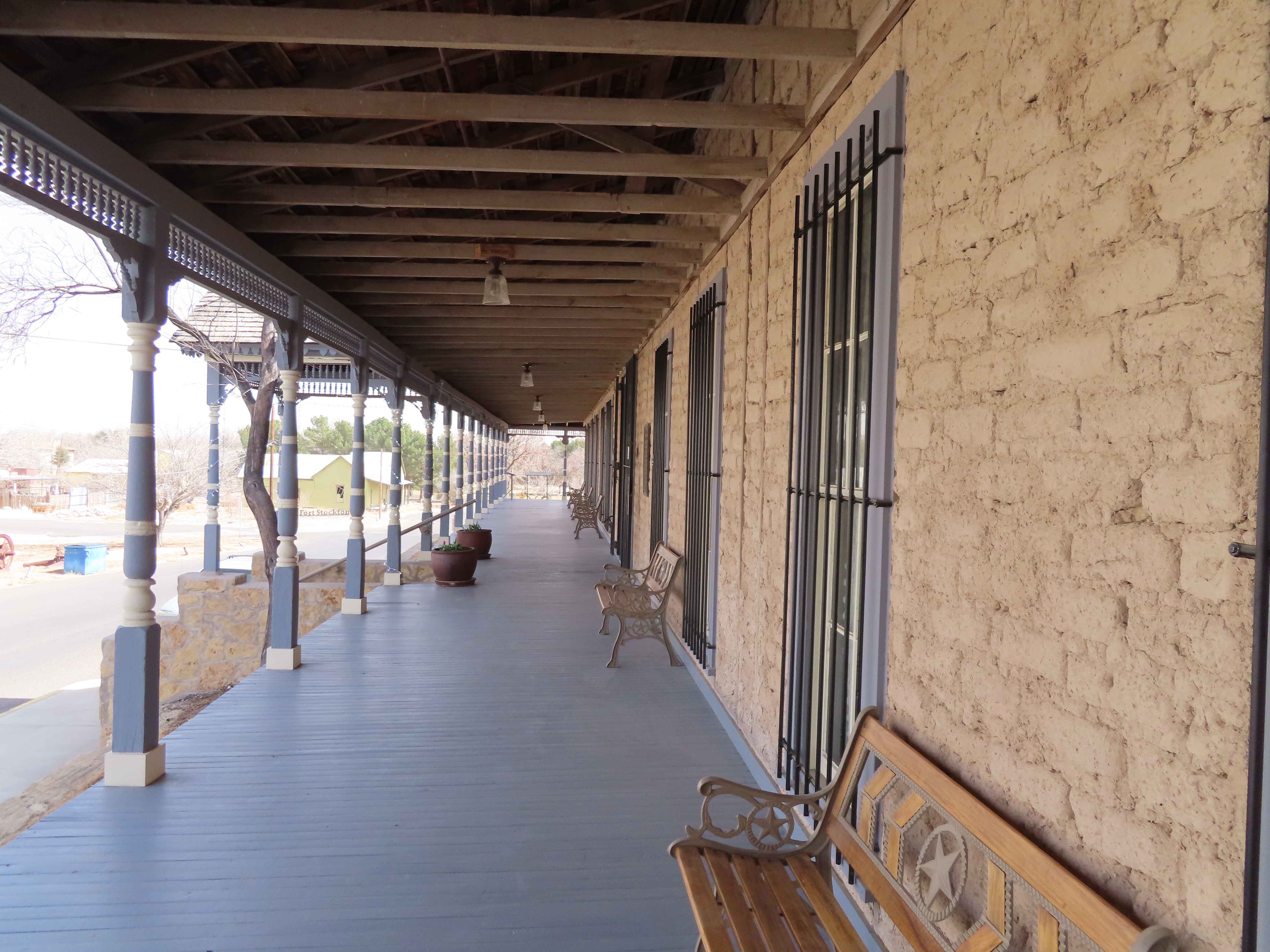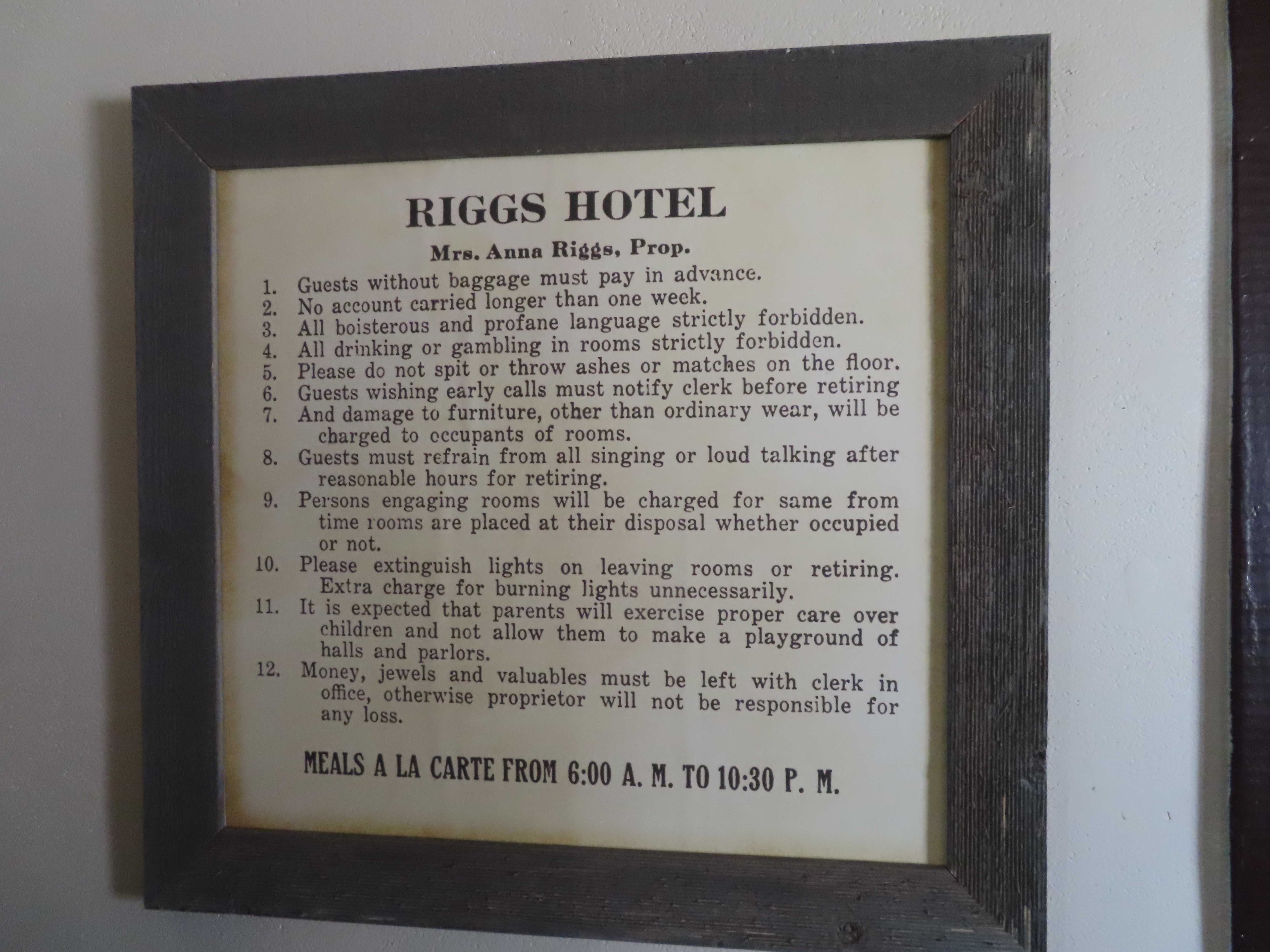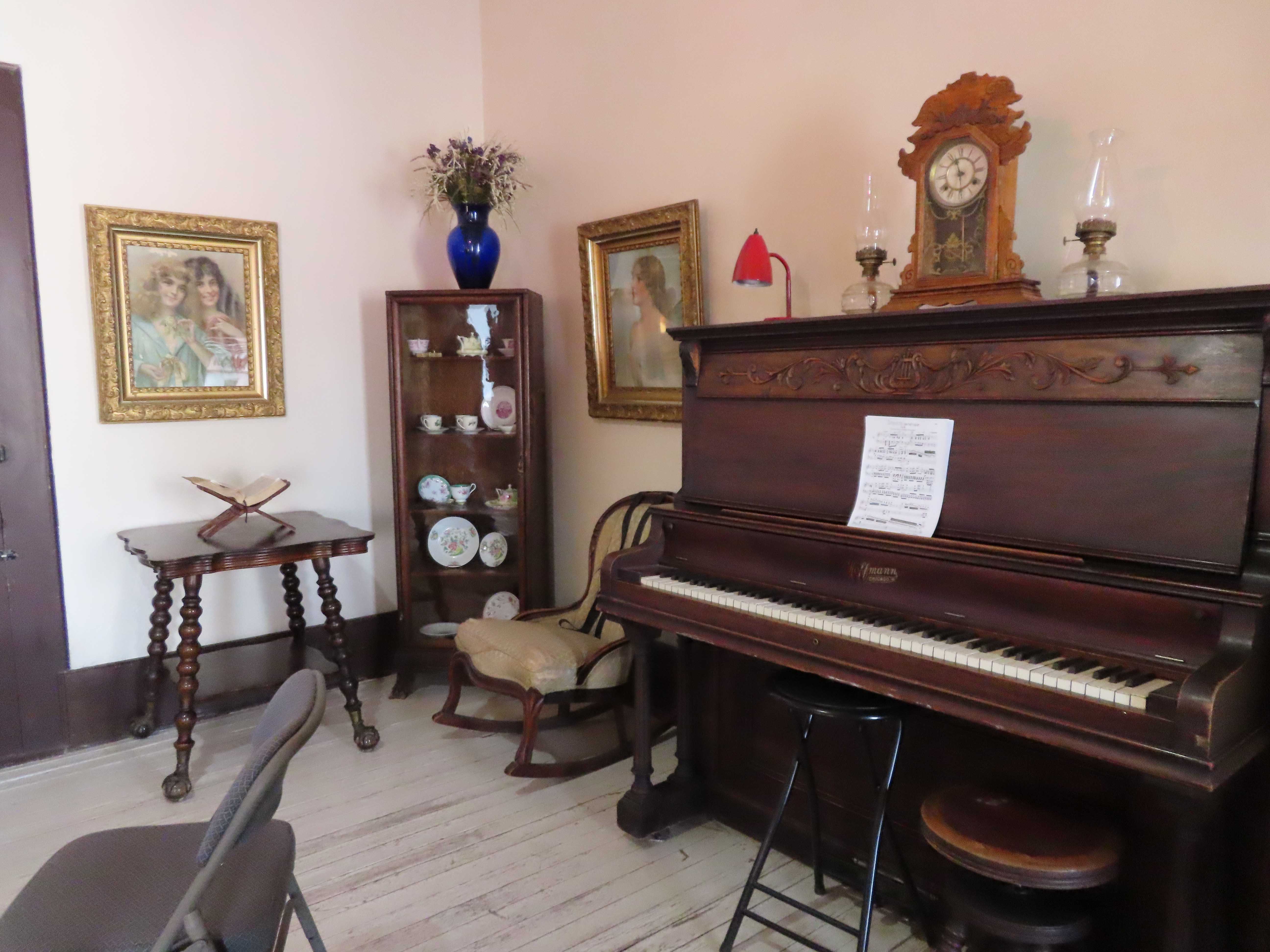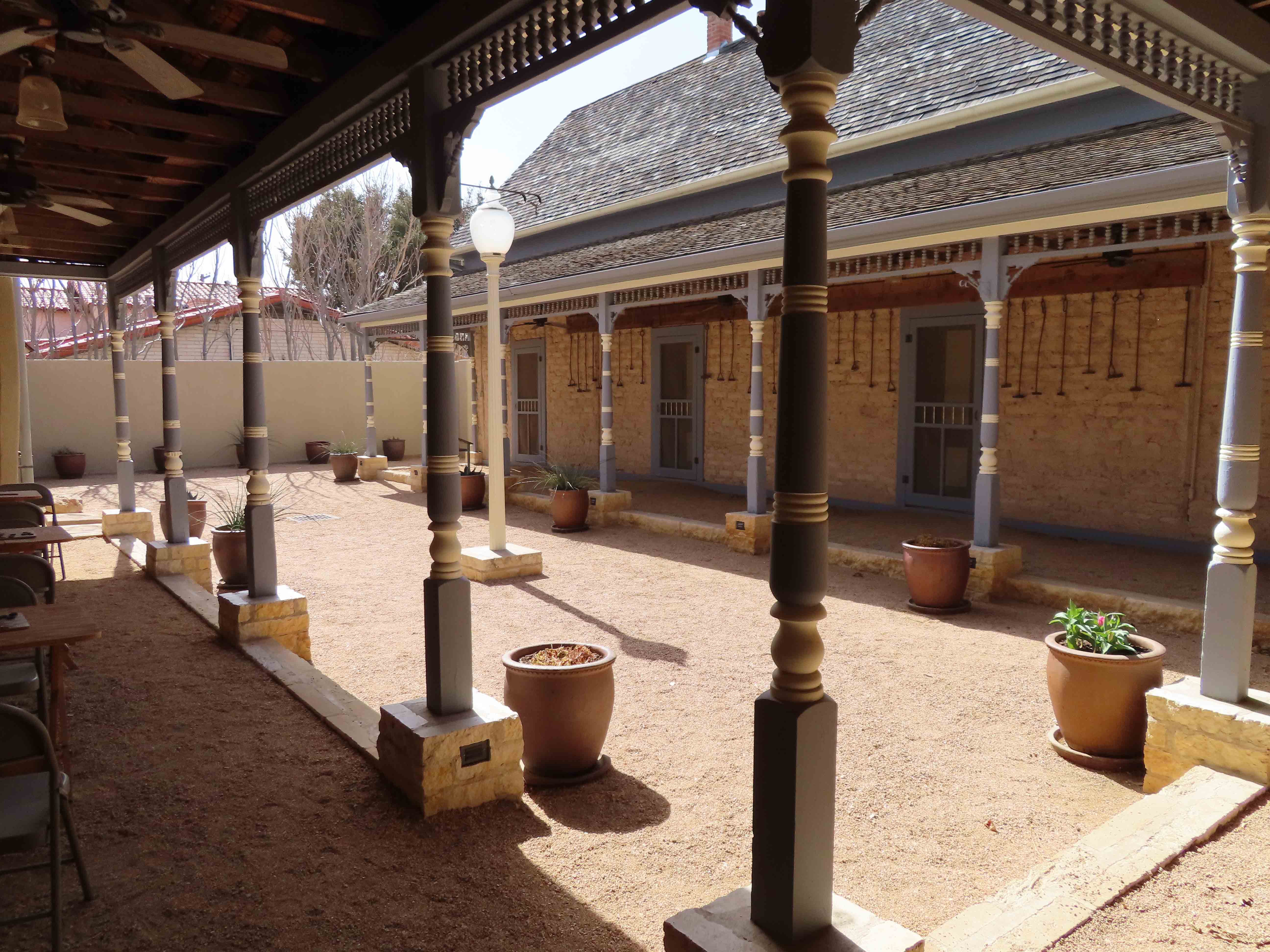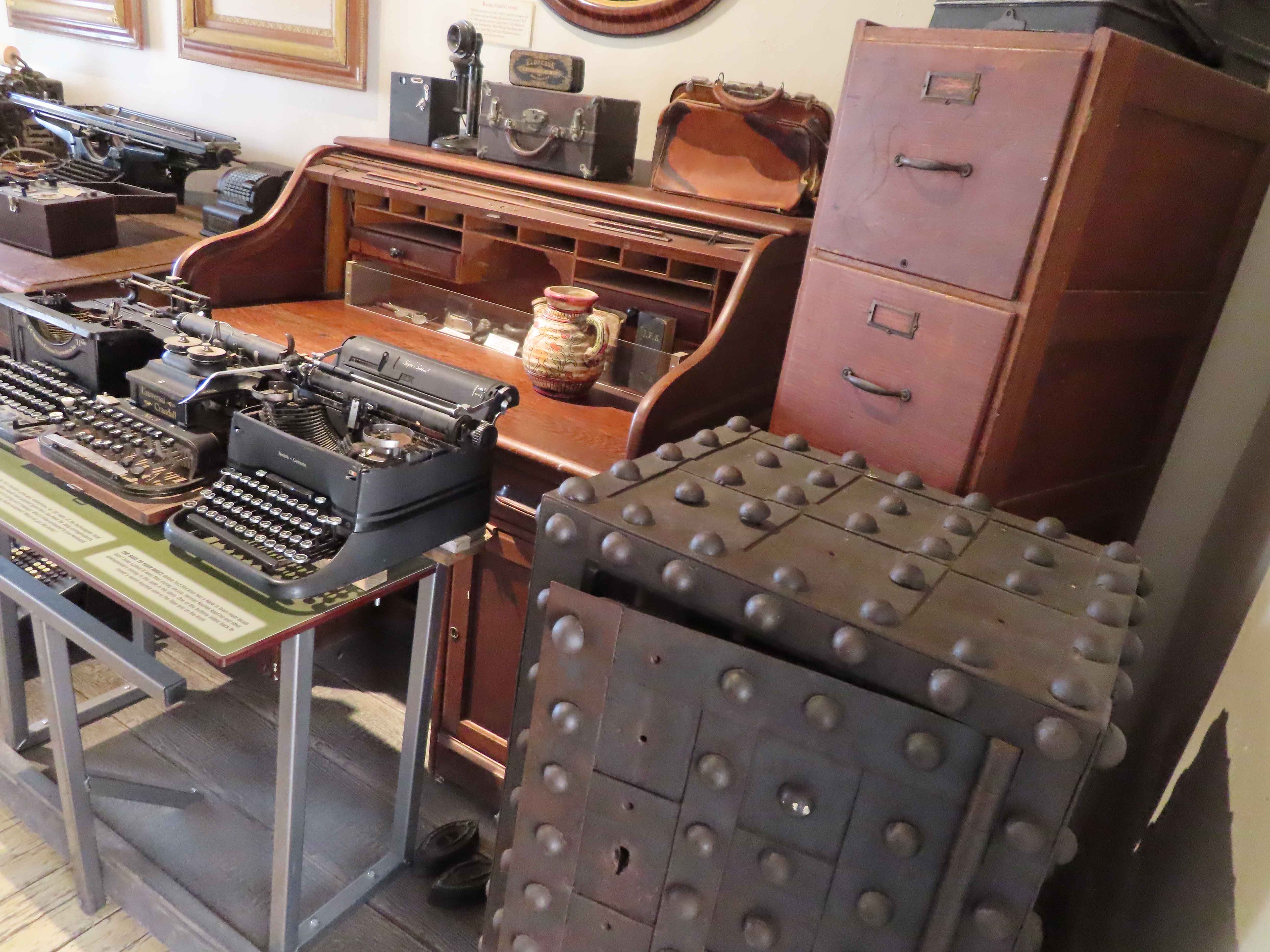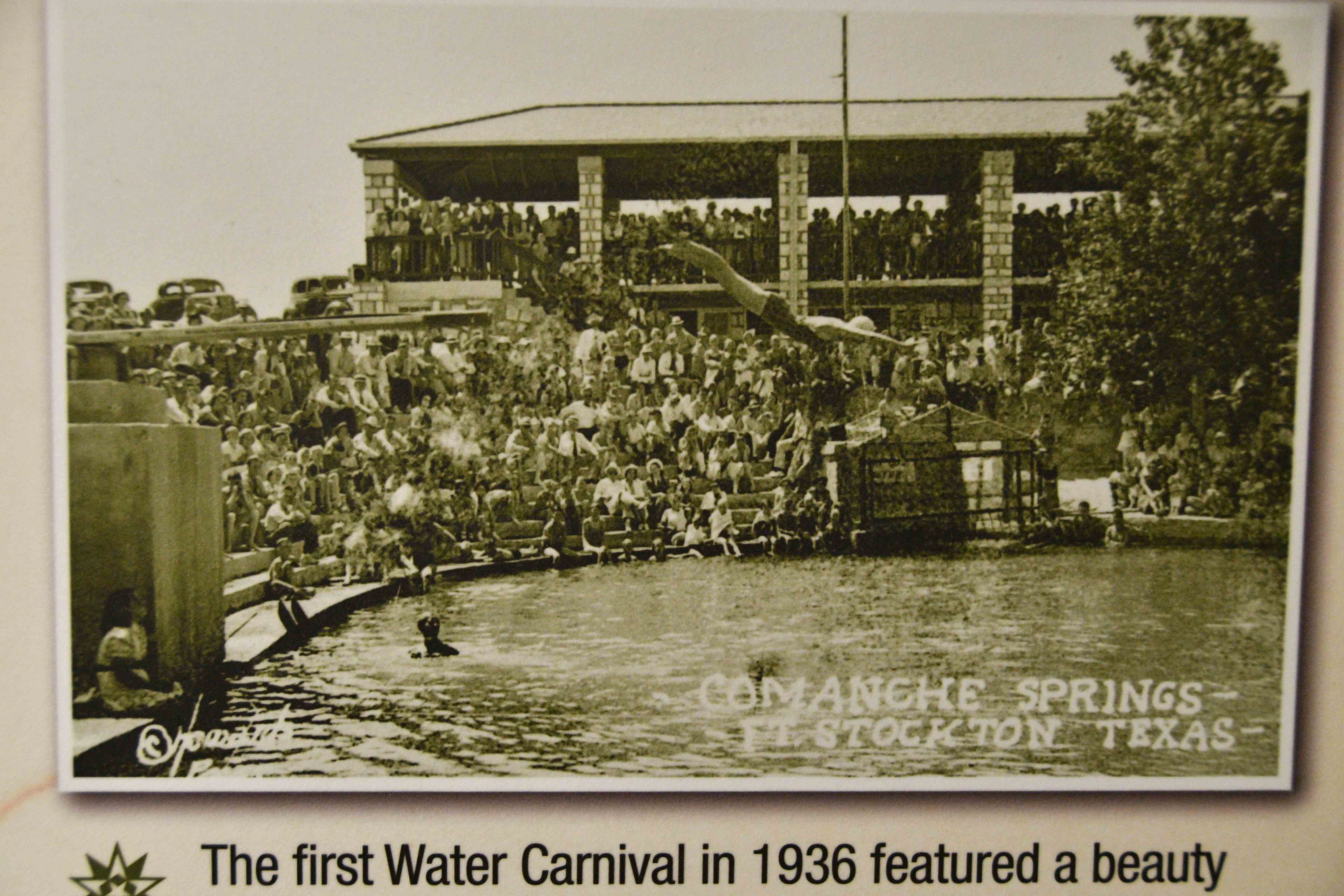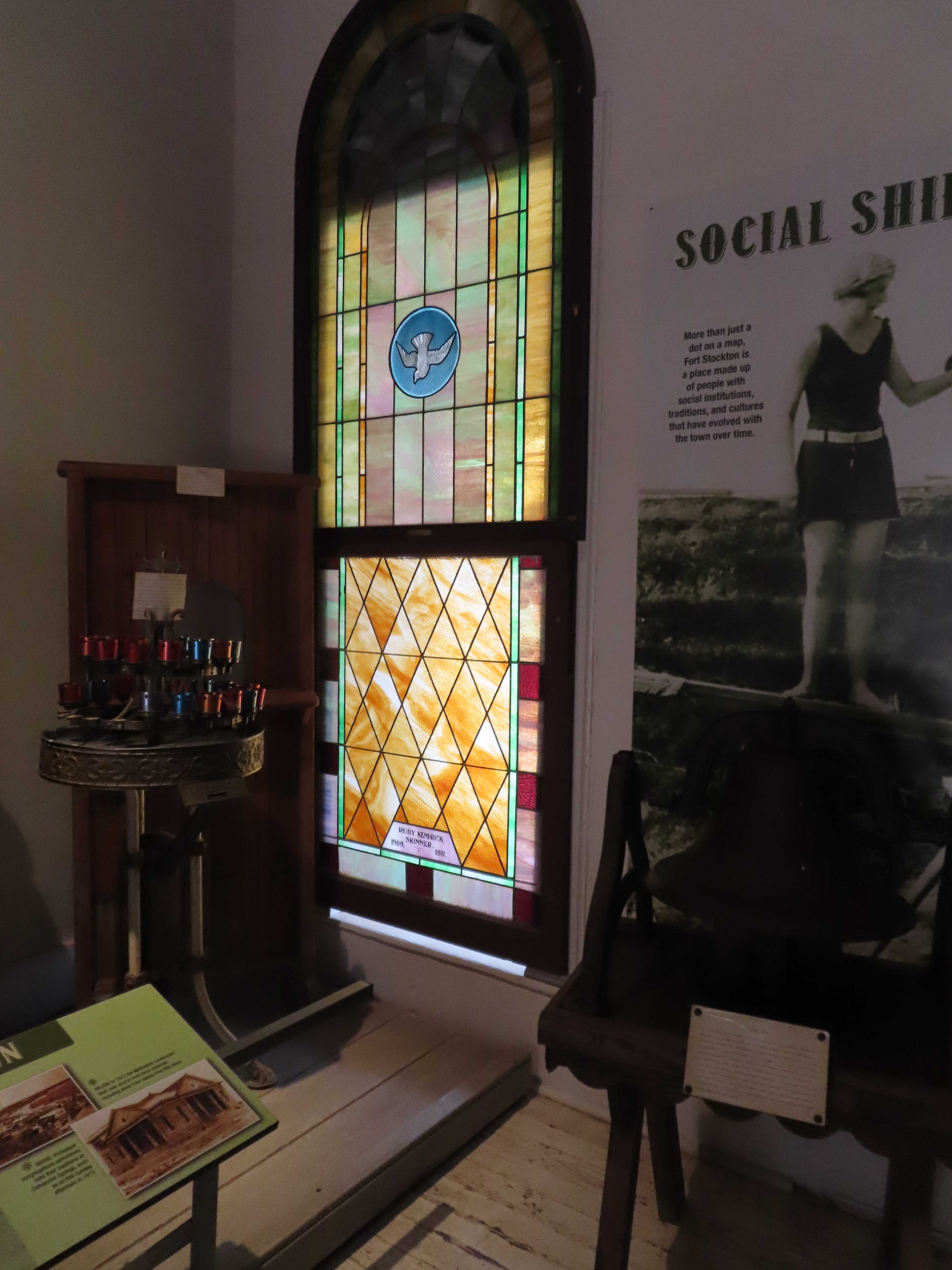 Friday, moving day once again, we moved just a little farther on to Fort Davis, TX to Davis Mountain RV Park.  It was only an hour and a half further west.  We spent the afternoon setting up camp and planning for the next few days that we will be here. It was not windy today and the dust seemed to have settled over the last 24 hours.  Fort Davis is almost 2,000 feet higher than Fort Stockton.  The temperature will be a little lower but the area seems much more green. Maybe it is the water springs in the area.  We passed by Balmorhea State Park which has a huge natural spring. The park was built by the CCC in the 1930's so we should definitely come back there.  We went for a walk around the park, had a good dinner, and went to bed early in preparation for Saturday's plans.
Saturday, we explored Fort Davis and the surrounding area which included The McDonald Observatory. We began at the historic fort. It is a pretty impressive site.  They have reconstructed most of the officers quarters and have several of the unusual 2 story officer homes. They also have the camp hospital partially restored including a very creepy human skeleton. It is hard to imagine living back then isn't it? Next we drove a scenic loop that passed by the McDonald Observatory. How cool. We missed our opportunity to actually see any of the programs offered at the observatory and they were still requiring masks inside and we couldn't go into the actual observatory... But it was an awesome site to see regardless. AND I found one of the USGS survey markers on site.  We did get to see the Hobby-Eberly Telescope that is studying dark energy. We continued on the scenic loop and I spotted a blimp in the air above Valentine, TX. It had no markings at all, very strange. On the way back into town we stopped at the Davis Mountain Nut Company...sooo many great varieties of pecans! Next there is a unique...museum?...zoo?... Rattlers & Reptiles. They had about 30 different varieties of  rattlesnakes. Why do I torture myself? Next up, a snack.  We went to the Fort Davis Drug Store for a cup of coffee and a piece of pie for Elard.  While there I overheard a waiter telling another customer about a sale at a local western wear store.  I thought I might find a pair of boots to go with my hat!  I had no idea that cowboy(girl) boots were so expensive!  I did find a cute tea towel to add to my collection though.  Oh, and the gentlemen running the store solved the mystery of the blimp we saw.  They said it was used by border patrol to watch the area.  It was a great day.
Make Life an Adventure!