Branson, MO - Week 3
Jul. 11 - Jul. 17, 2021
Sunday, we didn't do much of anything.  I spent some time outside cutting fabric for the travel quilt and watching the hummingbird wars.  I had several neighbors pass by and chat while I cut big pieces of fabric into little pieces of fabric. Made for a good day.
Monday, another day of not doing much. I cut out fabric for a new purse I'm making.  We had a happy hour visit with the Flemings and stayed up late enough to watch the International Space Station pass over.

Tuesday, I found a great little salon to gave me a shag hair cut in the morning, Absolute Hair & Nail Co.  It looked like there was as much hair on the floor as left on my head!  I love it. Next we went to Kayak Branson to do a float down Lake Taneycomo.  The kayaks were pretty good but Elard's didn't have much back support. We put in at the Shepard of the Hills boat dock and took out at Branson Landing RV Park, about 8 miles. The lake was beautiful and the water temperature was about 50 degrees. It made for a great float because anytime I got hot I could just dip some water up and any breeze was cooled by the water.  The current of the river made it unnecessary to paddle.  The only drawback was all the fishing boat traffic.  Regardless we had a good time. On the ride back to our car the guys with Kayak Branson recommended another couple of the rivers to enjoy.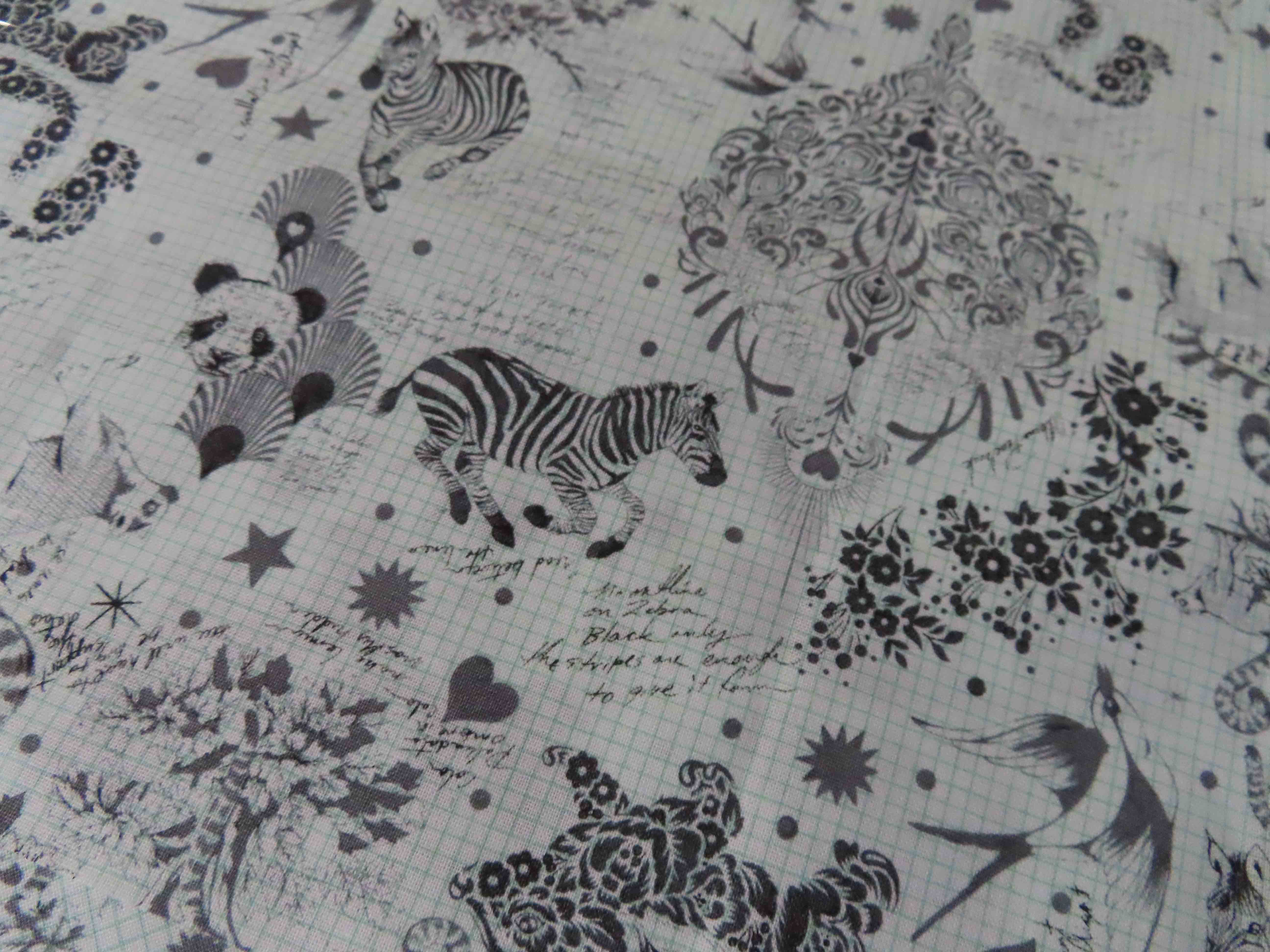 Wednesday, I found a great meat market at the recommendation to one of our neighbors, Harter House. Wow, they have some good meat.  I restocked the freezer with some great choices.  I also visited The Quilted Cow again to get some iron on vinyl for the purse I'm making.  We chatted with our neighbors and made some plans to have a potluck together later this week.
Thursday, we did a scenic drive around Table Rock Lake.  Unfortunately, the hills around here are so steep you really couldn't see the lake.  It was still a good ride though. We saw a historic Y bridge, it was so cool. The place we wanted to stop for lunch was closed but we found a great place anyway, Office Pub and Steak house.  Their food was good. We got an invitation to go fishing with our friends so we had to stop at Walmart to get some gear and licenses. We met Sandy and Mickey and Lonnie at the fishing dock at Cooper Creek Access to Lake Taneycomo.  I'm sure it was pretty funny for anyone watching us.  That is the first time I've had a fishing pole in my hand since the mid 80's!  We all caught a lot of weeds and grass, and Mickey and I both caught fishing hooks and lines that other fisherman had lost.  At least we all had the same amount of luck LOL.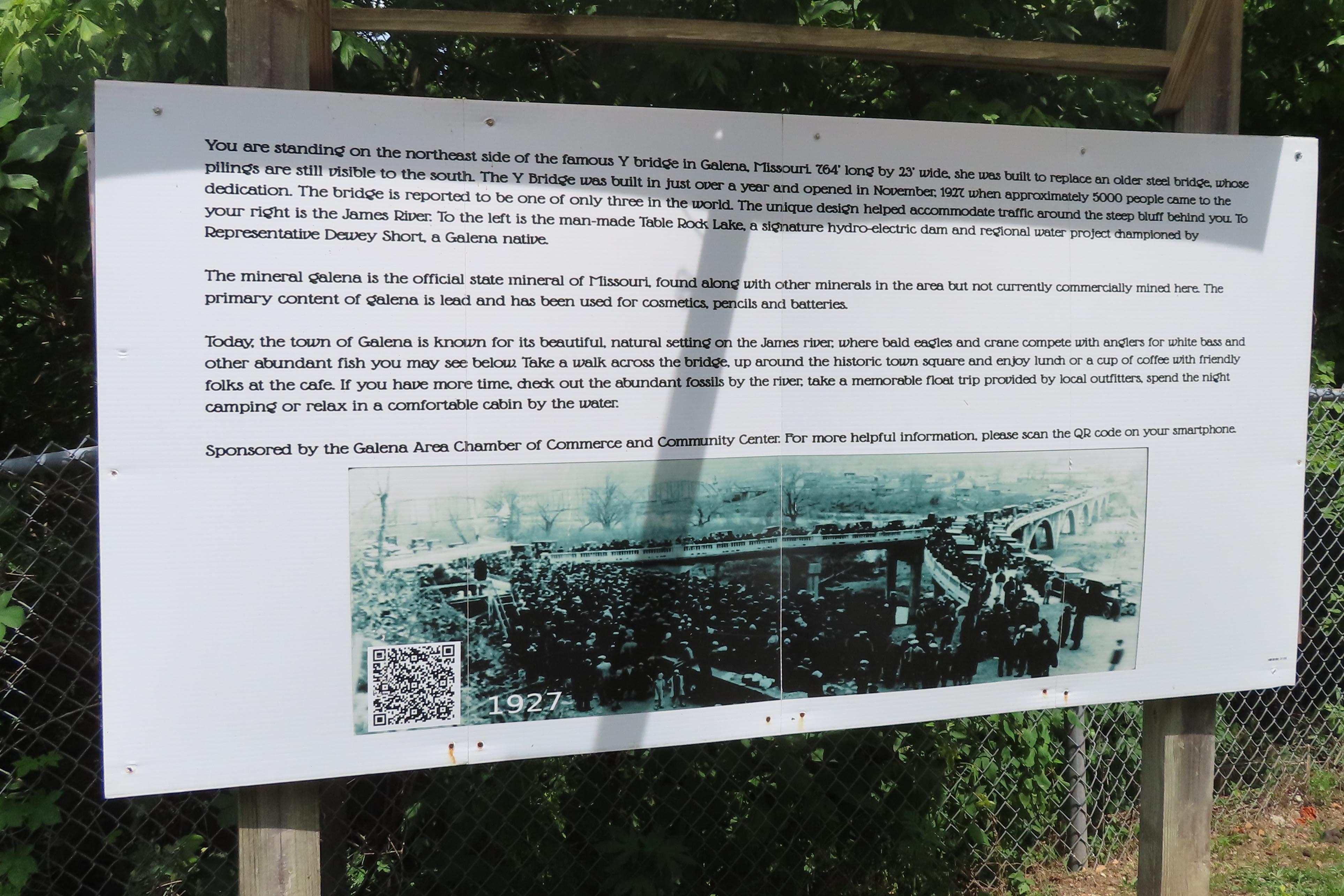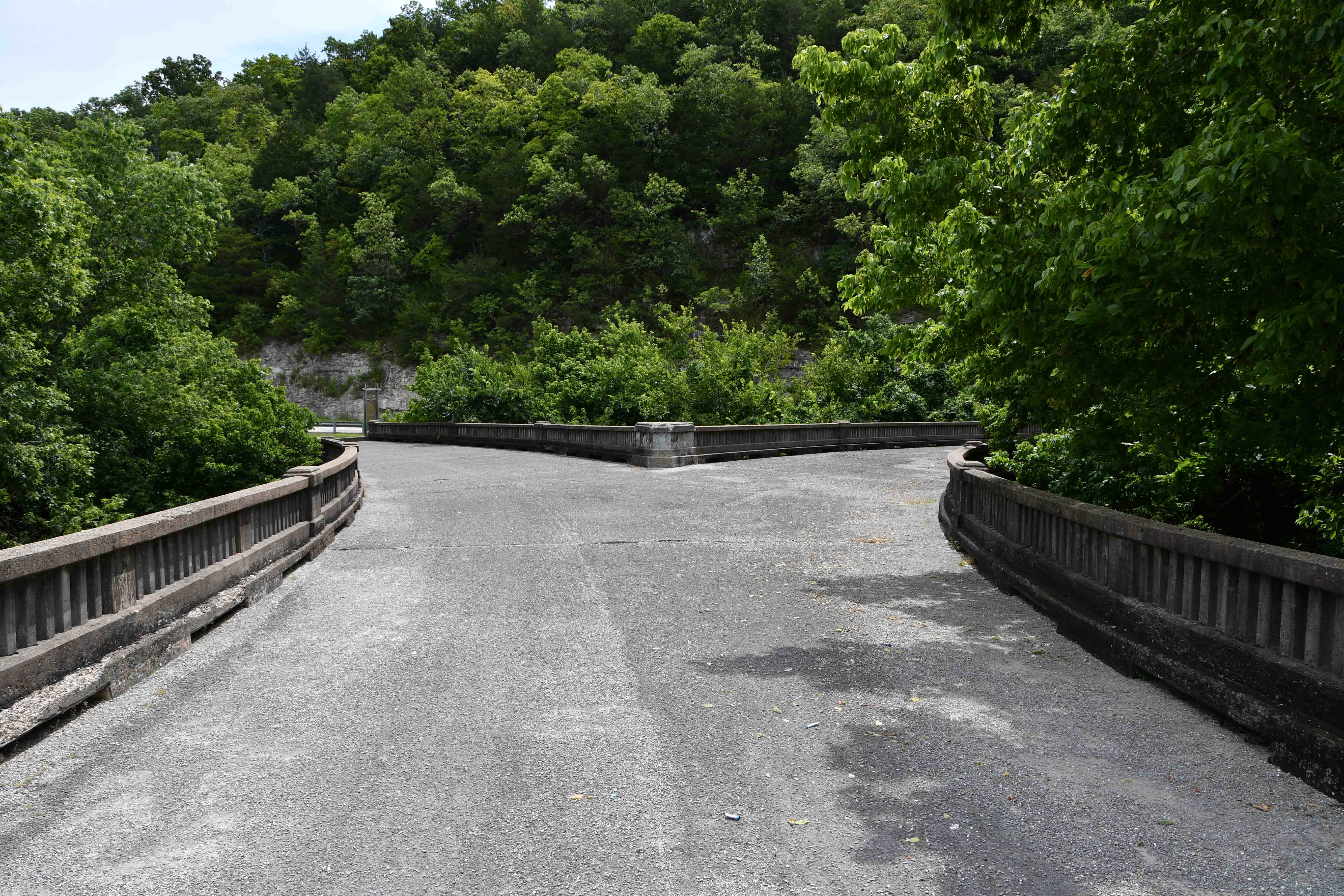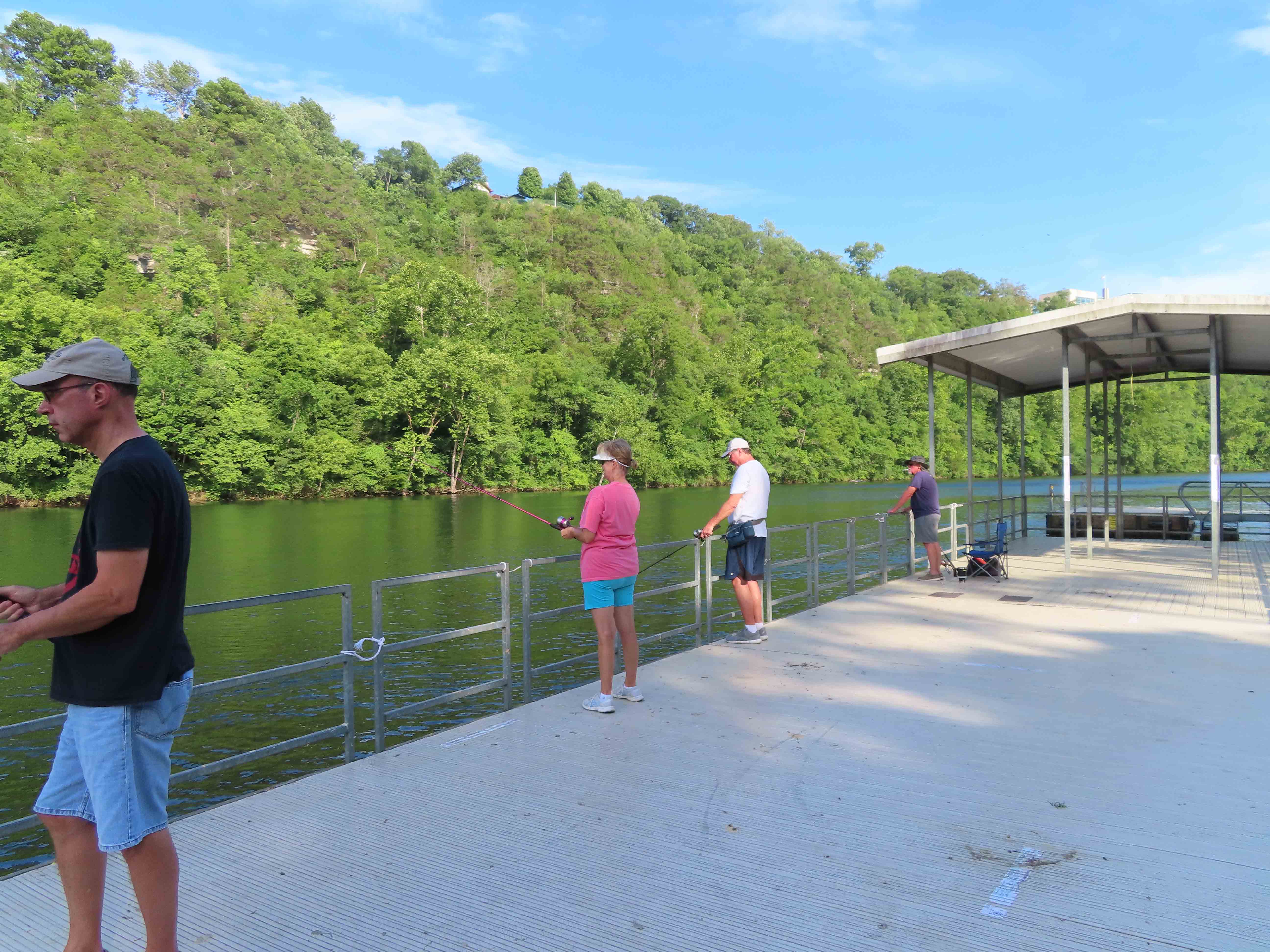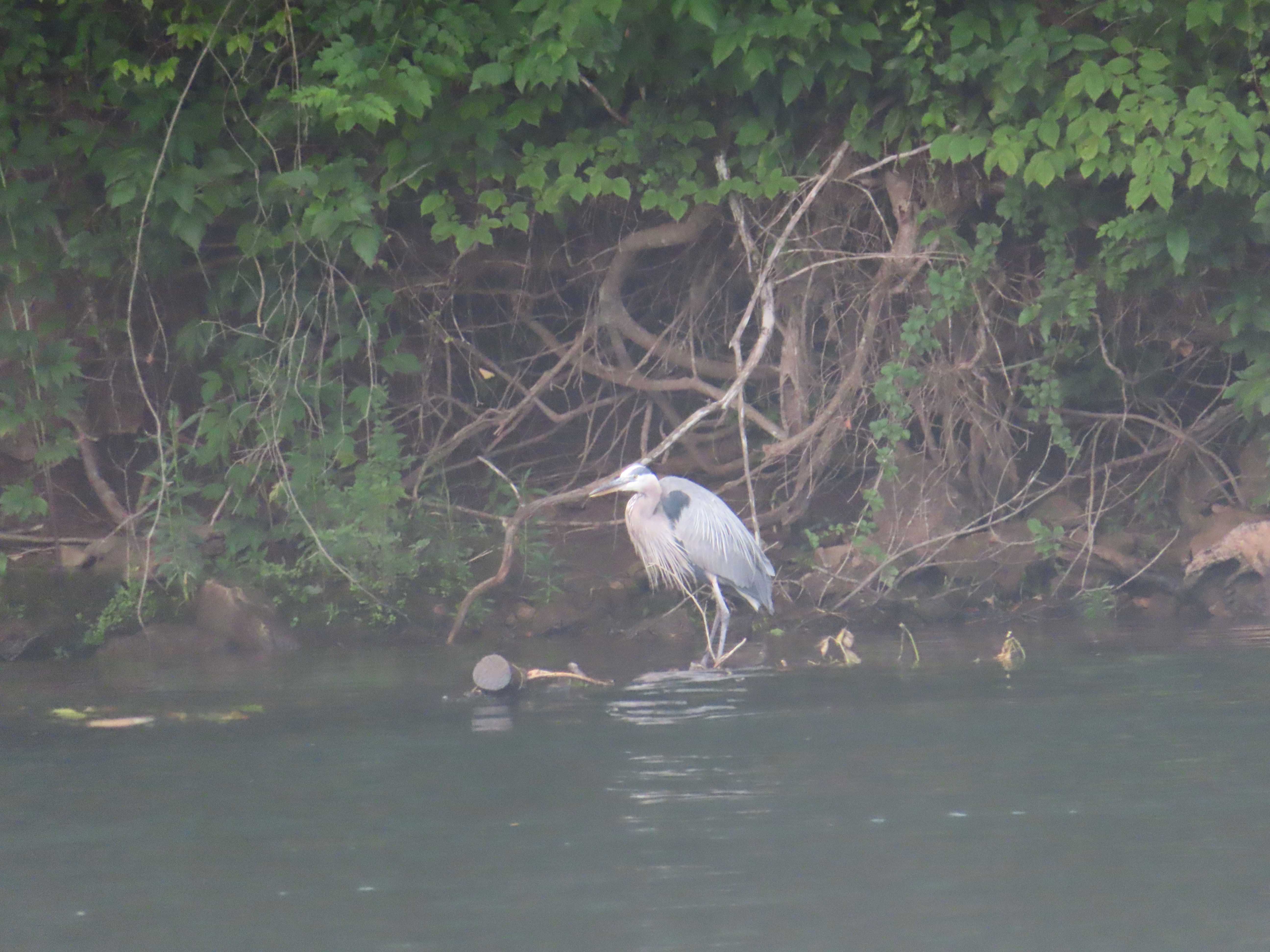 Friday, we invaded the pavillion at the campground for our pot luck because we thought it was going to rain.  It did rain in the morning but quit as soon as we headed up to start cooking.  One of the campground staffers showed up at about 12:45 and asked if we were participating in the meet-n-greet!  We didn't realized that was scheduled but lucky for us no one showed up for that.  We cooked some stuffed chicken breasts that I'd gotten at Harter House and they were delicious.  Sandy and Mickey brought green salad with crunchy ramen noodles, I love that salad.  Don and Melanie brought a great side as well and a blender to make wine-a-rita's. No one left hungry for sure.   
Saturday, we met Sandy, Mickey, Don, and Melanie for a lunch cruise on the Showboat Branson Belle. They had a great show of music and dancing to all the songs from my high school years so I loved that. Christopher James was the master of ceremonies on the cruise and is also a magician who is funny.  The boat embarked as we were served our salads and by the time we were done with lunch we were cruising out into the lake.  There was an intermission to allow us to go out on deck.  It was too hot to stay out there long. It was a fun way to spend lunch but just at the show was ending it started storming!  We hung out on the dock waiting for the rain to stop for about 20 minutes.  Afterwards, Elard and I drove up to Springfield to visit the first Bass Pro Shop.  It was HUGE! They have an aquarium and zoo inside but I was too cheep to pay the ticket price. Instead we looked at kayaks, I found some quick drying shorts for fishing/kayaking, and they had a firearms museum inside.  National Rifle Association Sporting Arms Museum firearms exhibit was impressive, and the National Archery Hall of Fame exhibit was cool. A good end to another good week.
Make Life an Adventure!