Quilting Retreat & Shreveport
Feb. 16 - Feb. 22, 2020
Sunday, I had intended to create the blog post for last week but I let time get away from me.  I spent the whole day getting ready to go to the 1st ever Doan Girls Retreat at the Missouri Star Quilt Company.  For those of you who are not in the quilting world, Jenny Doan is a rock star.  She does most of the quilting tutorials on the Missouri Star Quilt Company YouTube channel.  The company is owned by one of her sons and one of her daughters.  Nearly the whole family is involved now (about 10 years later).  The little town of Hamilton Missouri, just north of Kansas City, MO, is now mecca for quilters.  Anyway, Jenny and two of her daughters were the teachers for this retreat and it is the first time they've done it together.  I put together a few projects to work on when there is down time during the retreat, four actually and I plan to take both the Featherweight and the 9960.  I have to leave very early Monday if I want to get there before dark, it is at least a 9.5 hour drive.

Monday, I got underway at about 6:15 am, and drove up I-49 / US Hwy 71 from Shreveport to Hamilton.  I got there about 4:30, too late to shop but I was able to get a view of the town for shopping on Tuesday.  I had lunch at the Mexican restaurant in town, Senor Barrigas.  It was actually pretty good, though I did not try the margaritas.  I met both of my roomates when I got back to the retreat center.  They seemed nice and we all got our sewing machines set up and our tools arranged for sewing.  I actually got quite a bit done on Jessie's quilt tops before going to bed.  The retreat doesn't officially start until 6:00pm Tuesday.  I didn't want to drive all day and run the risk of being late because of a wreck, or traffic, or some other catastrophe. The new retreat center, Hotel Hamilton, is pretty nice. It appears to be an old motel renovated for quilters/crafters.  There is a large building the contains a storage room/office, a huge open space with tables set up for each quilters work station and a seperate area for dining.  There were ironing boards set up throughout the sewing area and two large cutting stations.  There was also a kitchen area set up the caterers and a refridgerator for the quilters, and an ice machine.  The suites consisted of two bedrooms connected to a common sitting area and 4 shower/potty rooms.  Each bedroom has 5 twin size beds with night stands for each guest. The only down side is that you must go outside to get from the sewing area to your room.  The forcast is that the low temperature will be in the 20's all week long...brrrr.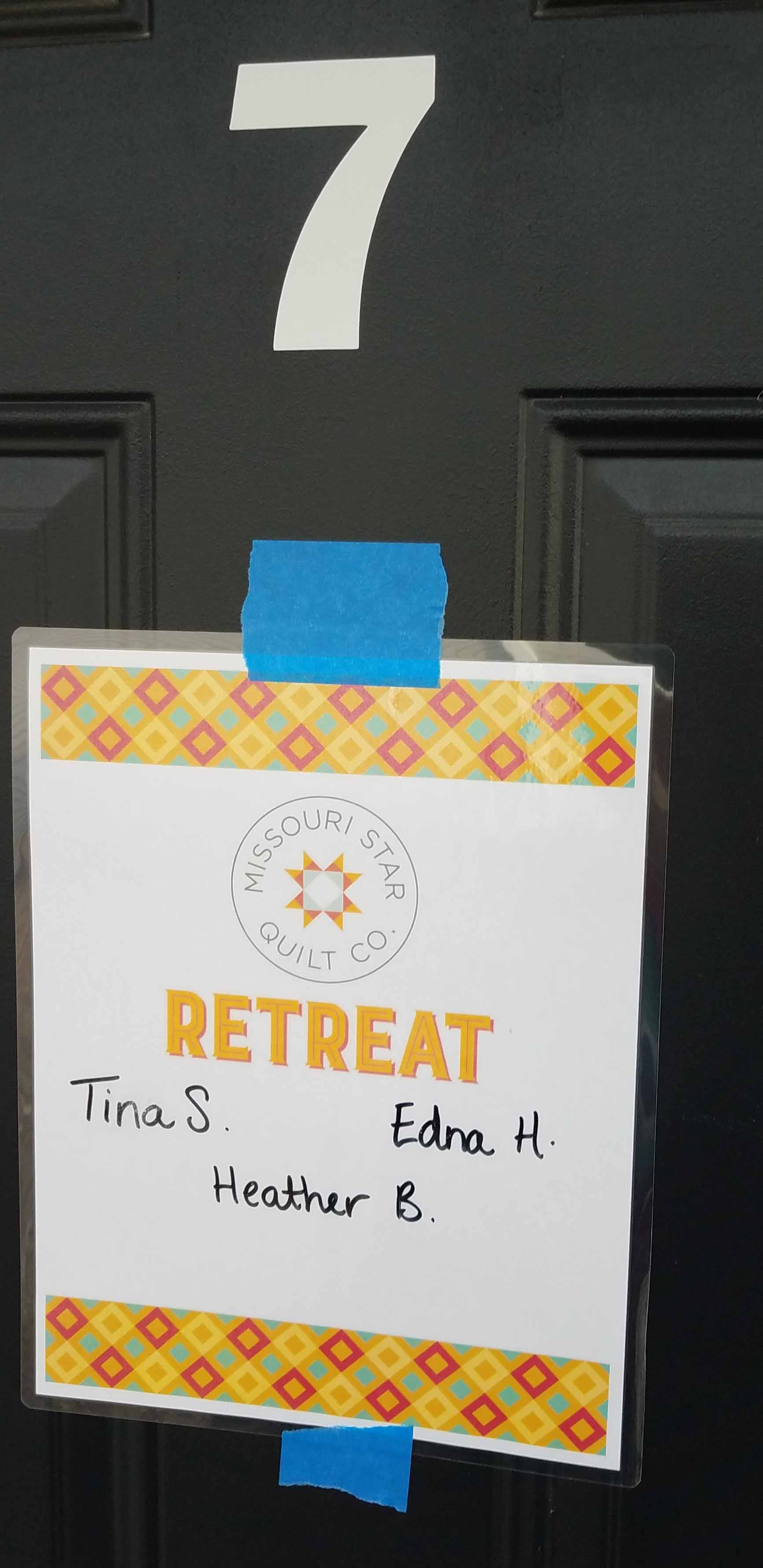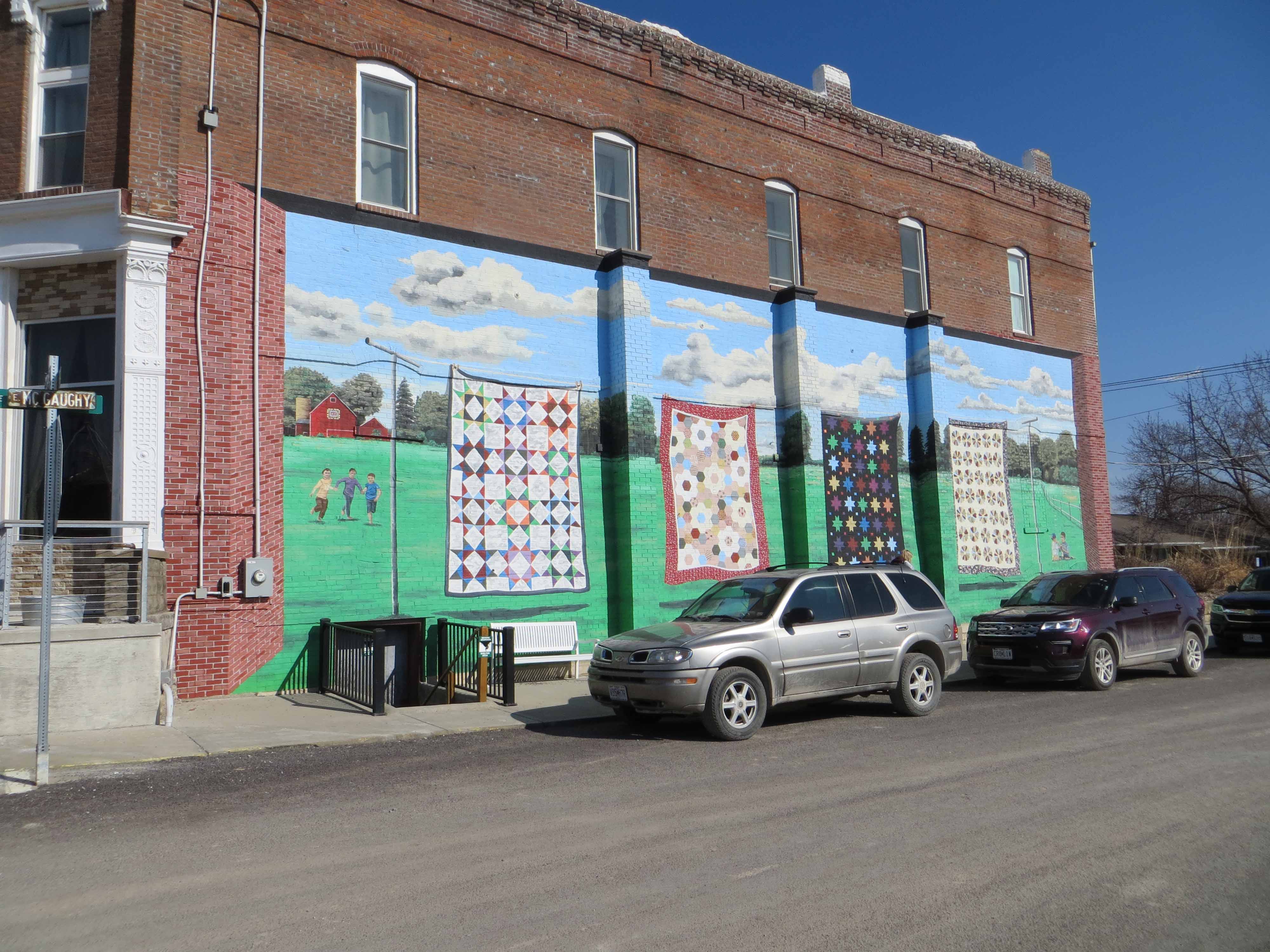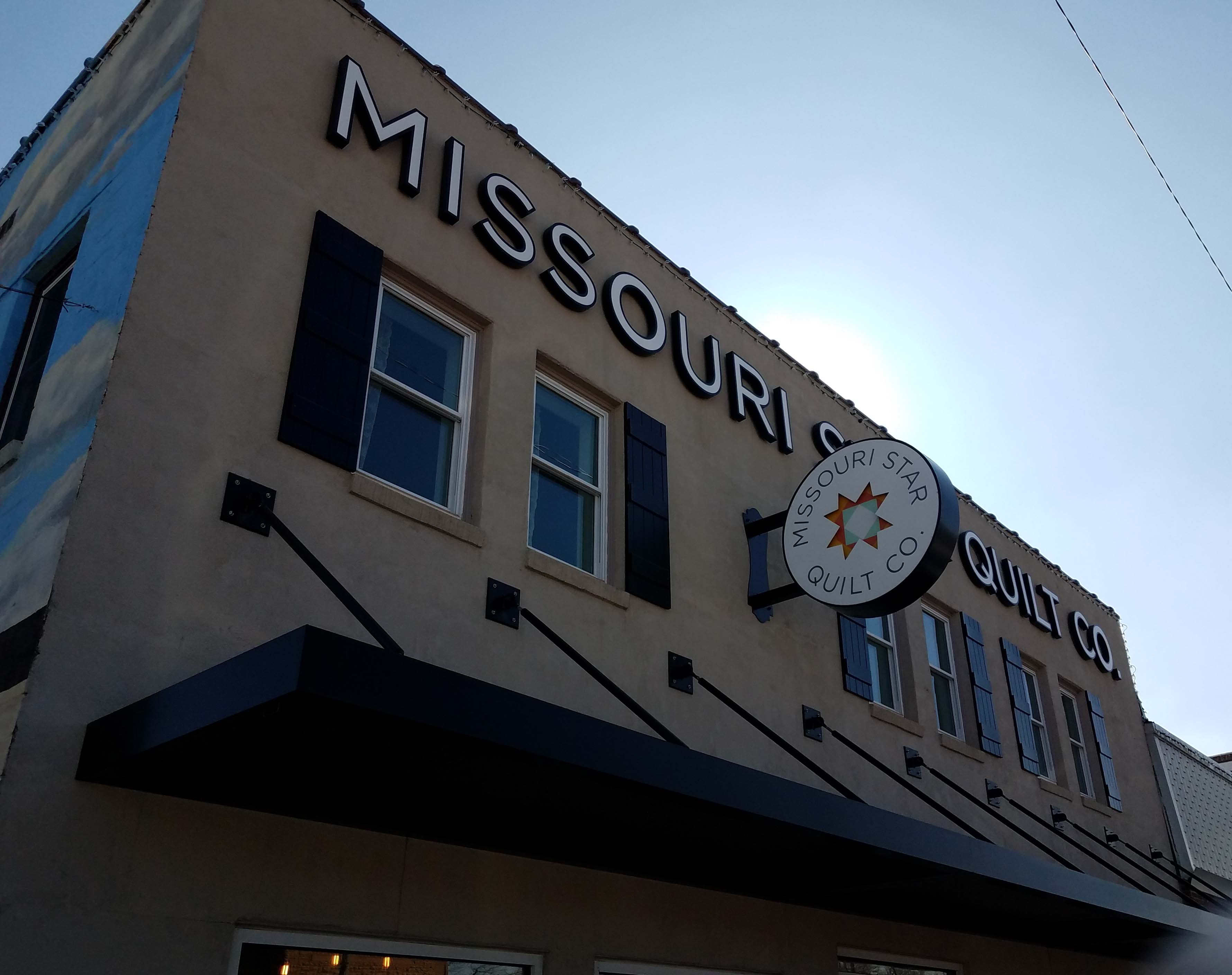 Tuesday, the first night in a new place always makes it hard to sleep.  And since you are excited to get started with the retreat you wake up early.  I used Tuesday to explore the town and shop.  It didn't take long to explore. There are probably 30 blocks including the residential homes.  There is one main street and most of the shops are MSQC shops.  It is cute, they have 14 different shops with different fabrics and tools related to quilting.  I resisted purchasing much of anything because I suspected there would be quite a bit of materials provided at the retreat.  I had a great hamburger at the local burger dive with a couple other "retreaters".  I spent the rest of the afternoon and evening sewing and got all the rows of one of Jessie's quilts together. At 6 pm we had dinner with the Jenny, her daughter Natalie, and her daugther-in-law Misty and a couple of the other key members, Susan Brown and Cindy Morris.  What a fun group, they gave us all a great welcome to the retreat. Our first treat was the new, hot off the press Block magazine, which of course she signed for us.
Wednesday, Jenny did the first class in the morning.  They provided us with a fabric kit to make a "Binding Tool Star" quilt top that is 77" x 77", the full size binding tool, and a tiny key chain size binding tool that is 1/6 the size of the real binding tool.  I made the little version because I don't currently have a place or person for the full size quilt. It turned out awesome and I plan to use it as our patriotic decoration in the motorhome.  Everyone agreed it was cute.  We were served lunch around noon and gave us two rulers designed specifically for use with pre-cuts.  One ruler is 5" x 15" and the other is 2.5" x 8".  Misty taught the afternoon class on the "Luminary quilt" pattern.  Again, they gave us all the fabric needed to make the quilt top which will be 58" x 72".  I love the fabric in the kits they provided but I am going to wait on making this quilt until I finish Jessie's.  I managed to get all the rows of Jessie's quilt created before going to bed.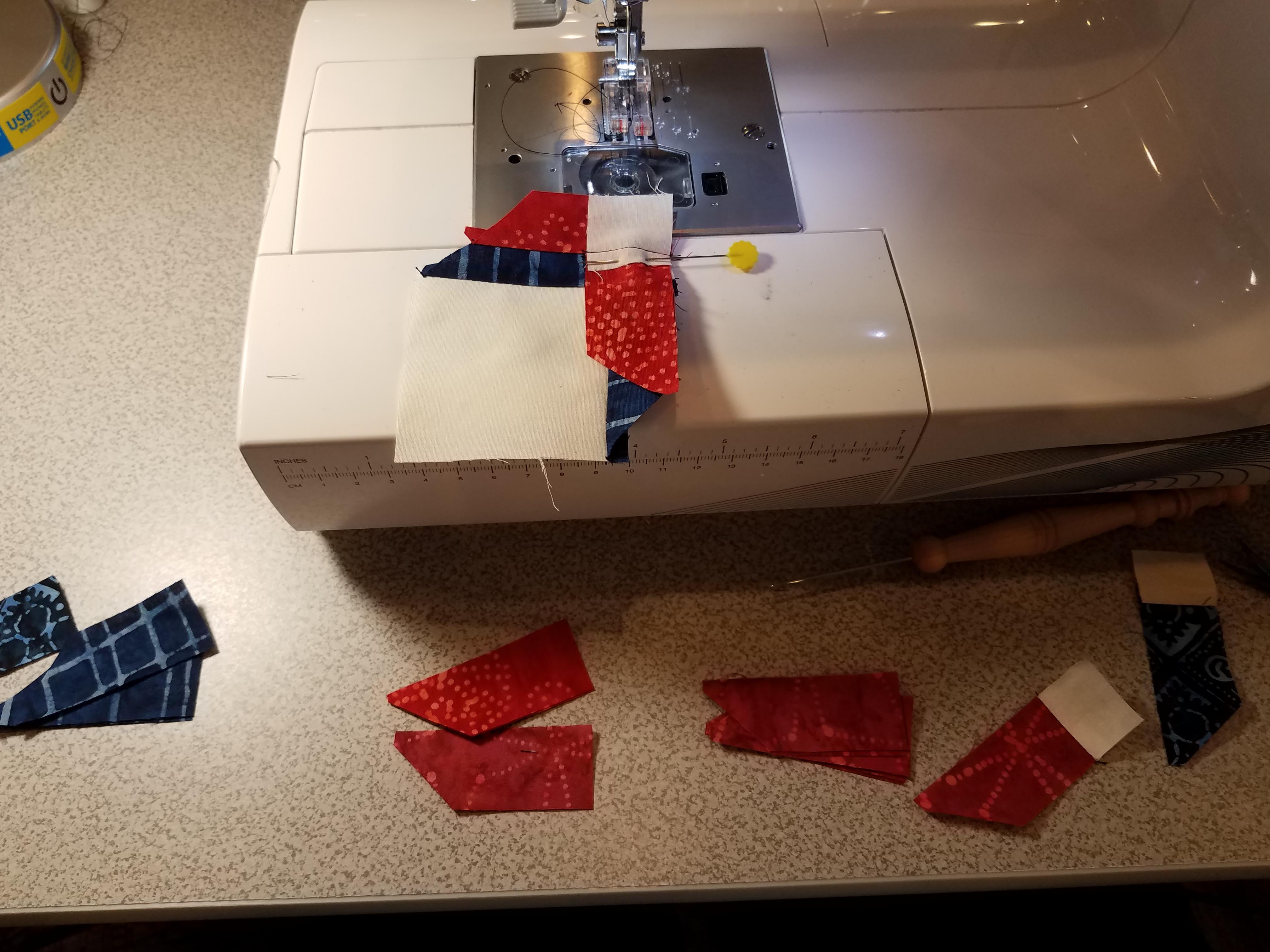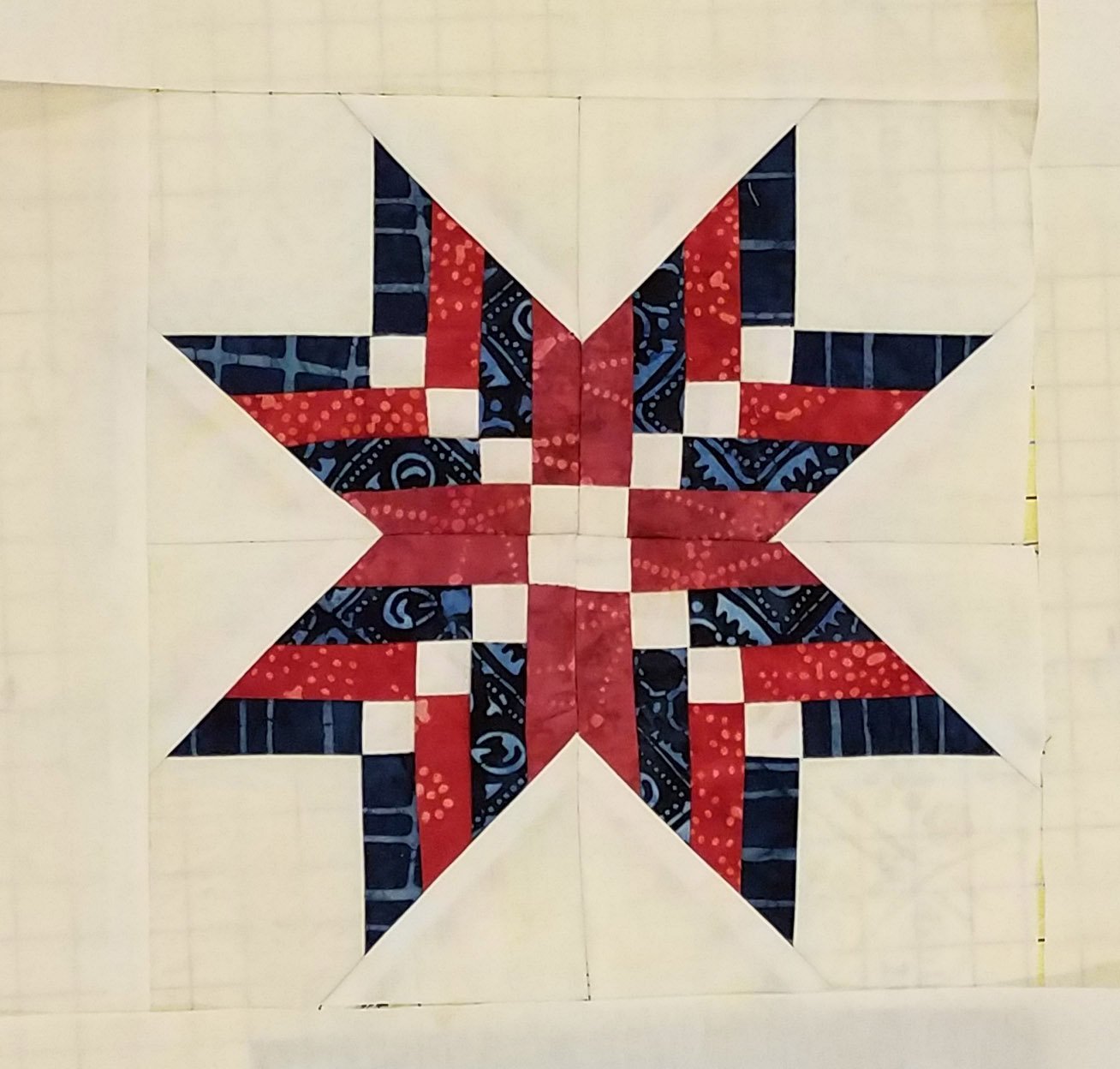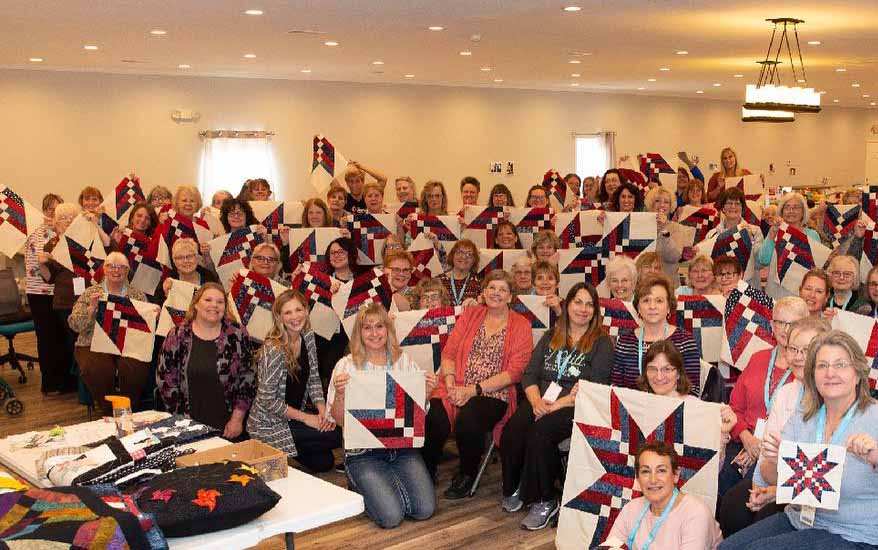 Thursday, I slept better Wednesday night for sure. Hopefully I didn't keep my new friends awake with my snoring too bad. Jenny taught the first class on the "Totally Tulips" Table Runner, sooo cute.  I will definitely make this for the motorhome. It will either be a table runner/mat or another wall hanging for decoration in the motorhome.  Again they provided us with the fabric for the top with some left over. The crew has definitely entertained us with their shenanigans. At lunch they gave us more goodies, a couple of fat quarters and a case to hold your rotary cutter so that it doesn't get damaged (it also included some sewing themed bandages!). Natalie taught the afternoon class on the "Calico Star" wall hanging. The kit included the materials for a 28" x 28" wall hanging. I am going to hang on to this one for a later date.  I managed to get all the rows for Jessie's 1st quilt top together but I didn't bring the second one, dang it!, I didn't think I'd have time... So instead I got fabric and batting to create a tote bag for my Singer 9960.  I managed to get the outer bag and lining finished before dinner, but I will need to install the zipper and lining later. I also bought a fat quarter bundle of MSQC theme fabric and a couple of tools. Our final goody bag at dinner was pack of 2.5" squares, a pin cushion that looks like a lipstick, a cone of silver quilting thread and a set of MSQC pins with heart shaped heads. We spent the rest of the evening with show and tell.  Everyone finished some project or another. I've had such a good time and meet some fun new friends.  I may have to do another one of these retreats.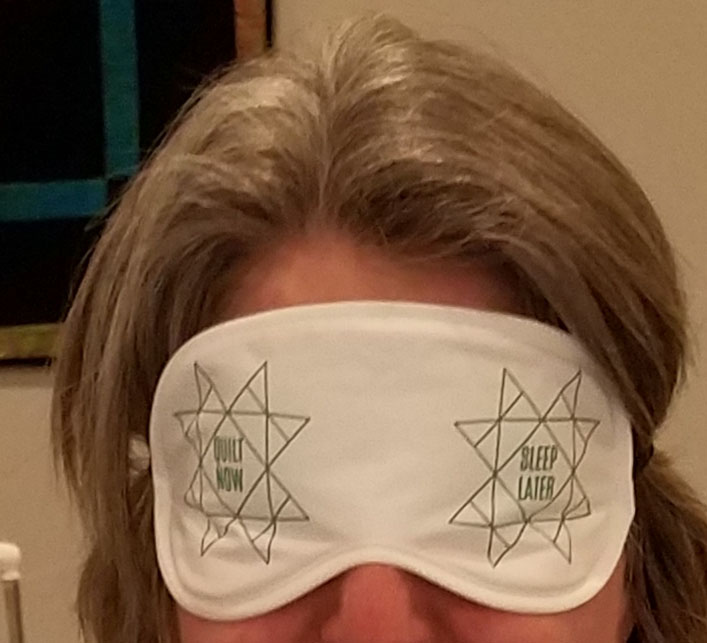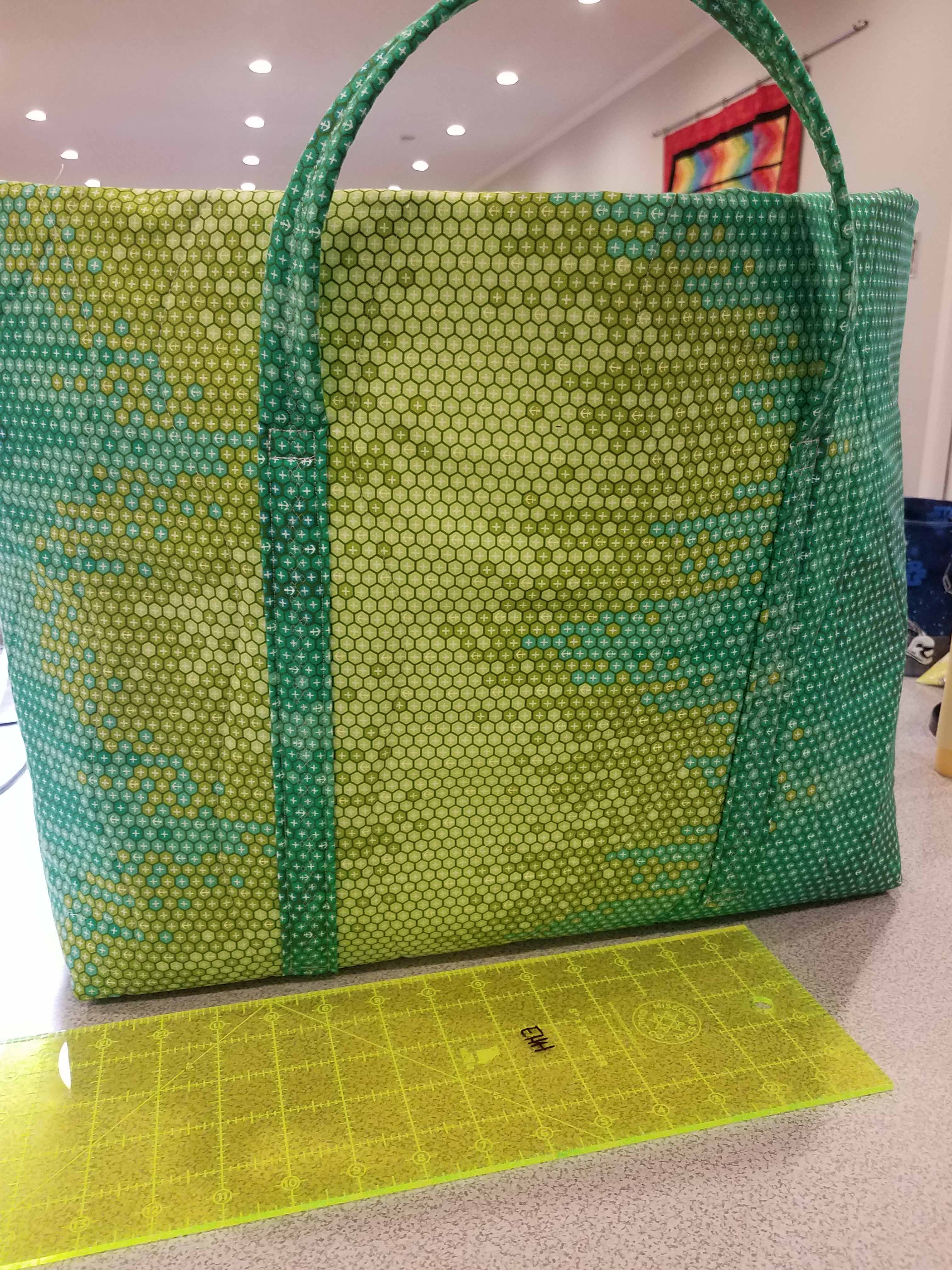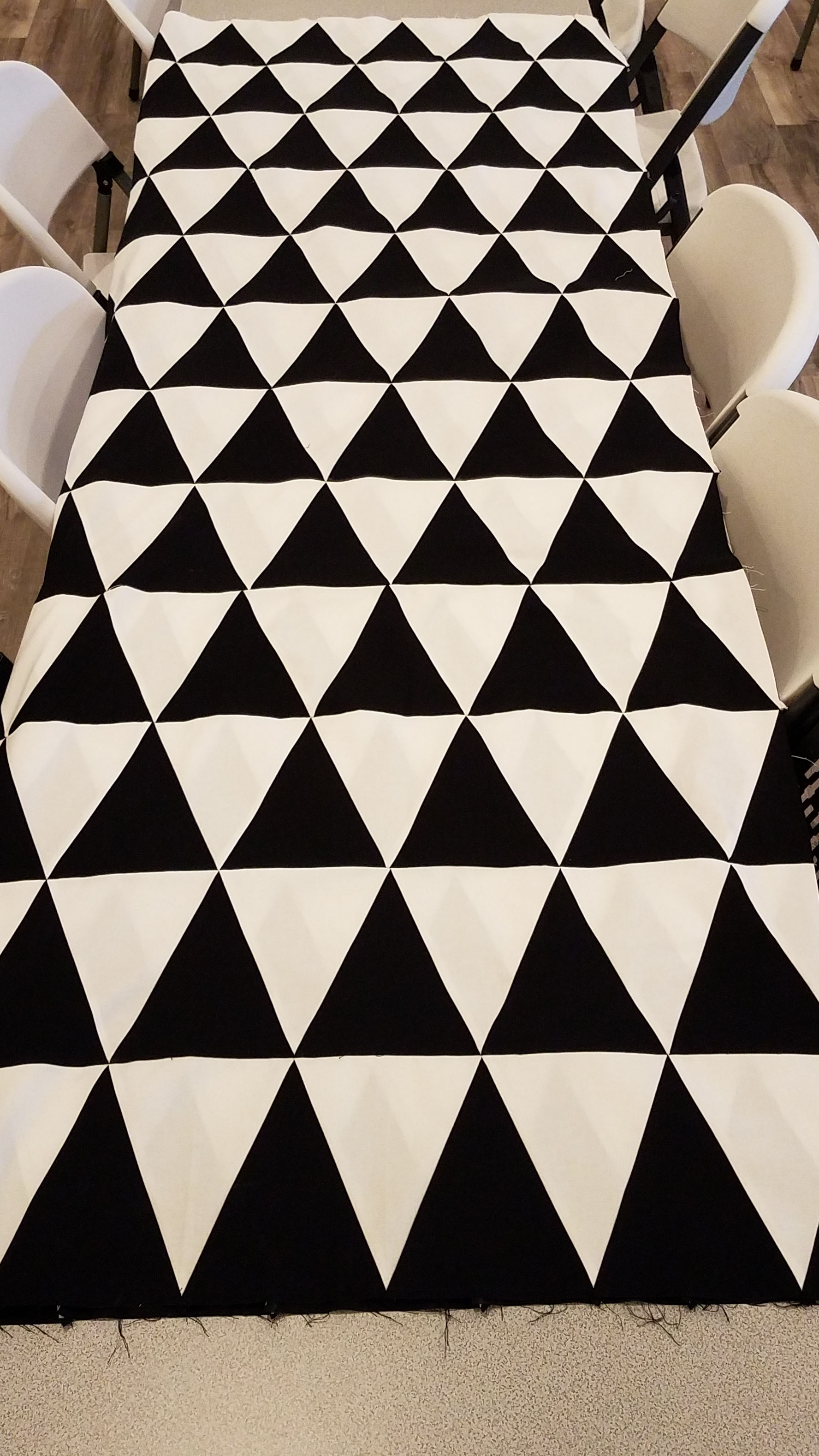 Friday, bitter sweet this morning having to say goodbye to everyone. I discovered yesterday that Angela Walters of The Midnight Quilt Show is only 40 miles from Hamilton on my way back south!  So I gave everyone a hug had hit the road about 8:45.  I made it to Liberty, MO, just outside of Kansas City at 9:45.  I strolled around the town square waiting for "Quilting is My Therapy" to open.  I discovered that the historic bank on the corner is the site of the site of the first daytime bank robbery, by none other than Jessie James!  They are closed for winter so I didn't get to go inside.  I was probably the first customer in QMT and unfortunately, Angela was not there.  She is at Quilt Con down in Austin.  That is the Modern Quilt Guild's big annual quilt show. I managed to get a fat quarter bundle of fabric designed by Angela that is discontinued. That will make a great additon to my travel quilt!  I was on my way back to Shreveport by 10:30.  What an awesome trip!  I made it back to Elard by 8:30 and we returned the hot rod rental car he has had all week. Glad to be home.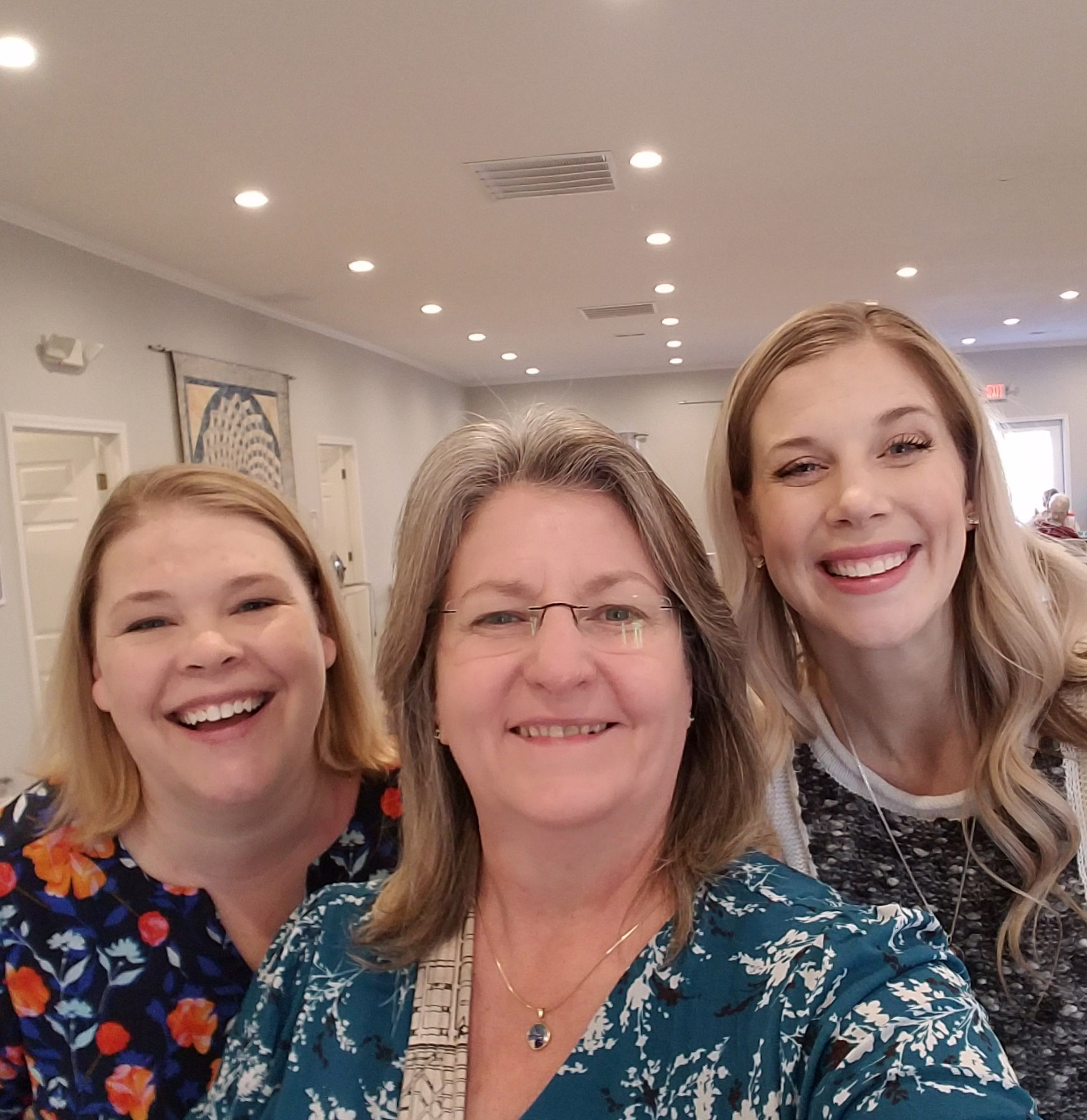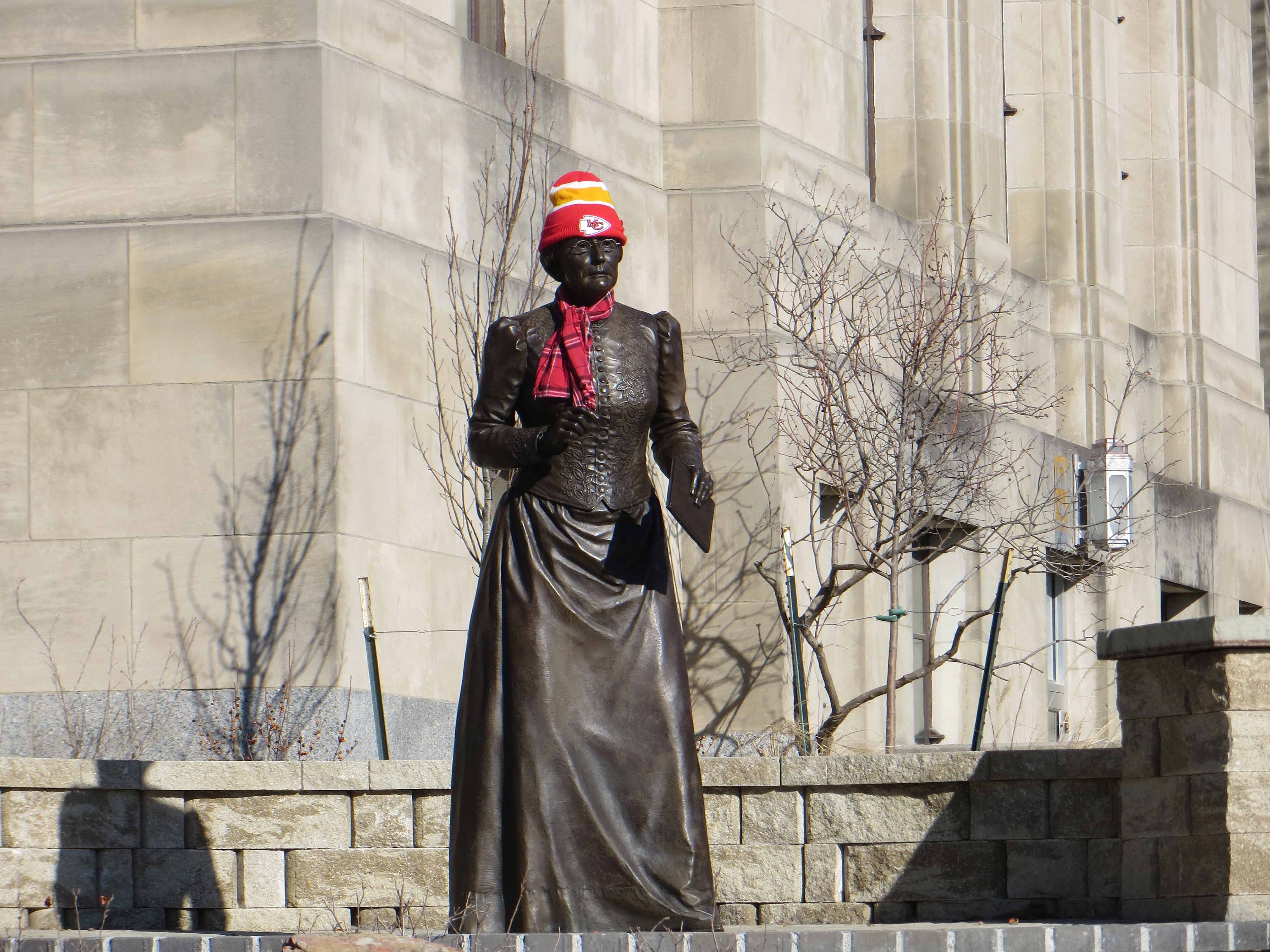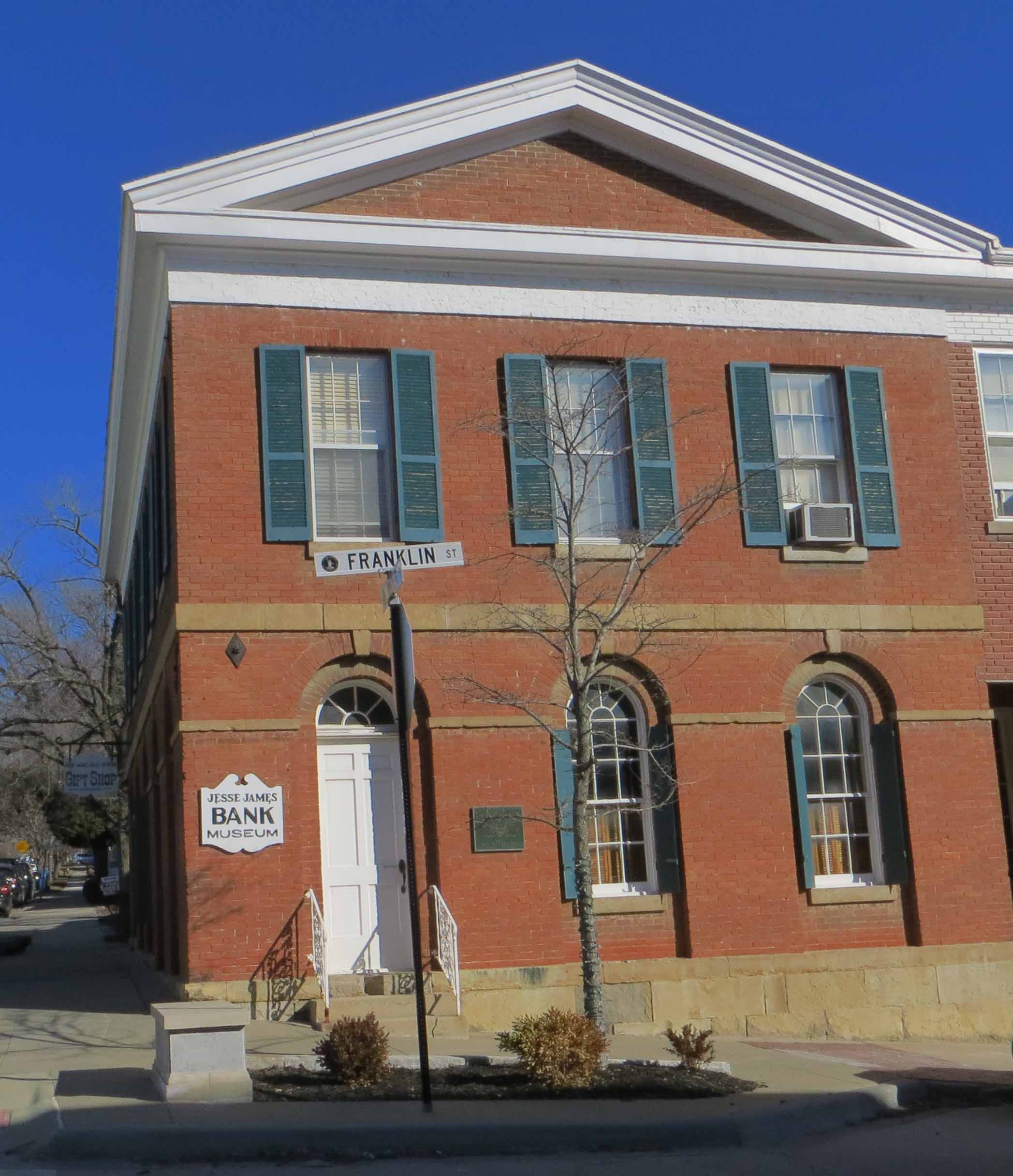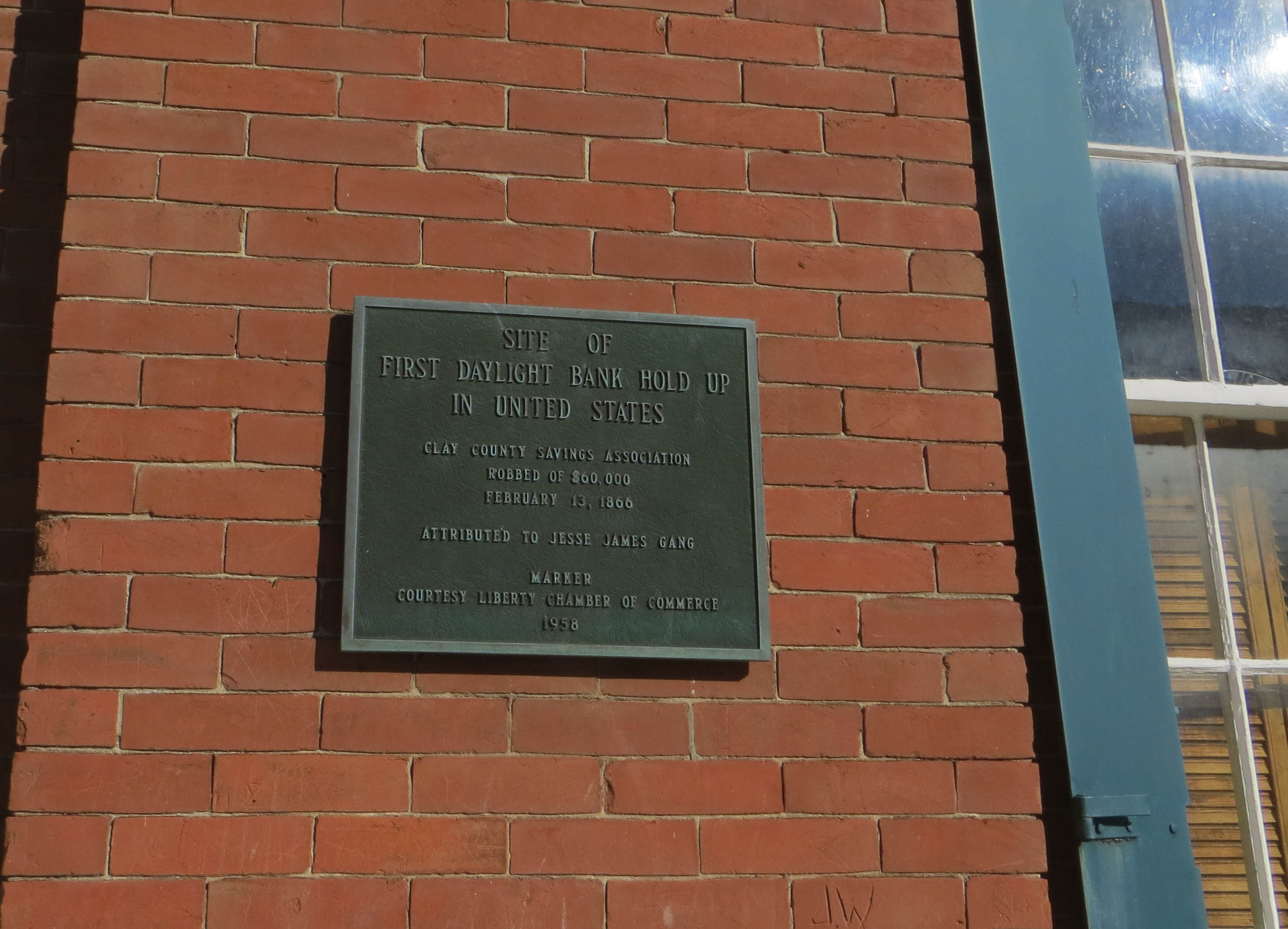 Saturday, Elard spent most of the day finishing the new stereo system installation.  He started it earlier this week and managed to get it going tonight.  I spent most of the day creating the blog post for last week and this week.  It is great to have this record of our travels.  I promise within the next month to figure out how to let you all comment on the posts and to subscribe.
Make Life an Adventure!