Week 142: Ashdown, Arkansas - Pass Christian, Mississippi
Oct. 17 - Oct. 23, 2021
Sunday, nada.
Monday, we had a very busy day today.  I was supposed to be getting my permanent crown but they didn't get it yet.  Still, my new glasses arrived so I was able to pick them up.  They are very fun. I got a replacement debit card, and a car wash.  Then I drove by our lot to see what kind of progress is being made. They have gotten all the pine trees removed and a bunch of piles of new dirt.  They have also made huge progress on clearing for a much larger neighborhood and I couldn't resist driving down the red dirt road to check it out...so much for my car wash.  Elard also had quite an errand list. He dropped his new glass back at the eye doctor to have some corrections made, picked up some drugs, and met me at my brothers house.  We spent a few minutes with Melvin and Terrie and left my car with them again.  I so appreciate them taking care of my car so that I don't have to sell it and then buy another when we finish full time traveling.  We had a quick visit with Willie and David as well.  On the way home I got a call from the dentist letting me know they have my crown so we can get it installed tomorrow.

Tuesday, I managed to get my crown installed.  I am so thankful that I won't have to wait for another month!  I didn't get to visit with any of the family but we will be back before too long. 

Wednesday and Thursday, moving days.  Wednesday we moved to River Cities RV just outside of Alexandria.  If you need a quick stop over this place is great, easy in and out, no check in required.  We saw a cool custom RV on our way out in the morning. Thursday we arrived at our next Coast-to-Coast park TLC Wolf River Resort. It is a nice place. The park is located on the Wolf River which would be a great place to kayak. We took a stroll down to the river and it was very nice.  The park has a flag pole there with the American flag and an irreverent flag.  The park is less than 5 miles from the beach. It's gonna be nice here.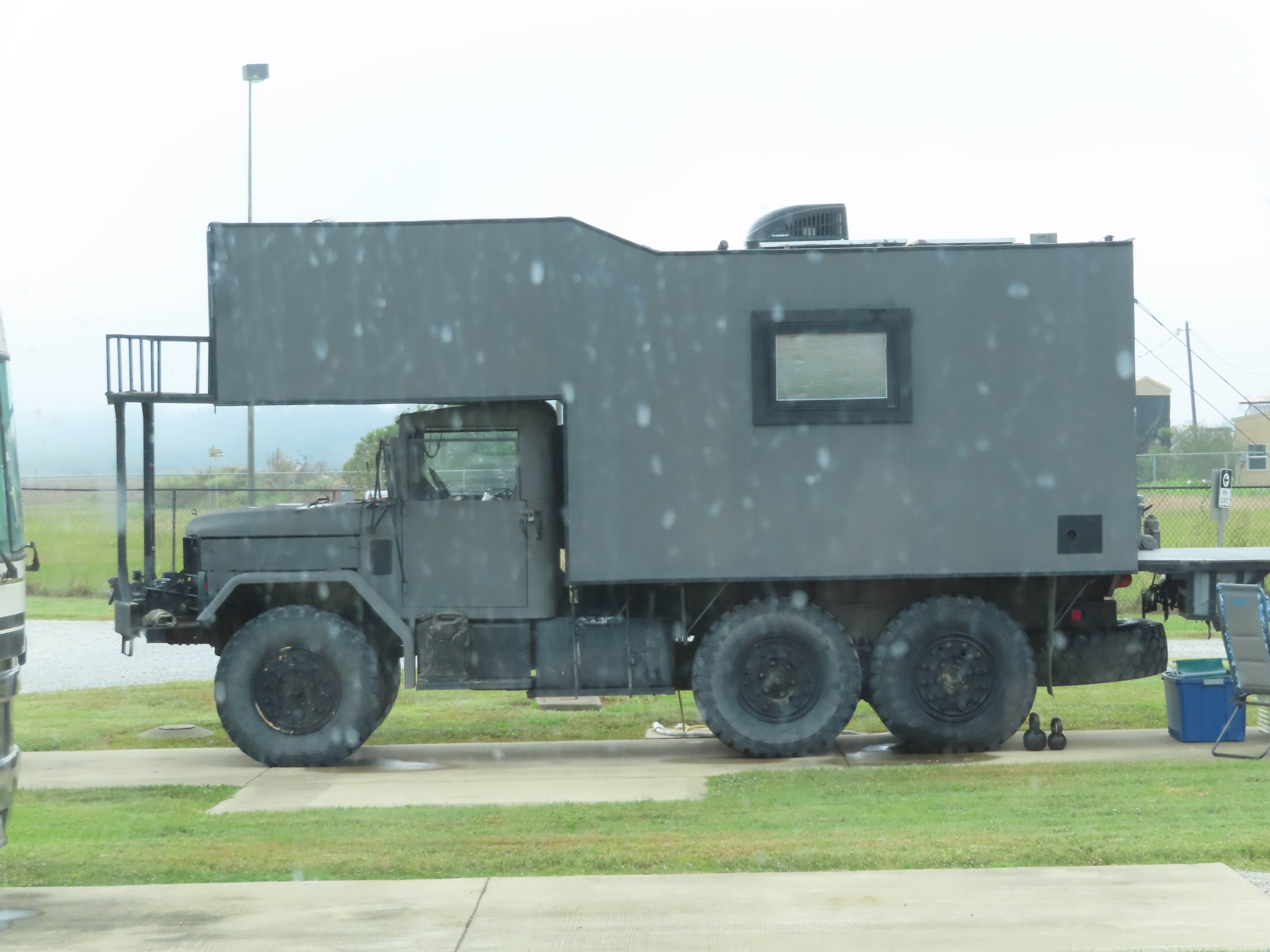 Friday, we visited a Triple D recommendation Blow Fly Inn.  The food was really good and the view was even better.  It is located on Bayou Bernard.  Next we drove along the beach and made a stop at the Chandeleur Island Brewing Co. It is a cool place to stop for a beer. 
Saturday, we made a quick visit to a quilt shop, Coast Sew & Vac.  I need to create a new cover for my foot stool.  It was a nice little shop.  Next we visited the Ground Zero Hurricane Museum in Waveland.  There were some interesting stories.  Next we drove by the 100 Men Debate Association building.  It is a part of the Blues Trail.  We wanted to visit the Bay St. Louis L & N Train Depot but it was closed, so we stopped at the Lazy Magnolia Brewing Company. Their beer is pretty good but I like Chandeleur Island Brewing better.
Make Life an Adventure!