Week 179: Redding, CA and Eugene, OR
Jul. 03 - 09, 2022
Sunday, we spent the day doing laundry and planning what we will do to keep ourselves busy while the coach is being repaired this week.  I do not plan to cook at all while we are at Carrier RV Services getting the seal for our rear slide out replaced.  We will probably need to get a hotel room for one night while they work on the coach.

Monday, fourth of July and moving day!  We spent 6 hours on the road. Its been a LONG time since we spent that much time behind the wheel.  The drive to Eugene, OR and Carrier RV Services was uneventful. Elard got us tickets to the Eugene Pro Rodeo!  I've been watching the Cowboy Channel since we could not get tickets to the Reno Rodeo. We got to Eugene at about 4 pm, just enough time to have dinner and get to the Rodeo grounds in time for the Rodeo to start.  It was awesome.  I almost lost my phone.  I stood up to see a barrel racing run, around the people in front of me, and forgot that my phone was in my lap.  I heard it hit the grand stand floor and bounce...I told Elard and he immediately went under the grandstand to try to find the phone. The phone was balanced on the beam beneath us and Elard managed to do a chin up to retrieve the phone! My HERO! And he managed to get it all done before the bull riding began! After that I put the phone IN my purse. After the bull riding finished they had a great fireworks display.  It did take us almost an hour to get out of the parking lot, but we were "home" and in bed by 1 am.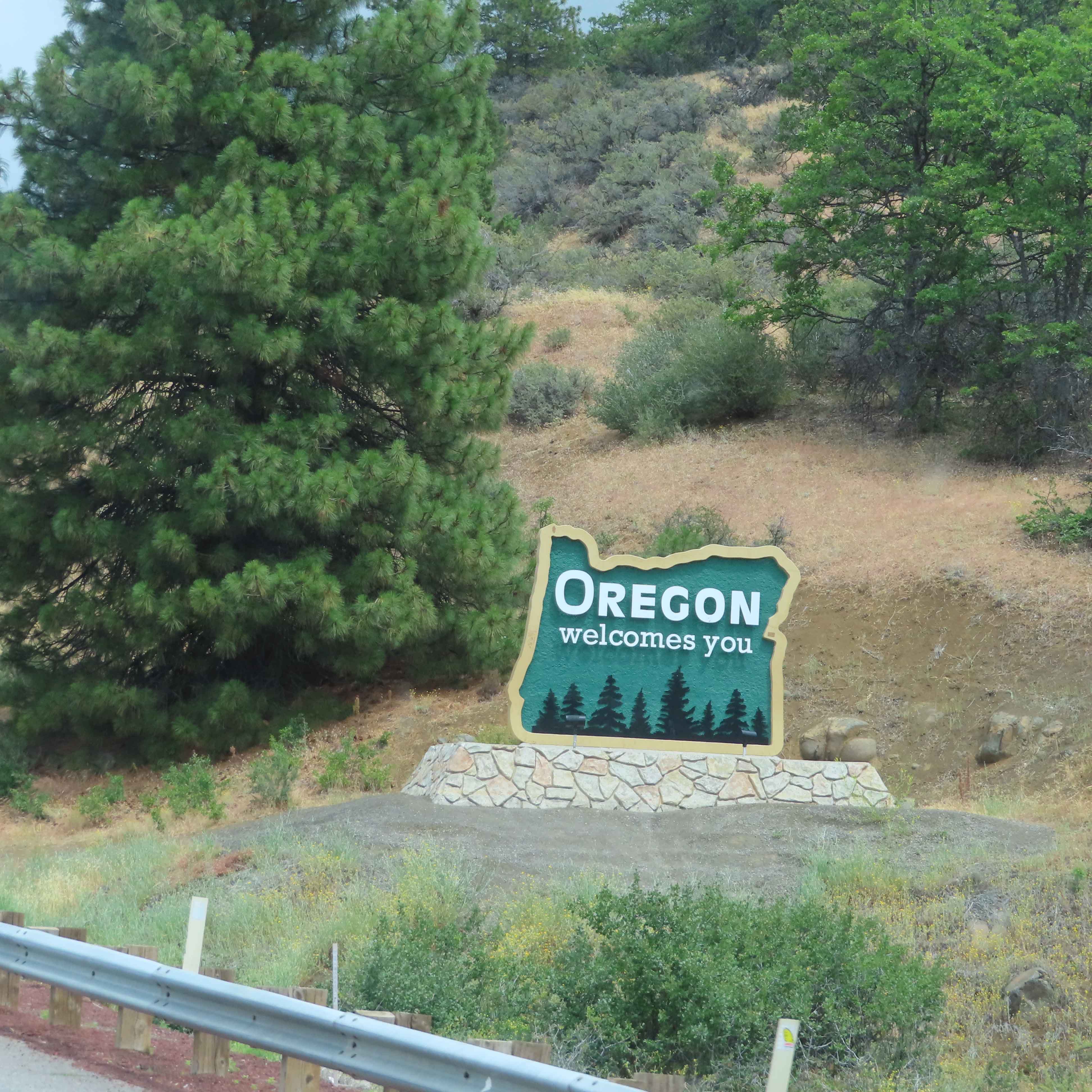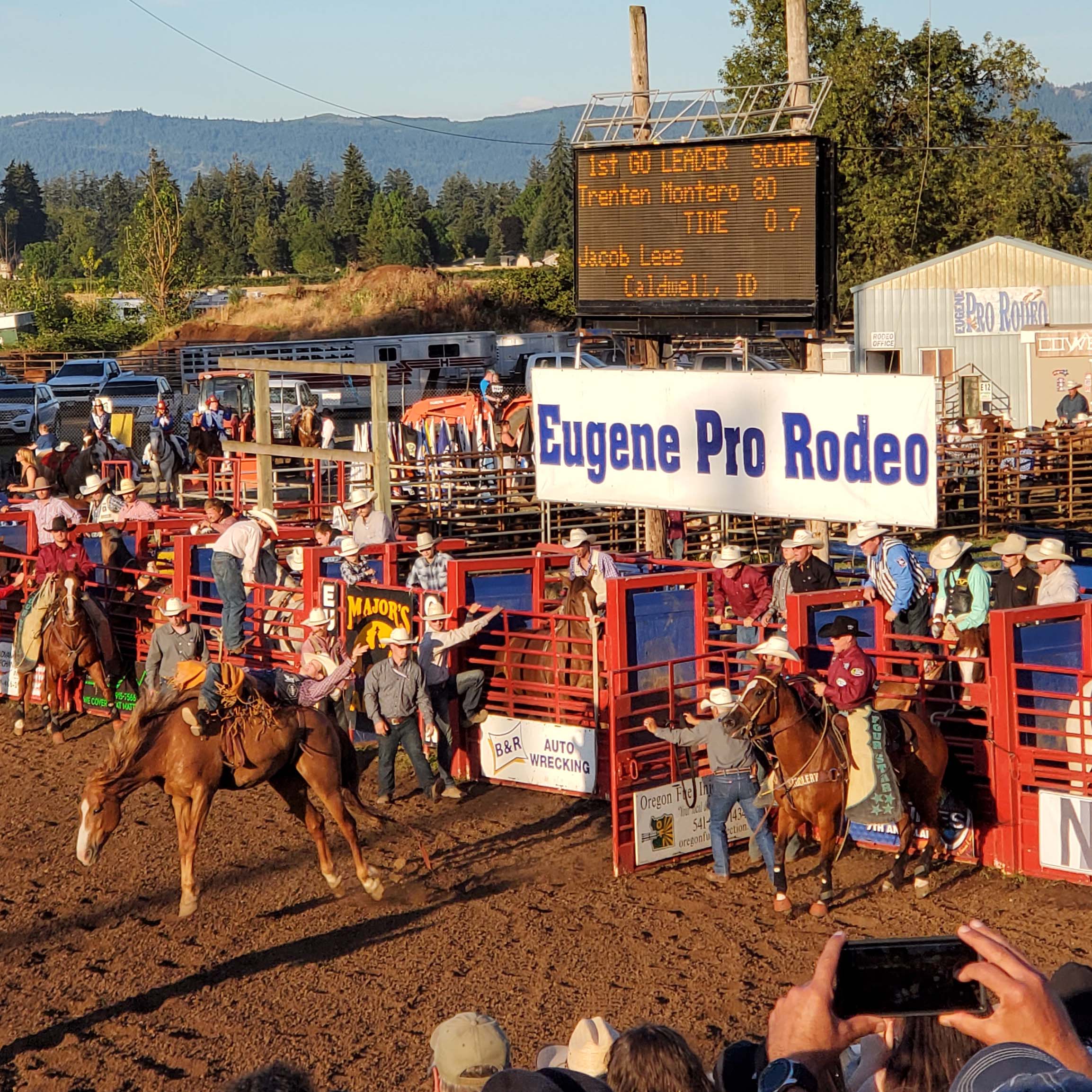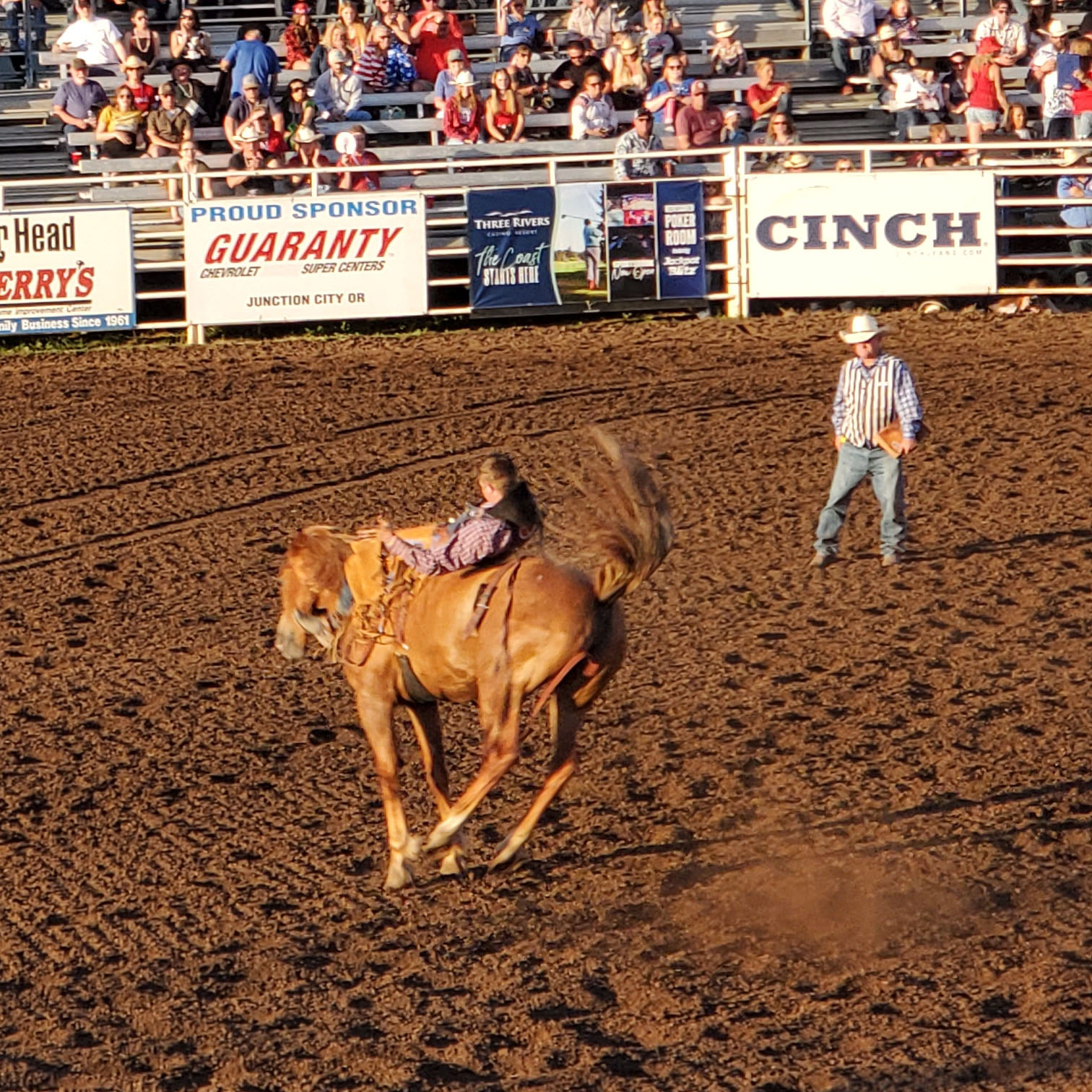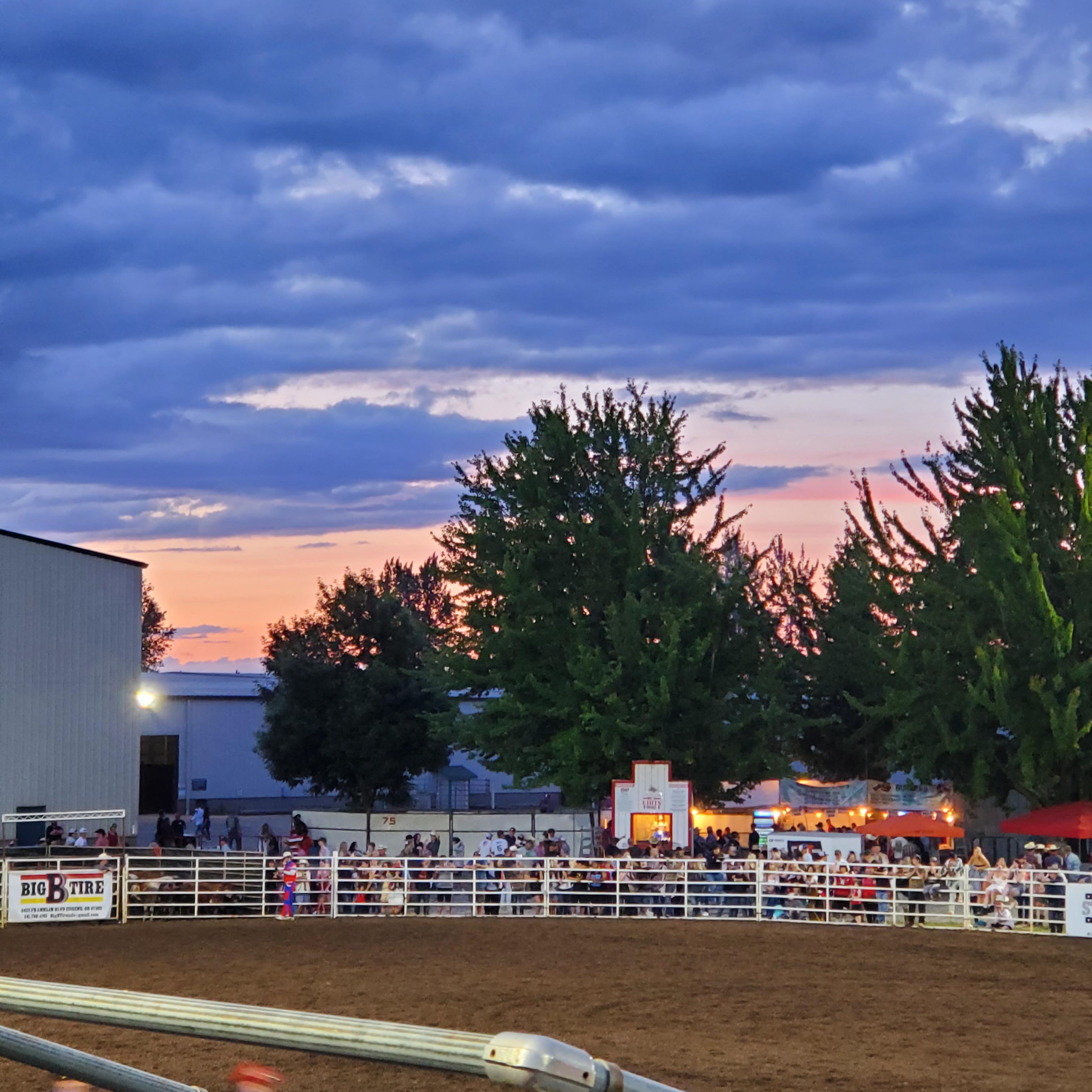 Tuesday, we were ready for work to be begin on the coach by 8 am.  Carrier RV Services officially opens at 8:30 but they were ready at 8.  They got us in the repair bay and started work right away.  We had a bit of a hiccup with the tape required to secure the seal in-place, but they got it worked out.  On a whim I asked them about re-upholstering our dinette benches... they don't it, but they recommended someone who could. So we visited Millie's Draperies & Custom Upholstery, and they gave us a great estimate! Both for the price and the timing.  So we getting our tired, worn out bench seats for our dinette redone. They estimated a week to get the work done so we are going to stay here until the 14th instead of the 9th.  
We did a little shopping too.  I found two quilt shops and we got a little bit of a surprise as we headed to lunch.  We were coming to a street corner with a couple of police cars with lights flashing.  As we rounded the turn we say that they were arresting a completely naked women.... all righty then.  We did end up needing to get a hotel room for the night.  The Hampton Inn had a nice king size bed and the room was bigger than the RV LOL. We found a restaurant a bit like Pounders in Crestview named Hawaiian Time.  They were almost as good Pounders but not quite.  
Wednesday, the Hampton fed us breakfast and we were back at Carrier RV Services by 9:30 am.  I spent a little time in the Jeep with my computer adjusting our upcoming reservations to allow us to stay in Eugene until the dinette benches are finished.  We went to lunch at a local Mexican restaurant, Don Juan's, and by the time we returned, Carrier was finished with our seal repair.  We moved a short distance to Deerwood RV Park, just a little south of Eugene. It is a really nice park and I managed to extend our stay here but we will have to move sites mid-stay.  We spent the rest of the day cleaning up the coach after the repair.  No matter how hard they try, maintenance on the coach makes a mess. I swept, mopped, and washed the sheets.  We ended the day with the Cowboy Channel watching the Prescott rodeo.  
Thursday, I slept late today (I know you're shocked).  We fiddled around until after noon then we headed out to explore a little.  We started with a visit to Cascades Raptor Center.  They have 36 raptors that have been rescued including 4 Bald Eagles, 1 Golden Eagle and a Snowy Owl (not named Hedwig). The great horned owls were impressive and the red tail hawks were so pretty.  Next, we did a driving tour of some covered bridges.  We saw 4 in all and stopped at a couple of farmers markets on the way home, peaches, strawberries, apricots, nectarines, blueberries, and green beans. We discovered a new fruit that is a cross between plums and apricots, yum. We got home in time for me to enjoy some "porch" time and a walk.  Elard grills a mean steak I must say.  Another evening of rodeos.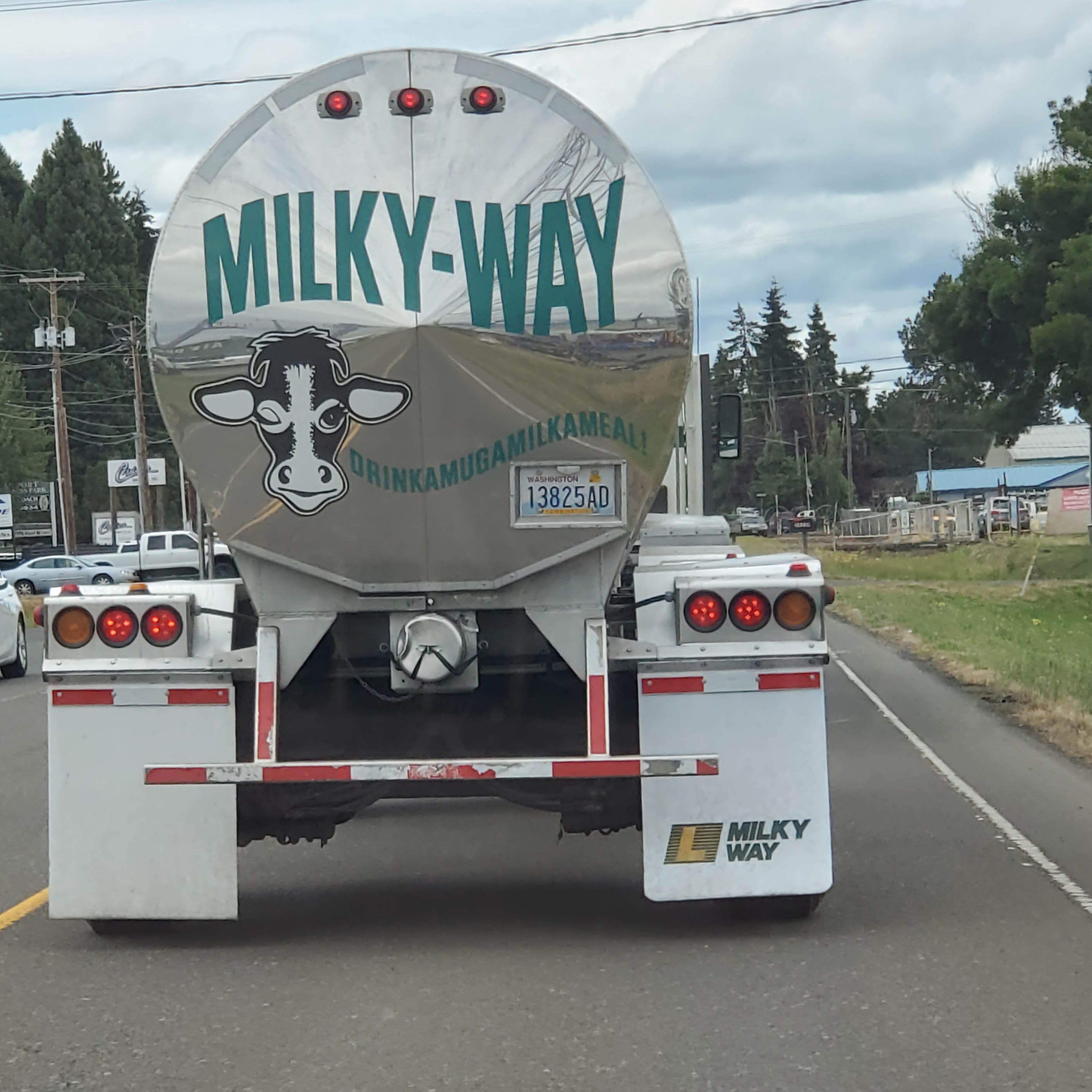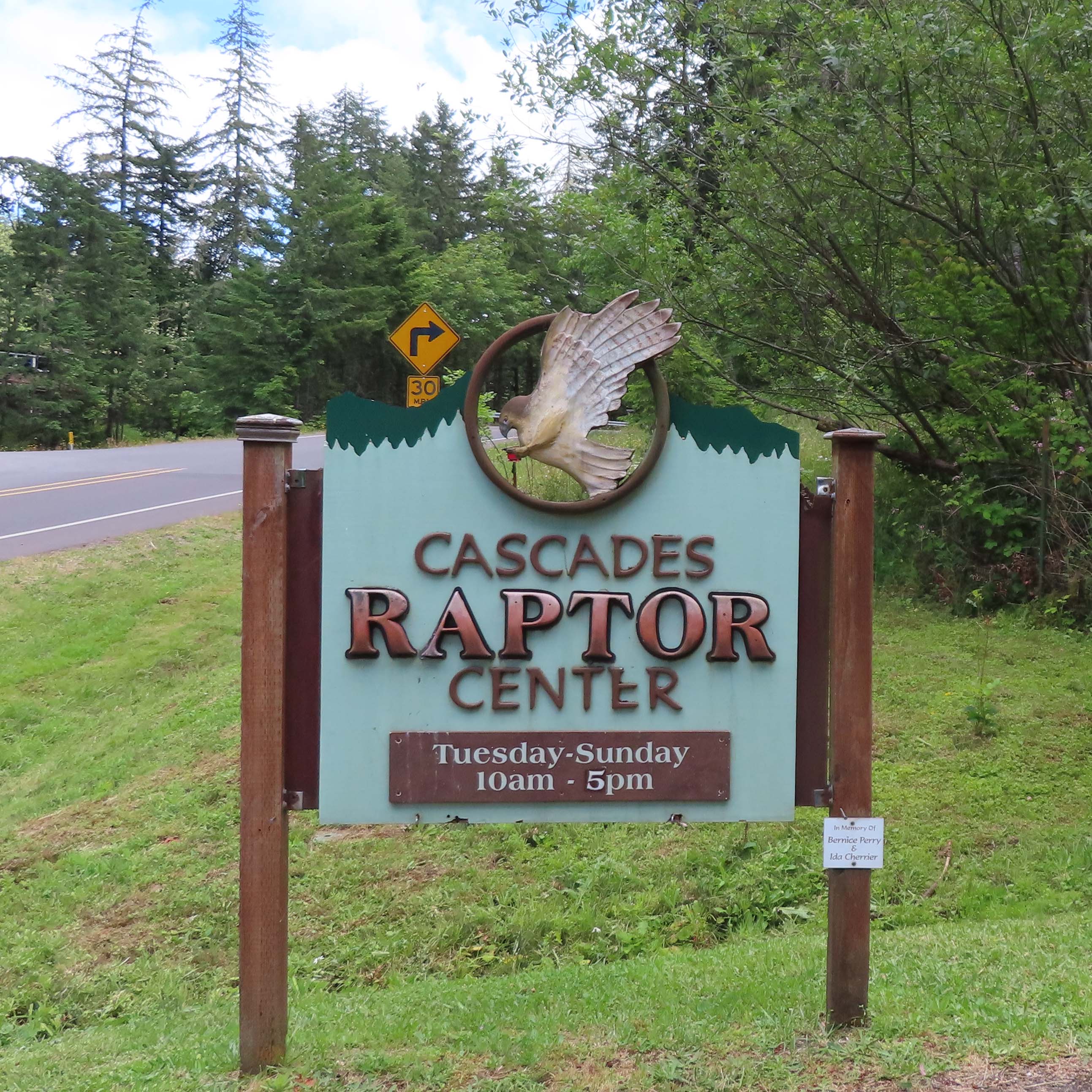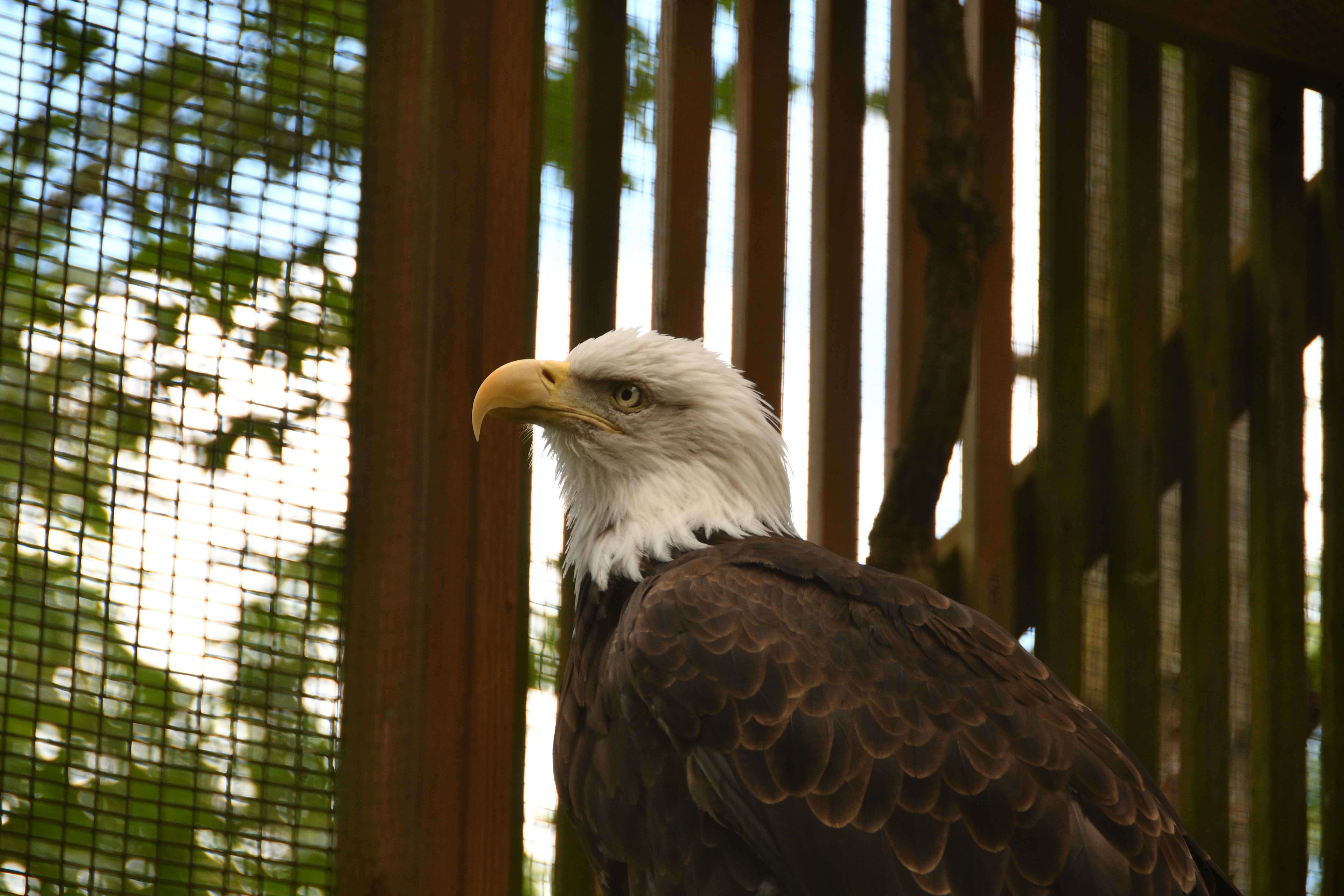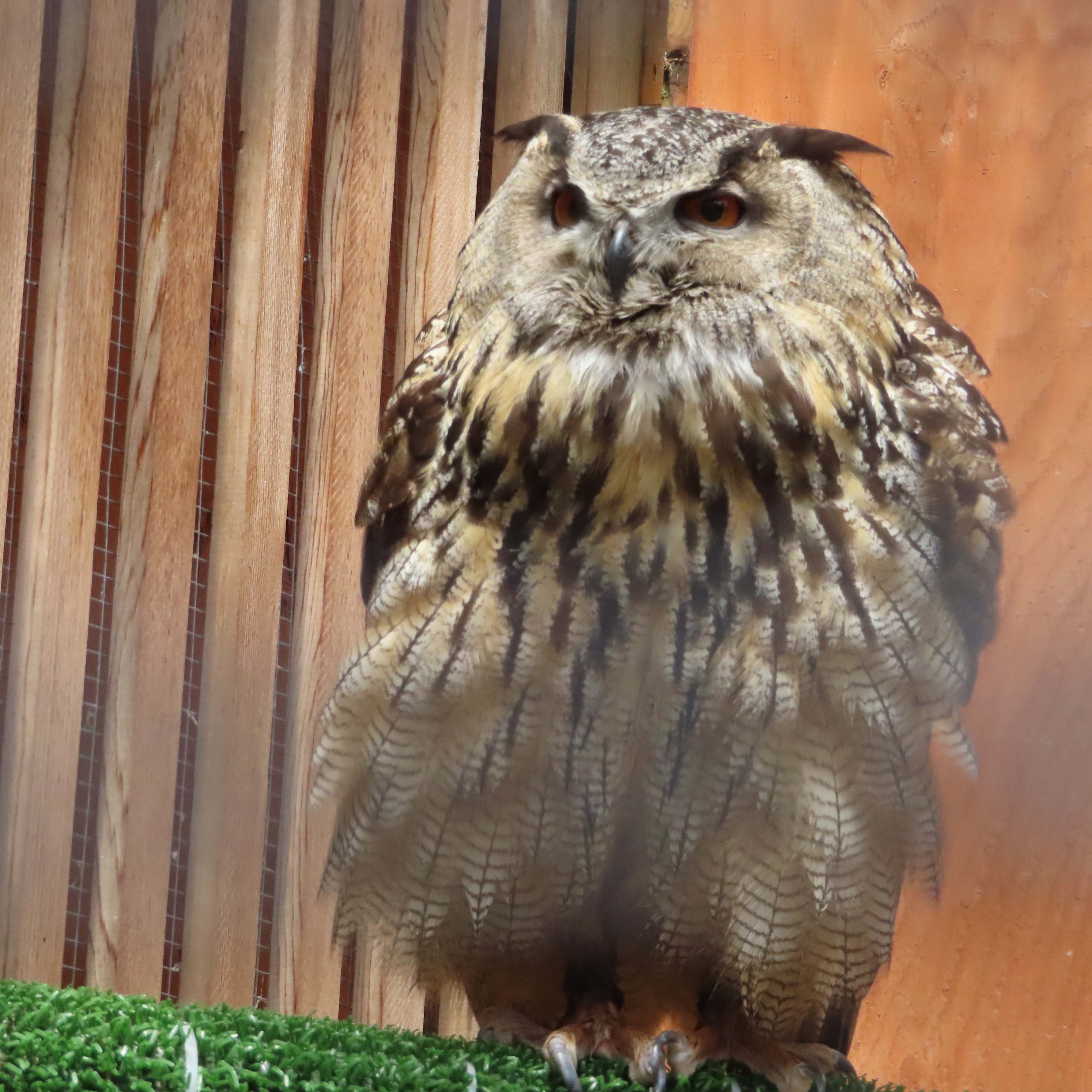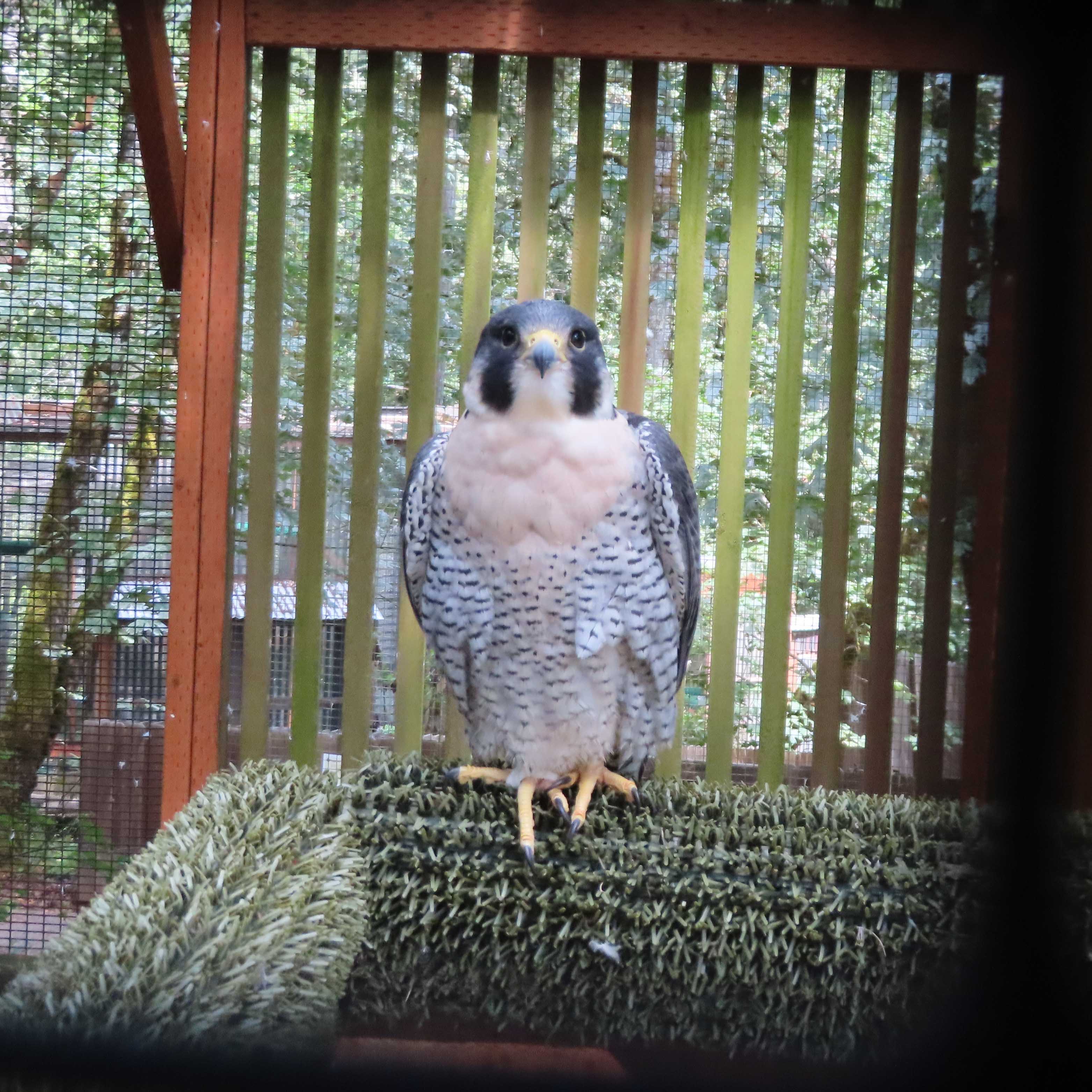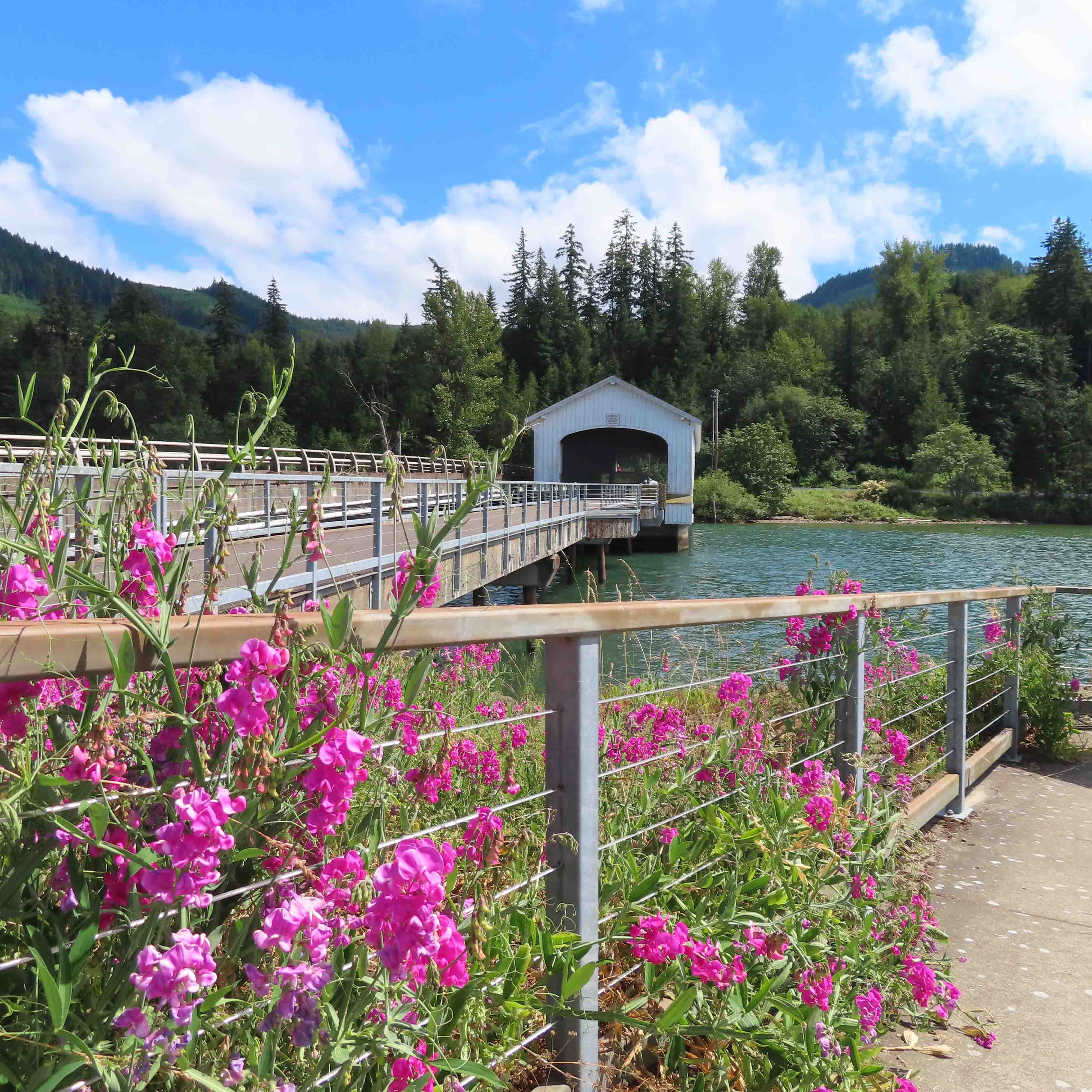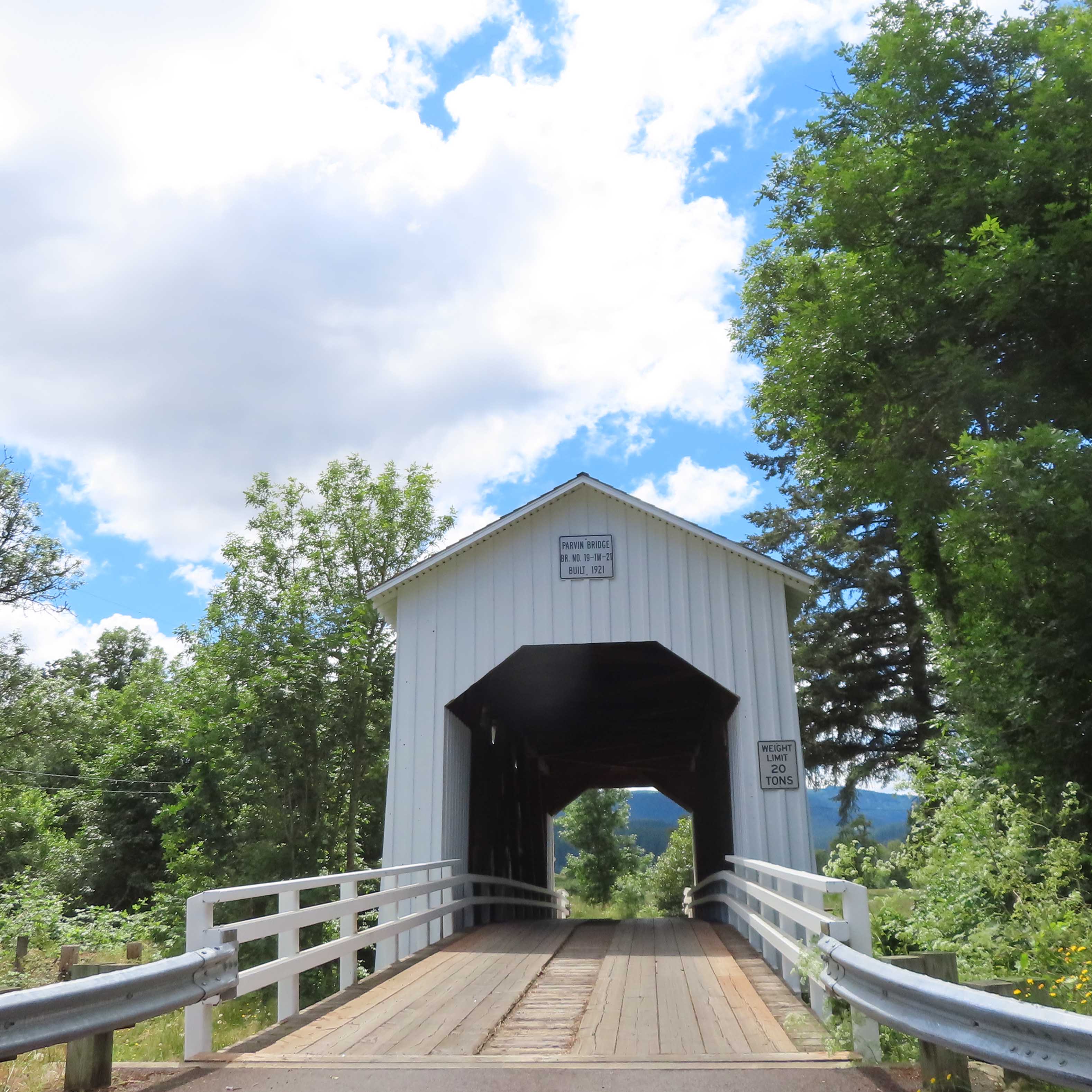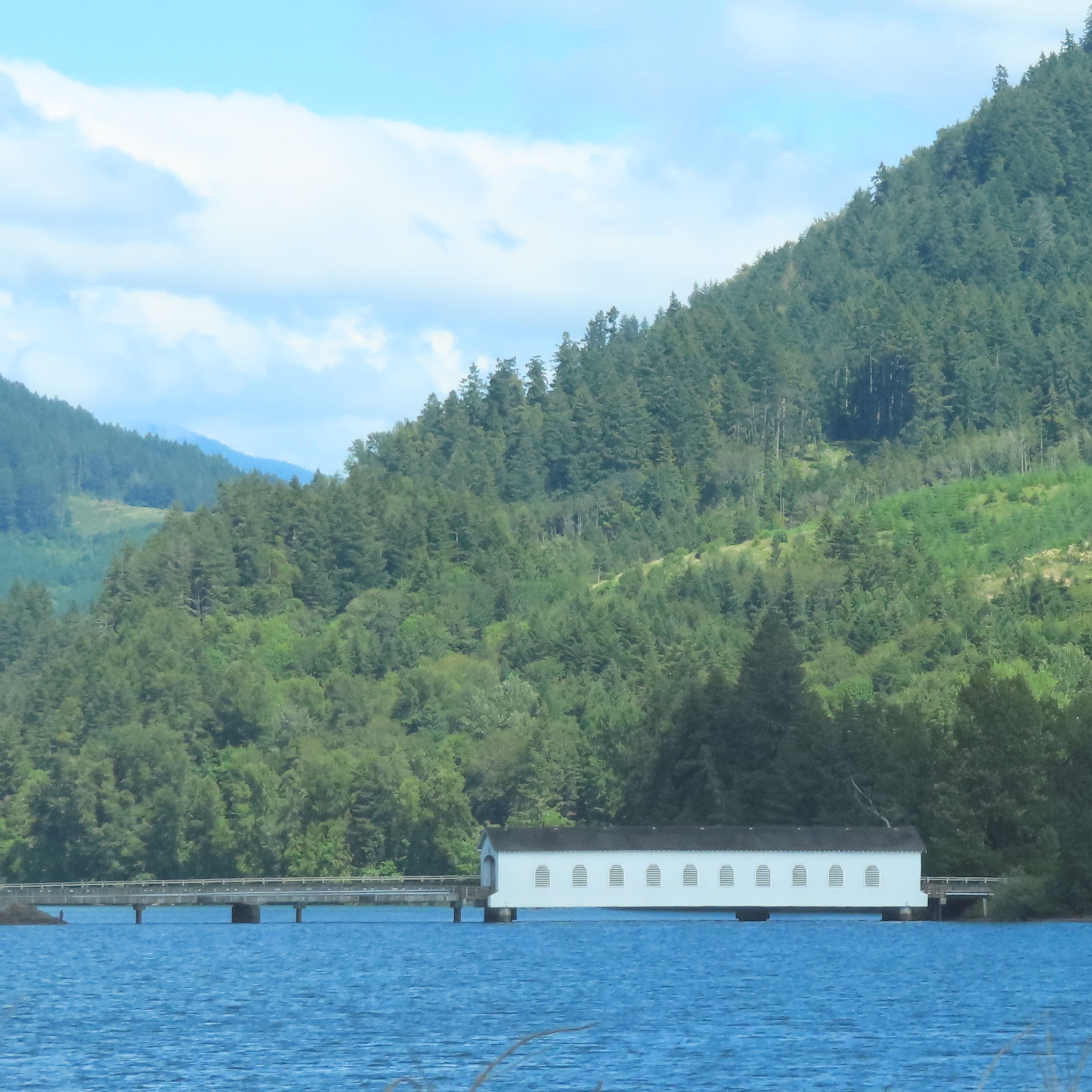 Friday, road trip!  We have been weighing the price of gas with the desire to drive the Pacific Coast Highway.  The Highway won, at least a small part of it. We went a bit north and then headed west across the Cascade Range and then north to Depoe Bay.  There we turned around and headed south to Florence.  This is a tiny part of drive #5, Oregon Coast Highway.  Our first stop was the Boiler Bay State Scenic Viewpoint.  It was beautiful and we spotted a strange bird just off the path on her nest. A search says it is a Black Oystercather. We headed south from there stopping at the Otter Crest State Scenic Viewpoint.  The view was awesome from the Cape Foulweather Gift Shop and we even saw some whales.  We also stopped at the Devil's Punchbowl. I had to jump out while Elard waited  because there were no parking spots.  It was a cool natural feature.  Farther down the road we stopped at the Yaquina Head Lighthouse. It was a pretty lighthouse and the the views!  Next we stopped at the Quilter's Cove quilt shop and found some lunch at the Chowder Bowl. The clam chowder was good but the seafood platter didn't have much seasoning.  Our next stop was the Yaquina Bay Lighthouse and Bridge. The bridge was pretty.  Our last stop was the Heceta Head Lighthouse. It was closed at the moment for renovations, but the lighthouse keepers house is now a B&B.  Awfully nice views.  It was definitely a nice day and the drive was beautiful.  We may come back out and make the full coast drive one day.  Just not in the motorhome.  
Saturday, chore day again.  The temperature is beautiful and I enjoyed some more outside time. A wonderful, productive week.

Make Life An Adventure!