Tatum, TX Week 04
Feb. 14 - Feb. 20, 2021
Sunday, temperatures are definitely dropping, the high was 30 and dropped to 24 by nightfall.  It started snowing in the afternoon but the flakes were tiny.  I am impressed with how well the motorhome is handling temperatures this cold.  I did leave the window shades down to help hold in the heat. I spent most of the day watching Home Town on HGTV, we are watching with a whole new set of eyes now that we are going to build a house.

Monday, we woke up to a blanket of snow over the park.  I took a few pictures thru the window but I didn't go outside.  It got down to 10 degrees last night but is nice and toasty inside.  Elard did go outside to hook up the water long enough to refill the fresh water tank.  Our outside bays have heat in them so we just unhook from the water and store the hoses in the bays so that we don't have to worry about freezing.  We have a furnace that uses circulating hot water as the heat source. The water is heated by electricity mainly but it also has a diesel heat source.  We have had to use the diesel to boost the hot water temperature occasionally.  Luckily we are not close enough to Dallas to be impacted by rolling electrical outages over there.  That would suck, we would be in real trouble if we didn't have electricity. I got last weeks blog post online so the day wasn't a complete waste.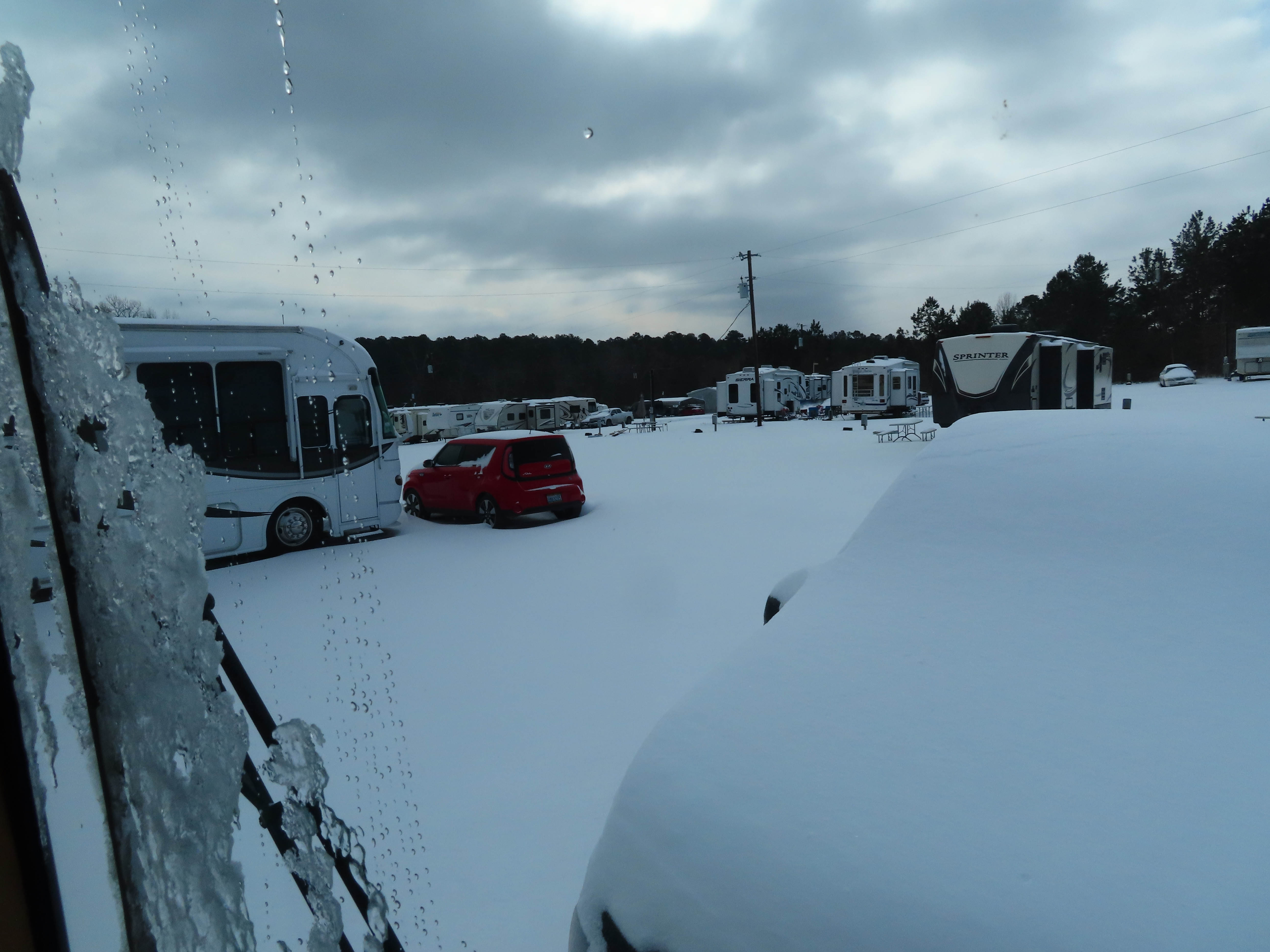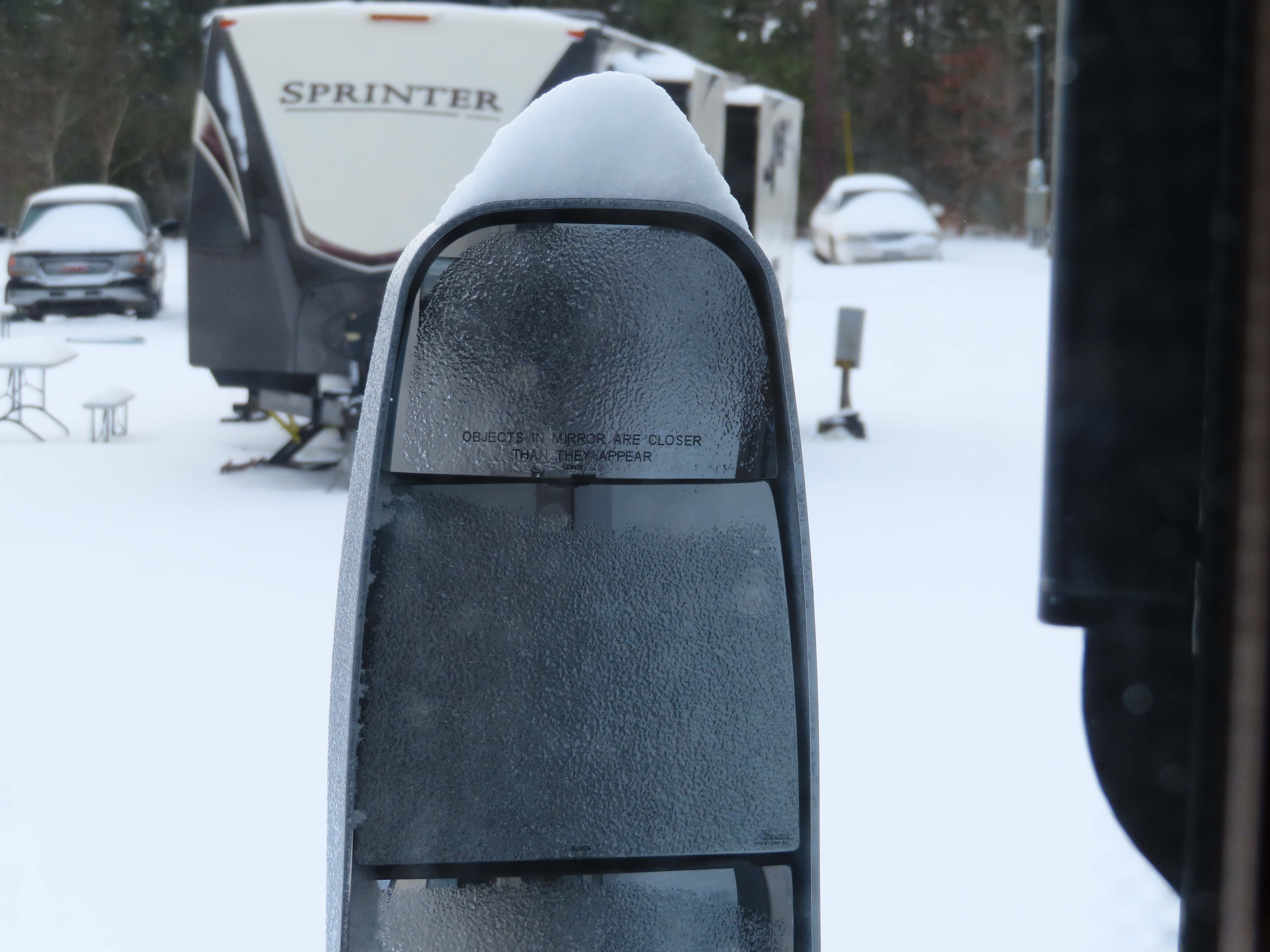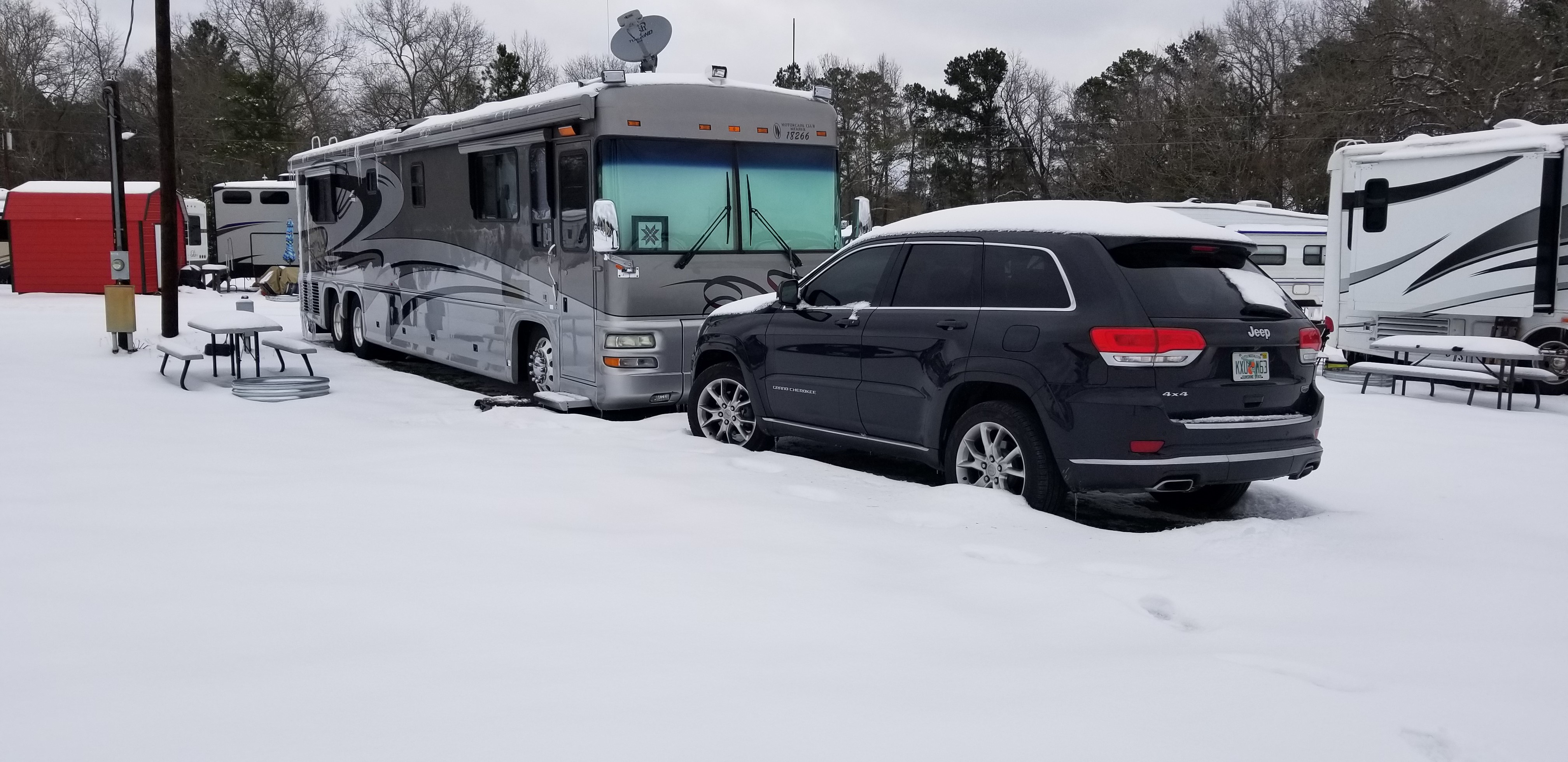 Tuesday, -2...two what? Twoo damn cold! We made it thru but a few of our water lines did freeze.  Elard discovered it early morning, the sensor that runs the bay heaters is near the top of the bay and that was letting the heater turn off.  He moved it to a point under the water lines and everything thawed without any damage, whew.  I'm starting to get cabin fever.  The original forecast was that this would be over by Wednesday but now it will probably be Sunday before the roads are safe.  That means we won't be closing on the lot this week, hopefully early next week. At least the temperature is not supposed to be in the single digits anymore.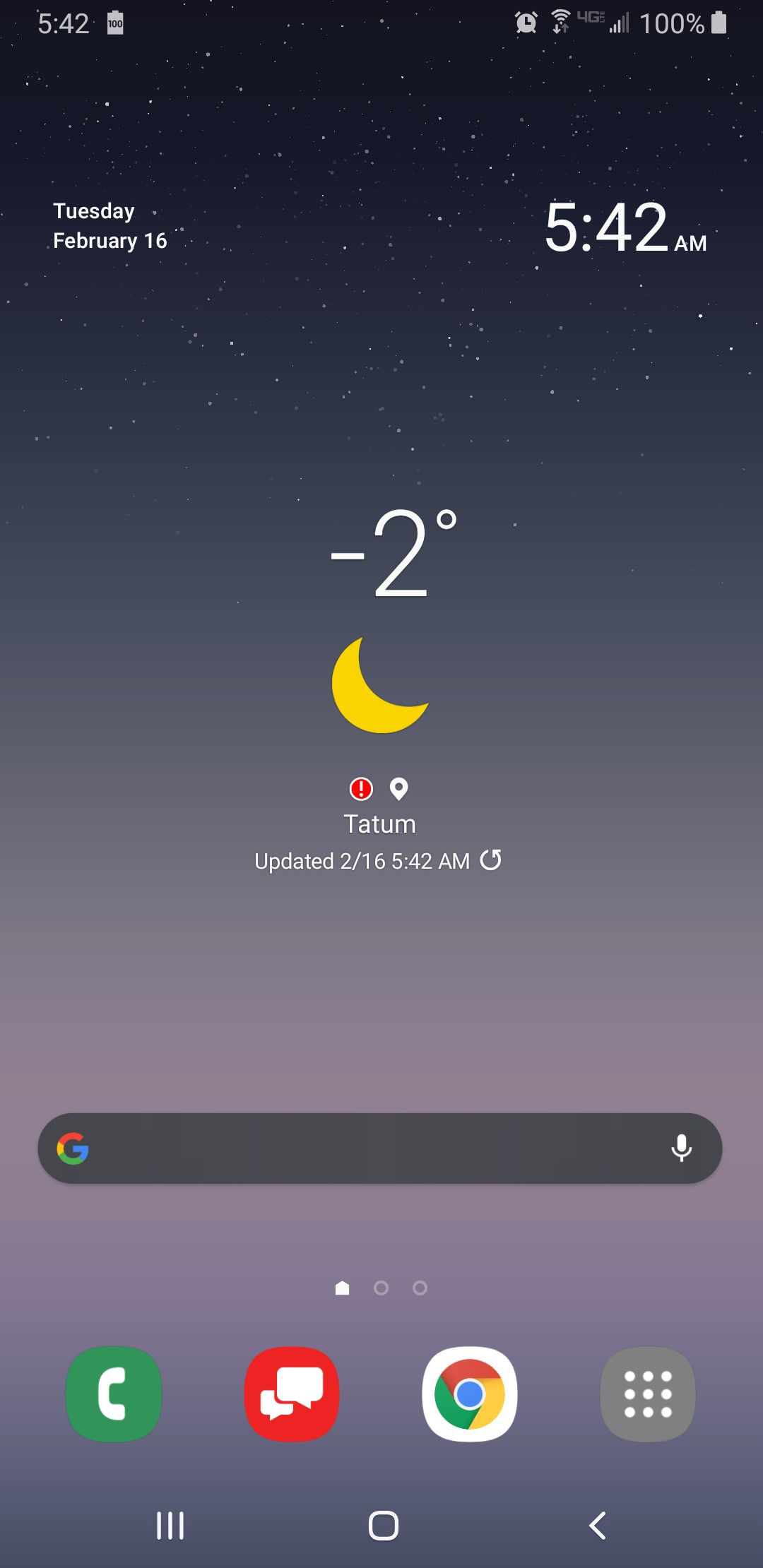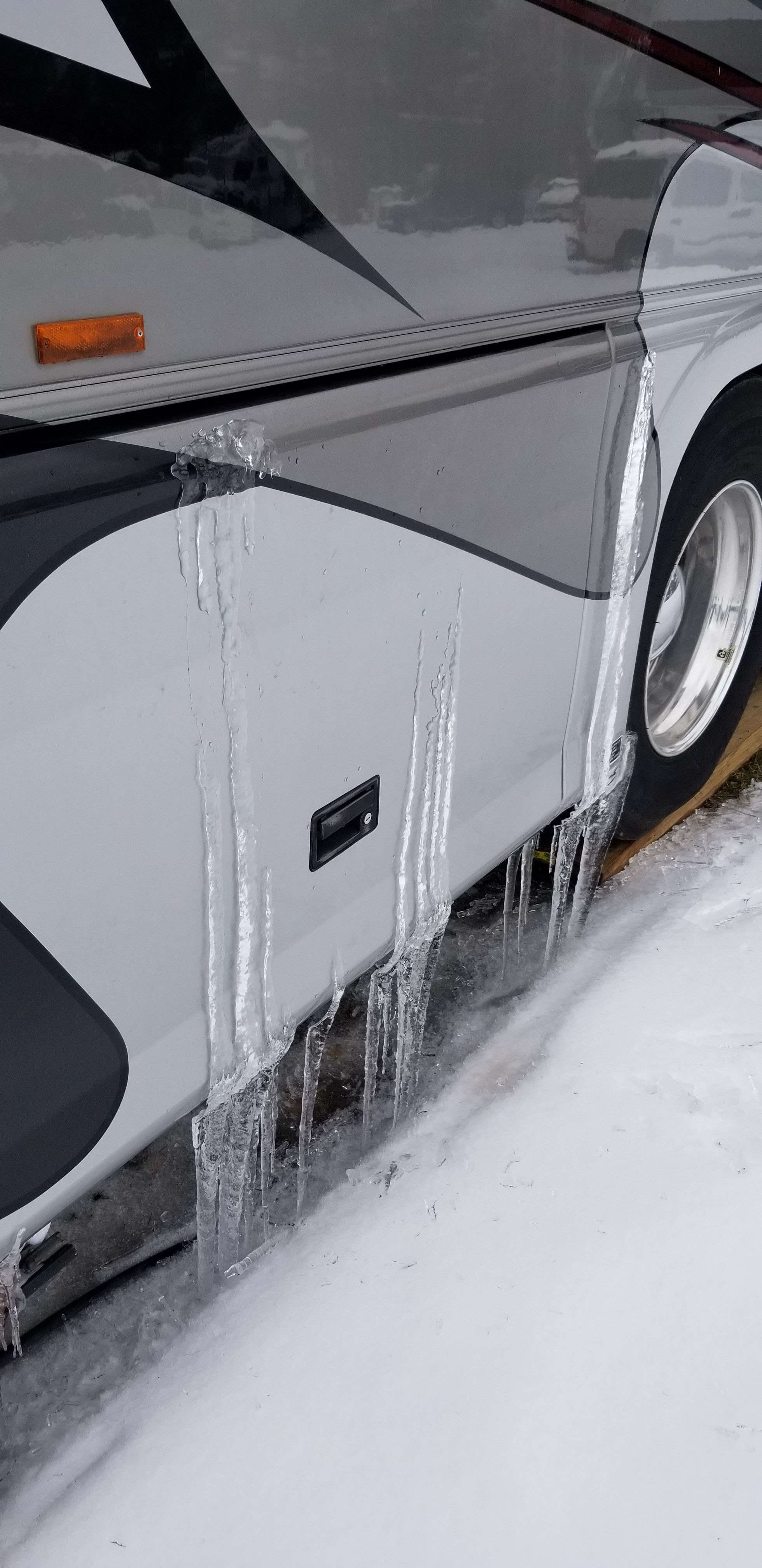 Wednesday, it started sleeting around 3 am and kept it up off and on until around 2pm.  Then huge fluffy snowflakes started. We raised the window blinds and watched for a while. It snowed like that for about an hour, very pretty. I found a new Netflix show to kill some time, Frontier, with Jason Mamoa about the Hudson Bay company late 1700s, post revolution. I also found a very good fresh mushroom soup recipe in the American Heart Association cookbook.  The first recipe from there that I really really like.  
Thursday, the temperature actually got above 32 but not for long.  Hopefully we can get out and about later this week. Our closing did indeed get postponed to sometime next week, as well as our meeting with the builder.  I have not been outside the coach for a full week now....luckily I have an aerobic step in the coach so I can get a bit of exercise.   

Friday, we are having a heat wave! It was 37° by 2 pm so I think we are going to be okay.  We are soo fortunate not to have any power outages. I broke out the Daisy Do quilt box for the first time in a long time! This is a Jen Kingwell design from her book Quilt Lovely. I know that a lot of people think hand piecing and quilting takes forever...and it does LOL, but it is very soothing. Ms. Kingwell's methods (and her tools) make the accuracy needed easy to accomplish.

Saturday, most of the snow is gone and the temperatures are better.  Tomorrow the roads should be good to go. We actually had to turn on the air conditioner for a little while in the afternoon.  The sunshine was awesome.
Stay Warm Y'all!!!