Billings, Montana
Jul 6 - Jul 11, 2020
Sunday, we had another short hop of a move today. We are now in Billings Montana at the first ever KOA location.  Unfortunately we only have water and electricity at our site, no sewer hookup.  We will probably need to move to the dump station once this week.  And I won't be able to do laundry (darn). But we have great satellite reception and the park is pretty.  We don't have quite as many cottonwoods here so the "snow" isn't quite as bad here.  Just across the levee is the Yellowstone River. We can't see the river from our site but we can see the bluffs across the river. I spent the afternoon getting last week's blog post online and playing with my new camera.  I got a scratch on the lens of my old camera so I decided it was time to get a new one.  I bought the Canon PowerShot SX740 HS with a 256 GB SD card and a set of lens filters. My old camera was also a Canon PowerShot, the SX260 HS with a 64 GB SD card. I can't wait to try out the new one tomorrow.  I asked Elard to share our Google timeline map from 2019.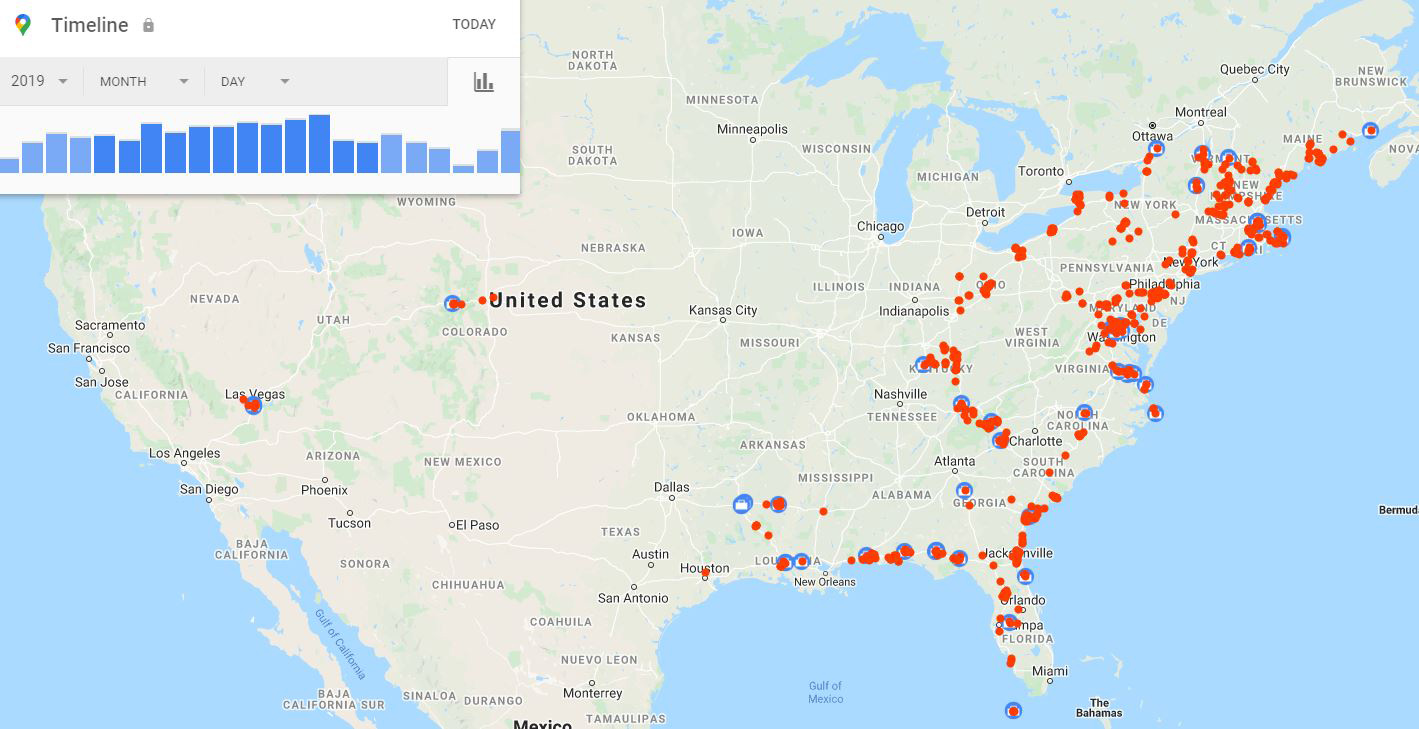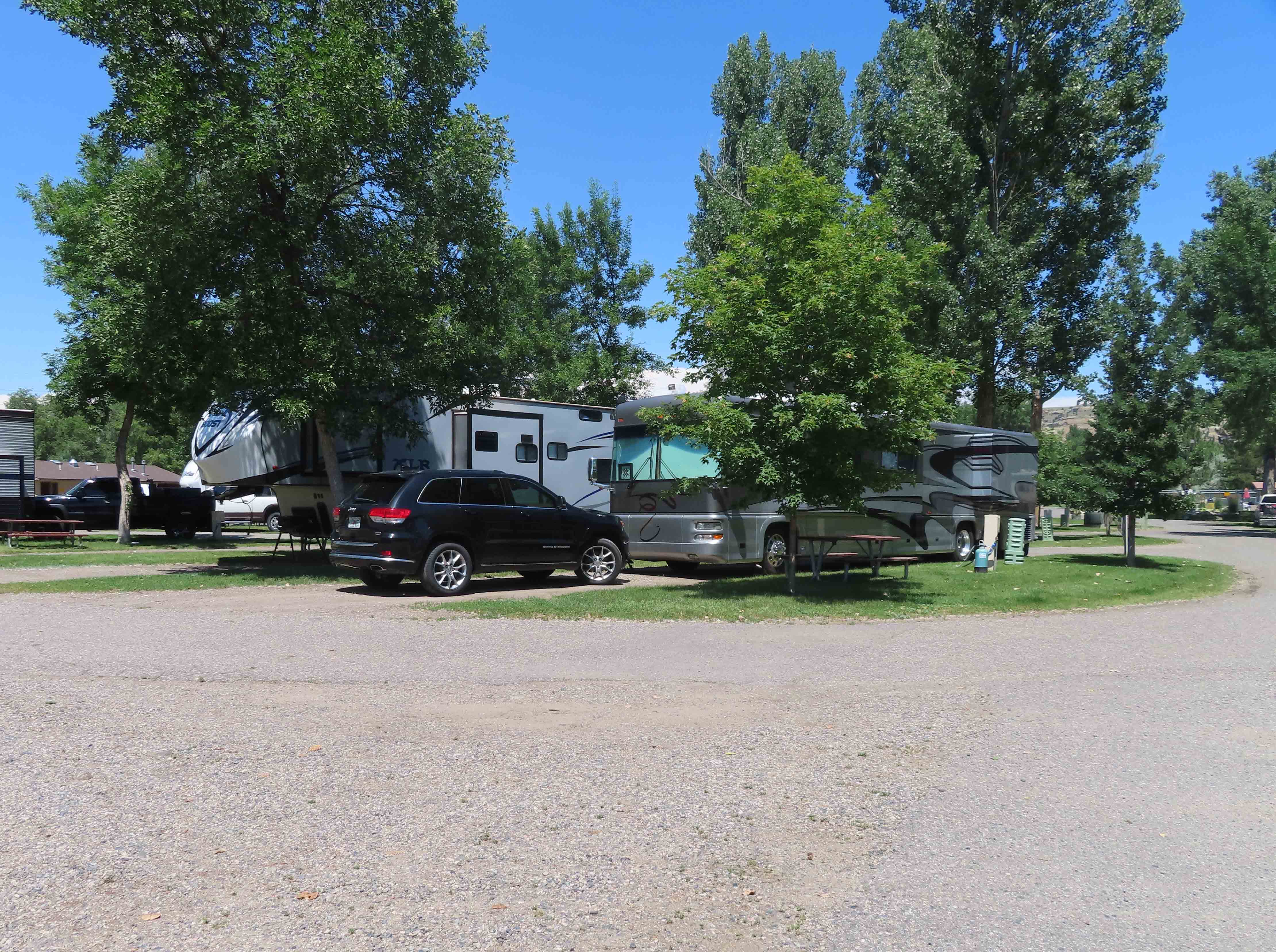 Monday, we made a grocery stop very early so that we could get to Pictograph Cave State Park before it got hot. It is a small but impressive park with a couple of alcove type caves.  The pictographs are very hard to make out but they have interpretive signs there to help you spot them. There were a couple from Muscle Shoals Alabama volunteering for the park, and two other couples visiting from Muscle Shoals. We are headed to Glacier National Park while we are here in Montana and plan to do some hiking there so we went to Cabela's shopping for proper hiking shoes and socks. Elard found a video by a guy who has been to Glacier every year since 1994.  There are a lot of bears in Glacier so we need bear spray too. We also need to get serious about building some stamina before we get there...we have two weeks. Luckily there are some easier trails in Glacier for sloths with bad knees, like me LOL. We found a pretty good Mexican restaurant for lunch, Don Luis. It looks like a nice small business lunch place because it is right down town.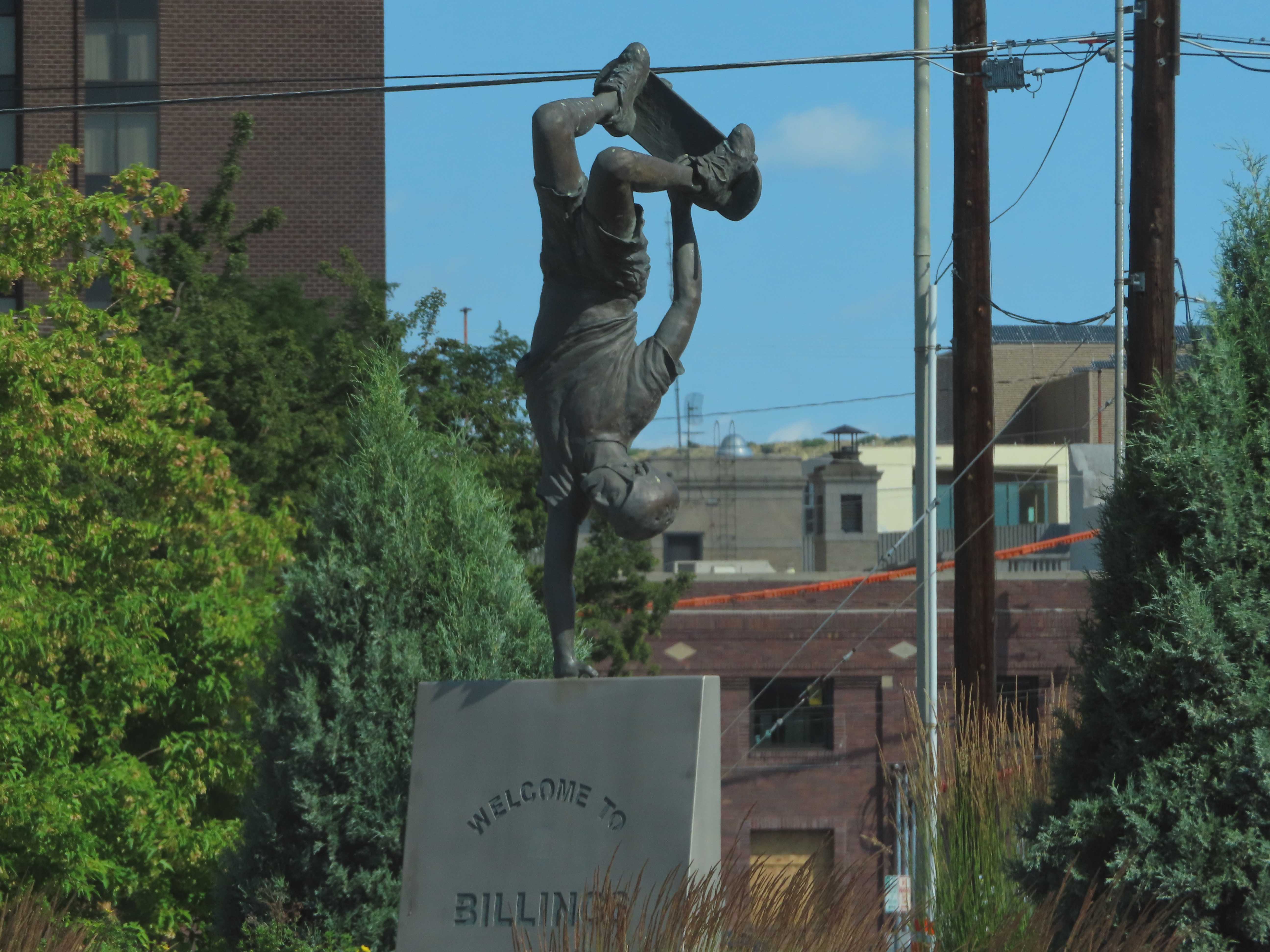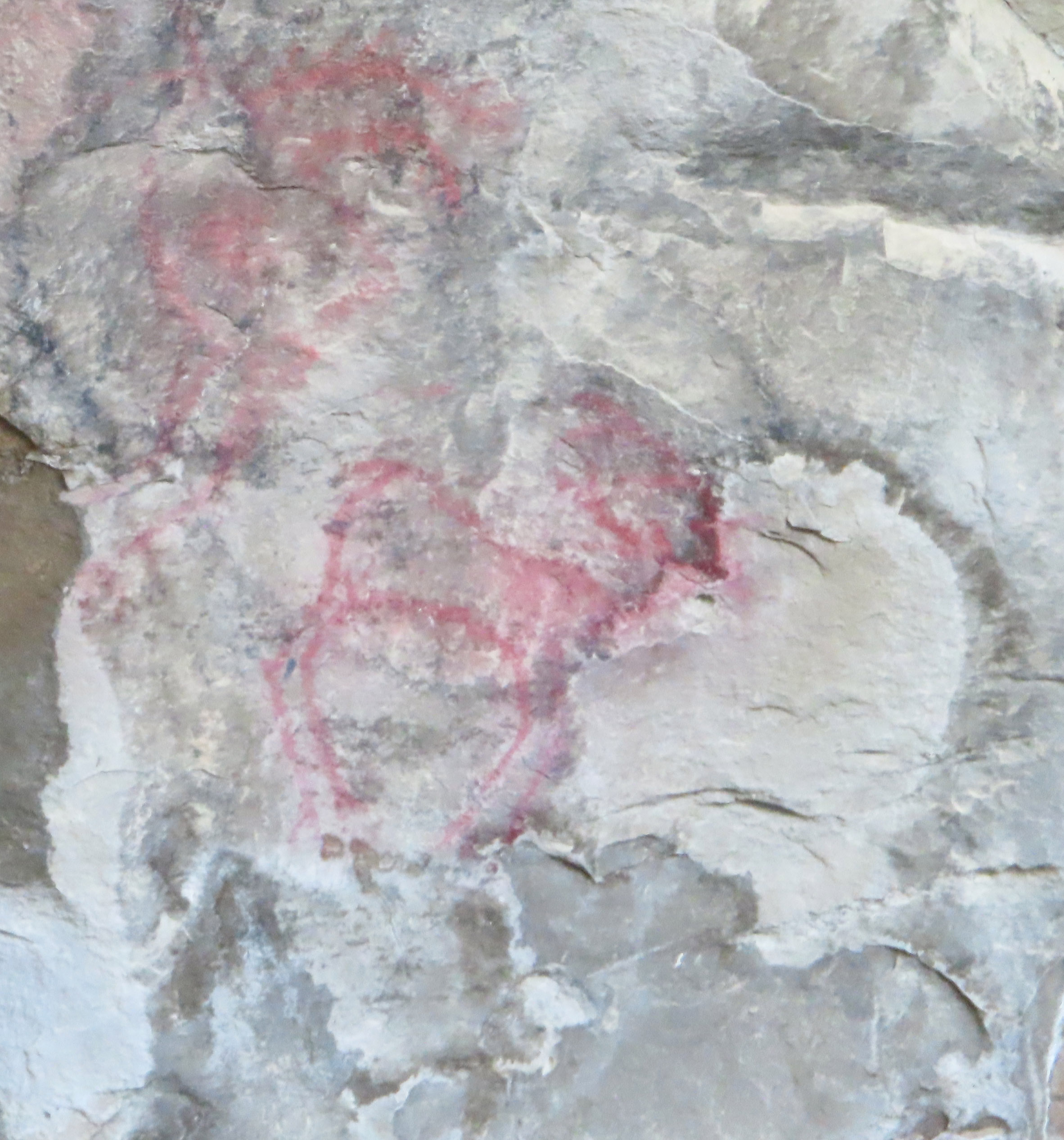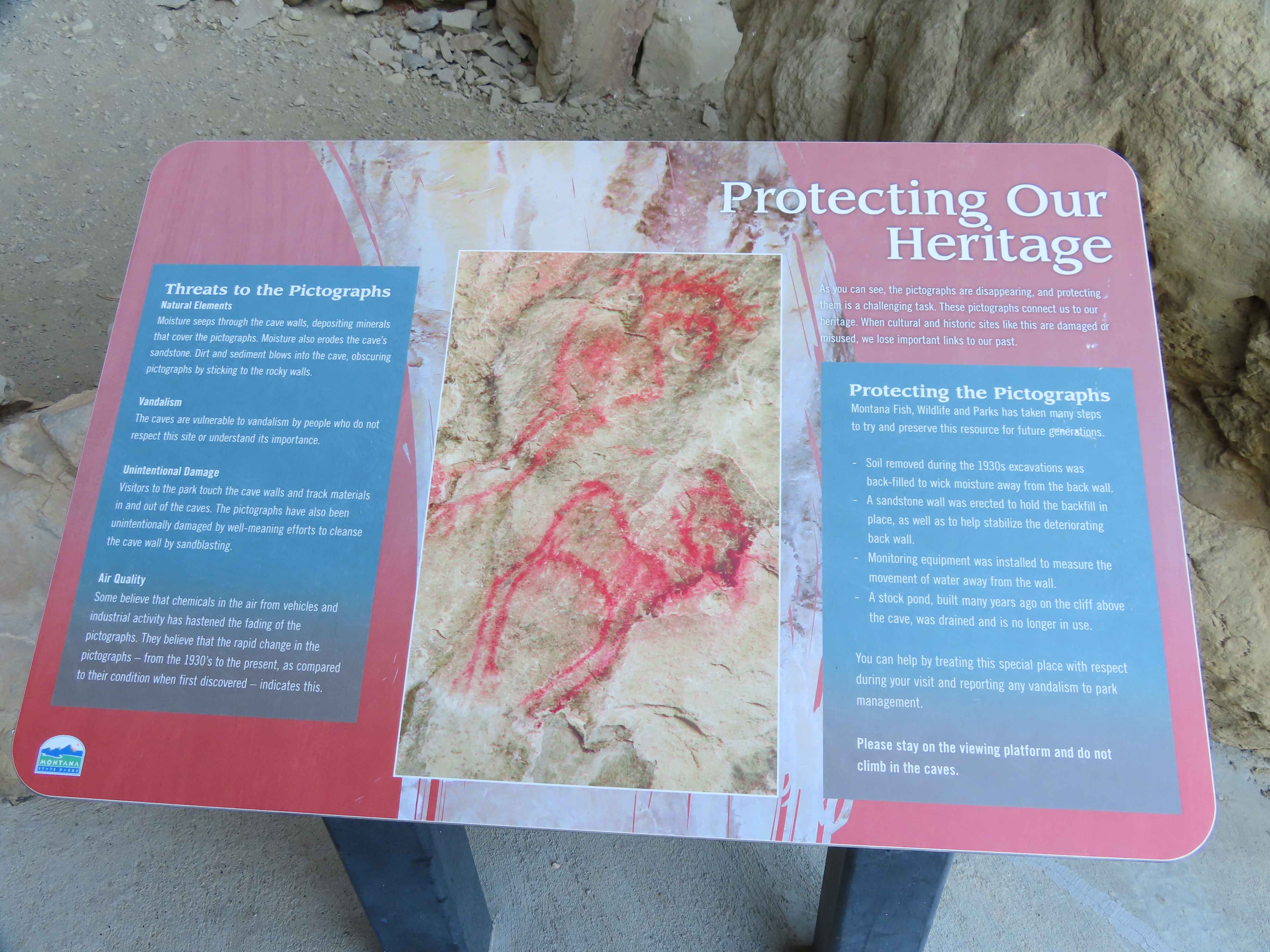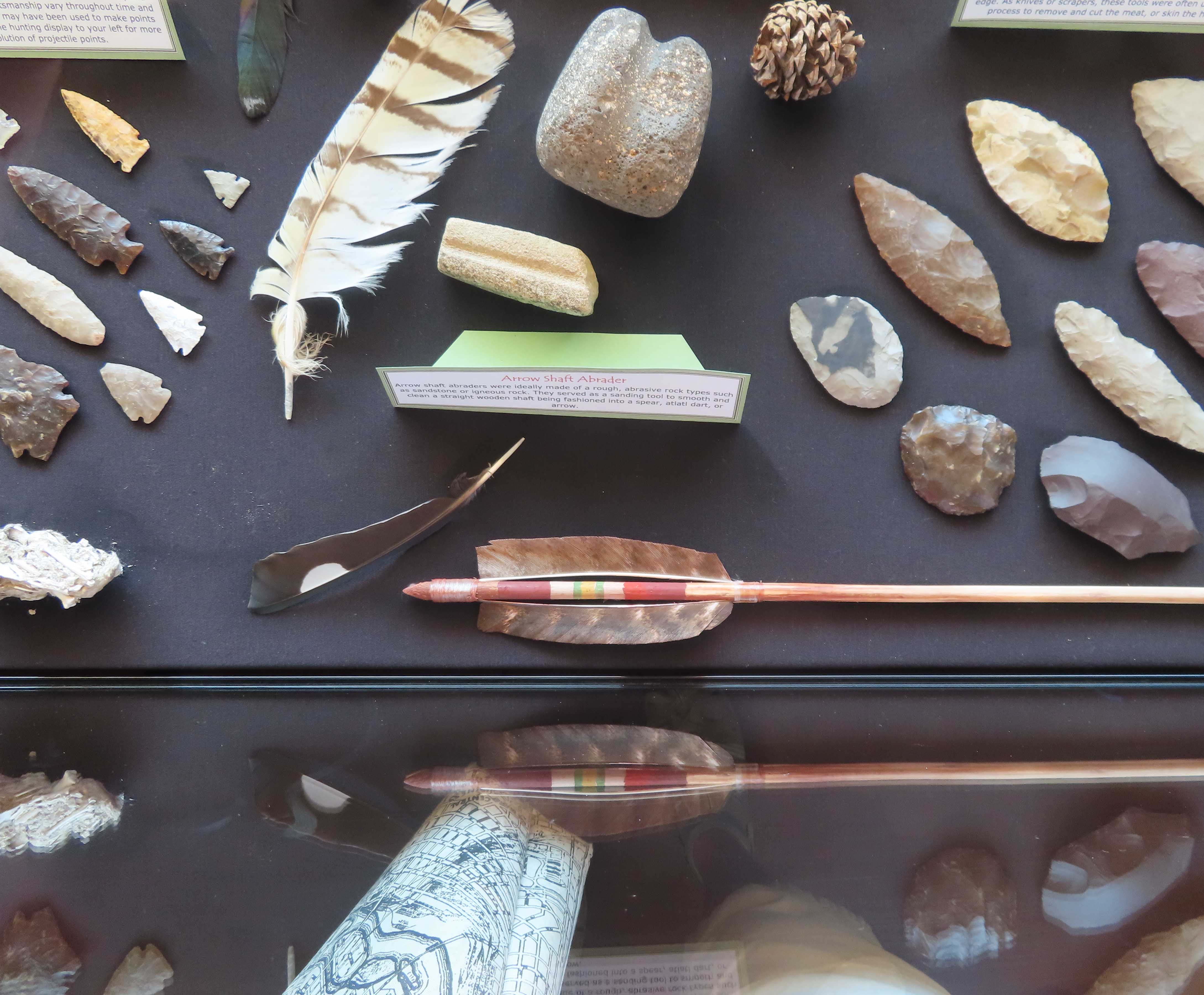 Tuesday, today we tested out our new hiking shoes with a 4 mile "hike", Chief Black Otter Trail. Okay it was a paved trail on the bluff overlooking Billings and near the airport.  It was a 300 ft elevation change and it proved that, yes, I am a sloth! I'm blaming my tiredness on the fact the hiking shoes are a half pound heavier than my normal shoes....shut up, stop laughing! There were some pretty awesome views from the bluff and we saw several planes land.  I also found a painted rock.  Next we went to the Yellowstone County Museum.  They had an awesome collection of Ghost Dance regalia, guide explained that the Ghost Dance was a tribal ritual that hoped to send the white man away and invite the return of their ancestors.  It is said to be one of the precipitating factors for the massacre at Wounded Knee.  And the ghost dances were outlawed.  There was a whole lot of superstition on both sides going on in the 1890's for sure. We stopped for lunch at the Montana Brewing Company.  I had a Greek Gyro and Elard had a Montana Dip...basically a French Dip sandwich the size of Montana!  The beer was good too.  We had planned to visit another museum but, I thought a nap might be more fulfilling. After a good nap, we were hit with a little wind storm that took out a couple of power lines at the park.  Since we were out of power we thought that we'd go shopping or something but the lines were down across the only road in or out.  So we enjoyed some nice outside time and meet all our neighbors who were out of their RVs because of no power.  We ran the generator from about 7pm to 10 pm to keep the batteries charged. We went to bed around 11:30.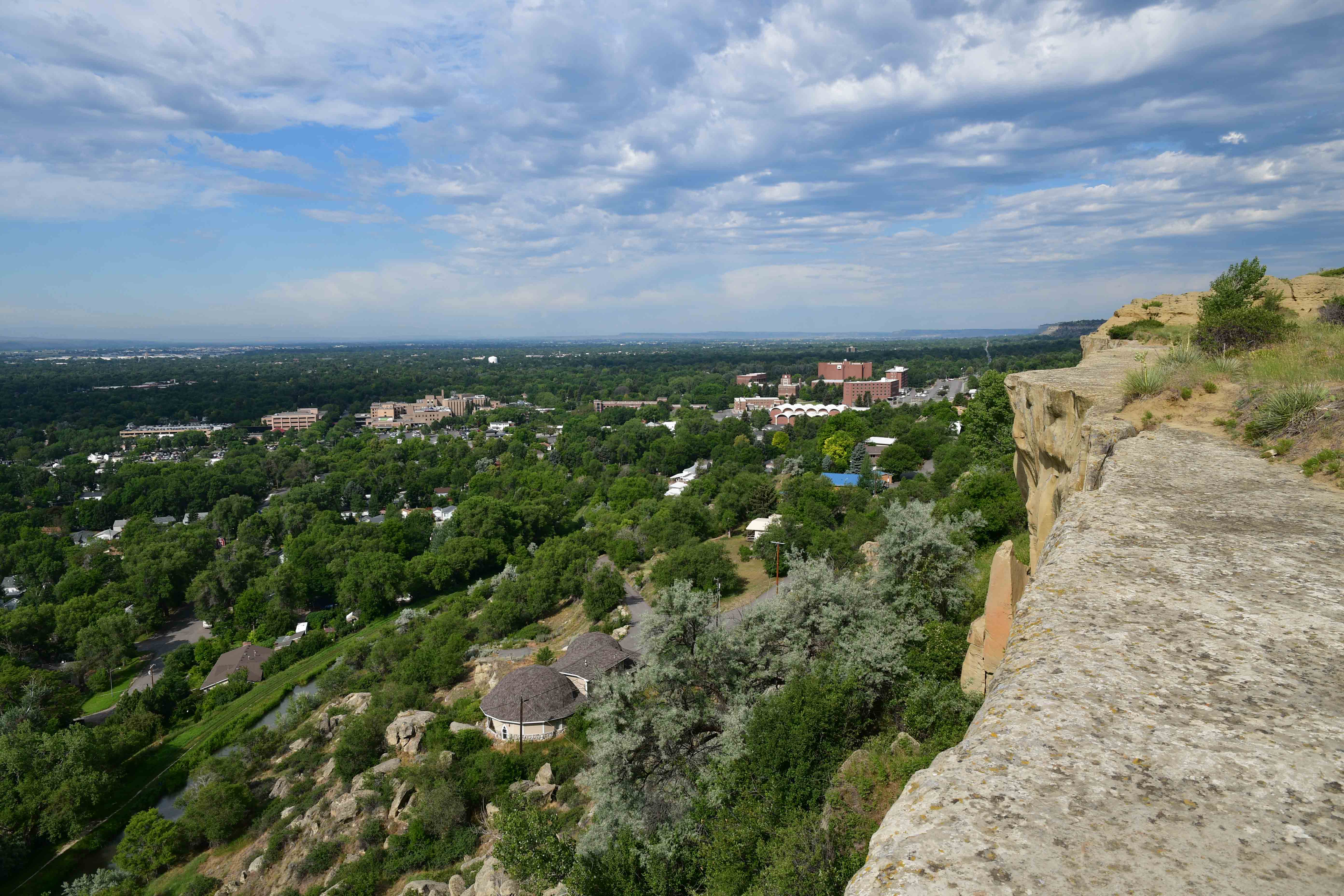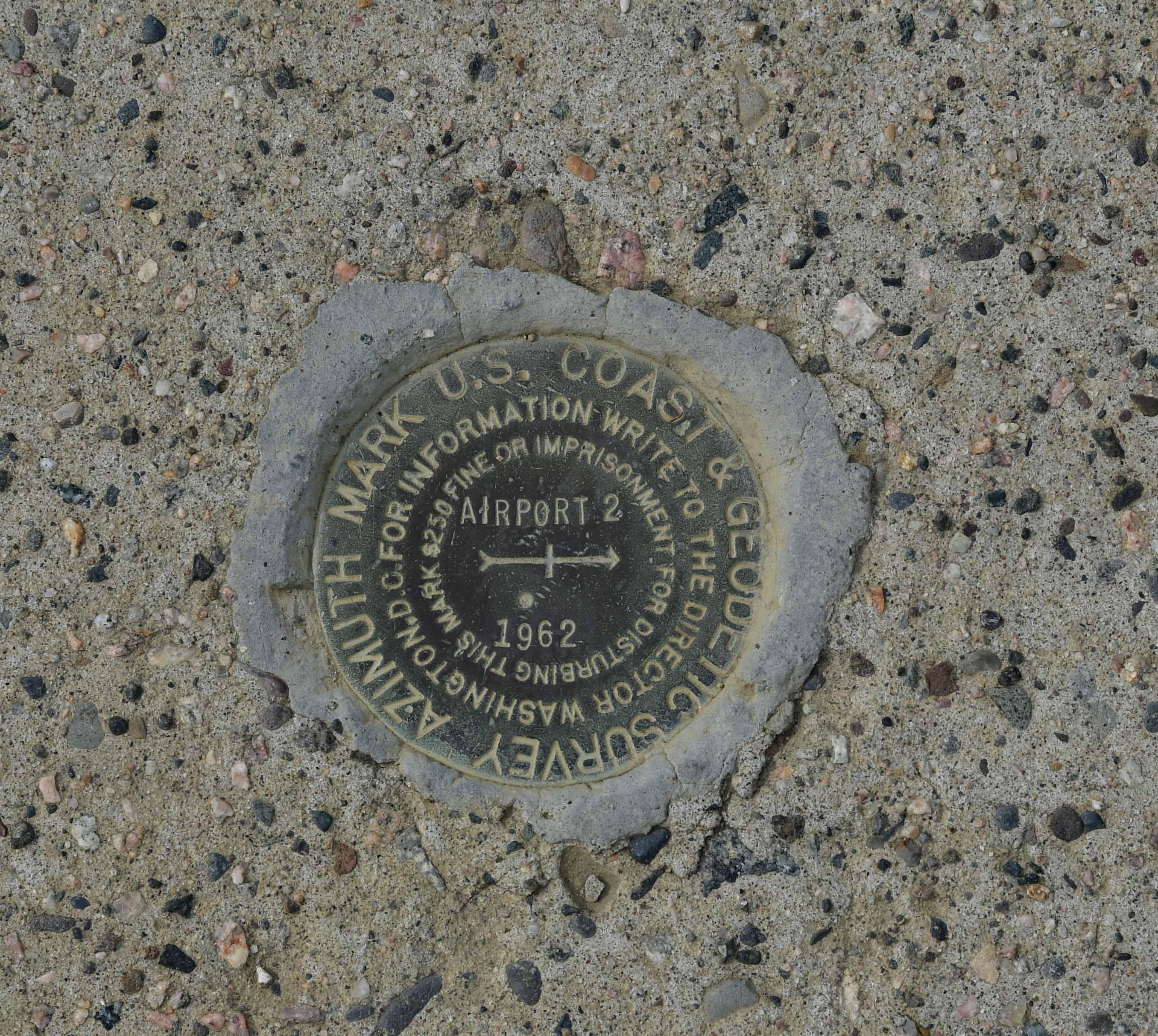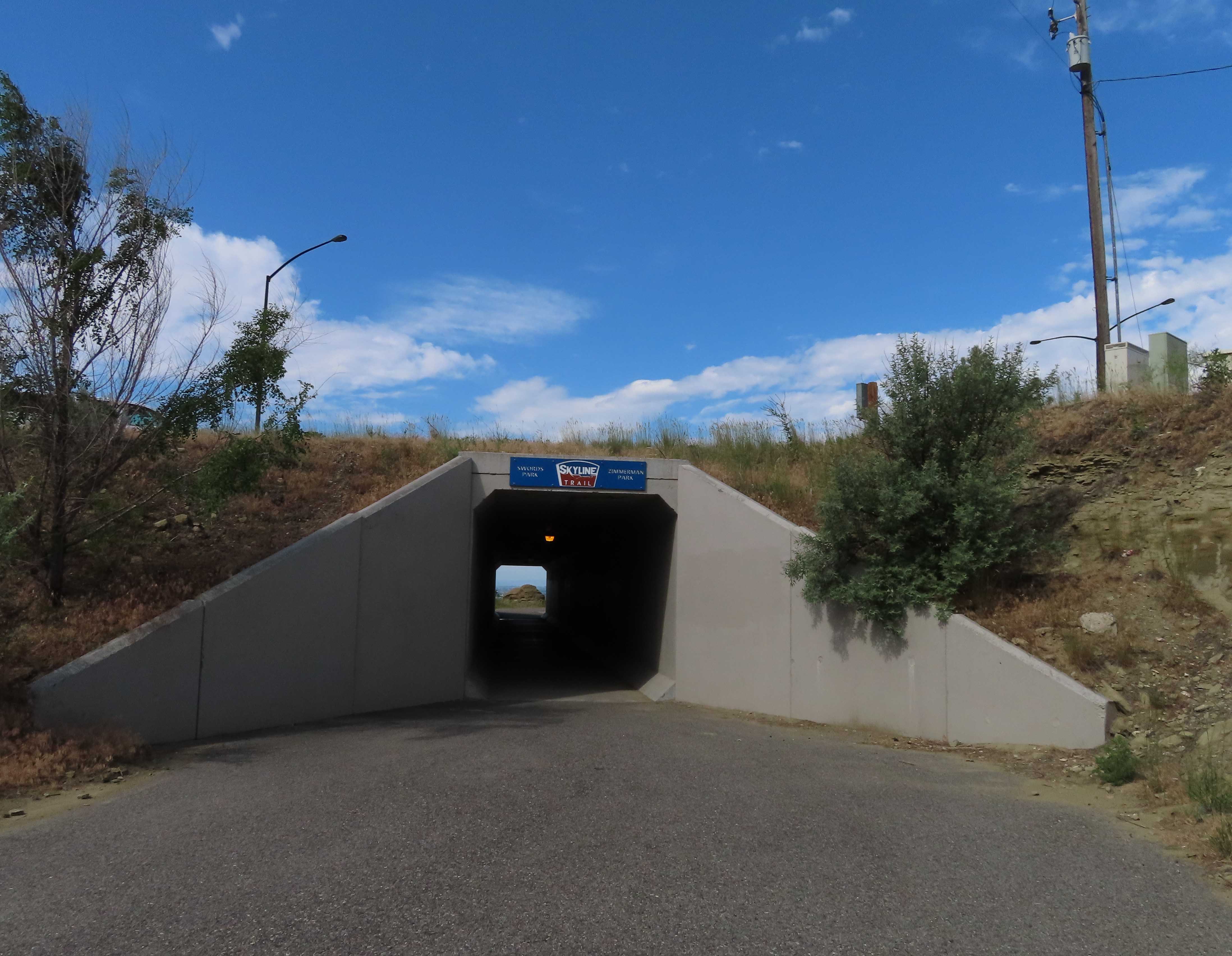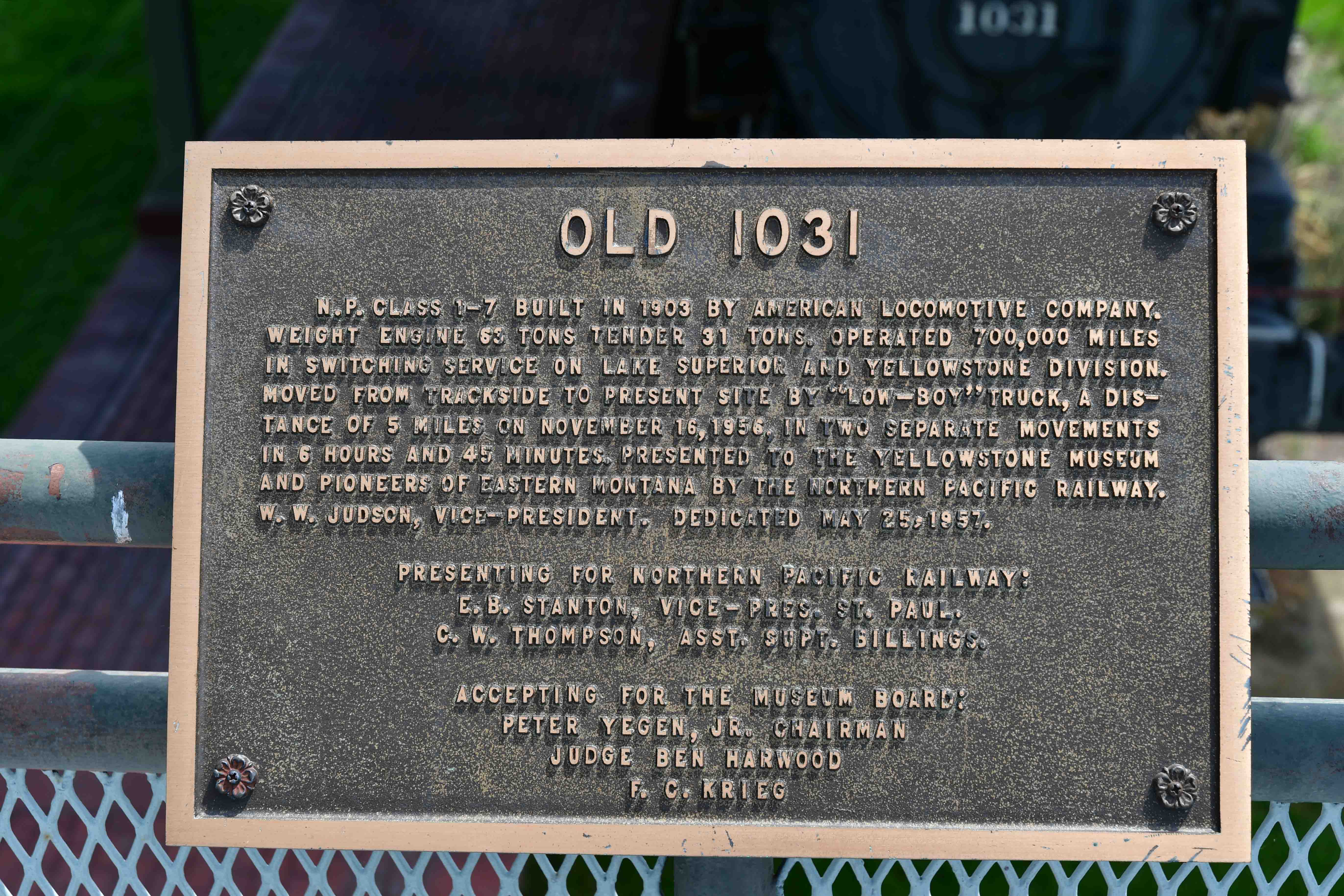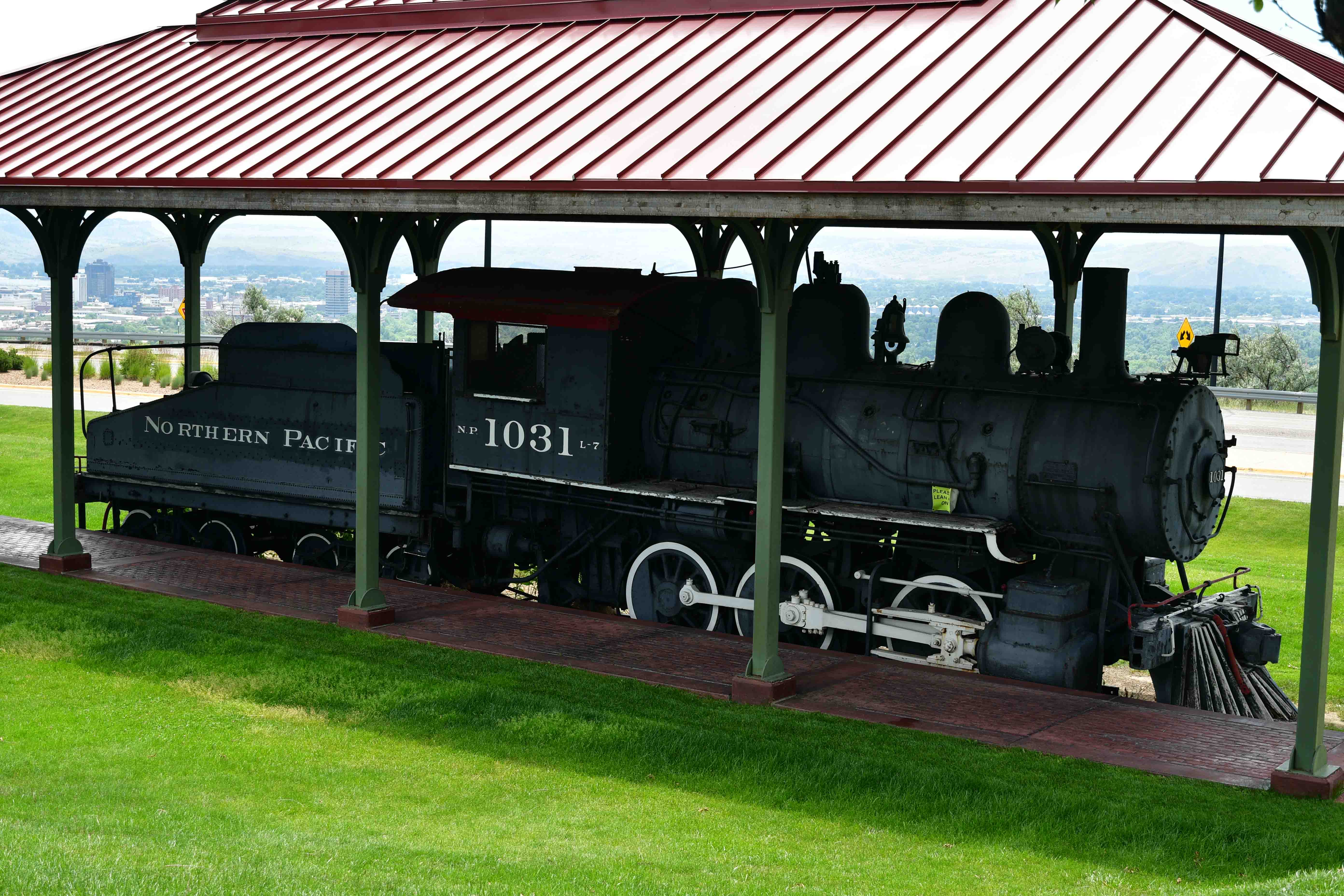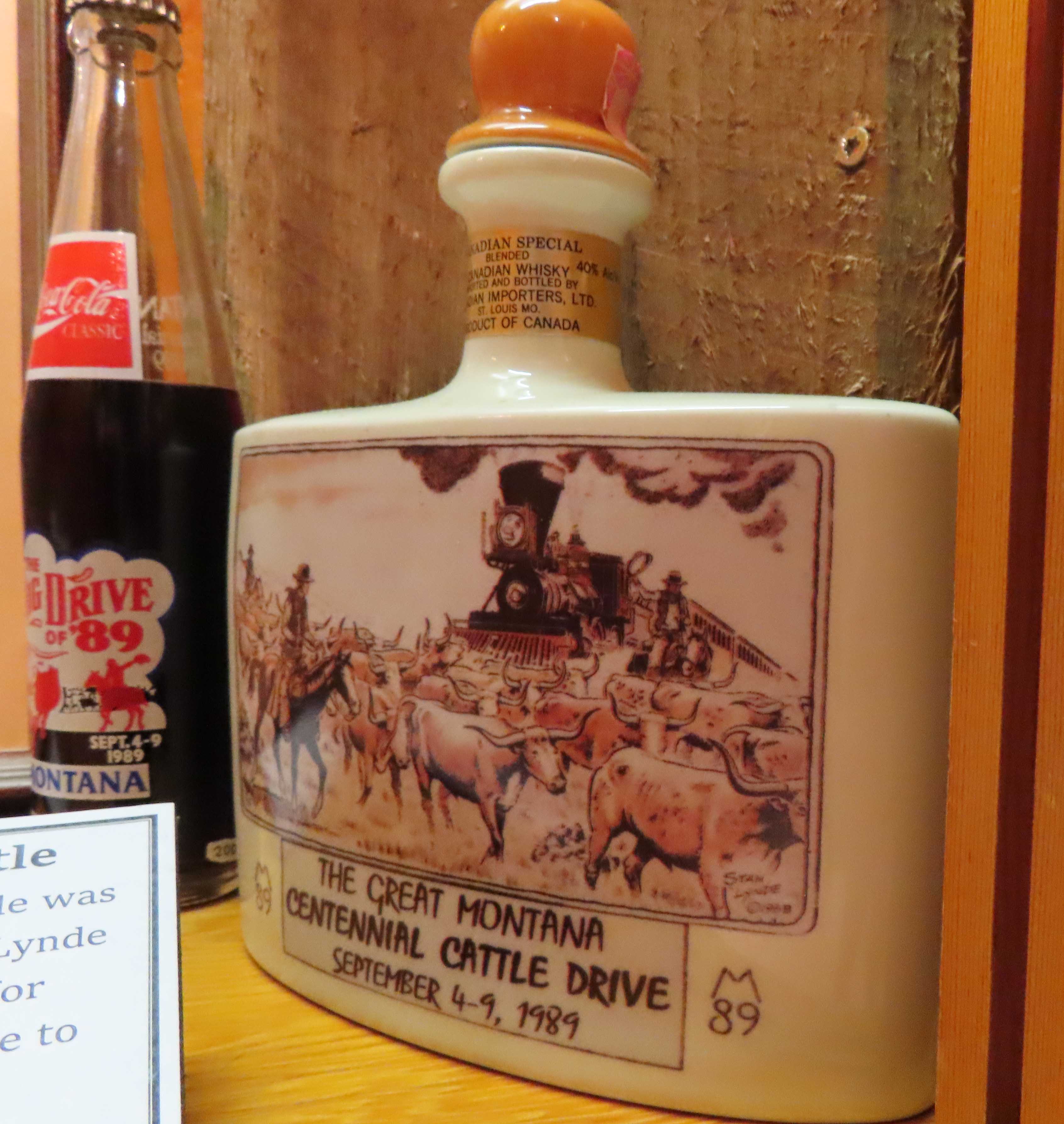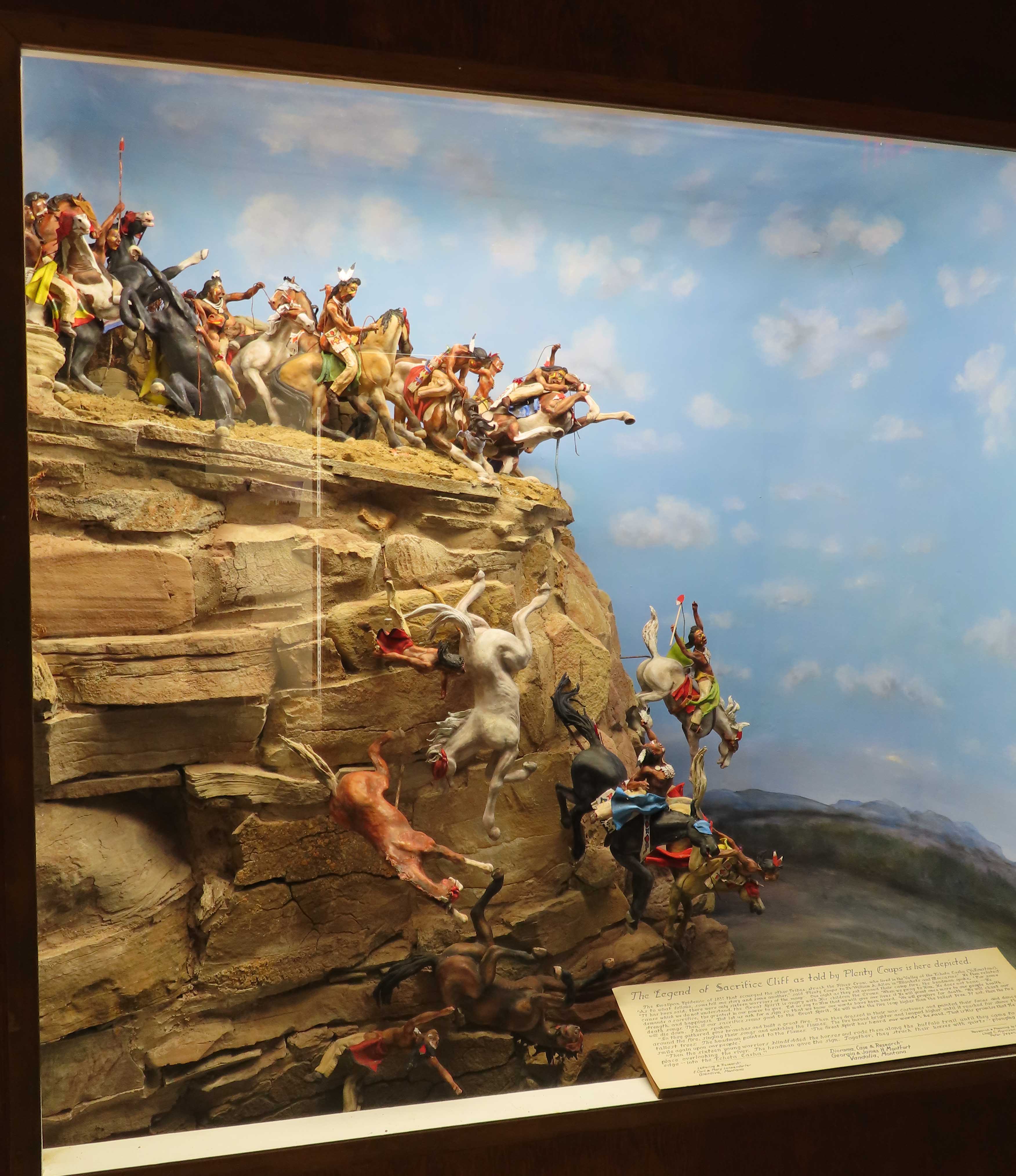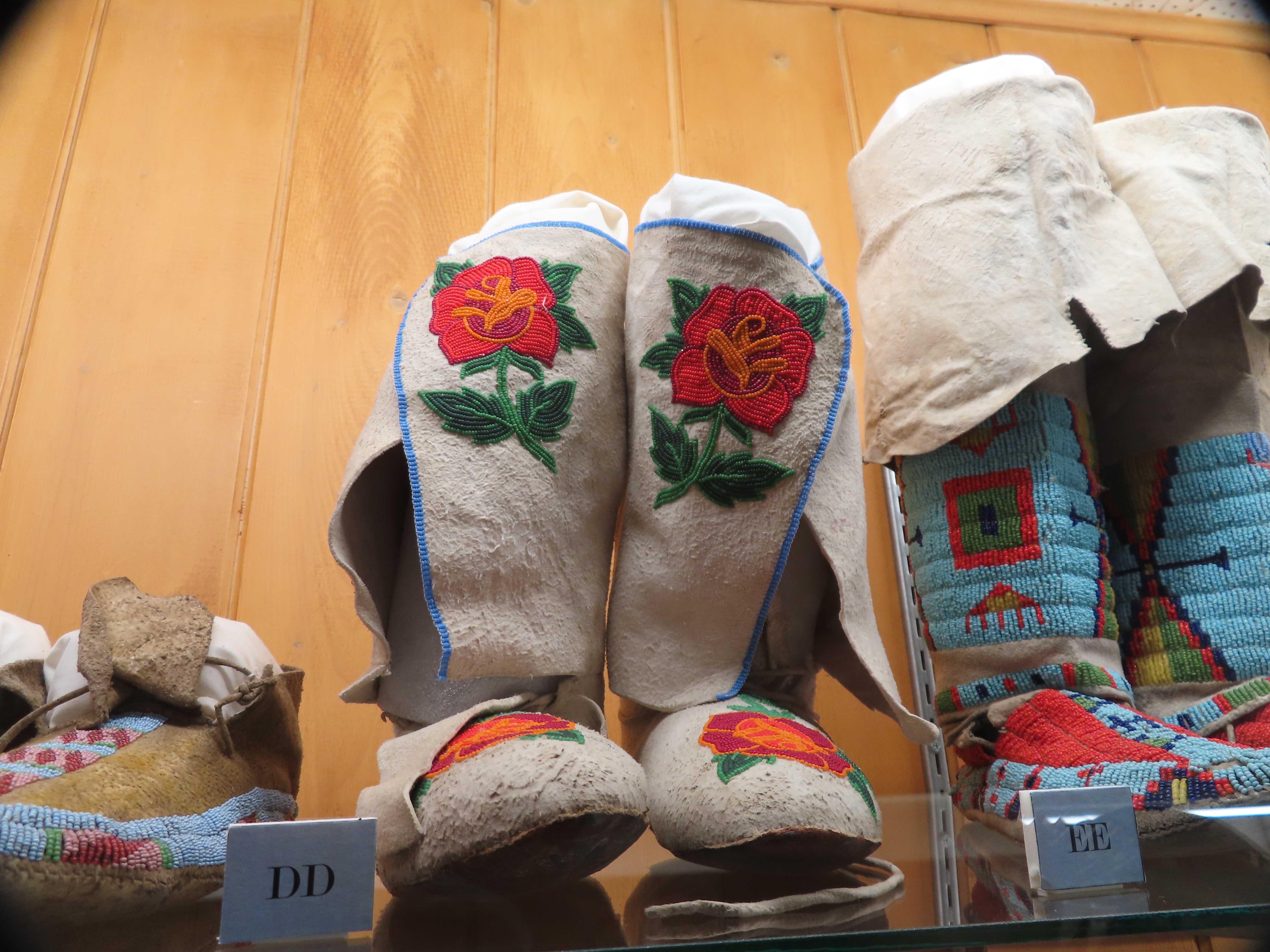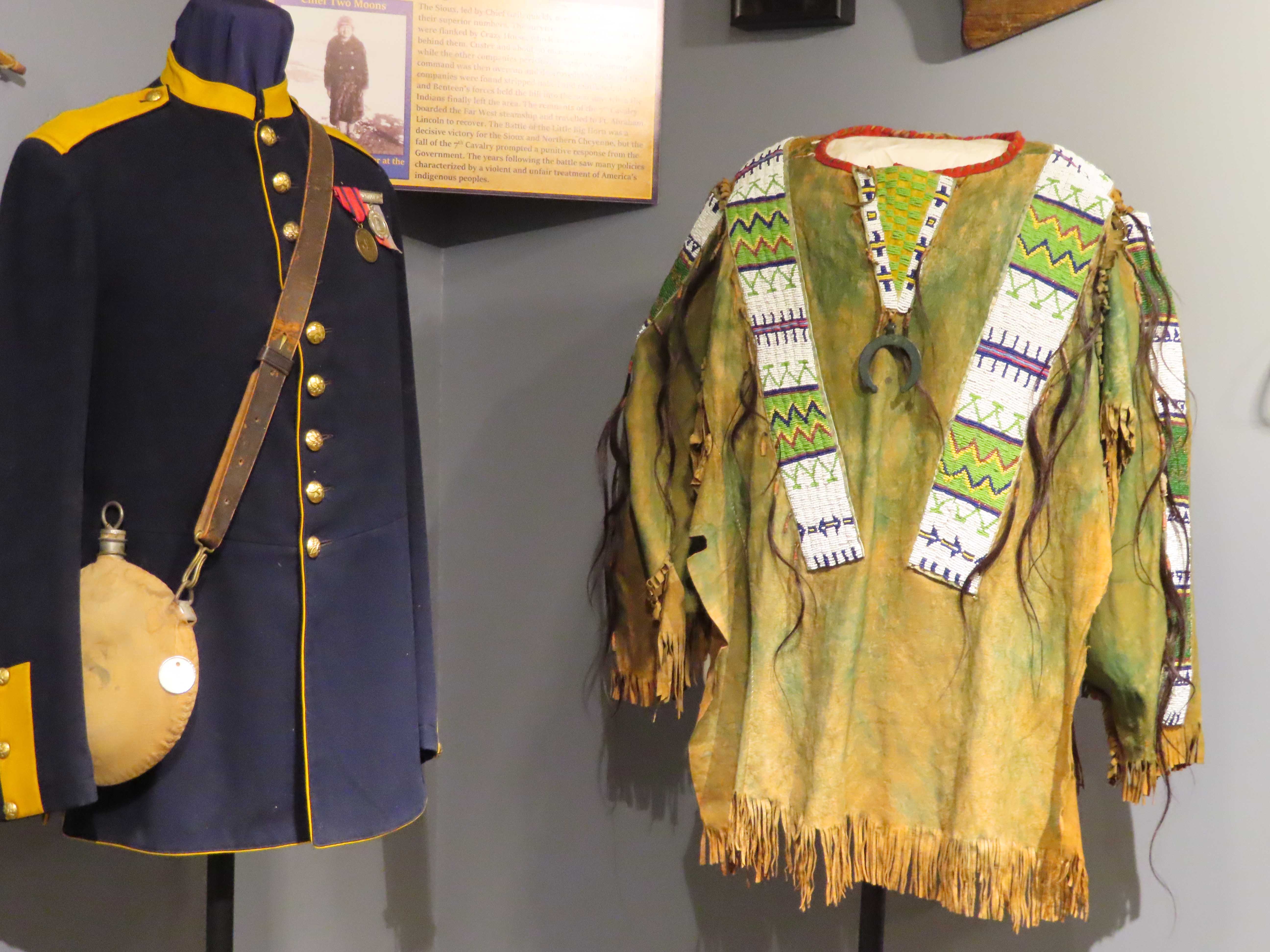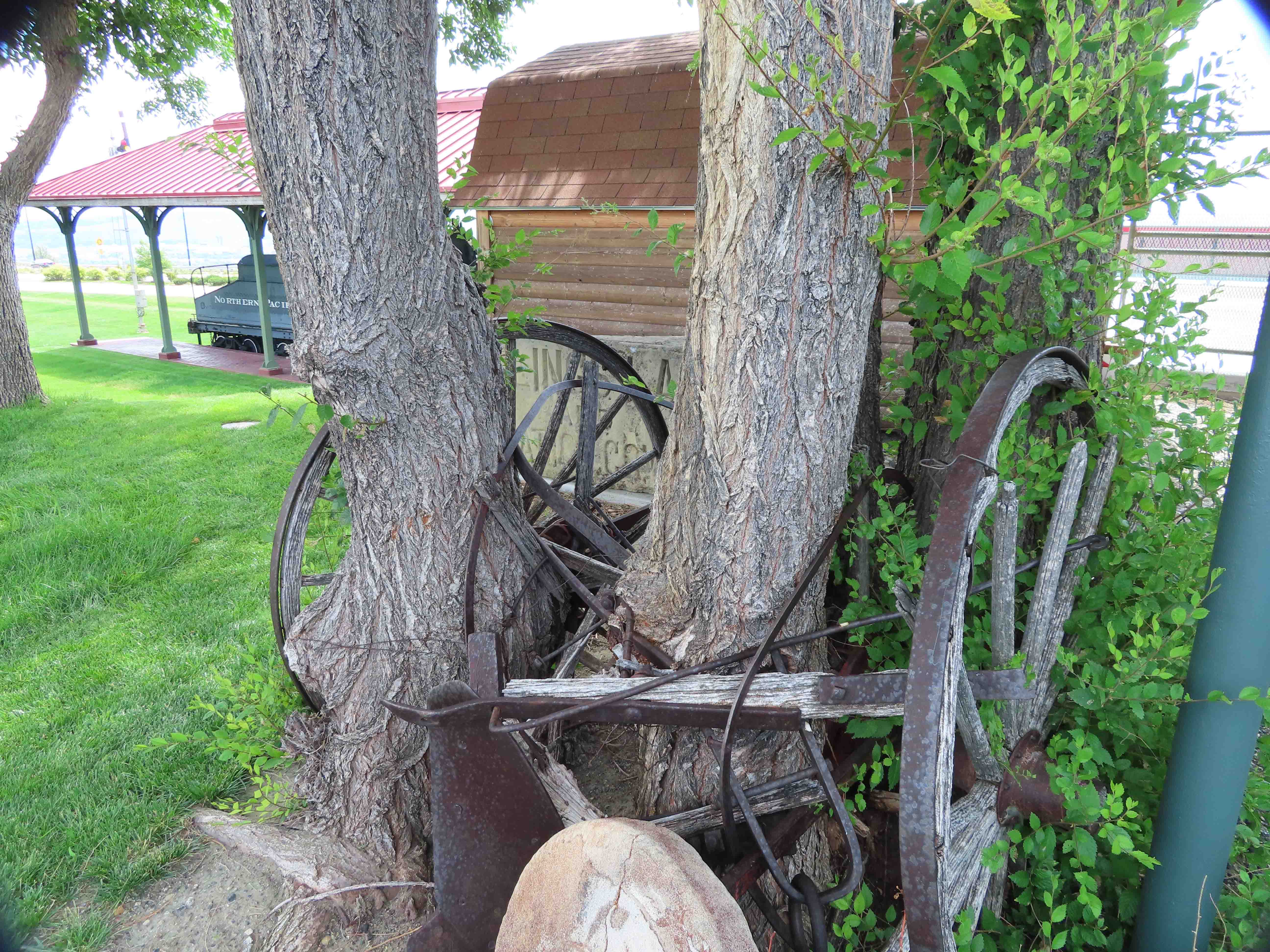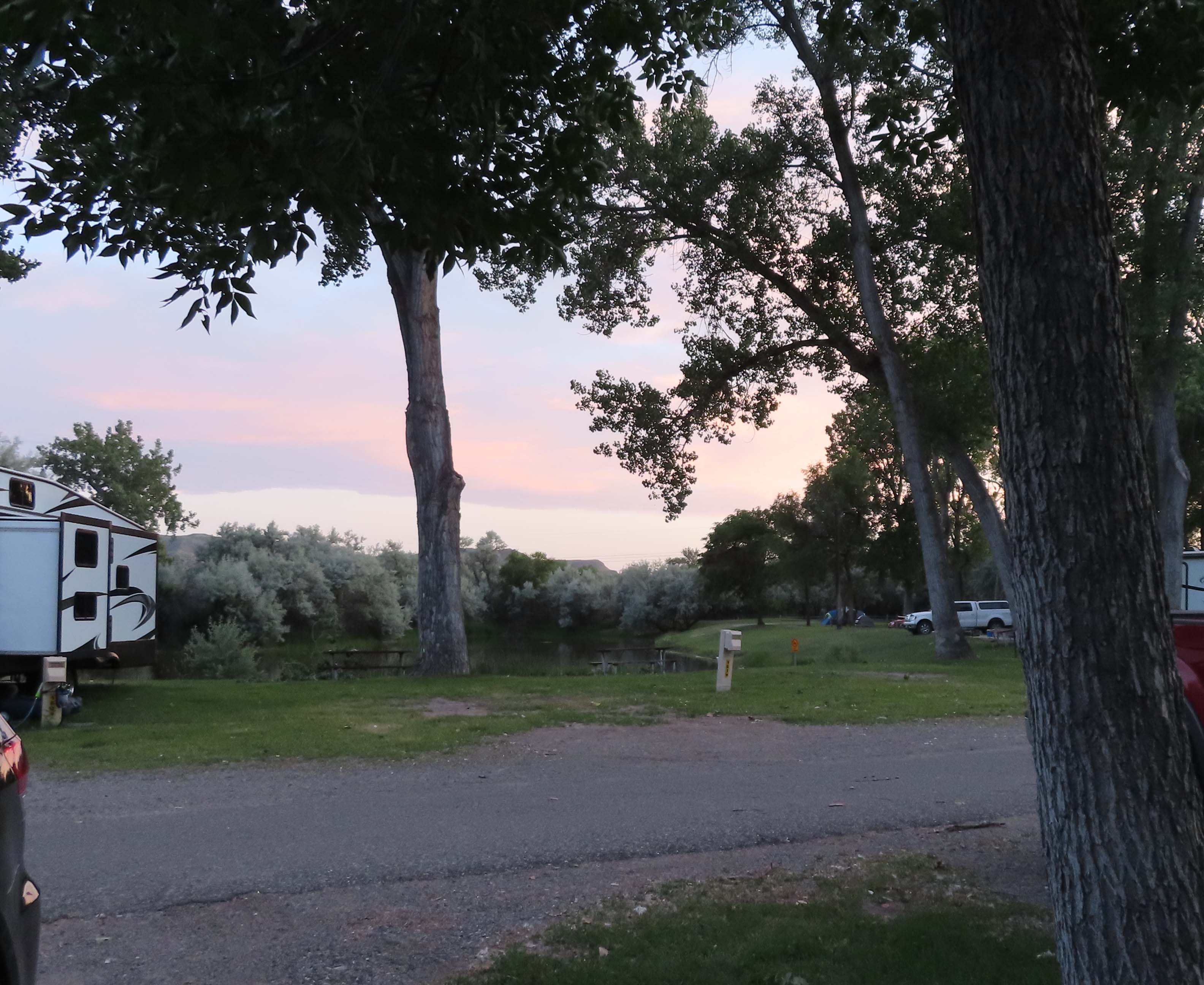 Wednesday, we found out that the power was back on around midnight so everything was good.  There were a couple of RV that had trees on them so I guess we were very very lucky. We started our day with a couple of biscuits and a hike at Two Moon Park.  Two Moon was a Cheyenne chief who fought at the battle of the Little Big Horn. No paved trails here, it was a beautiful walk along the Yellowstone. We passed a big blue heron and a spot that looked like it was snowed on.  We cut our hike a little short because we were being swarmed by mosquitoes. Next we went to the Yellowstone Art Museum. It is a beautiful building but most of the art was not my cup of tea.  They did have a great exhibit of Will James another cowboy artist along the lines of Remington and Charles M. Russell. Another cool exhibit was photos of women painted on sheer cotton, the artist is Kristi Hager, in honor of women's suffrage. We ended the day with a visit to the Western Heritage Center. It is in an old library built in 1901 and the building is beautiful. They have a local artists original cabin on site, J.K. Ralston.  Very worth the stop.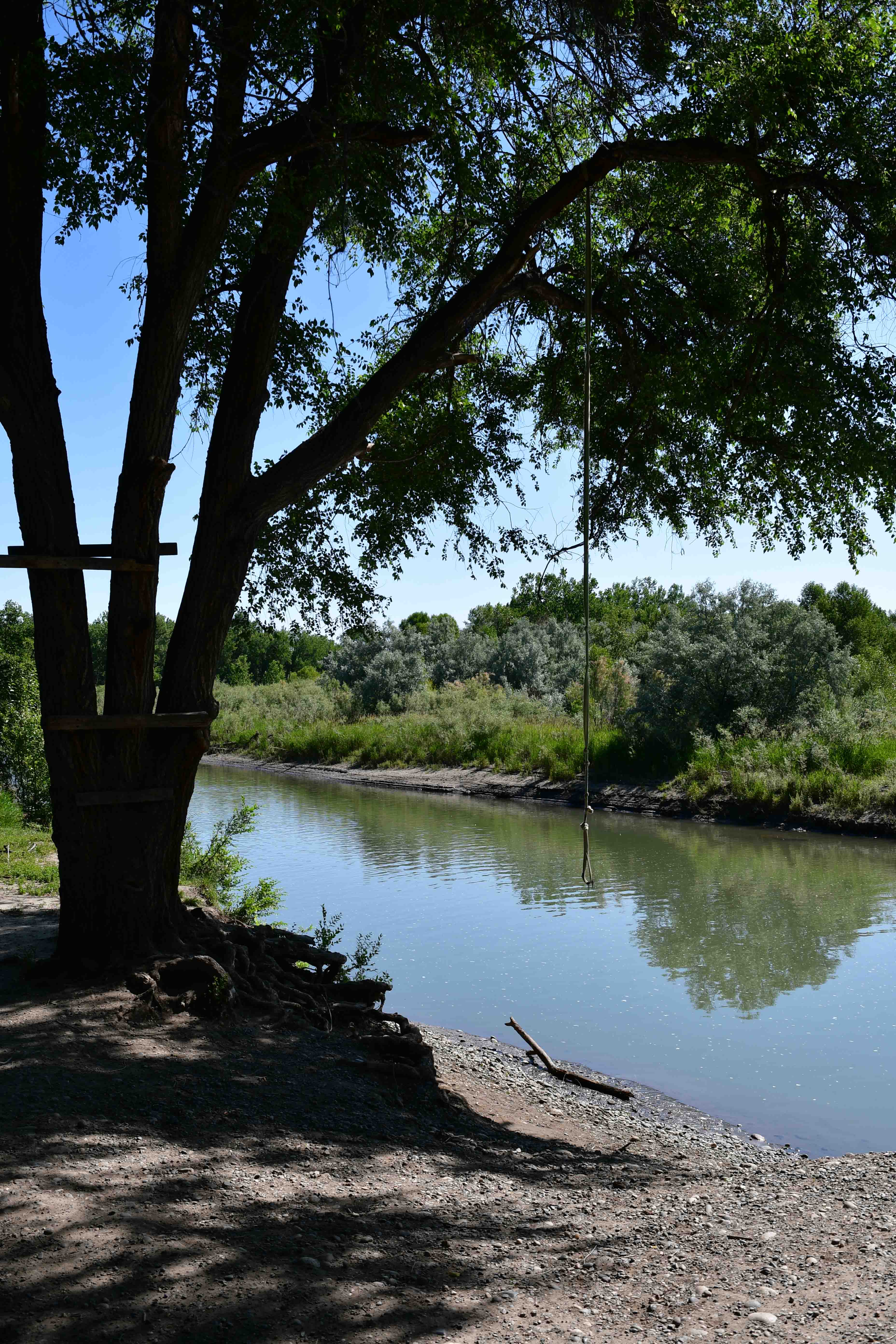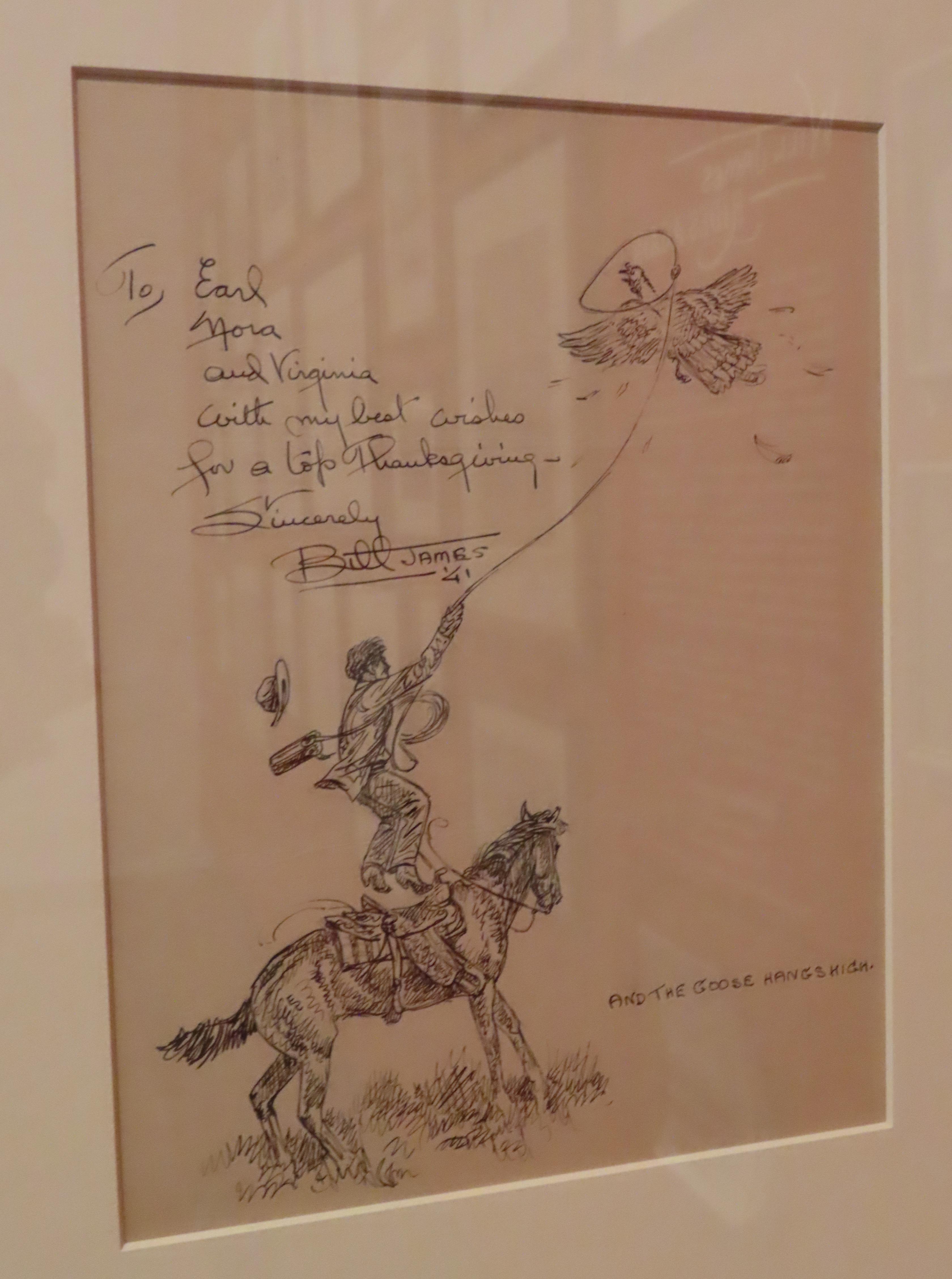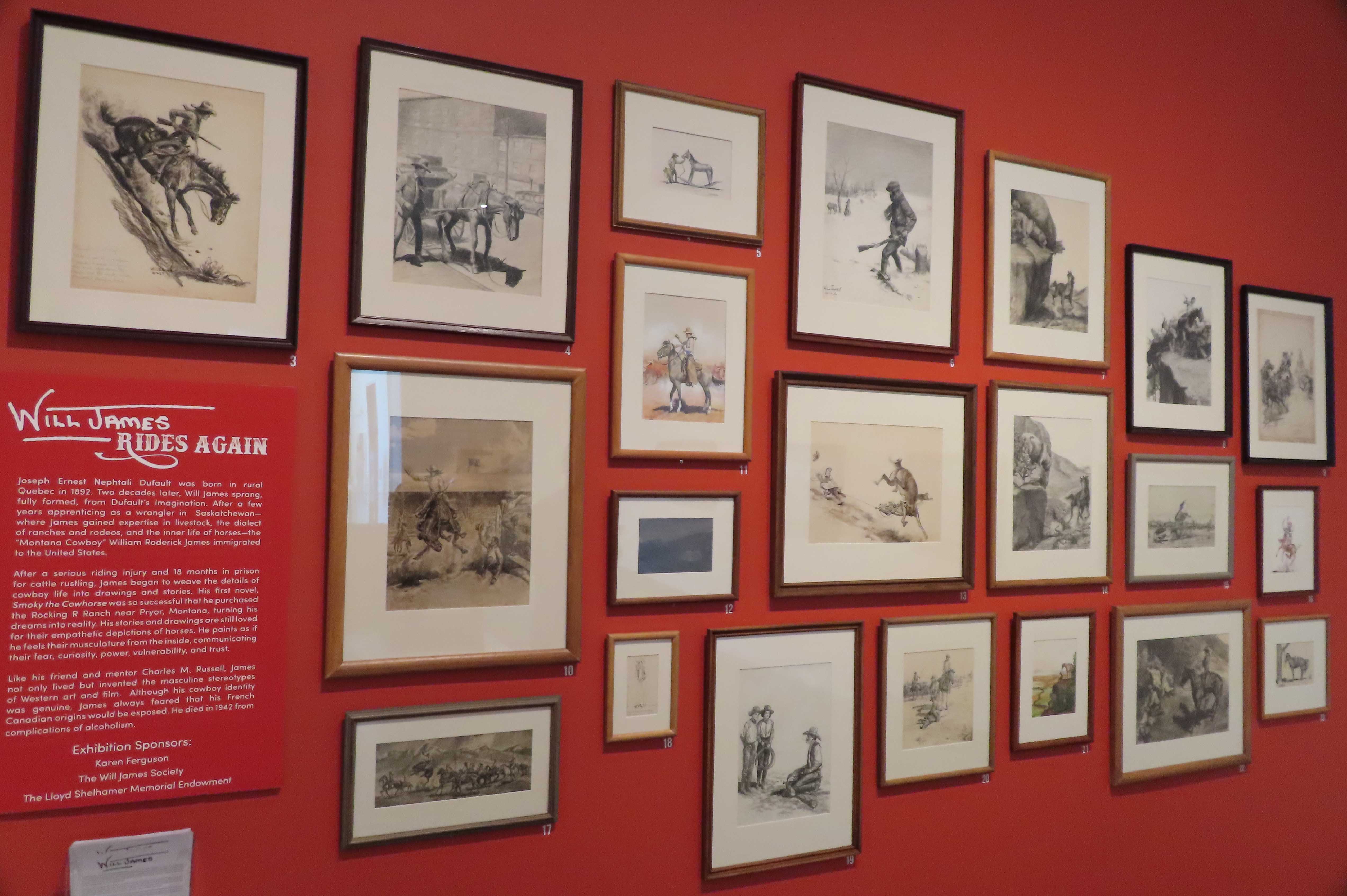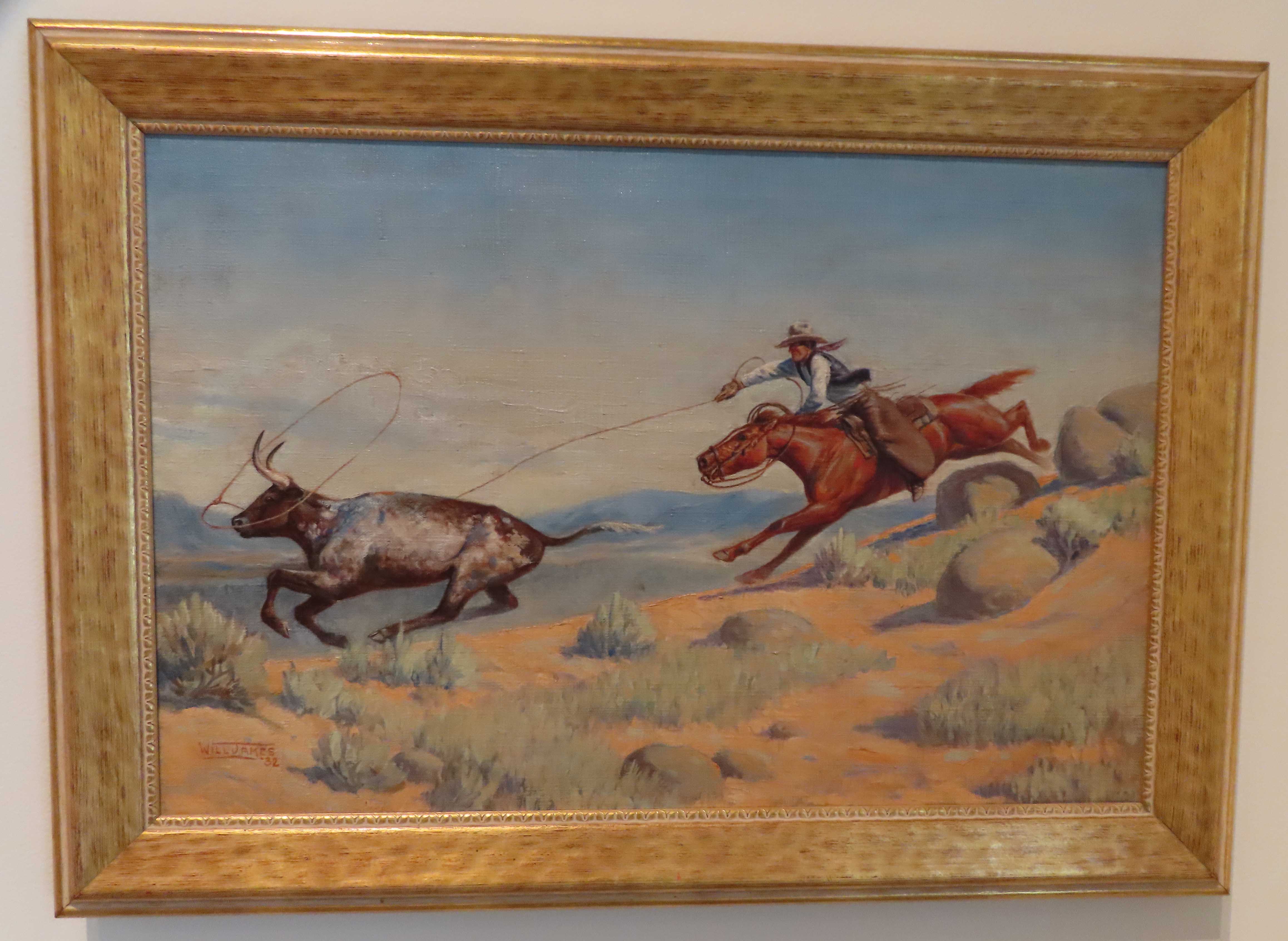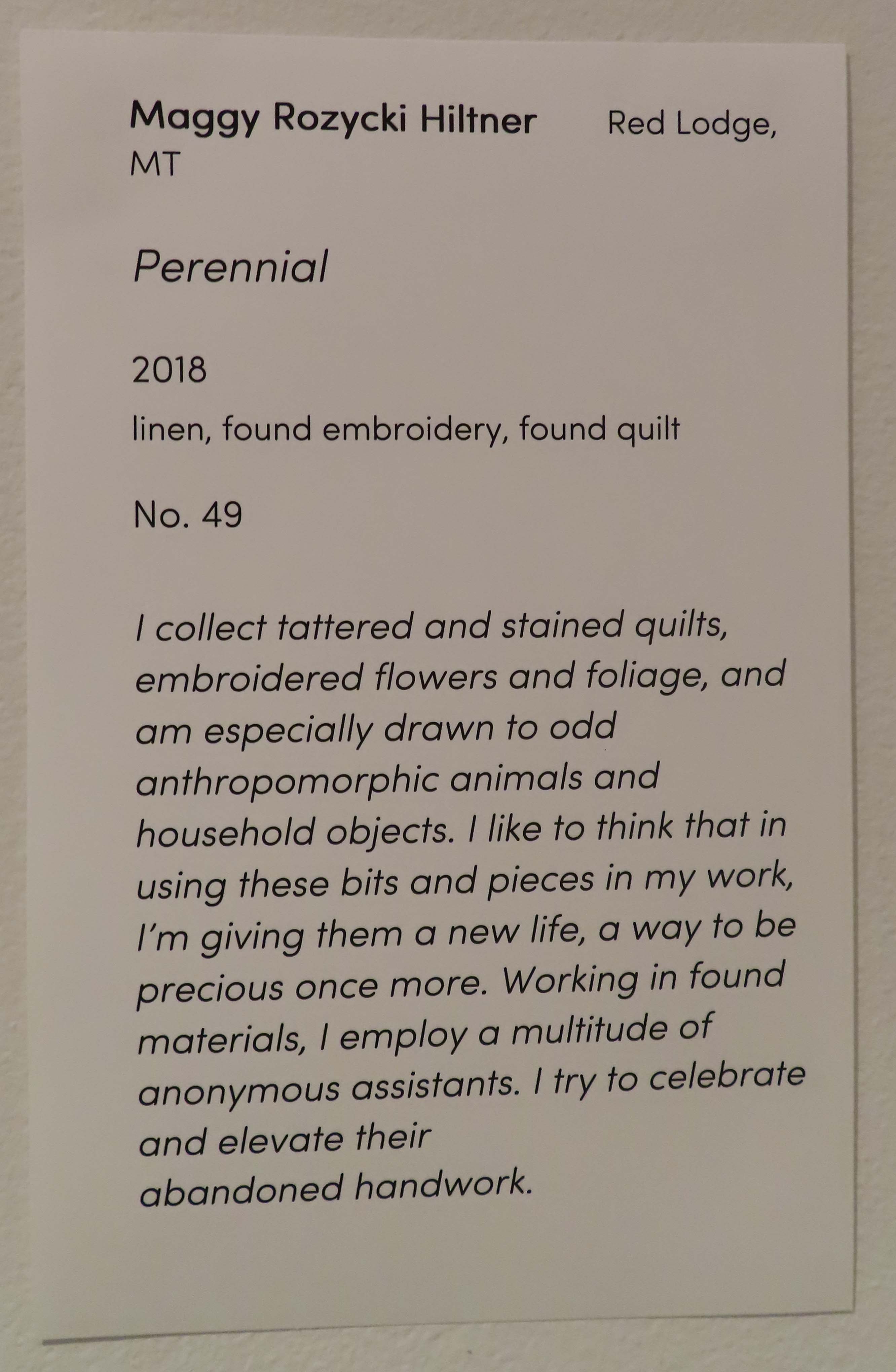 Thursday, we decided to just chill today. We renewed our annual America the Beautiful pass at the local US Forrest service.  I had a nice chat with a young man originally from Alabama while Elard went back to get the new card.  I was asking him how long he had been up here and how did he handle the winters here.  He said "they make clothes" for this weather, LOL, and that the winters last about 7 months....nope, not for me.  We took a short drive thru the valleys in the area and returned home.
Friday, our fellow Floridian neighbors who are traveling nurses, left for Glacier today.  Hope they have a great time.  Today we did a for real hike, the Four Dances Trail.  We only did 2.5 miles but the elevation change was 490 ft.  When we got to the trail head it was very cloudy and threatening all around us so we sat in the car for about 30 minutes to let the weather pass.  I wasn't able to make it all the way down the trail to the river, I made it about half way before my knee started twinging.  I was wearing one knee brace so next time I'll wear both.  It is weird that I felt better after this hike than I did on the 4 mile paved hike Tuesday. Next we went to the Moss Mansion Museum. The Moss' were a local family who helped build Billings. It was a very pretty home, I wouldn't mind having a home based on their floor plan. Afterward, we did a walking tour of the few blocks surrounding the mansion and the historic homes there.  Most were built in the 1901 - 1920 era.  Very pretty neighborhood. We ended the day at the Yellowstone Western Historical Center.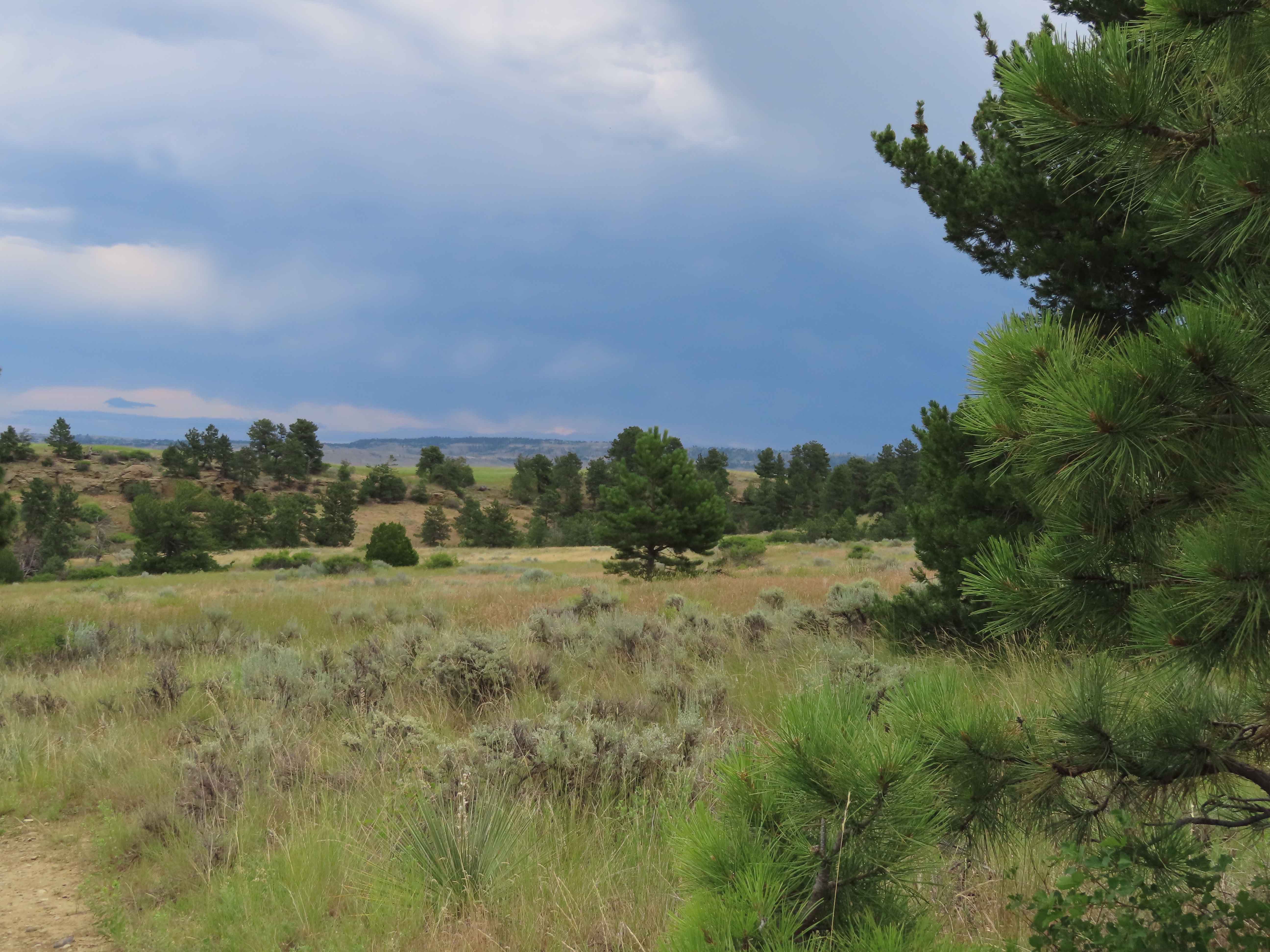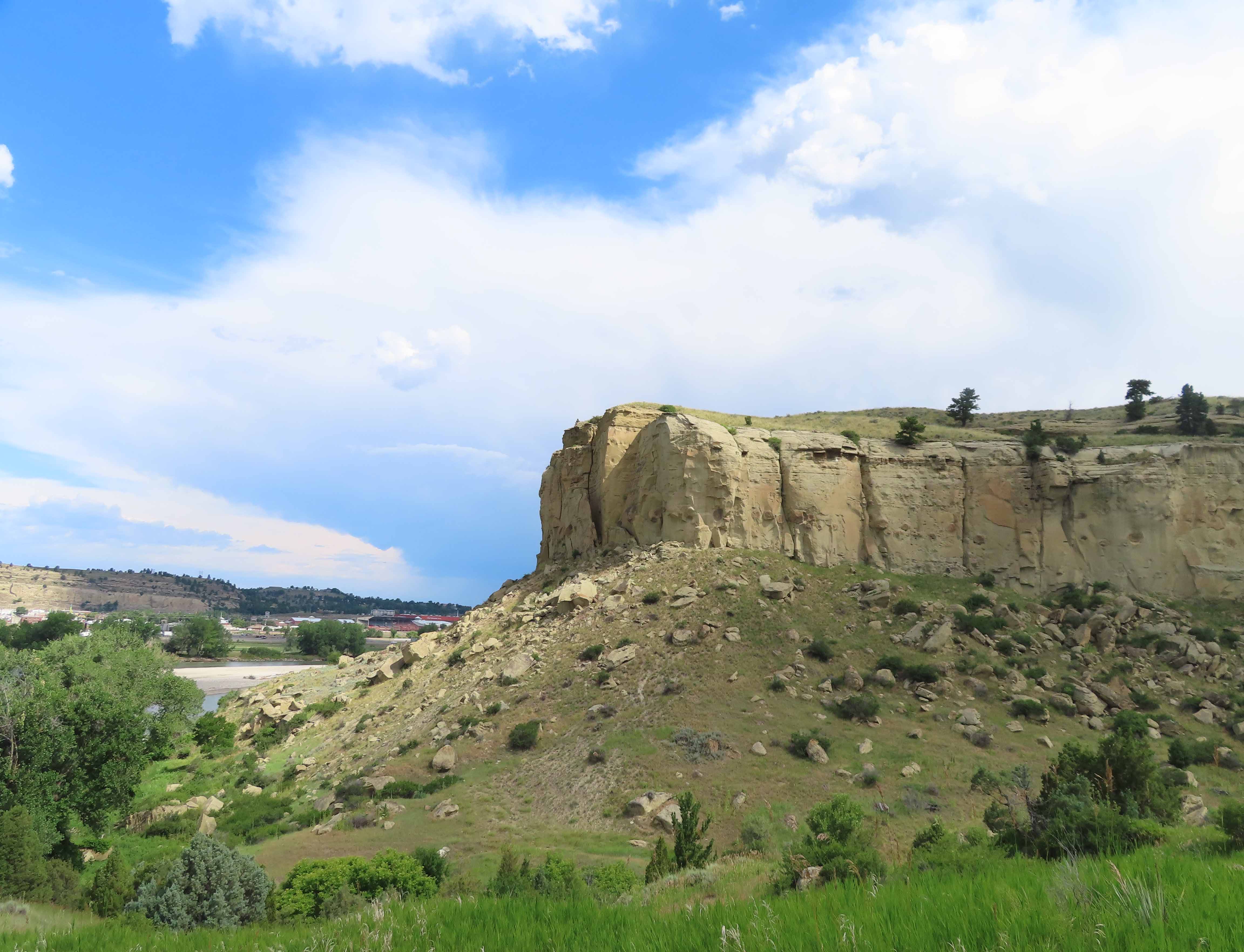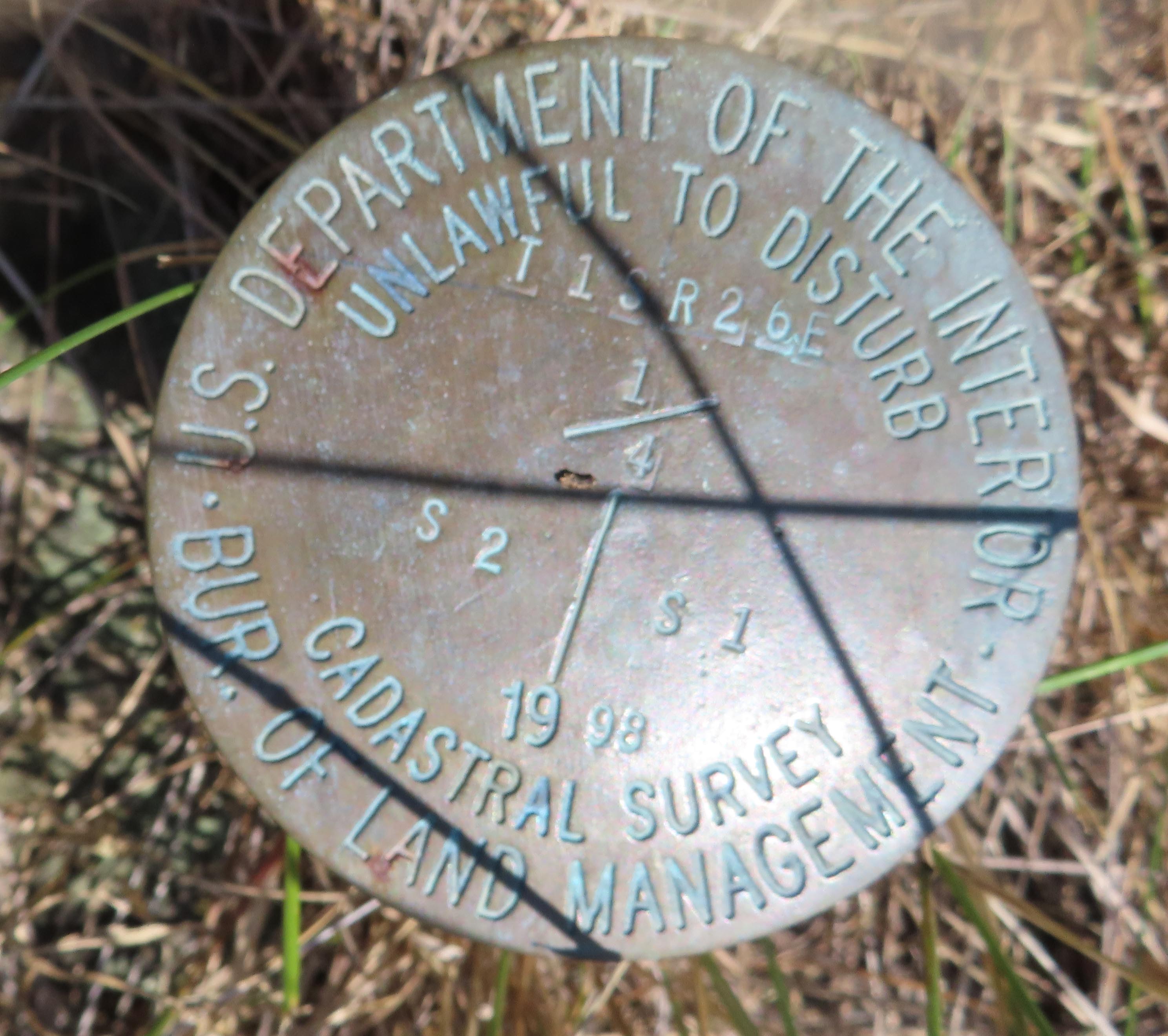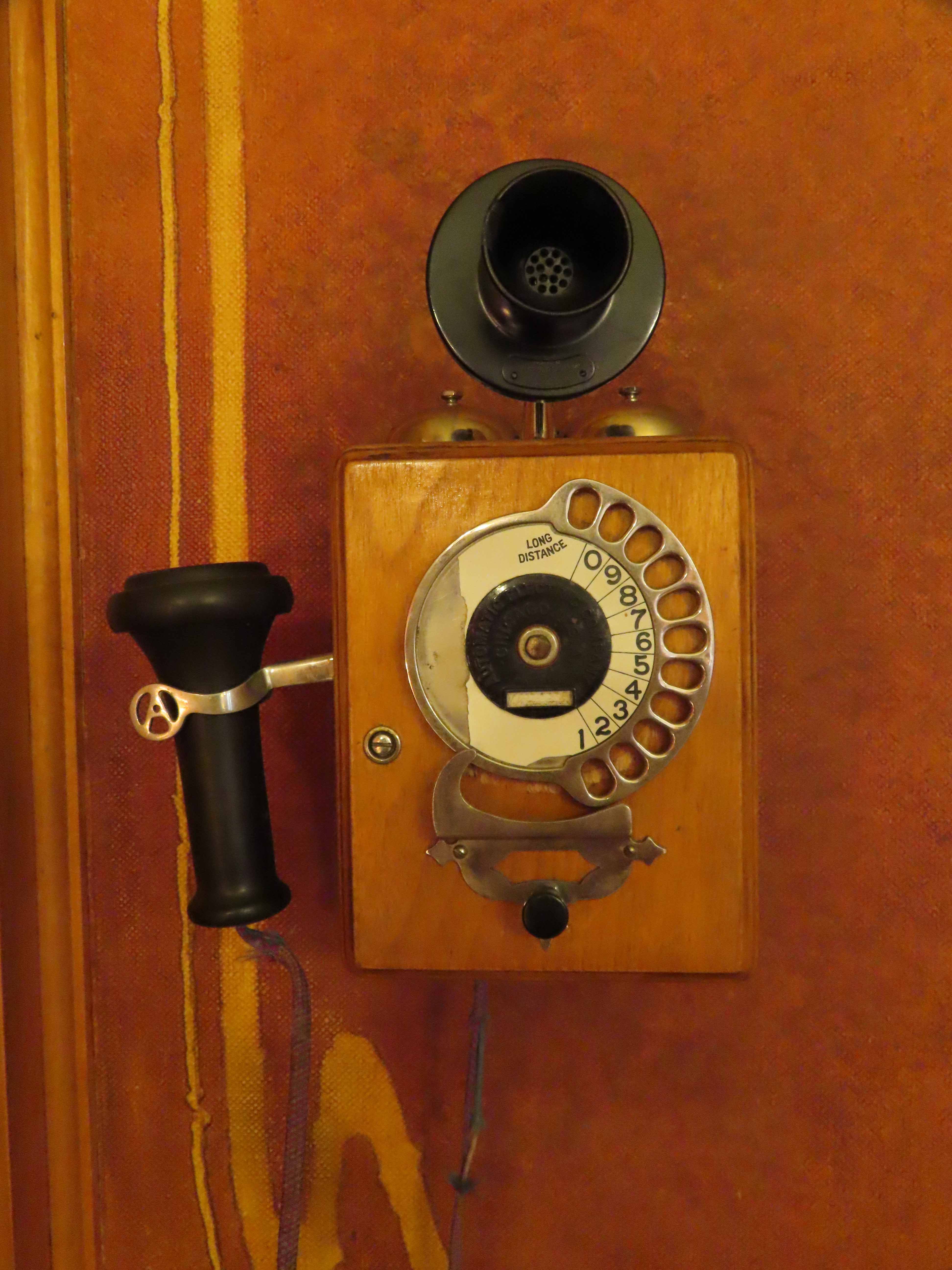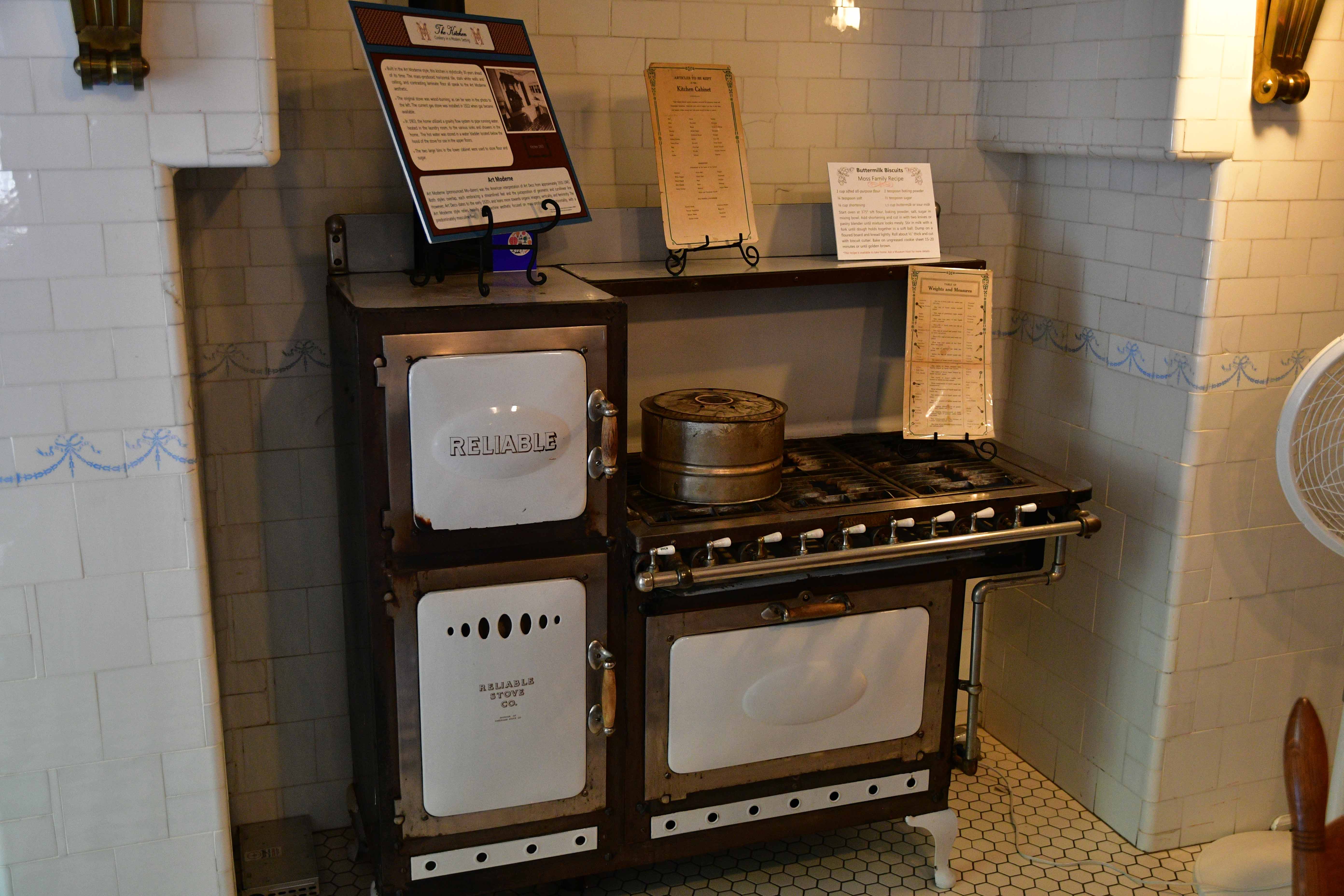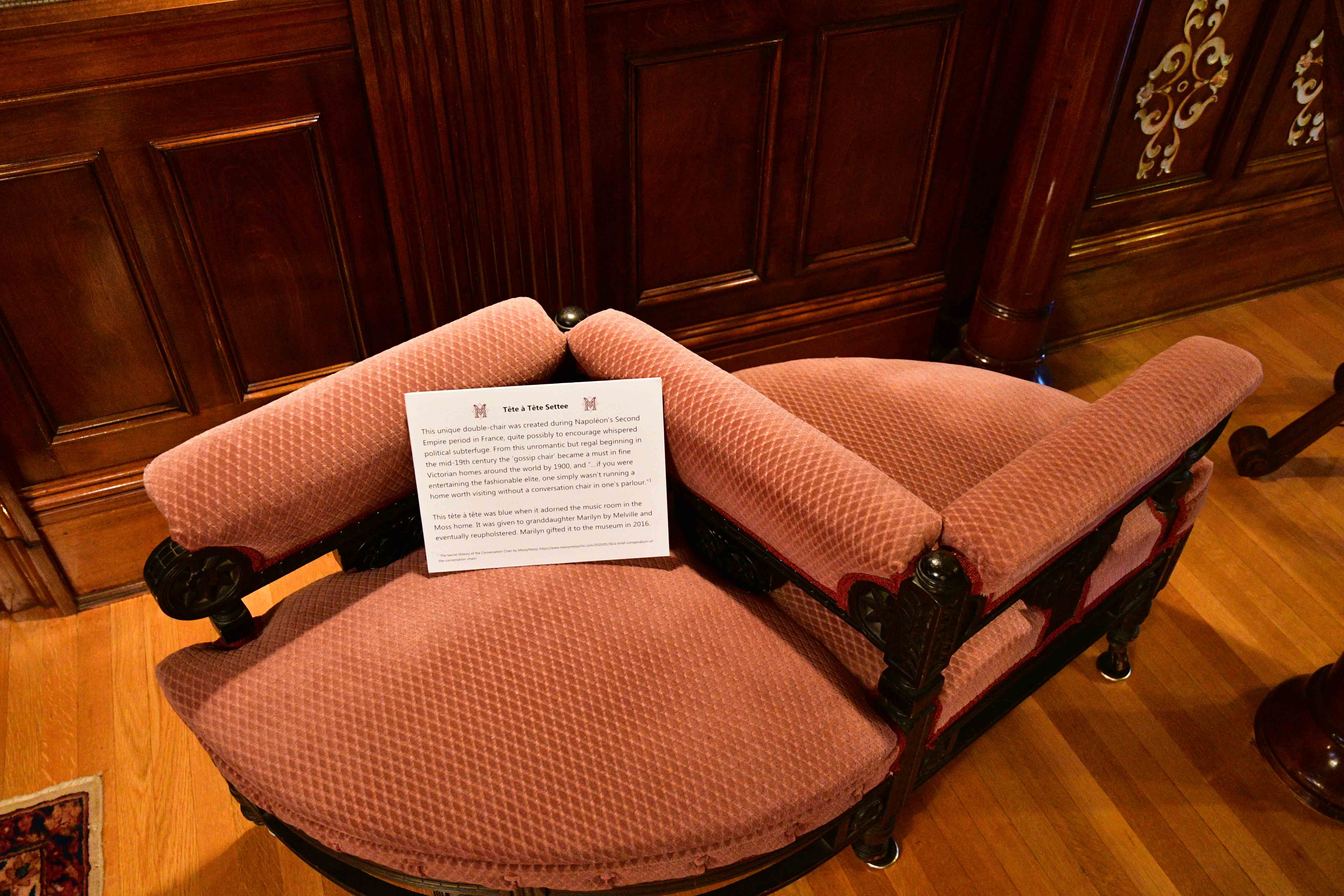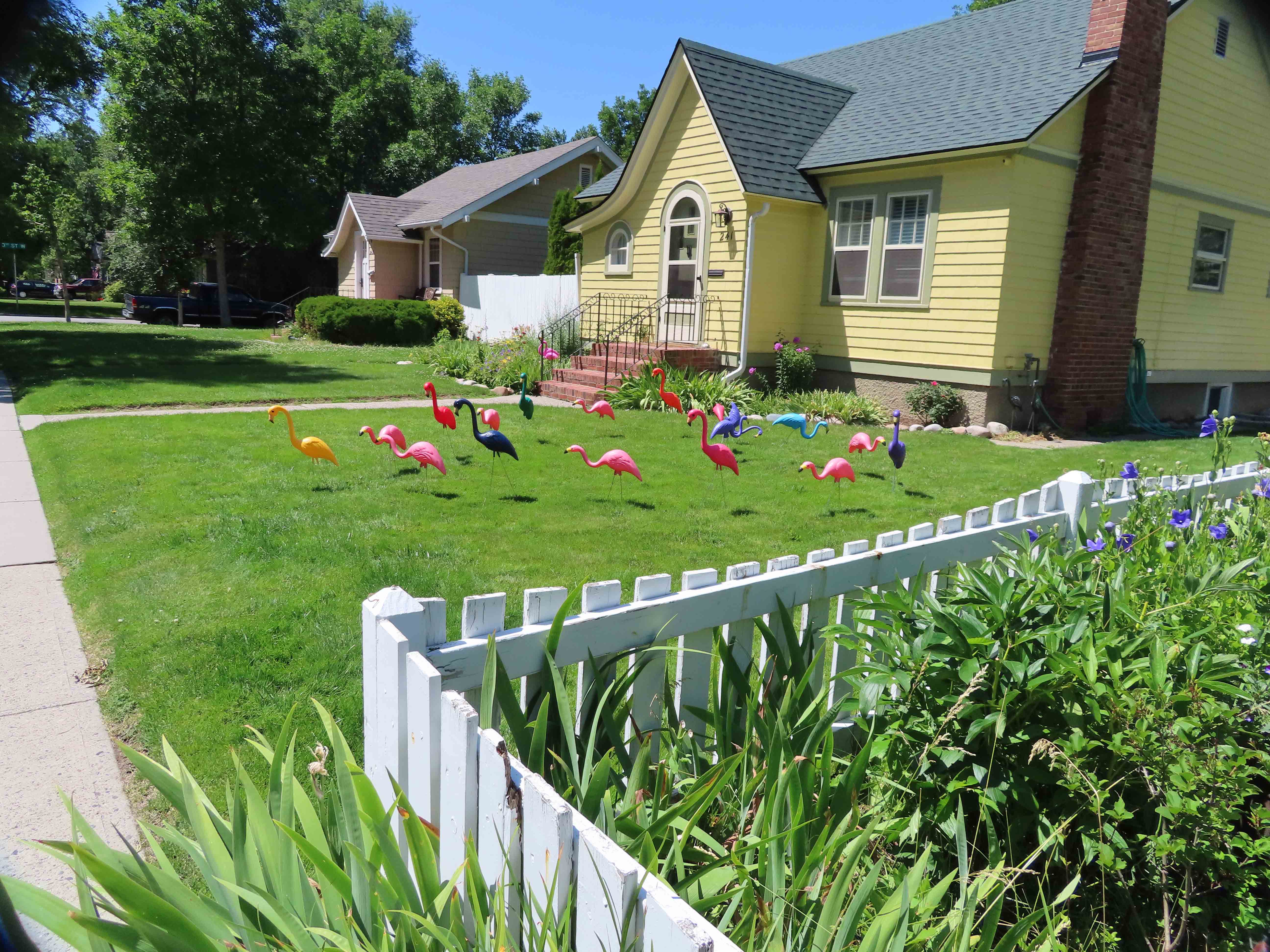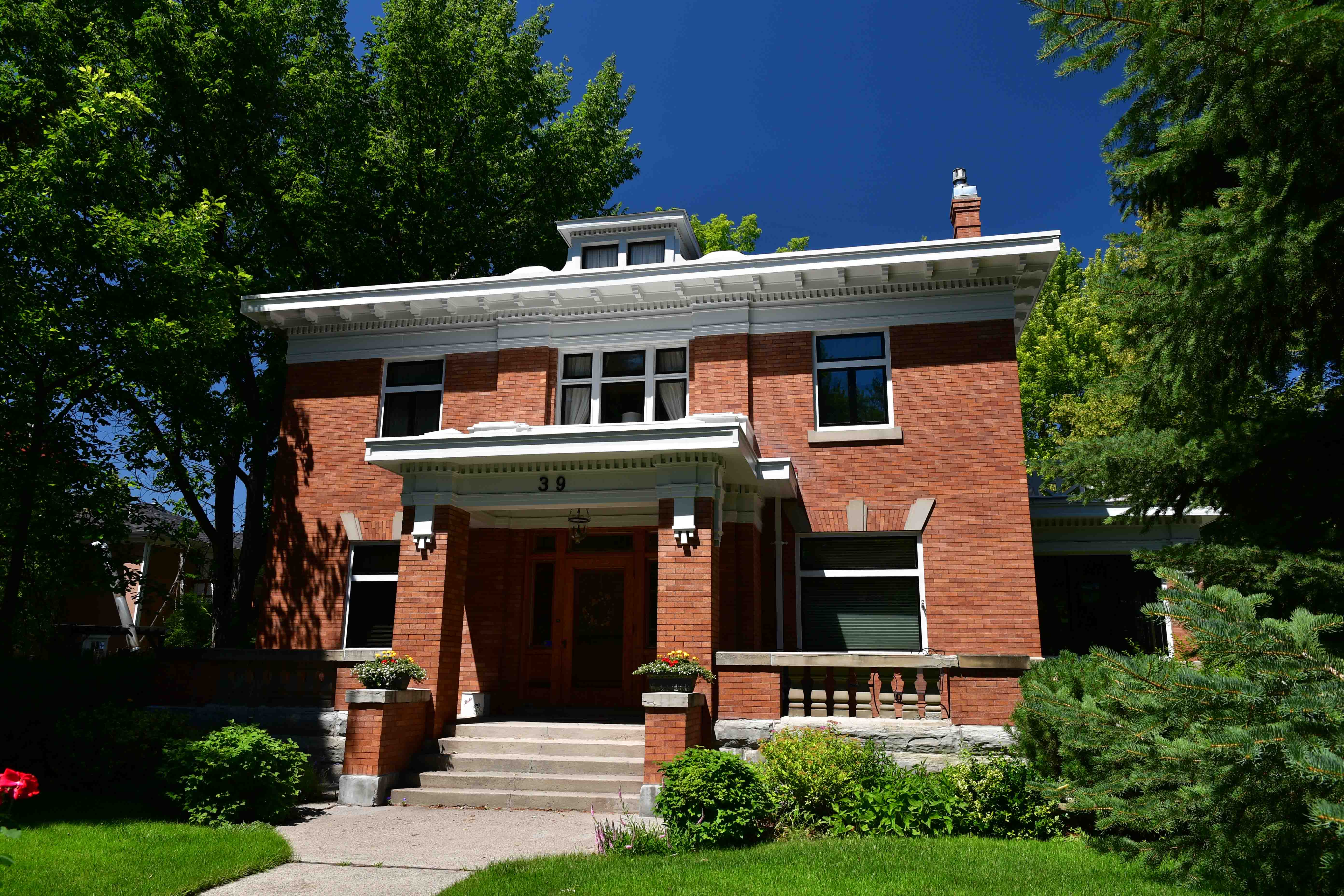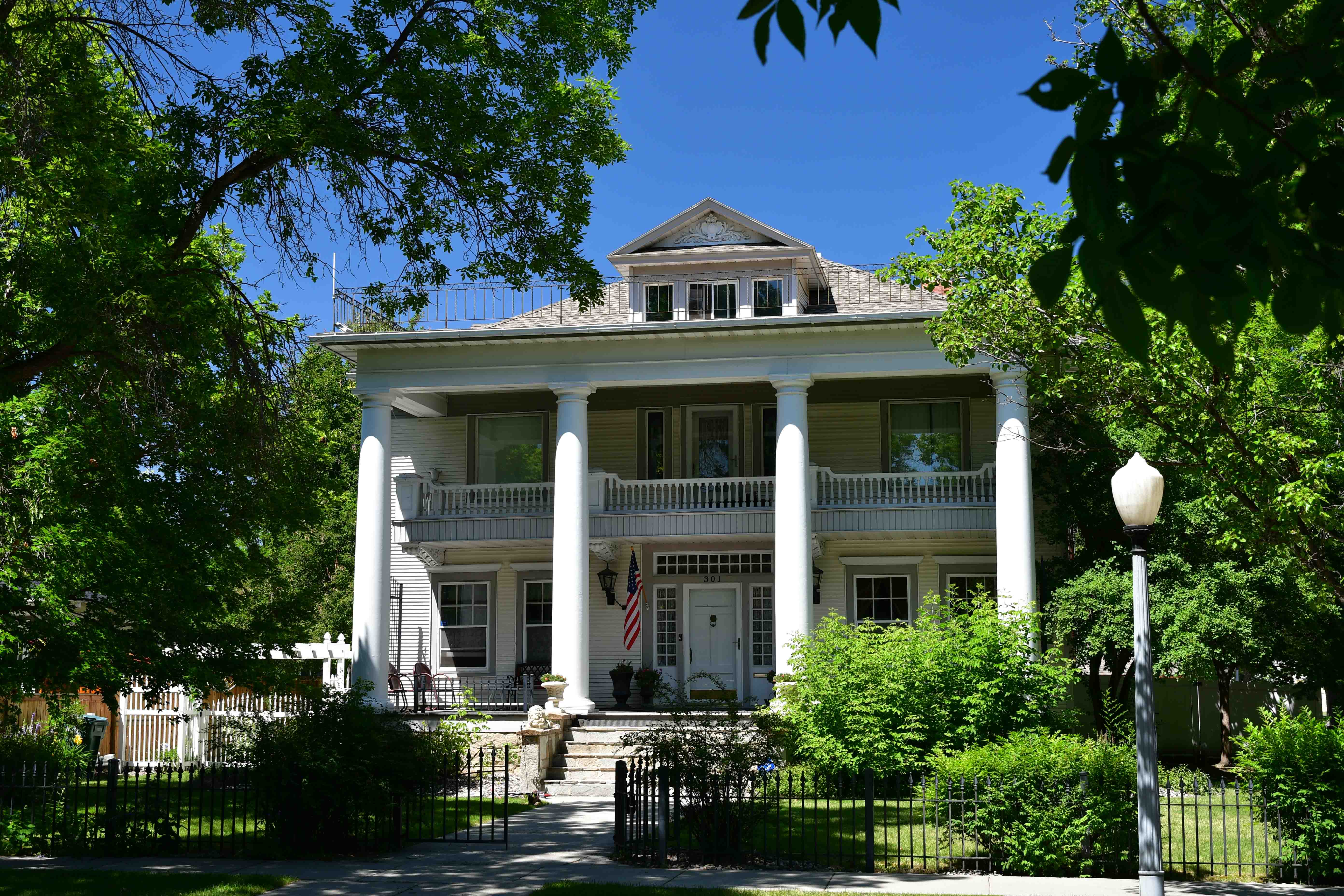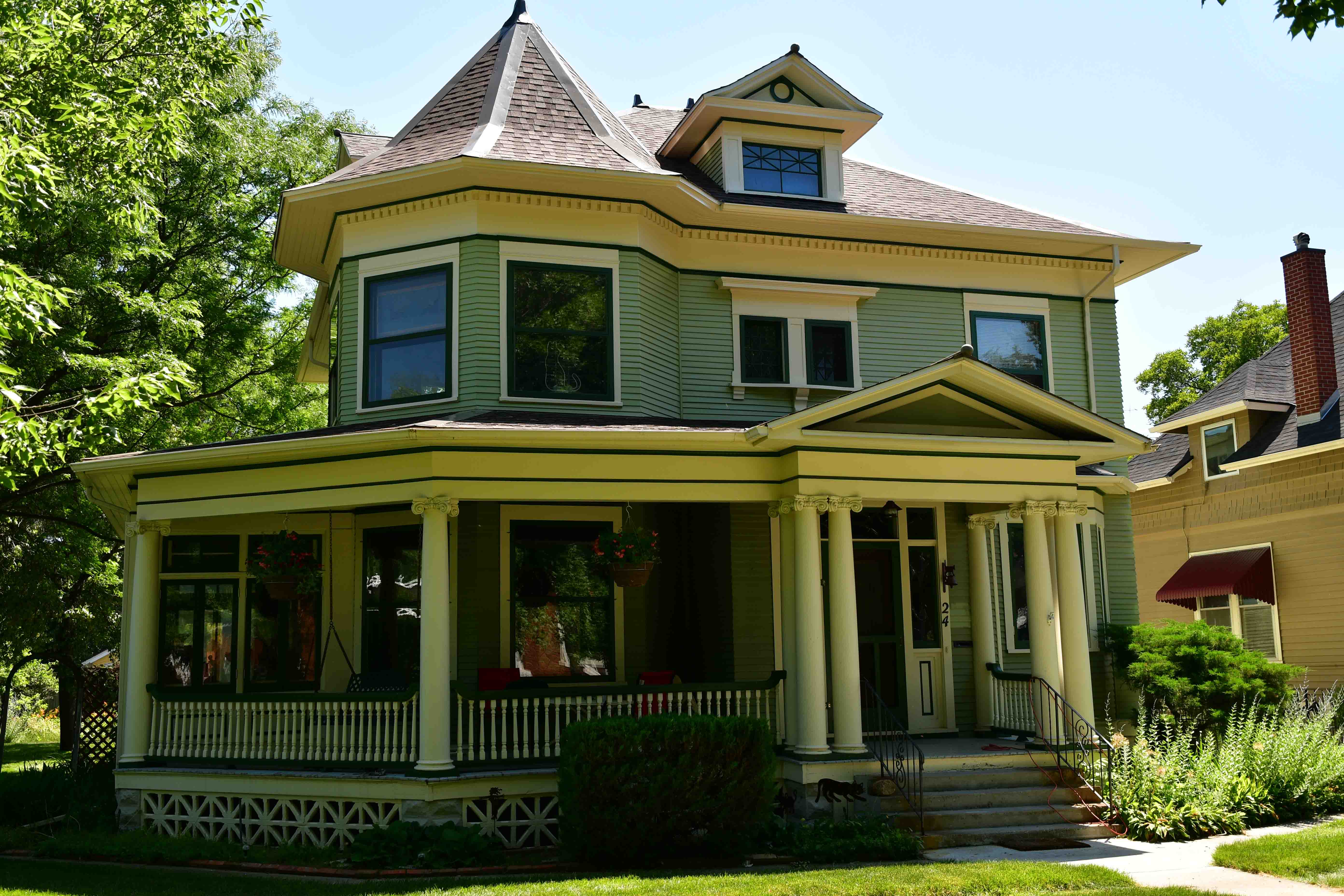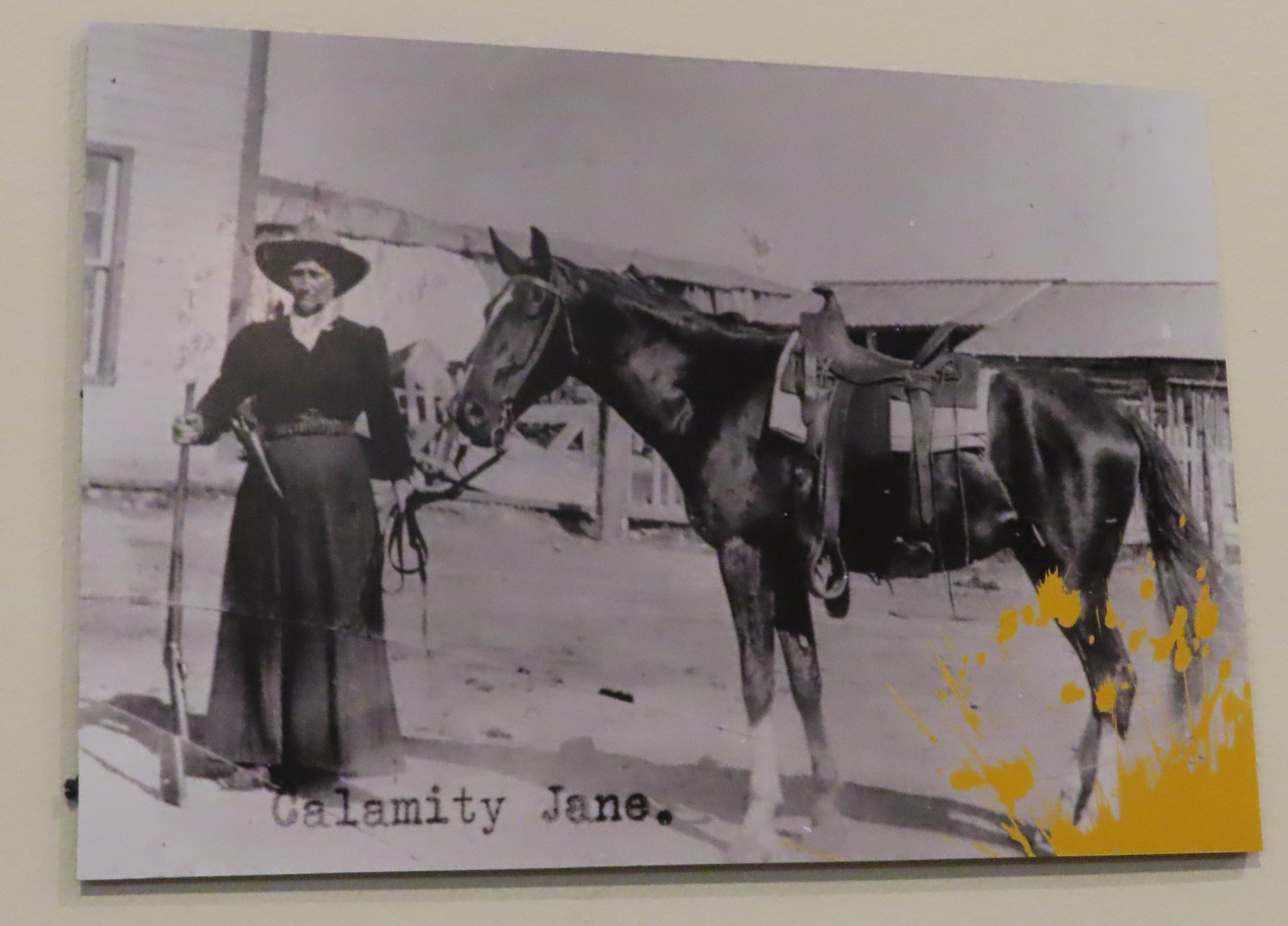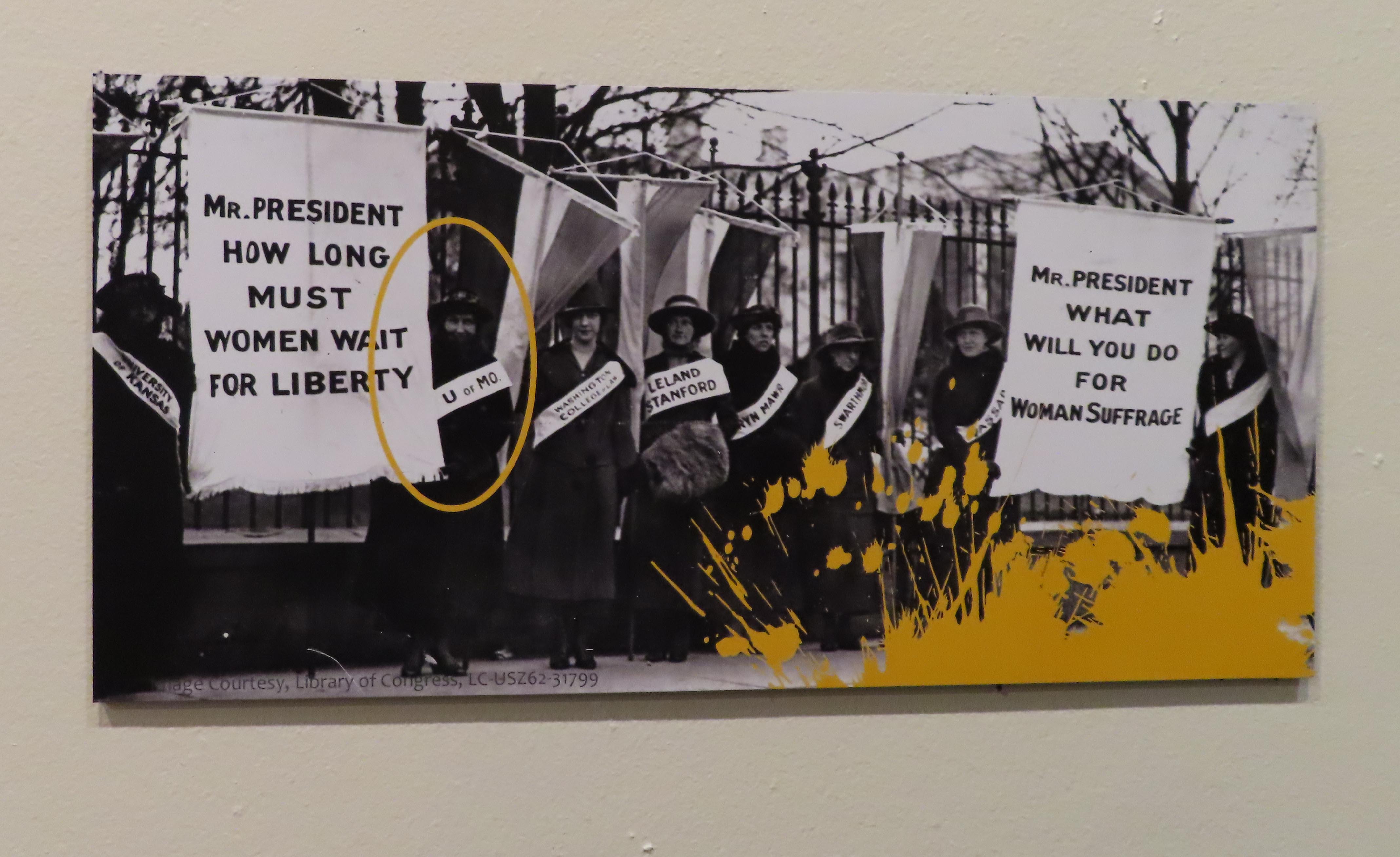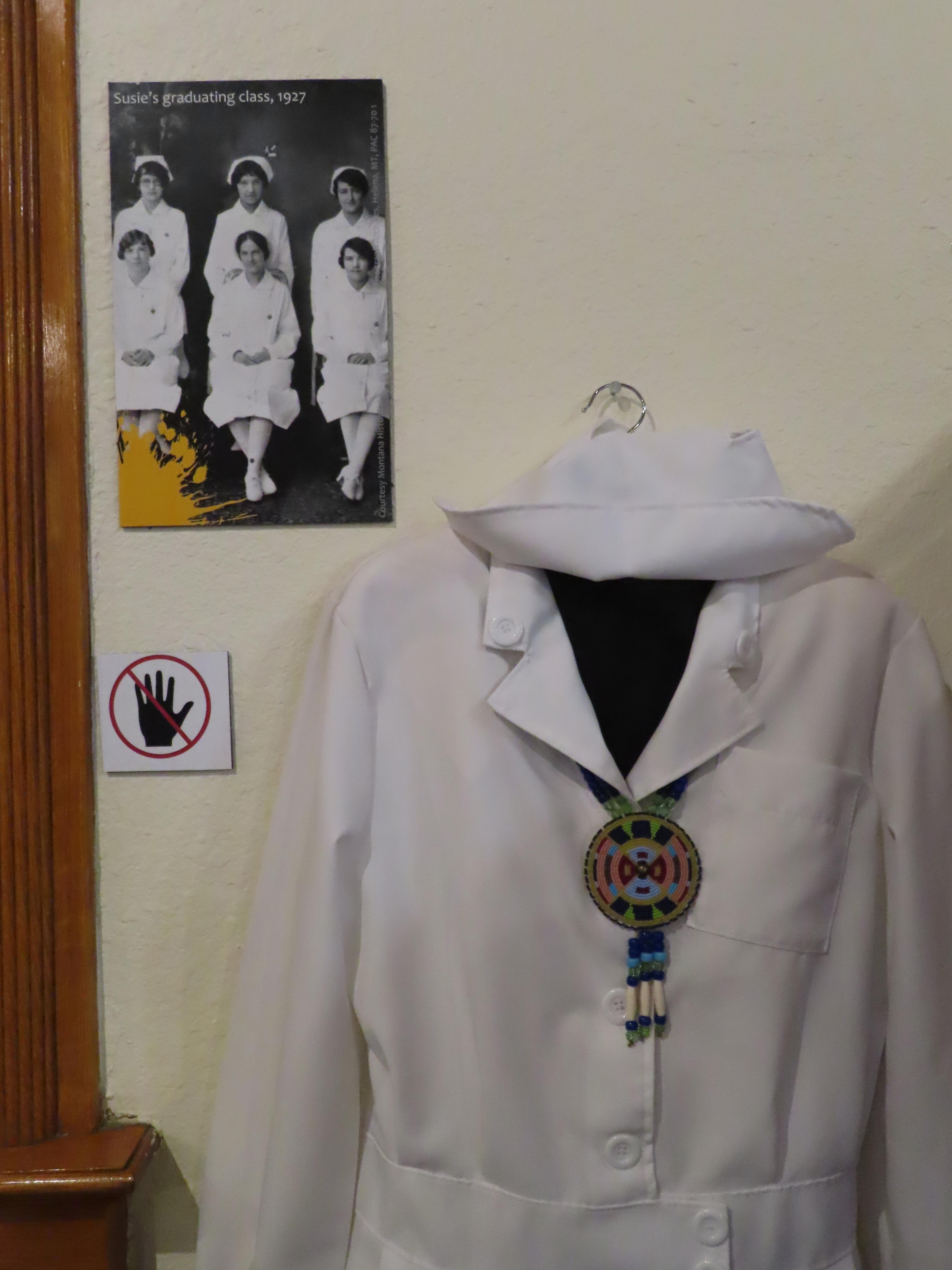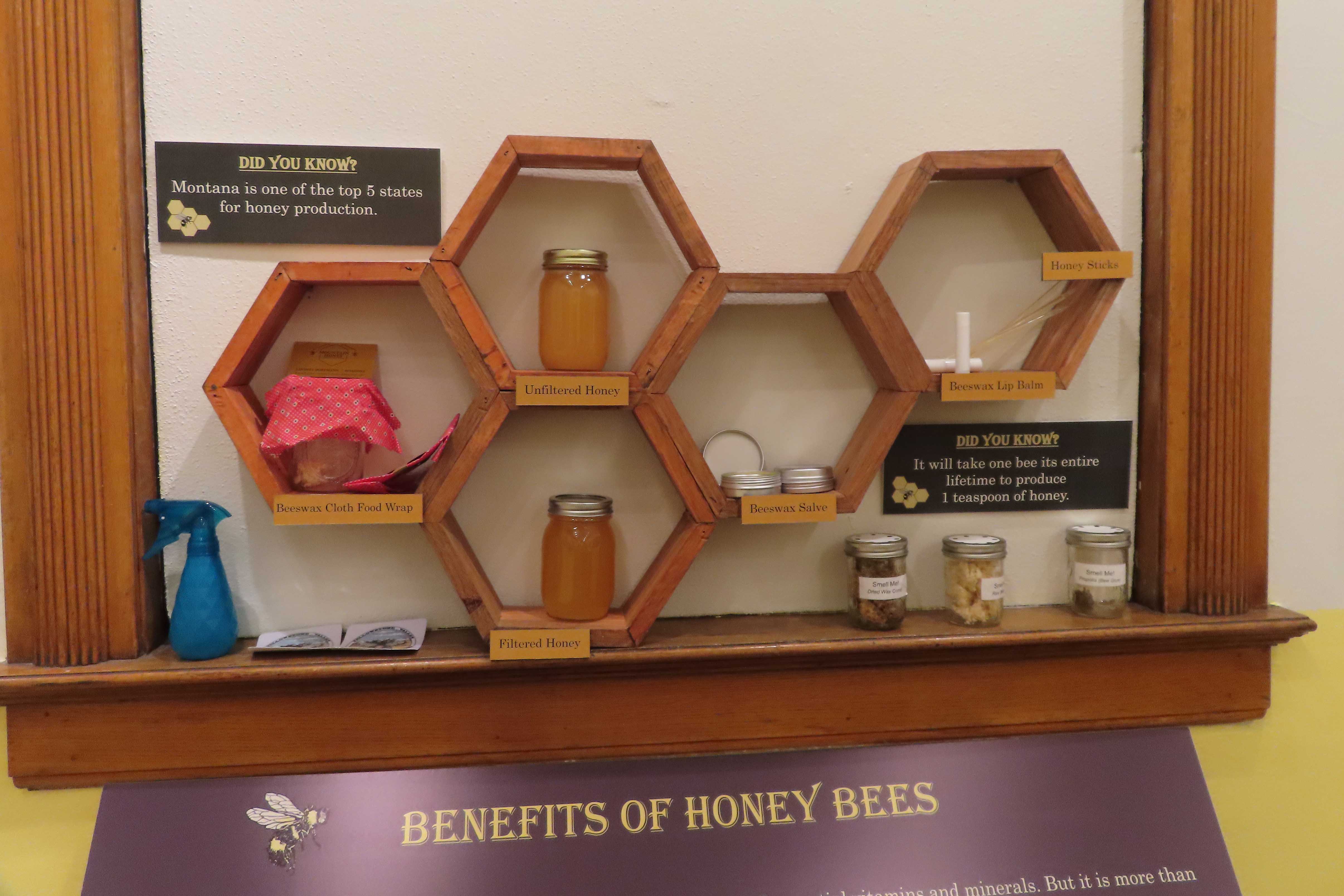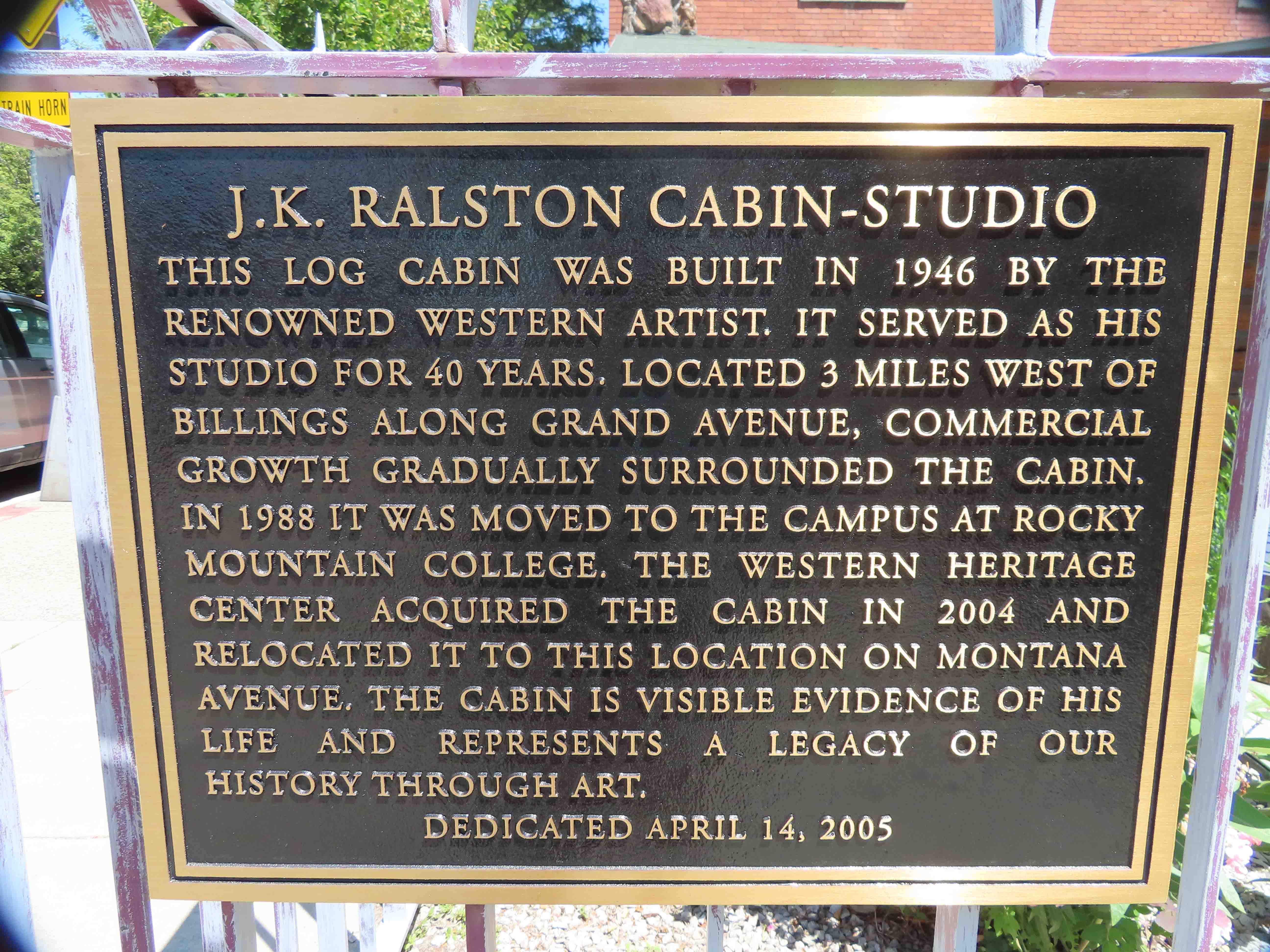 Saturday, we drove over to Pompey's Pillar National Monument,about 30 miles east of Billings. Lewis and Clark camped here and named the rock formation after Sacajawea's son. Clark carved his name onto the rock.  There is a boardwalk going up the rock formation so that you can view the signature but it is currently closed.  You can't really see it from the ground.  A crack has developed in the rock so they have the boardwalk closed while they monitor it.  The grounds around the area are very nicely kept and there is a walking nature trail.  We started to walk it but the mosquitoes were ferocious!!!!  There were also a large family of marmots, very well fed marmots.  They did not seem to concerned about us but did not let us get too close.  We met a local volunteer who helped us spot the graffiti added by the folks after the Clark expedition.  We went out for a great steak dinner at Montana Rib & Chop House.  Apparently one of the owners was also one of the founders of Ruth's Chris in New Orleans.  There was a good deal of LSU memorabilia here.
Make Life an Adventure!