Week 175: Isleton, CA
Jun. 05 - 11, 2022
Sunday, I slept late today and made a keto friendly lasagna.  The recipe uses crushed tomatoes for the sauce and cabbage leaves as the noodles.  It tastes great! I always forget how long it takes to make lasagna.  It was worth it though. Next time I will cut the cabbage leaves into pieces before layering cause they were a bit tough to cut thru. Our normal moving day prep changed a little because of the air leak.  We have tape on the outside just incase it rains.

Monday, after removing the tape and tweaking the air seal system, we got the rear slide pulled in without any issues (thank goodness).  We moved from Delhi, CA to Isleton, CA to the Lighthouse Marina and RV Resort. It is in the bend of the river where the Mokelumne River joins the San Joaquin River.  It has the potential to be a wonderful resort. They have almost no full hookup 50 amp sites, with the temperatures forecast in the 100's later this week we really need 50 amp service. The site they gave us is not the best in the world, all grass and rutted but, we got level and will make the best of it.  I bought a plastic rug a while back that I am using for a patio. We didn't have any issues getting the rear slide extended.  It is a nice quiet area so we I think we will be fine.  There is sooo much agriculture in this area. It is beautiful.  The Oleander sure does love this area too. It makes for pretty and low maintenance median landscaping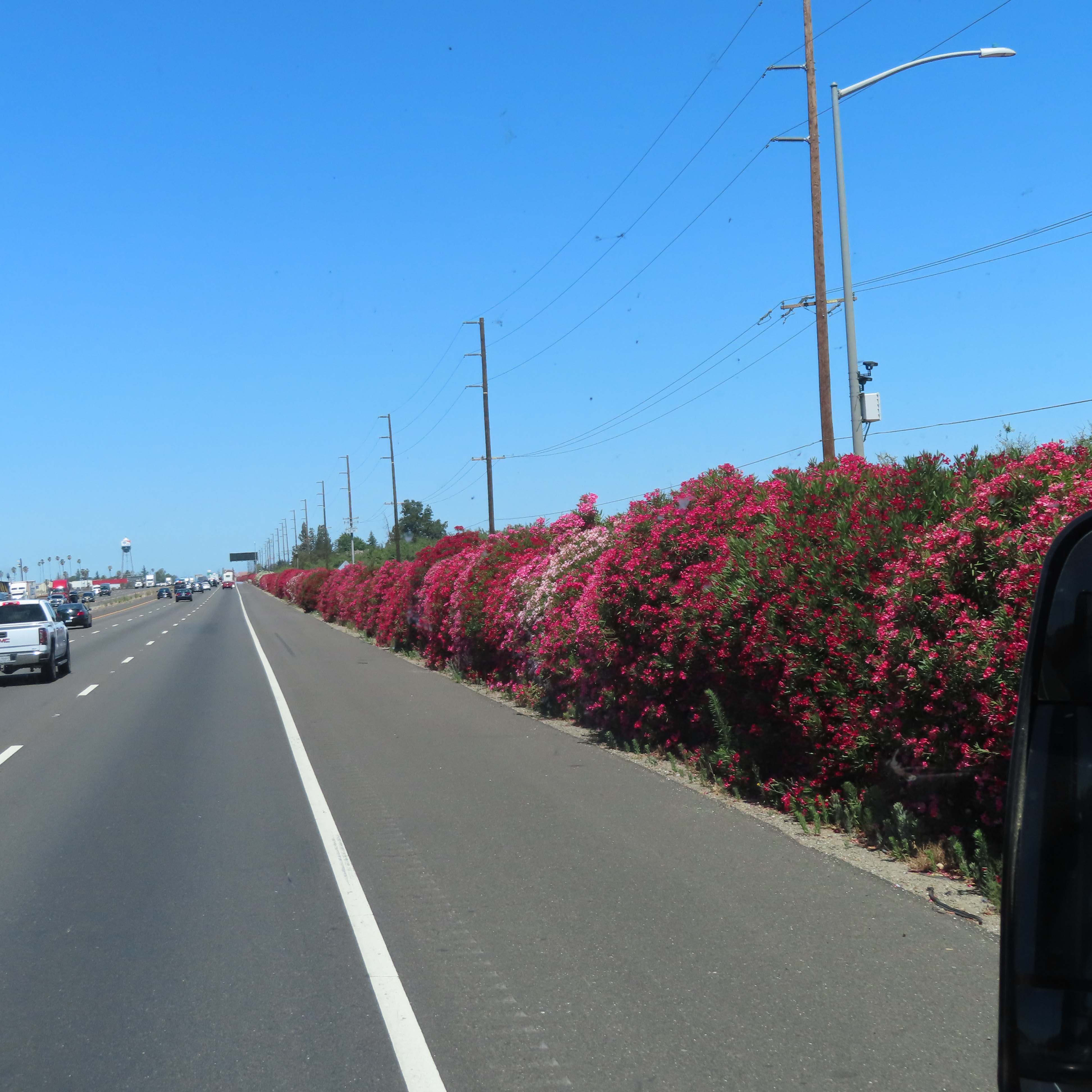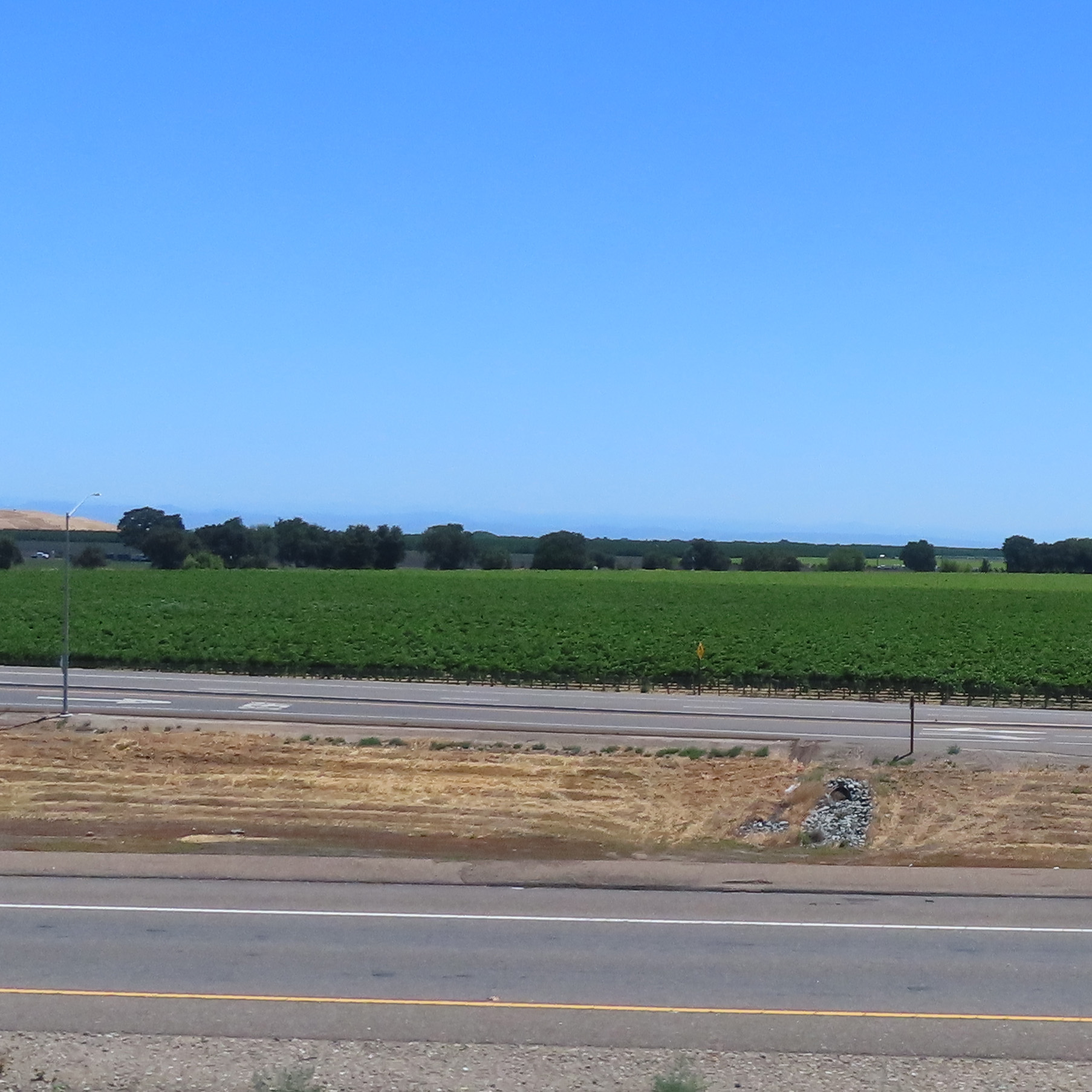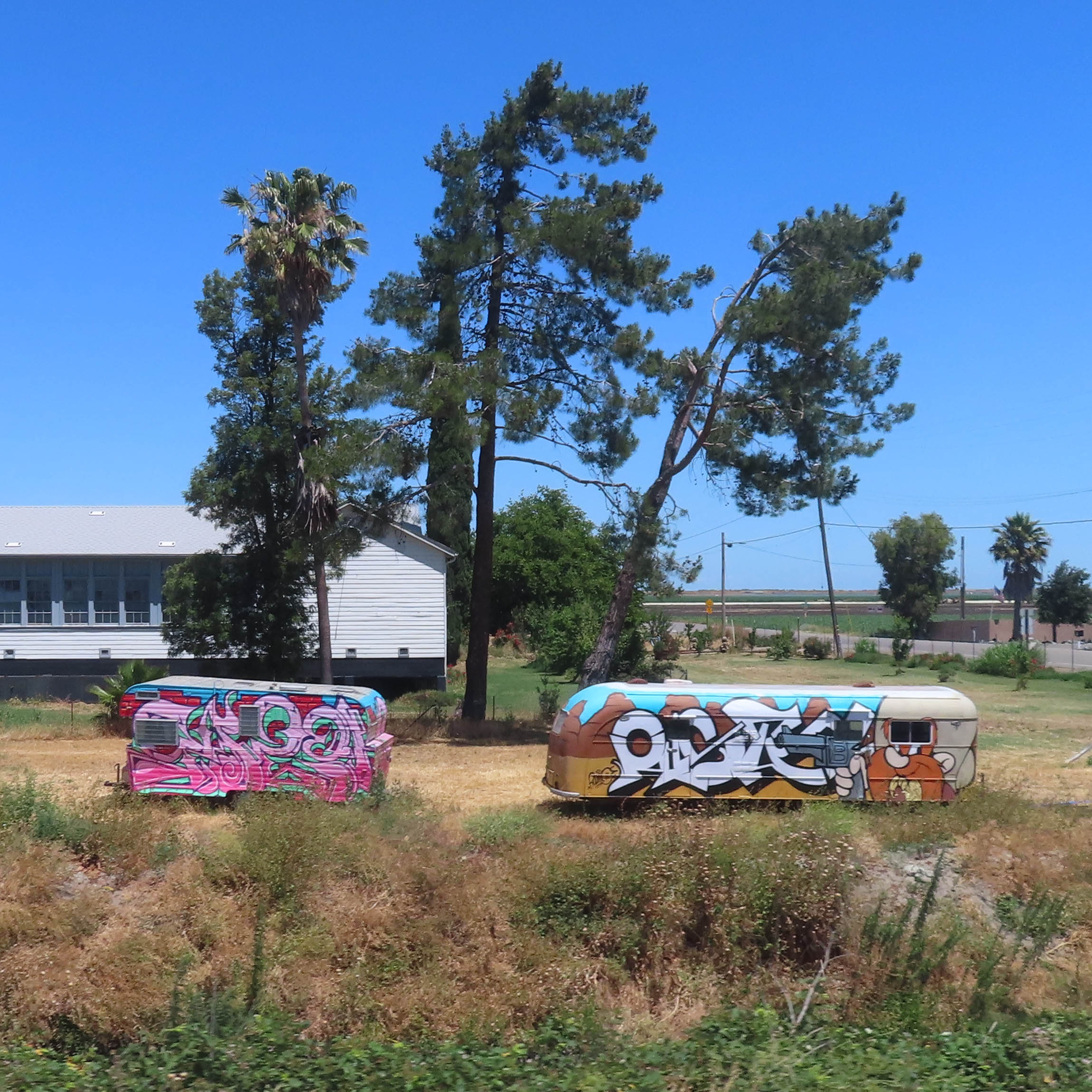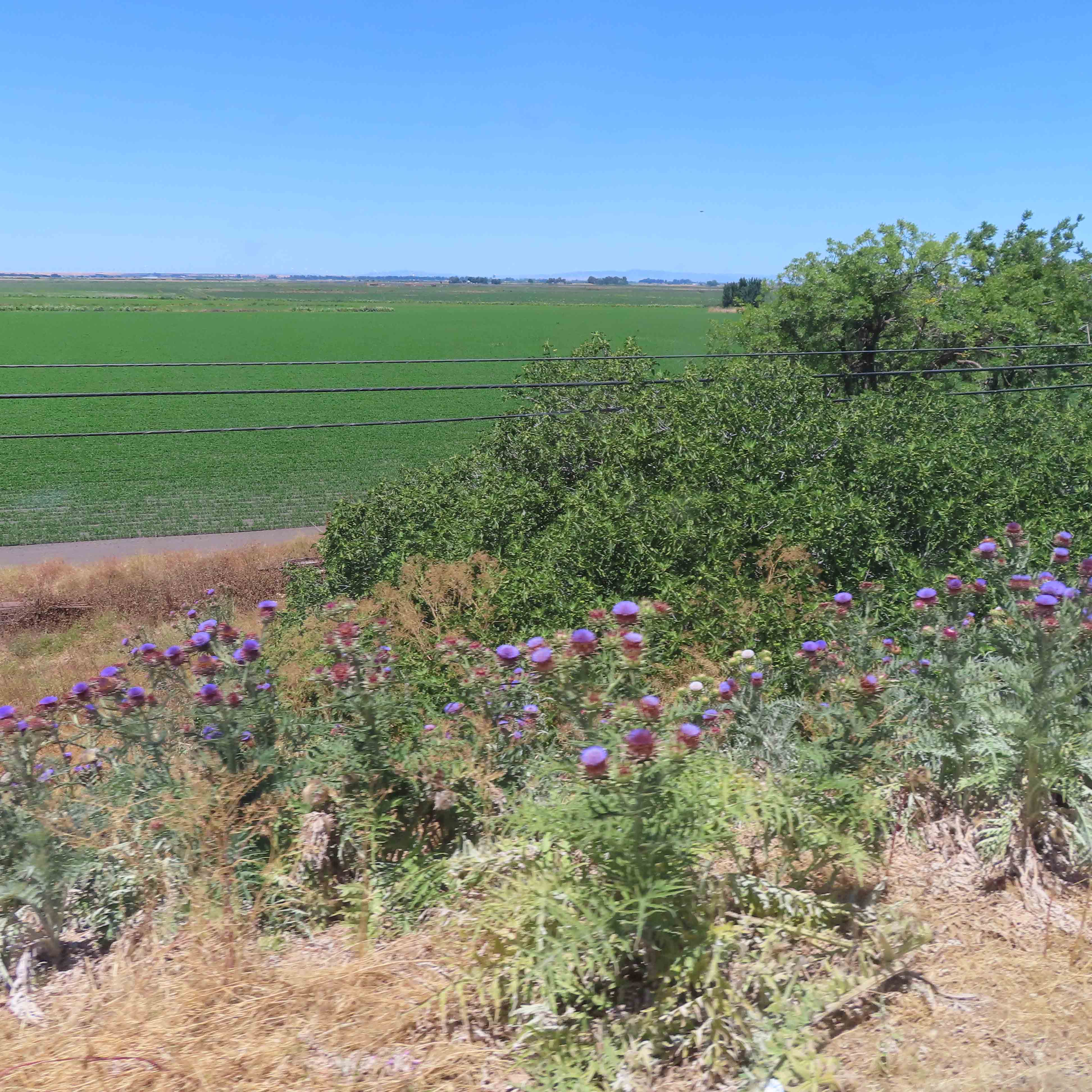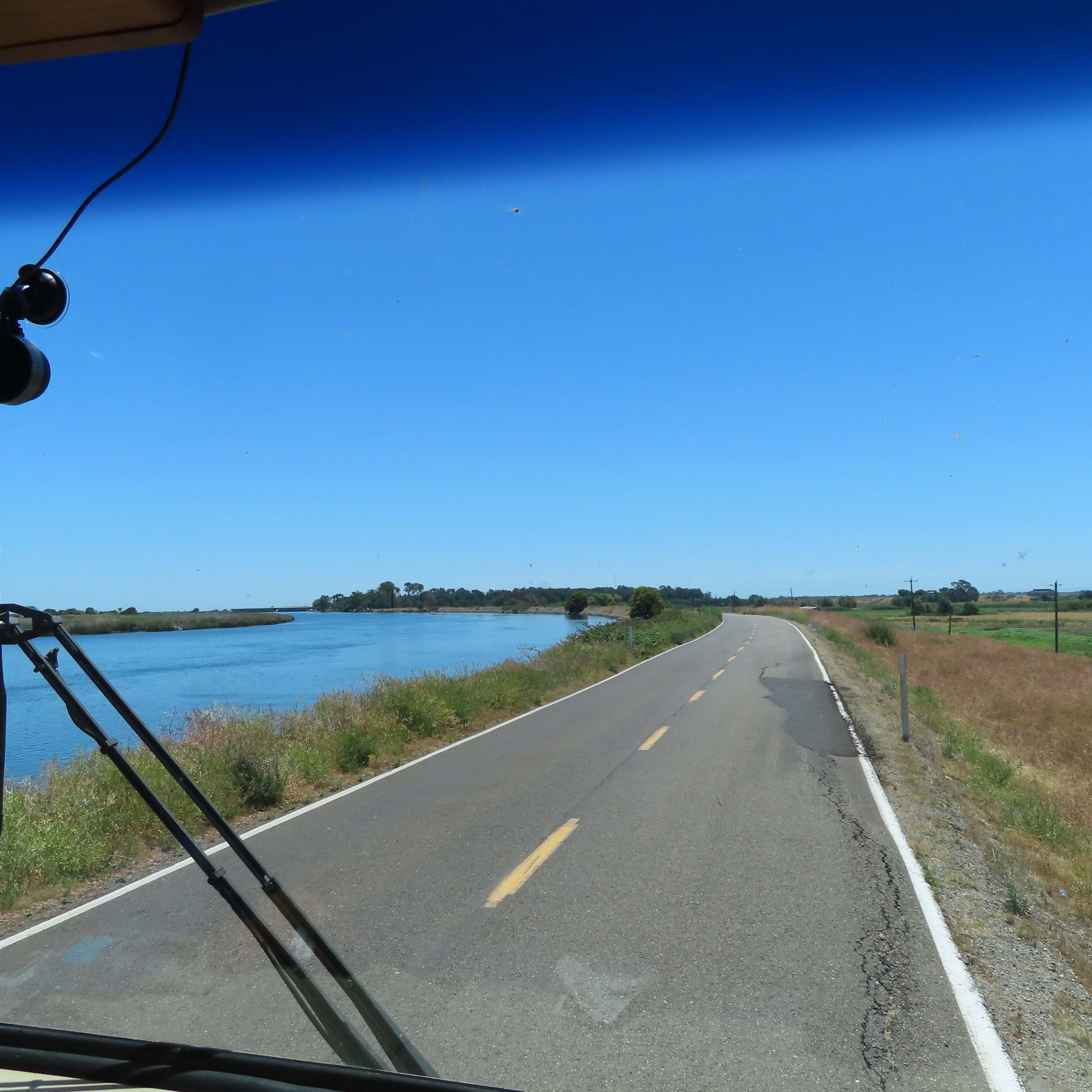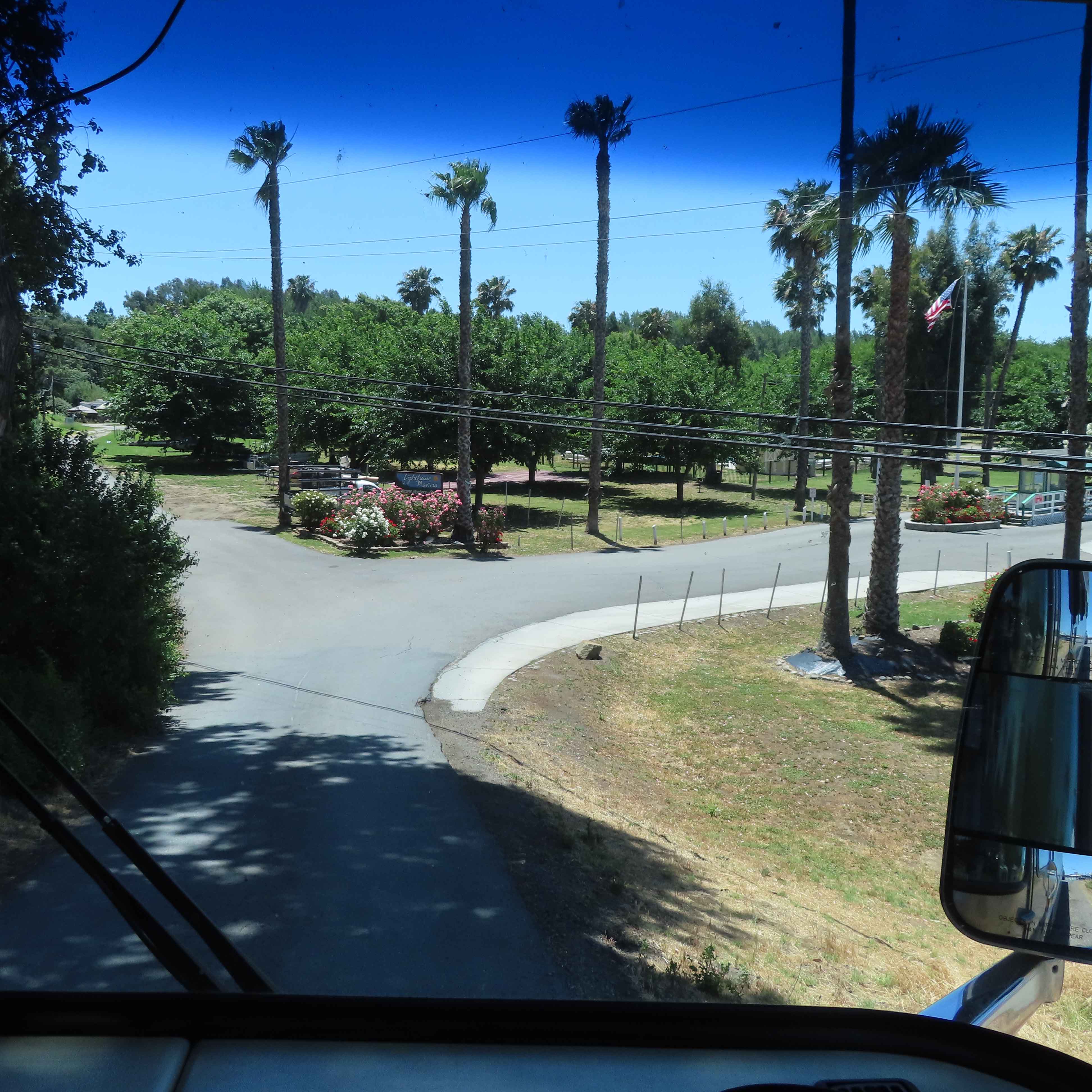 Tuesday, we chilled out. I spent a few hours editing photos.  We tried to cross the river to a little town called Rio Vista to get to a quilt shop and the post office.  There was construction that had the bridge closed down to one lane.  Traffic was backed up a mile and we decided that we didn't want to get across the river and then not be able to get back LOL. So we took the "delta loop" and just went home. The "Delta Loop" is the area between the Mokelumne, San Joaquin, and Sacramento Rivers.  When we got home the air compressor was still running too frequently so we have an air leak somewhere other than the rear slide seal.  Guess Elard will have to run that down tomorrow.  He grilled steak for dinner and we enjoyed the evening.  We ended the day by watching the original Top Gun.  Now we are prepared to go see the new one.  Elard shut down the air compressor so that it won't keep us, or our neighbors, awake all night.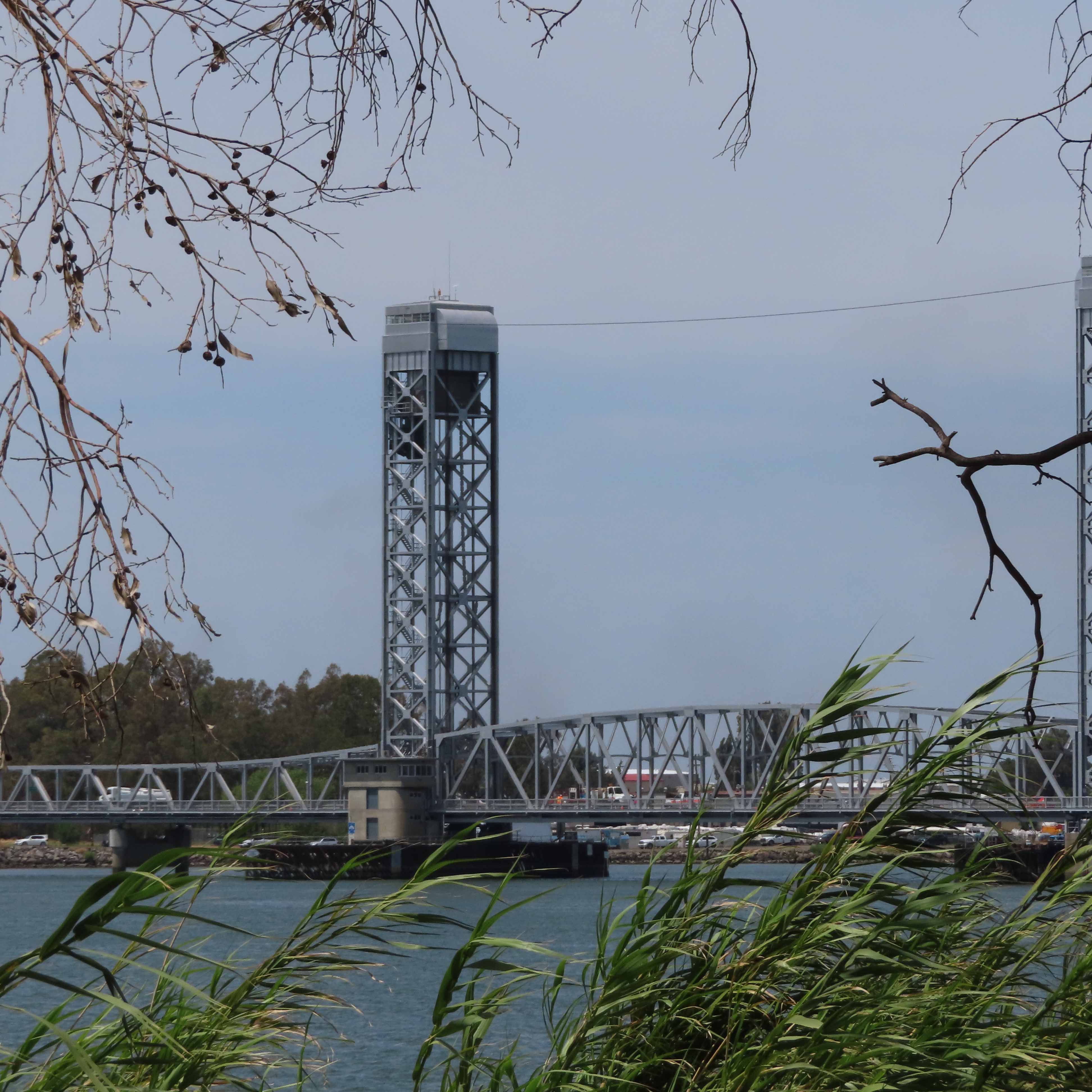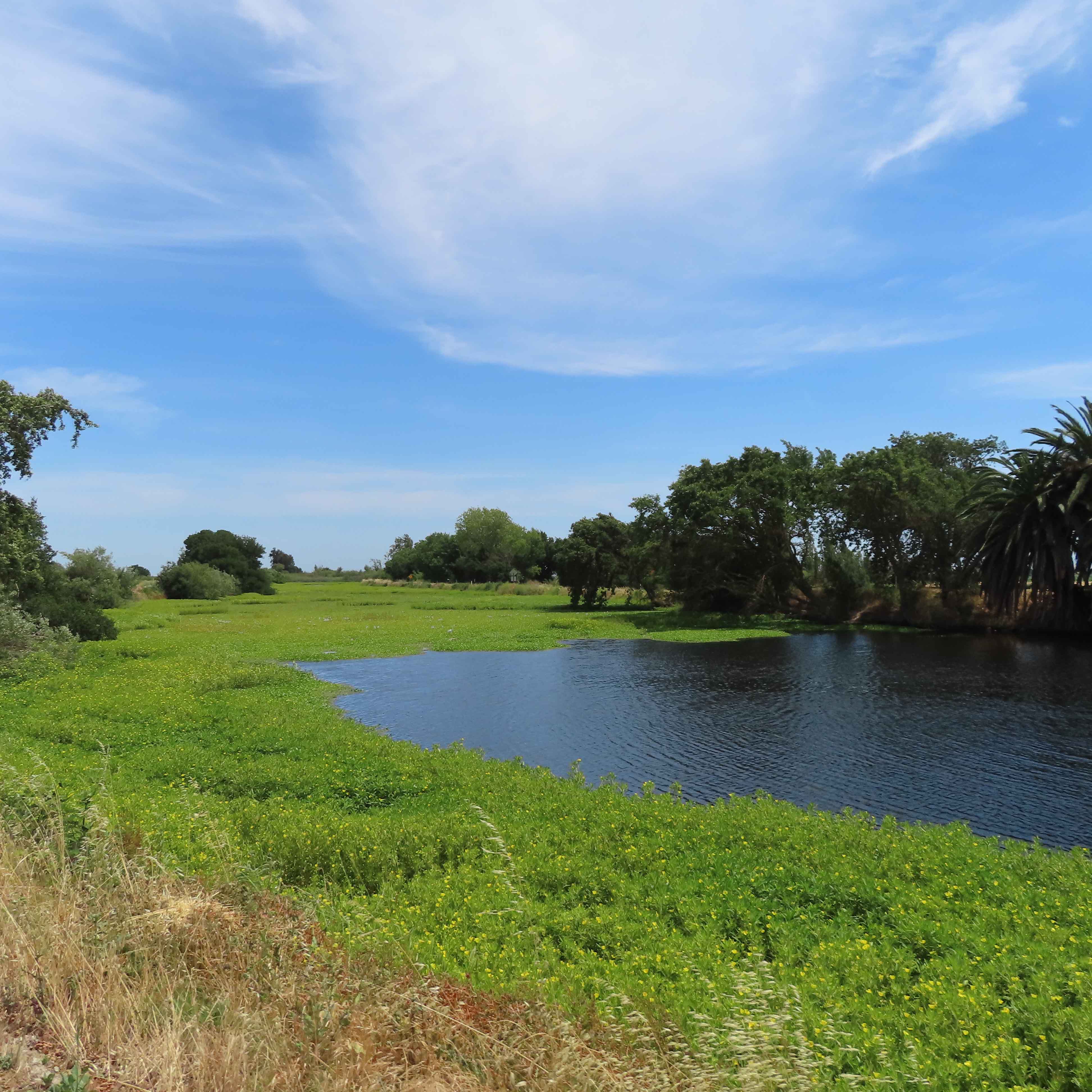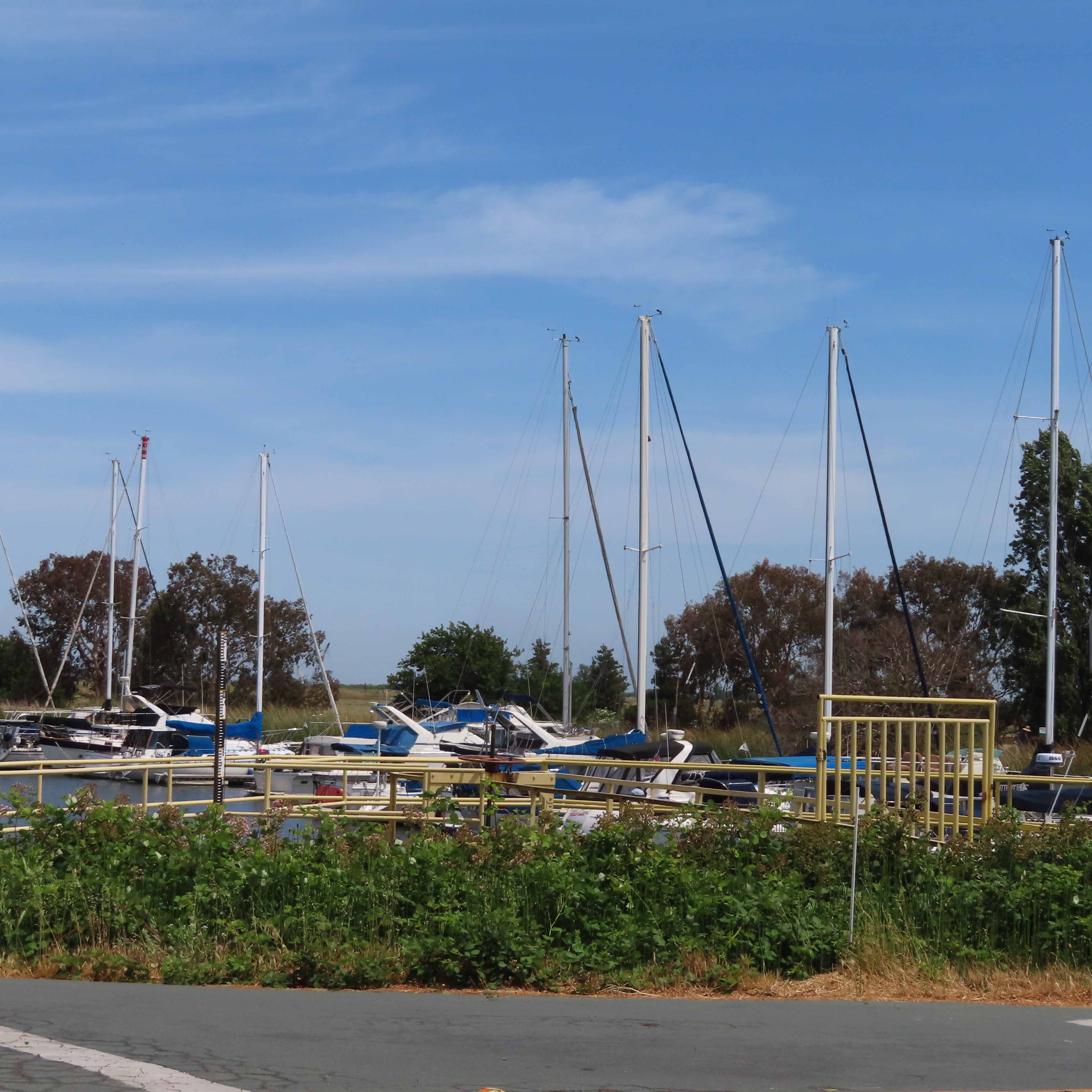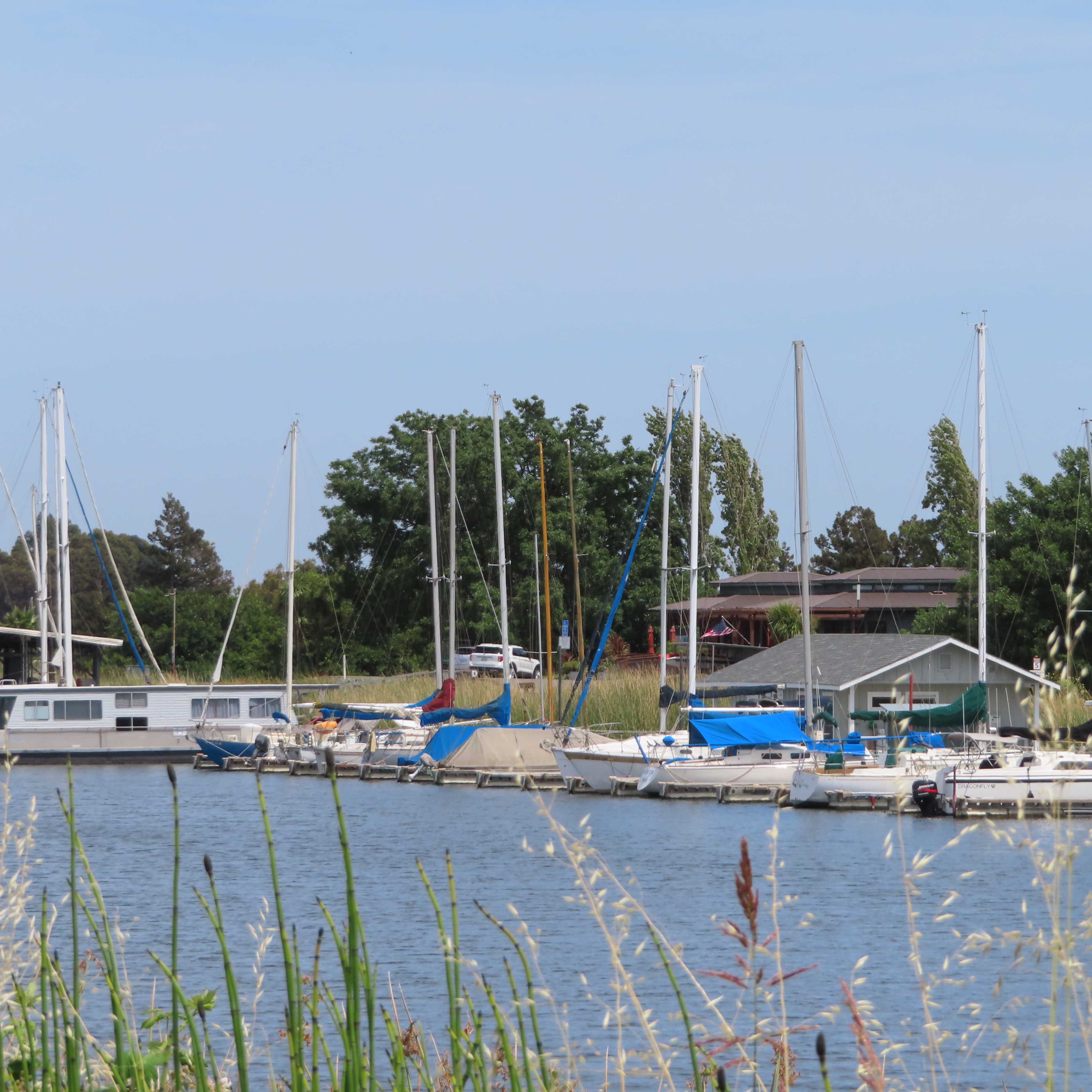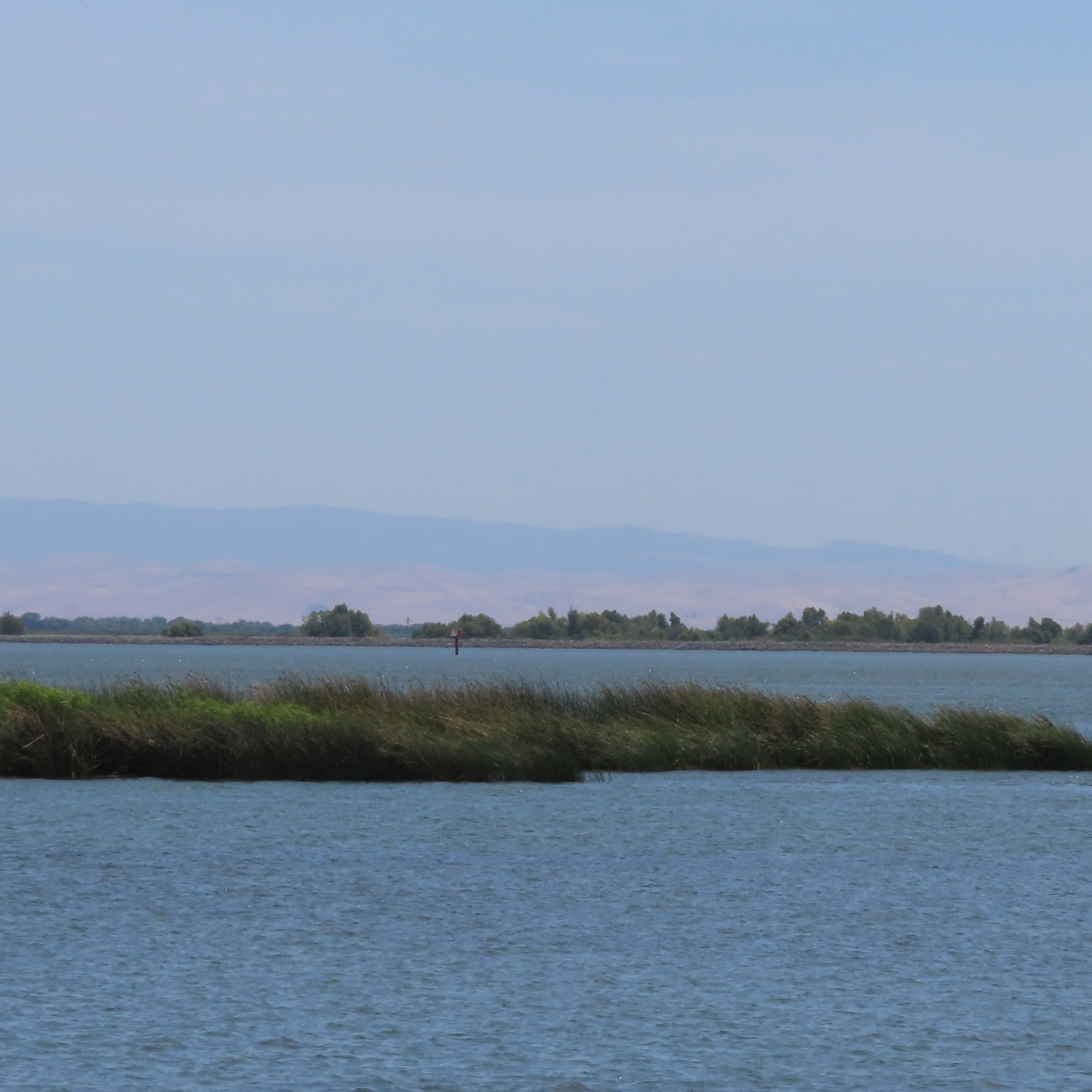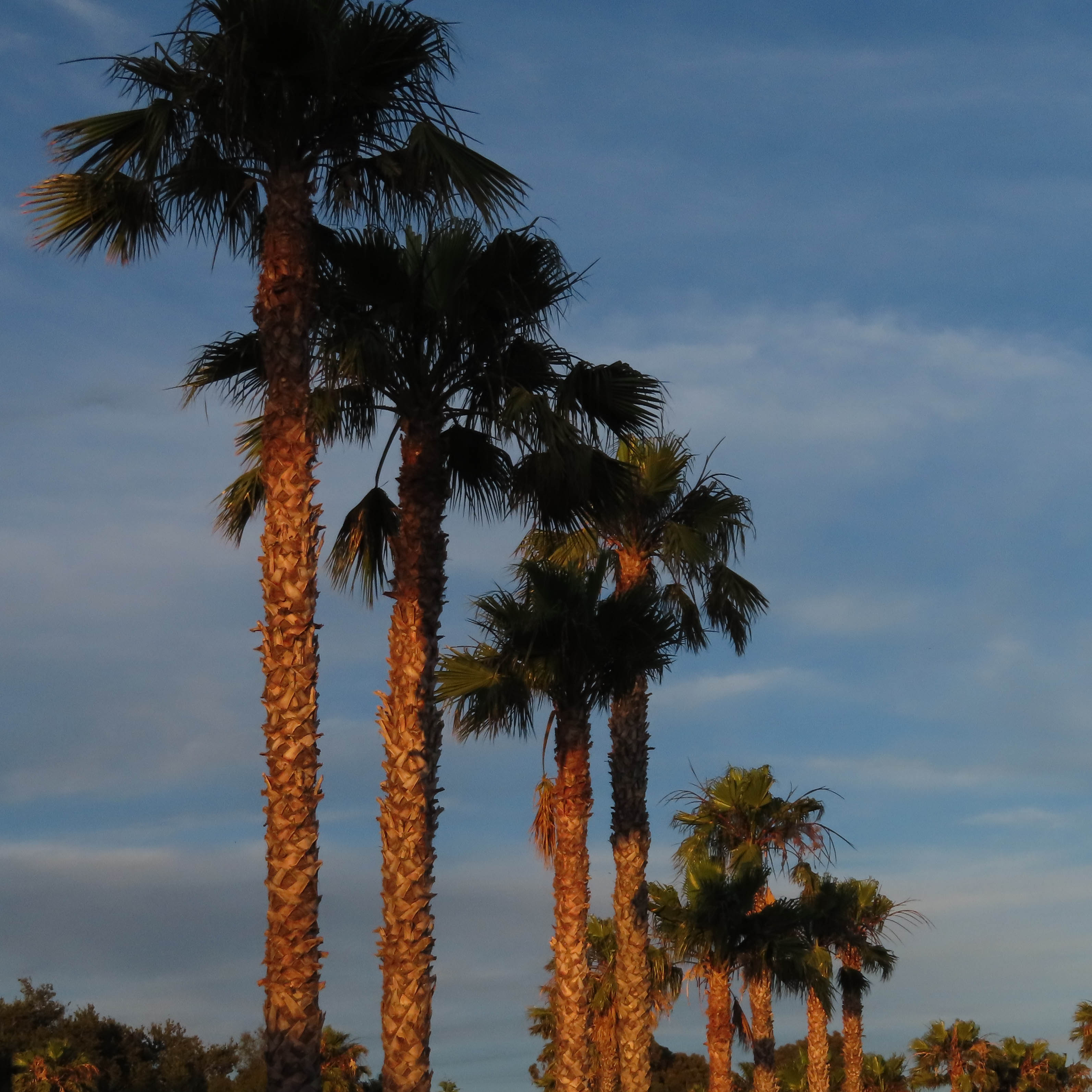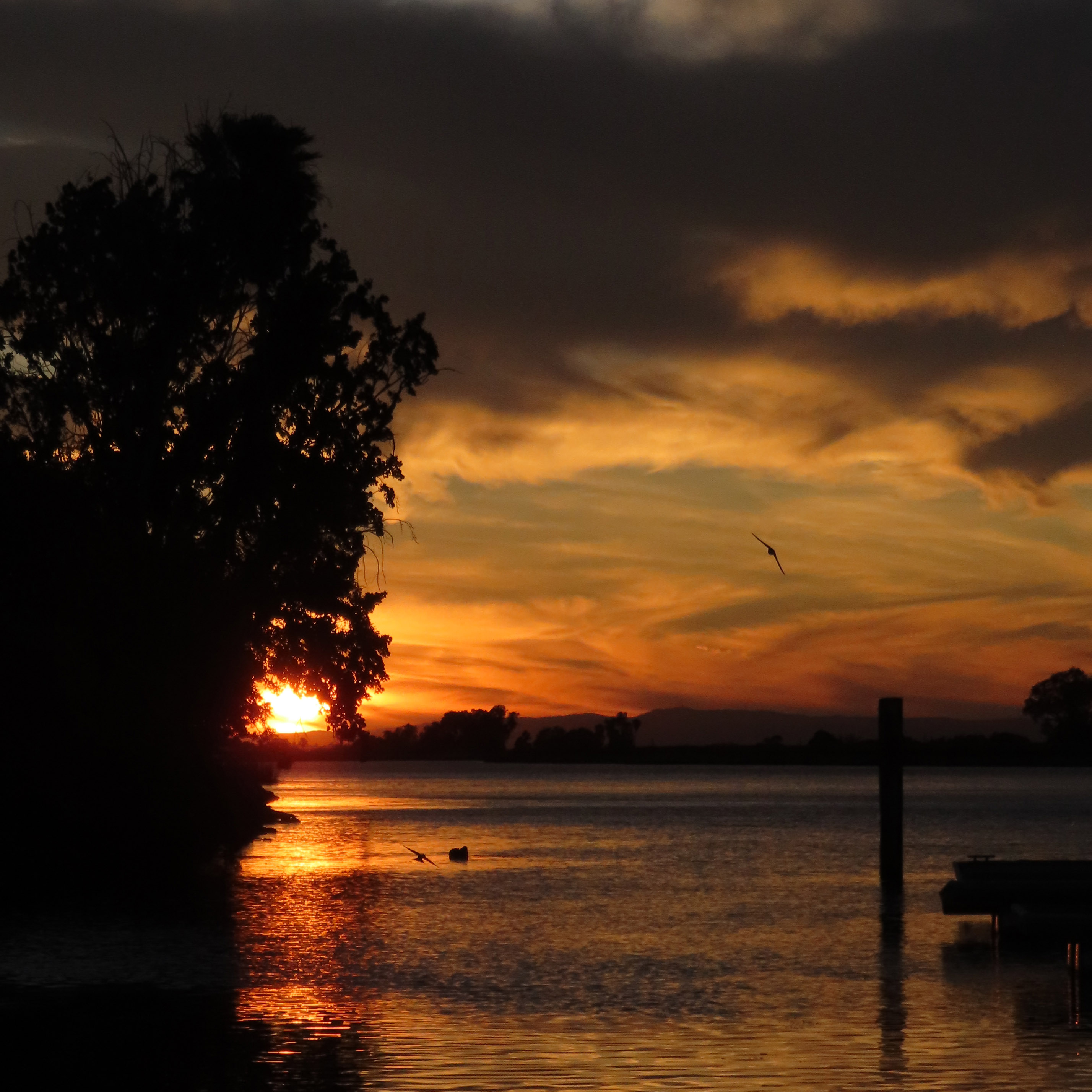 Wednesday, Elard spent most of the day trying to chase down the air leak. He didn't find a leak but the system seems to be holding now.  I made it out to the post office but the quilt shop I wanted to visit isn't open until tomorrow.  The work around the bridge was done and I didn't have any trouble with traffic.  When I got home I made a keto friendly Pina Colada and sat out on the "patio" It was a nice day.
Thursday, we drove over to Lodi to the theater for Top Gun Maverick. I enjoyed it very much.  That ending was a bit over the top but I still enjoyed it. We stopped for lunch across the street at Brick House Restaurant.  We were too early for the full menu but their shrimp cocktail was very good.  Next we went to the Lodi Wine Visitor Center and enjoyed a tasting of 8 wines from the Lodi area (there are a LOT more).  We may go back again next week to try 8 more.  I really liked two of them so we got a few bottles.  This visitor center was awesome and what a great idea to have a central place for all the vineyards to get their wines tasted by people who do not have the time to visit the vineyards individually. I enjoyed some outside time and at sunset I walked up to the river to get some sunset pictures.  I got some beautiful shots.
Friday, we started the day with a stop at a quilt shop in Rio Vista, Scents & Sew-ablitiy (I think its a play on Jane Austen's Sense and Sensibility). I almost didn't get to stop, they had both Closed and Open signs out front, so I took a chance and they were open.  After that we drove to Fairfield to the Jelly Belly factory. What a wonderful factory tour. It is self-guided on a catwalk above the factory flour.  You can't see everything, but you can see most of it.  That was A LOT of jelly beans.  I've see the "How its made" video but this is way better.  I could have watched it all day. The workers were good natured and waved at folks staring down at them.  One group had a good sense of humor, they put a cowboy hat and chaps on a large stuffed Mr. Jelly Belly and strapped him onto one of the robot arms like it was a bucking bronco. It was hilarious. When we got done with the tour we went to the gift shop.  The jelly beans that are not perfectly shaped or, if two are fused together, are called "belly flops", they taste the same just not as pretty.  They had a screaming sale on them and I ended up buying 5, 2 pound bags...WHAT was I thinking, 1.5 oz has 24 grams of carbohydrates and I am trying to keep my net daily carbs at 40 grams! I think this gives me a three year supply LOL.  Next we tried to visit the Suisun Wildlife Center. Unfortunately they are not open to visitors at the moment. They save injured animals and care for the ones that can't be released back in the wild.  It was a fun day.
Saturday, laundry and chilling.

Adventure On Y'all!